Loy Krathong Festival 2010
by Eric Lim
(Bangkok)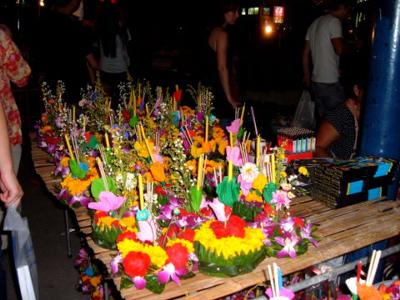 Krathongs on sale outside River City
This year Loy Krathong Festival Day fell on 21 November 2010. According to the lunar calendar, it's on 15th night of the rising moon in the 12th lunar month.


I took a trip down to River City near the Si Phraya pier and the Taksin Bridge to take these photos.
Amid the colour, crowds and the carnival atmosphere, I couldn't but help feel a little sad. Thailand is still recovering from one of the worst floods in recent years. Since early October till mid-November, heavy floods have hit the northern, north-eastern, central and then southern regions of Thailand.
The floods affected more than 38 provinces, flooded homes to the second story or roofs in some cases, destroyed farmlands causing hardship to more than 5 million people. The death toll stands at 241.
Though Bangkok was spared, many of the people working in Bangkok have homes in these areas. As we float off our krathongs, we wish the flood victims a speedy recovery from this disaster.
The last time we had the Loy Krathong Festival after a severe flood was in 2006. Please see
Loy Krathong Festival 2006
For the tradition behind this festival, please see
Loy Krathong Festival