The map to Fort Mahakarn
by the Banglampu canal
By Eric Lim
The map to Fort Mahakarn shows the location of the old Bangkok fort guarding the second canal ring around the old city at the confluence of the Phadung Krung Kasem or Banglampu canal and the Mahanak canal.
The fort and canals were built during the reign of King Rama I when Bangkok was established as the new capital. The area has a number of historical sites,
History seemed to grow around the fort. The Democracy Monument is less than 500m away.
The Temple on the Golden Mount, built during the reign of King Rama III, is southeast of the fort, across from the Banglampu canal.
The park dedicated to King Rama III is to the west of the fort, so are Wat Rachanatdaram and Loha Prasat the Metal Castle, both initiated by King Rama III.
Please refer to the map below.
Map to Fort Mahakarn
View Larger Map
The old city wall runs for about 200 m south from the fort. One of the gateways is just south of the fort. The century old Fort Mahakarn community is between the wall and the canal.
There is a park between the fort and the canal. The park is open all day. Admission is free. 
How to get there
Take the air-conditioned bus service number 79 from Pratunam (bus stop in front of the Grand Diamond Pratunam Hotel). The bus will take you to Ratchadamnoen Avenue past the Fort Mahakarn.
For the background to Fort Mahakarn and for other Bangkok maps. To return to Bangkok Forts.
About the author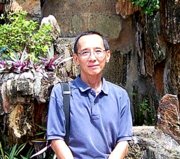 Custom Search
Bookmark this page and tell your friends about it
ADD TO YOUR SOCIAL BOOKMARKS:

Blink

Del.icio.us

Digg

Furl

Google

Simpy

Spurl

Technorati

Y! MyWeb