Hello






Koh Si Chang, Chonburi

Dear friends and readers of the Bangkok Travelbug,

I trust all of you are well and safe at home. We had to put our travel plans on hold during this difficult period and thought that the Travelbug had to cease publication for a while.

Then I recalled a trip we took in December last year, when we spent Christmas in Bang Saen, Chonburi about 85 km south-east of Bangkok.

On Christmas Day we took a drive to Si Racha about 35 away from Bang Saen. On an impulse we decided to take a boat ride across to Koh Si Chang just off the coast of Si Racha.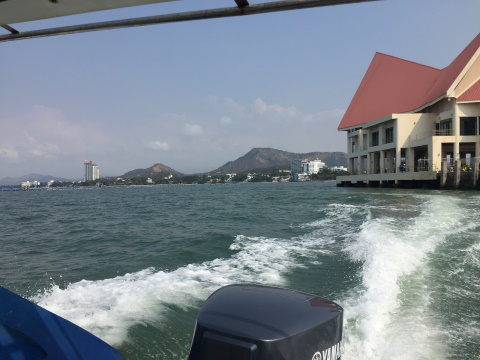 Leaving Si Racha on a speedboat

When we reached the pier at Koh Si Chang, a tuk tuk driver offered to take us on a tour of the island for 250 baht. As we didn't know our way around the island and no cars are allowed on the island, we decided to take up his offer.

The tour turned out to be a cultural and historical gem. Not only did I have something to write about this month, readers can now take a virtual tour of the island while they are home.

Join us on this virtual tour of Koh Si Chang during this time when we are encouraged to stay home.

Contents (click on the link to go directly to the topic)



Background information

Koh Si Chang is an island about 10 km off the coast of Si Racha in Chonburi, which is about 120 km by road from Bangkok. The island is elongated with a length from north to south of about 6.5 km and 2 km wide at its broadest part.

Koh Si Chang together with the eight little islands around form the Koh Si Chang District (amphur) in Chonburi Province. Unlike other districts, the district of Koh Si Chang only has one sub-district (tambon), Tha Thewawong. The township (thesaban tambon) covers the entire group of islands.

The island is hilly with several hills along its length and it's blessed with some beautiful beaches and scenery accessible by a good network of roads.

Contents


Chao Pho Khao Yai

Our first stop on the east coast was to a shrine on a hill dedicated to Chao Pho Khao Yai, (the deity on the big mountain). There is an interesting legend about how this shrine was established.

Back in 1883 AD, a Chinese pilgrim from Hainan Island, China arrived by ship off the east coast of Koh Si Chang. As the ship was dropping anchor off the coast, the pilgrim noticed a fire up on a hill by the coast.

He rushed ashore in a boat, climbed up the hill and had a strange encounter. The source of the fire was a rock that's shaped like a man's head hanging from the mountain. The pilgrim recorded his experience in Chinese on a teak tablet and built a temple on the hill to safe keep this record of his encounter.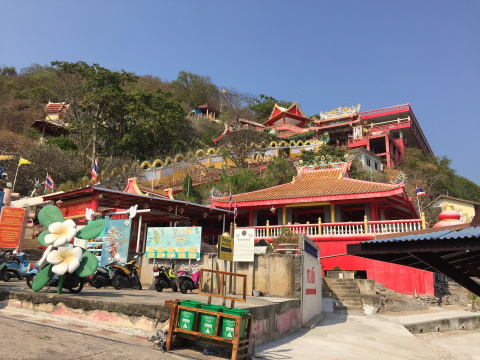 Chao Pho Khao Yai Shrine

Years later another Thai of Chinese ethnicity working with the municipality translated this account to Thai. This encounter coincides with a Chinese legend about a deity who lives in a cave up on a mountain in the sea looking out to the east. The Chinese of old believe this deity to be sacred and to have miraculous powers.

During Chinese New Year (the Lunar New Year), many Thai Chinese will flock to this shrine to pray. It is believed that if this is done three years consecutively, one's wishes will be granted.



View from the shrine looking east at Koh Kham Yai

Contents


Chong Khao Khat viewing point

Our second stop was the viewing point on Chong Khao Khat which is located on a hill on the west coast of the island. From here we gaze westwards across the wide expanse of the Gulf of Thailand.



The Gulf of Thailand laid out before you

I noticed a solitary figure gazing out to sea. On a closer look, it turned out to be a statue.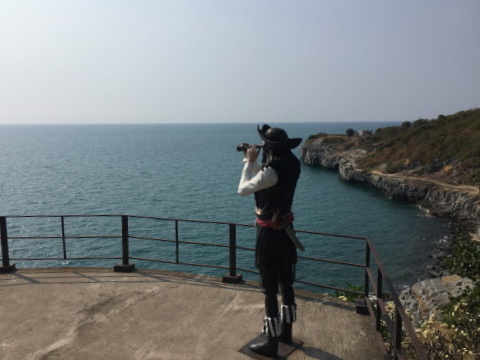 Blackbeard?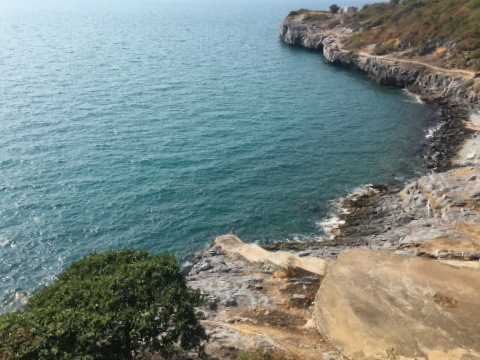 Scenic beauty in Koh Si Chang

Contents


Phra Chuthathut Palace

In the reign of King Rama V, members of the royal family paid frequent visits to Koh Si Chang. On 10 August 1892, a royal command was issued to build Phra Chuthathut* Palace on Koh Si Chang. Phra Mantharatanarot Palace was an important royal mansion within this palace complex.

*Note:
The signboards here spell the name as Phra Chudadhuj which would be difficult for English speakers to pronounce. I have spelt it Phra Chuthathut the way it is pronounced.

Two royal residences were constructed to accommodate the royal family during their visits until the construction of the palace was completed. These two buildings were Ruen Wattana and Ruen Mai Rim Talay.



Ruen Wattana

Ruen Wattana is currently a museum displaying drawings of royal activities. It's open to the public from Tuesdays – Sundays from 9:00 am to 5:00 pm. It's closed on Mondays. Admission if free.


Some of the displays in the museum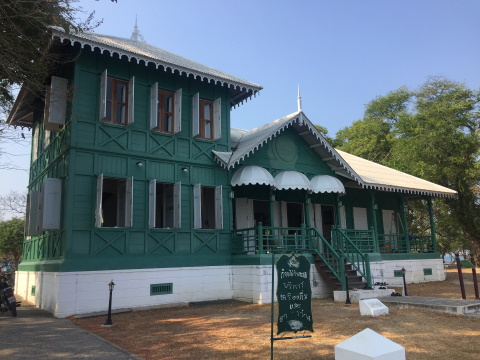 Ruen Mai Rim Talay – a café today

Unfortunately, in April 1893, the Franco-Siamese War broke out over Siamese territories in Cambodia and Laos which the French intended on colonising. The French occupation of Cambodia sparked off a land battle across the Mekong.

French troops landed in Koh Si Chang and held the island thus interrupting the construction of the palace. The conflict escalated further with the blockade of the Chao Phraya by French gunboats and the bombardment of Bangkok.

For more on the Franco-Siamese War in 1893, please see Paknam – the forts of crouching tigers

After the war, when war indemnities were paid, the French withdrew. However, construction of the Phra Mantharatanarot Palace was discontinued. King Rama V ordered the palace to be dismantled and relocated to Dusit Garden in Bangkok, where it was renamed Vimanmek Mansion.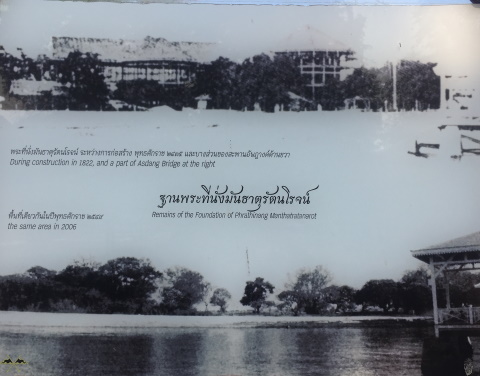 Photo showing Phra Mantharatanarot Palace under construction (top) and after it was dismantled (bottom)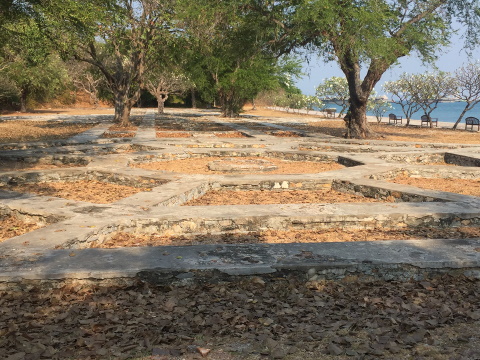 All that's left of the palace today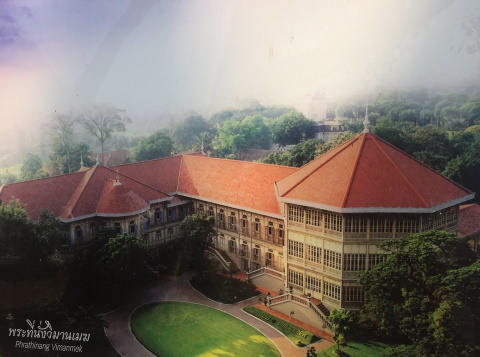 Vimanmek Mansion in Dusit Garden, Bangkok

The last attraction at this site is the Asadang Pier which was where the royal vessels landed in the past. King Rama V built this pier as part of merit- making when his son Prince Asadang recovered from an illness while staying on the island.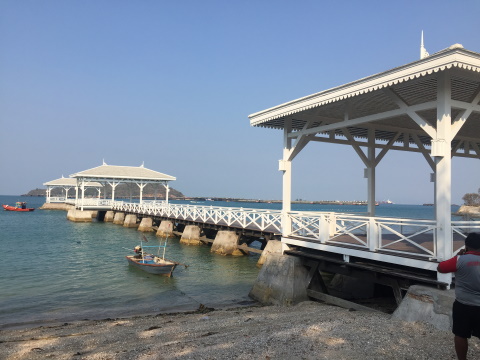 Asadang Pier

Contents


Tam Phang Beach

Tam Phang Beach or Hat Tam Phang is located on the west coast of Koh Si Chang. The beach is sheltered in a deep bay named after Prince Asadang, one of the sons of King Rama V.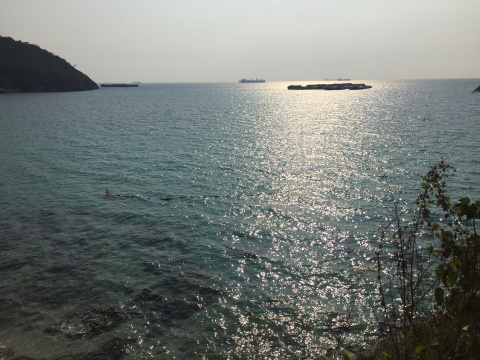 View of Asadang Bay

In the past, sailing ships would take shelter in this bay during the monsoons when there are strong winds and rough seas.

The sheltered waters and beautiful beach make Tam Phang Beach an ideal place to relax and watch the sunset. Surprisingly during our visit in December, the usual peak season, there were hardly any tourists. We only saw one person walking off the beach.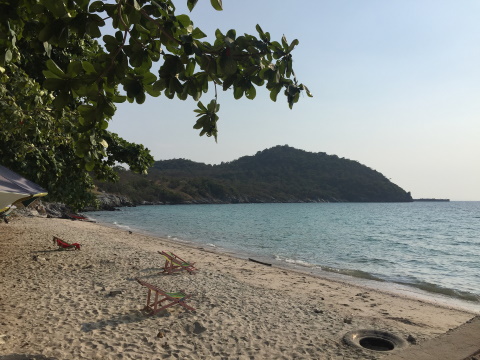 Empty deck chairs on an empty beach

Perhaps it was because the only accommodation there was under renovation. As a result, the resident dog had the beach all to himself.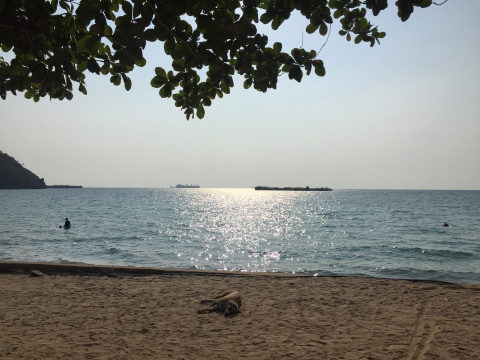 Beach all to himself

We returned to Si Racha by ferry in time to see the Kuan Yin Shrine silhouetted against the setting sun. It was a very fruitful trip with a charming blend of legend, history and nature. We have fond memories of Koh Si Chang and promised ourselves we will return one day to stay a few days to enjoy scenic beauty and serenity.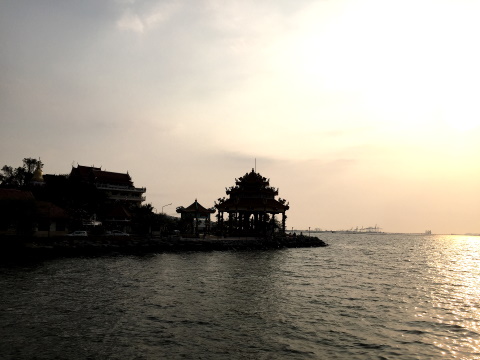 Memories of Koh Si Chang

Contents


Map to Koh Si Chang



If the map doesn't appear, click on this link

How to get to Koh Si Chang

Speed boats are available for charter at the Si Racha pier at 100 baht per head. A trip takes 30 minutes. Because of the speed, the boat ride over the waves can be bumpy. If you are prone to get sea-sick, take the ferry instead at 50 baht per head. It's a more comfortable ride. A trip takes 45-50 minutes.

Ferry schedule is shown below, the column on the left shows timings for departure from Koh Si Chang, right column shows departure times from Si Racha.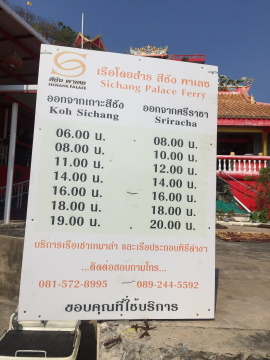 Ferry schedule

Getting around Koh Si Chang

There are tuk tuks waiting at the Koh Si Chang pier to take you around the island. You can charter the vehicle or pay for a single trip to where ever you want to go. Our tour of the island cost 250 baht. No other cars and motor vehicles are allowed on the island.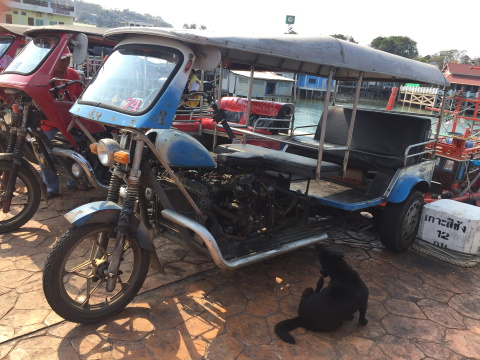 Tuk tuks for hire

There is a good network of roads all around the island.

Next month we still got something in store for you without leaving home. We'll be travelling virtually from home to bring you the next adventure. Please stay well, stay safe and stay home!

"Reading gives us some place to go when we have to stay where we are".

Mason Cooley (1927 – 2007) American aphorist*

*A person who expresses concise, memorable and wise sayings, called aphorisms.

Contents


Next month

Maps of Thailand through the centuries

If you enjoyed reading this e-zine, please forward it to a friend. If you received this from a friend and found it interesting, please subscribe at Bangkok Travelbug.


What do you think of the Bangkok Travelbug?

We love to hear from you

What other subscribers have said

Till next month then.

Eric Lim
Tour Bangkok Legacies
Find us on Facebook

My Journey through Thailand Part I The First Steps

This is my second e-book and the first in the series of travel journals on my trips to explore the various provinces in Thailand. This edition, which covers my travels from late 2009 to mid-2013, will guide you to historical sites, cultural monuments and exquisite Thai handicraft, across a vast spectrum of cultural and ethnic diversity.

You can have a virtual tour with this e-guide book or take the first steps yourself in this journey through Thailand.

My Kindle e-book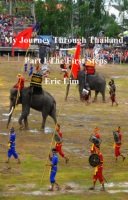 Copyright@2008-2020 Tour Bangkok Legacies
All rights reserved