Bangkok Travelbug
subscribe to our newsletter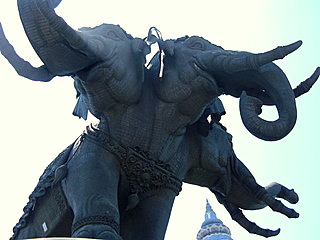 Bangkok Travelbug, the newsletter of Tour Bangkok Legacies, covers people, places and events of historical and cultural significance in Bangkok and Thailand for a more enriching travel experience.
Each month, we recall anniversaries of significant events, places and people who played a pivotal role in the city and the country's history. Besides announcements on page updates and new pages, there will also be feature articles of historical and cultural interest in various parts of Thailand.
Whether you're an independent traveler or one on a guided tour, a business traveler, a frequent or casual visitor or even a resident for that matter, there's always something or somewhere interesting in Bangkok and Thailand that's reminiscent of people and events in the past.
The Travelbug released its first issue on June 2008 with articles featuring events and places in Bangkok. In October 2009 we ventured out of Bangkok to the distant province of Nakhon Phanom more than 700 km away in north-eastern Thailand on the banks of the Mekong River.
Since then we have been travelling to the various provinces in Thailand to bring you some of the hidden cultural treasures that are off the beaten track. Some of these provinces are around Bangkok, requiring only a day trip. Others are in distant provinces and require the better part of the day to get there.
Where ever they are in Thailand, the Travelbug will strive to bring to you some of these hidden treasures to enhance your travel experience. Some readers have expressed the desire to make virtual journeys through the internet as it may not be practical for them to travel to these places.
So this is one way of seeing Thailand through the eyes of the Bangkok Travelbug.

Keep updated by subscribing to our monthly newsletter 
Make new discoveries of old treasures, get to know the Thailand better and enjoy your your next visit to the provinces. 
Knowing history is not to live in the past but to understand the present. 

What do you think of the Bangkok Travelbug, we love to hear from you 

Read what other subscribers have said
We love to hear from you
Please tell us what you think about the Bangkok Travelbug. We welcome your feedback and comments. How can we make this newsletter serve you better?

Or be a guest writer and share your travel experience on Bangkok or Thailand with us.

We look forward to hearing from you.

Read what other subscribers have said
Click on the links below to read the comments of others who have written in. These comments were submitted by subscribers to the Bangkok Travelbug.
Footnote

The three-headed elephant in the photo at the top of this page is Erawan (Airawata in Sanskrit), the steed of Indra, the Hindu god of thunder and war. This huge sculpture is on the roof of the Erawan Museum, Samut Prakan, on the outskirts of Bangkok.
Please click here for Travelbug Back Issues.
To return to the home page.