Italian architects in Bangkok
monuments to their artistry
Italian architects in Bangkok, Annibale Rigotti and Mario Tamagno have created magnificent landmarks in the city, a throne hall, two palaces, an old Catholic church of Portuguese origin, a memorial library and the building housing the seat of government, Government House.
The two Italian architects in Bangkok arrived at the turn of the 20th century during the reign of King Rama V, when the king decided to build a new palace complex in Dusit Garden. 
Their work in Bangkok during the Fifth and Sixth Reigns was to leave an indelible impression for years to come.
Turin is a city known for Fiat, Ferrari, Lamborghini, Maserati, fashion design and its School of Architecture.
Annibale Rigotti, (1870 – 1968) graduated from this school and was responsible for several buildings in Turin as well as a railway station in Turkey and two theaters in Bulgaria.
For more on Italian Architecture.
When Siam Commercial Bank started business in 1906; Rigotti was commissioned to design the first branch in Talad Noi near the Chao Phraya River. Completed in 1910, this beautiful building was the venue for the centenary celebrations of the oldest bank in Thailand on 30 January 2006.

In 1906, Bang Khun Prom Palace was built for Prince Nakorn Sawan or Prince Paribatra, the 33th son of King Rama V. The palace, near the King Rama VIII Bridge, now houses the Bank of Thailand Museum and displays the old Thai currency. Another Italian architect in Bangkok, Mario Tamagno was responsible for this palace.
The two Italian architects in Bangkok, Rigotti and Tamagno teamed up in 1907 to produce a masterpiece, the Ananda Samakhom Throne Hall in the Royal Plaza. This majestic domed structure was completed in 1915 in the reign of King Rama VI.
The second piece of palace architecture by Tamagno was the Suan Kularb Residential Hall and Throne Hall in Dusit Garden, the residence of Prince Asdang Dejavudh, a son of King Rama V.
Tamagno continued with the Hua Lampong Railway Station in 1910, a familiar Bangkok landmark near Chinatown. The station was completed in 1912 and became the rail terminal for trains from all over Thailand.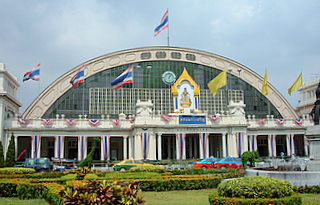 Hua Lampong Station
In 1913 King Rama VI (1910 – 1925) ordered the rebuilding of the Santa Cruz Church. The old Portuguese church was first built in 1770 and again in 1835. 
The 1913 structure, with its characteristic dome and décor, bears the mark of the two Italian architects in Bangkok, the talented pair of Rigotti and Tamagno.

When Jennie Neilson Hays, a Danish Protestant missionary doing charitable work in Thailand, died in 1920 her husband, Dr T Heyward Hays devoted a library in her memory.

Opened in 1922, the Neilson Hays Library in Surawongse Road, next to the British Club, is another of Mario Tamagno's creations.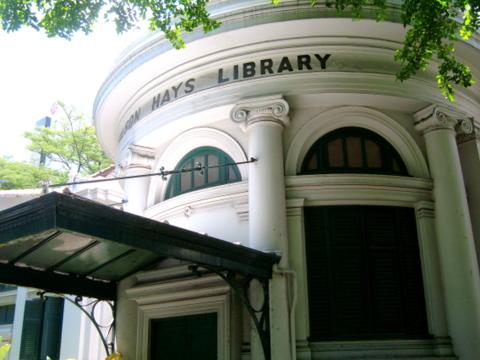 Neilson Hays Library
Baan Norasingh, the family home of General Chao Phraya Ram Rakhop built in 1923, is the work of Annibale Rigotti. Virtually a palace on 11 acres of land, the home was sold to the Thai government in 1941.
This grand building became Government House with the offices of the Prime Minister and the Cabinet. Kings, Presidents and captains of industry have graced the reception halls.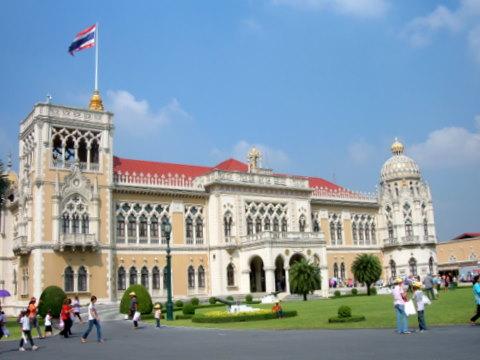 Government House Bangkok
Annibale Rigotti and Mario Tamagno, two Italian architects in Bangkok for almost a quarter of a century, have left behind a rich heritage and splendid monuments to their artistry.
Tour Bangkok Legacies – my first e-book
If you are an independent traveller, here's a handy e-guide book, Tour Bangkok Legacies, which will help you along as you explore the streets of Bangkok and discover its old treasures. It's complete with historical descriptions, maps and detailed directions on how to get to these places.
My Kindle edition