Bangkok Legacies Site Map
search for your favorite legacy
The Bangkok Legacies Site Map helps you find a page in this website. Main topics are listed in the order of the navigation bar. Pages within each topic are listed in order of appearance on the respective web pages. 

Web Blog
My Bangkok story
Our Bookstore
Bangkok Hotels
Hotel finder Oriental Hotel Famous Writers Dusit Thani Hotel

Bangkok Hotels Bangkok Airport Hotels Bangkok Riverside Hotels

Hotels in Pratunam Hotels in Ratchadaphisek Hotels in Sathorn

Hotels in Siam Square Hotels in Silom Hotels in Sukhumvit

Bangkok hotel deals Suvarnabhumi Airport 
Bangkok Budget Hotels Siam Heritage Boutique Suite
Bangkok Guided Tours
Self guided tours
Bang Khun Thien Phasi Charoen Canal boat Phra Khanong canal
Bangkok News

Bangkok News

Home of M R Kukrit Pramoj

Home of M R Kukrit Pramoj Khon Dance

M R Kukrit Pramoj Four Reigns

Jim Thompson House

Jim Thompson House Jim Thompson

Thai Silk Jim Thompson outlets in Bangkok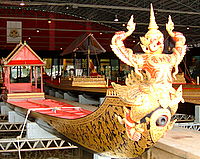 Royal Barge Museum

Royal Barge Museum History of the Royal Barges

Building a Royal Barge Types of Royal Barges

Royal Barge Procession Royal Barge Procession 2006

Royal Barge Procession 2007

Site map - Chinatown Bangkok

Chinatown Bangkok Wat Traimit Yaowarat Heritage Centre

Samphanthawong Museum Soi Sun Yat Sen

Chinese New Year in Bangkok 2006 Soi Sampheng Saphan Han

Walking Street Chinatown Bangkok Chinatown Bangkok sights

Werng Nakhon Kasem Ban Kao Lao Rueng Lhong 1919 

Site map - Democracy Monument

Democracy Monument Ratchadamnoen Avenue

24 June 1932 coup Pridi Banomyong Phibun Songkhram

Thammasat University 14 October 1973

14 October 1973 Memorial 6 October 1976

Black May 1992  Coups in Bangkok  2006 coup Royal Rattanakosin Hotel
The Italian Legacy

Corrado Feroci King Rama I Monument

Democracy Monument Victory Monument

King Rama VI Monument King Taksin Monument

Silapa Bhirasri Memorial Museum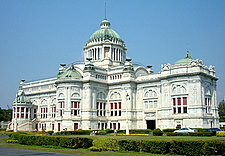 Italian Architects in Bangkok
Italian Architects in Bangkok Siam Commercial Bank

Bank of Thailand Museum Ananda Samakhom Throne Hall

Neilson Hays Library Government House

Site Map - Dusit Garden

Dusit Garden King Rama V King Rama V Equestrian Monument

Trooping the Colour Ananda Samakhom Throne Hall Vimanmek Mansion

Abhisek Dusit Throne Hall Royal Elephant Museum

Suan Bua Plew Residential Hall Royal Residential Halls

Royal Carriage Museum

Rattanakosin

Rattanakosin Chakri Kings Wat Pho

Sao Lak Muang Grand Palace Emerald Buddha

National Museum Sanam Luang Royal Ploughing Ceremony

Monument to the Expeditionary Force Saranrom Park
Charoen Krung Road

Bangkok Forts

Bangkok Forts Fort Phra Sumen Fort Mahakarn Fort Pong Patchamit

Site map - Bangkok Museums

Bangkok Museums Suan Pakkad Palace Museum

Varadis Palace Bank of Thailand Museum History of Thai Currency

Thai Labour Museum Bangkok Dolls Museum Bangkok Corrections Museum

Kamthieng House Siriraj Medical Museums Museum of Buddhist Art.

Erawan Museum Philatelic Museum Bangkok Museum Siam

Muang Boran Thailand Railway Hall of Fame Museum of Nonthaburi

Savings Bank Museum Museum of Floral Culture Broadcasting Museum
Baan Bang Khen House of Museums Suksasom Museum

King Rama VI Museum King Rama VII Museum 
Bangkok Folk Museum Bangrak Museum 
Samphanthawong Museum Bangkok Noi Museum 
Bang Khun Thien Museum Klong San Museum Phra Khanong Museum 
Lat Krabang Museum Chom Thong Museum Yannawa Museum 
Thawi Watthana Museum  Rat Burana Museum 
Nong Chok Museum Pipit Banglamphu Museum 
 Luang Ritthinarongron House Museum
Baan Kudichin Museum Suksasom Museum
Special articles featured
Antique Siamese maps Old Bangkok maps
Bangkok Temples

Bangkok Temples Wat Arun Wat Rakhang Wat Hong Rattanaram
Wat Pho Wat Yannawa Emerald Buddha

Merit making at 9 temples Buddha image casting

Wat Suthat Wat Bowornniwet Wat Ratchanatdaram
Wat Thepthidaram Wat Saket Wat Soi Thong Wat Benjamabophit

Wat Mahabut Wat Sri Sudaram Wat Mahapruettharam
Wat Prayurawongsawas Wat Lan Boon Wat Son Chee Chin Khor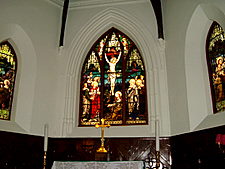 Bangkok Churches
Bangkok Churches Immaculate Conception Church

Santa Cruz Church Holy Rosary Church

Assumption Cathedral St Francis Xavier Church

First Presbyterian Church Christ Church Protestant Cemetery Bangkok

Site Map - Bangkok Shrines

Bangkok Shrines Erawan Shrine Four Faced Buddha

Erawan Bangkok Trimurti Shrine Ganesha Shrine

Lakshmi Shrine Vishnu Shrine

Kuan Yin Shrine Kuan Yu Shrine

Bangkok Communities

Bangkok Communities Chinatown Bangkok Pahurat Little India

Soi Mitrakham Ko Kred Bang Kradi Thai silk weavers Santa Cruz Church
Soi Pracha Rat 24 Khon mask makers of Saphan Mai Thai Bronzeware

Taling Chan floating market Bang Namphueng floating market

Sai Noi floating market Kwan Riam floating market 
Hua Takhae market Khlong Lat Mayom floating market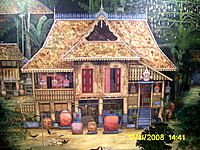 Traditional Thai art
Traditional Thai art Traditional Thai paintings

Tribal musical instruments Ban Chang Thai

Bamboo flute makers Artists House Khon mask maker of Bang Plad

Model Warship Builder Model Royal Barge Builder Thai soap carver

Bangkok River Cruise 

Bangkok River Cruise Loy Krathong 2005

Loy Krathong 2006 Loy Krathong 2007

Loy Krathong 2008 Loy Krathong 2012

Chao Phraya River boats Chao Phraya tourist boats

Chao Phraya River piers Chao Phraya River ferries

Bangkok skytrain and subway
Facilities for the disabled

Suvarnabhumport Link Bangkok BRT

Bangkok skytrain Bangkok subway

E-mail Us or sign our guestbook

E-mail Us Bangkok legacies guestbook

Privacy Policy

Privacy Policy

Bangkok photographs

Bangkok photographs Favorite Bangkok photographs

Photo sharing gallery Old Bangkok photos

Traditional Thai houses Rattanakosin antiques

Wat Soi Thong Old stamps Wat Yannawa

Sign our guestbook

Bangkok Legacies guestbook

Subscribe to our Newsletter

Bangkok Travelbug Bangkok Travelbug Back Issues
Bangkok's Hidden Treasures – the other faces of Bangkok
This is my third e-book which is a journal on my travels in Bangkok from late 2011 to early 2018. It's a journey to the less traveled and lesser-known places in Bangkok, places that are treasure troves of history, art and culture of the diverse communities that make up Bangkok and Thailand.

This journey will take us from the rice fields of Nong Chok near the eastern city limits of Bangkok across the city to the canals in Thawi Wattana in the west.

Let's uncover these gems in Bangkok's hidden treasures together.