Bangkok hotel deals
on the other side of Bangkok

Bangkok hotel deals provide a list of boutique, budget and cheap hotels on the Thonburi side of Bangkok which is relatively non-touristy, very green in some places and with several historical sites.

This hotel and travel guide gives the historical background to some of the places where the hotels are located in areas that are out of the usual tourist belt.

Places of cultural and historical interest are highlighted, so are green and natural areas and public transport where applicable.

Thonburi

Thonburi used to be the capital of old Siam from 1767 – 1782 in the reign of King Taksin, during the period between the fall of Ayutthaya and the rise of Bangkok. It was a separate province until 1972 when it was merged with Bangkok and became one of the districts.

Bangkok residents usually refer to the part of Bangkok on the west bank of the Chao Phraya as "fang thon" or "the Thonburi bank".

The hotels on this side of the Chao Phraya are relatively cheap. Many of these are budget hotels with a few boutique hotels. There are also a number of homestay places in an area that has noticeable more greenery and less congestion.

Here's a map of the west bank of the Chao Phraya to show the districts where these hotels are located.

View
Bangkok hotel deals
in a larger map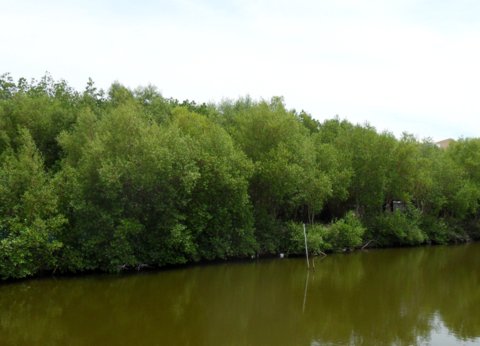 Mangrove in Bang Khun Thien
Pra Pradeang, Samut Prakarn
Phra Pradeang isn't in Bangkok. It's in Samut Prakarn province that's south of Bangkok. Phra Pradeang district is that narrow tongue of land formed by the sharp horse-shoe bend in the Chao Phraya River.

It's also one of the greenest areas for miles around Bangkok. The floating market here is rarely patronized by tourists. Enterprising residents have started homestay places to give visitors a taste of country life as they explore the country lanes and canals in the area during their stay.

Bangkok Treehouse Phueangnang Homestay

Punntara Botanic Home

Cultural attractions

Bang Namphueang floating market

Contents

Back to map of Thonburi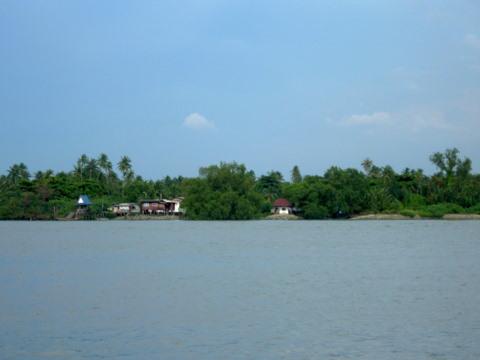 Phra Pradaeng - oasis on the Chao Phraya
Make use of Bangkok hotel deals as a hotel and travel guide to explore a very different side of Bangkok.
To return to Bangkok hotels.
Custom Search