The Khon mask maker
preserving the art
The Khon mask maker of Bang Plad, not only makes beautiful Khon masks and ornaments, he conducts a centre for teaching the making of Khon masks so that the art can be preserved for future generations.
The Wat Thephakorn Occupation Training Centre is located in the grounds of Wat Thephakorn in Charan Sanitwong Soi 68. 
It's also home for the Wat Thephakorn community as the people in the neighbourhood are called.

It's a friendly and closely knit community and I had no difficulty finding the place. I arrived at a wooden hut selling food and was a little confused.
There was a lady preparing food at the front of the shop. I asked for Khun Sathaporn, the Khon mask maker. The lady replied that he was away in another province giving Khon mask making lessons. She identified herself as his daughter Khun Patchani.
After I explained the purpose of my visit, she arranged two small tables for me at the front of the shop and brought out a cloth bag containing all her father's old photographs, documents and old newspaper cuttings. I was overwhelmed by her hospitality and helpfulness.

Inside the shop there were dozens of Khon masks in plastic wrappers. Unfortunately Bang Plad was one of the districts that was badly flooded in late 2011.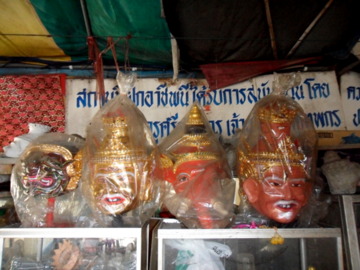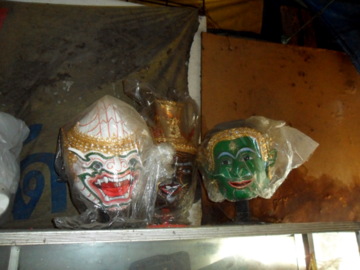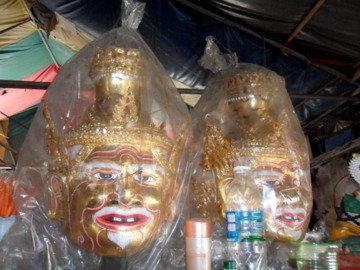 The shop which also serves as the Khon mask training centre was under a metre of water! Many of the photograph frames were damaged. But the photos were salvaged.

I sifted through the old photos and newspaper cuttings mounted on boards and tried to trace the career of Khun Sathaporn Liangsorn, the Khon mask maker.

In 1997, a Thai daily interviewed Khun Sathaporn and his wife Khun Supha. Back then they had already trained about 200 students nation-wide.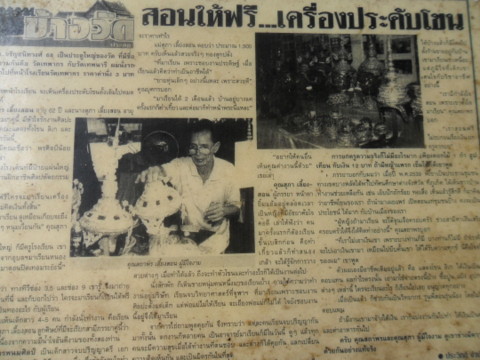 The interview headlined "Free lessons"
In the words of the journalist who conducted the interview, "They love the art more than they love life".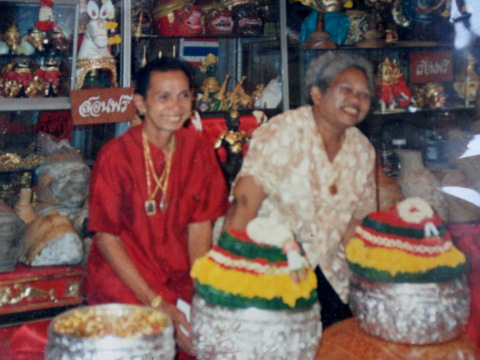 Khun Sathaporn and Khun Supha
Please see map to the mask maker at Bang Plad

Memories of a Khon mask maker 

Khun Sathaporn who is 75 this year (2012) started life as a dancer in Khon and Likay (a form of Thai classical dance). Later he switched to making Khon masks and ornaments like belts, bracelets etc for Khon dancers.

Khun Sathporn's Khon masks range from miniature masks to life-sized masks. He also makes concrete masks as decorative pieces.

During his long career he has received several awards and has been recognized as an authority in his craft.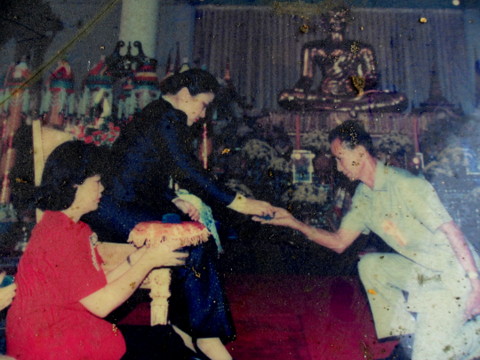 Receiving an award from a member of the royal family, 23 July 1996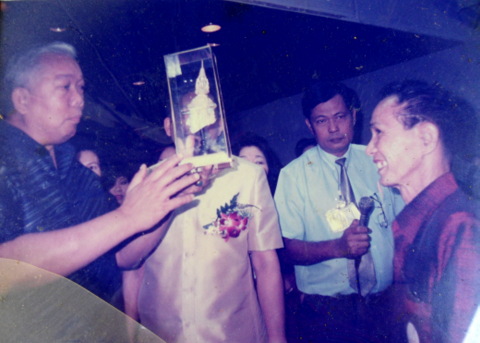 Receiving an award from Samak Sundaravej Governor of Bangkok 2000 – 2004 (left)
Several more accolades followed. These photos were unlabelled and I am unable to identify the event and date.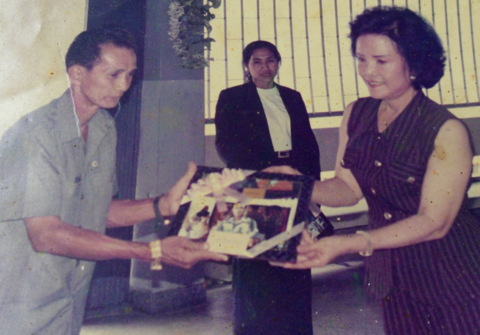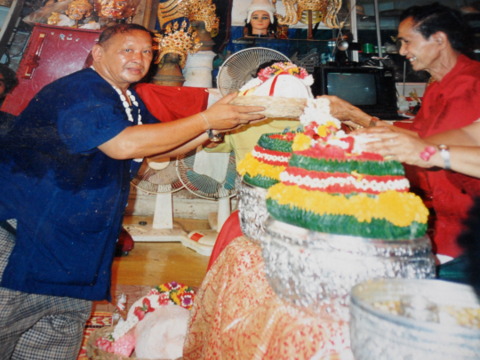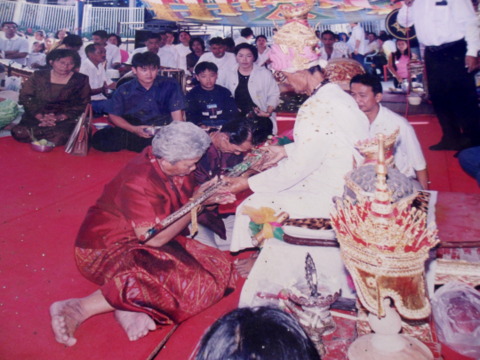 Making a Khon mask 

Khun Patchani kindly explained to me the stages in making a Khon mask. First, the frame is made from cardboard; various sizes are made to form the neck and head which are then joined. Contours and features are created by pasting paper mache. The cardboard frame is left to dry in the sun.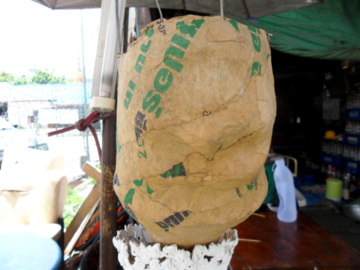 Next, plaster is molded on the cardboard frame and carefully shaped into the features and left to dry. Ornaments are separately made and glued to the mask.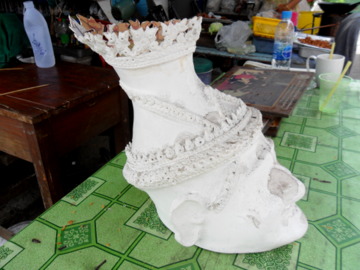 The mask then painted and gold leaf is applied to the surfaces to give the glitter. The completed mask would look like this.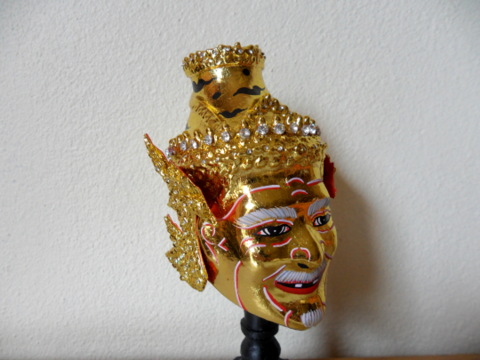 Pho Kae – the Hermit
If it's tough making a life-sized mask, making a miniature would be even tougher. This miniature mask of Hanuman the monkey god is 5 cm from top to bottom and 5 cm from ear to ear (2 inches x 2 inches).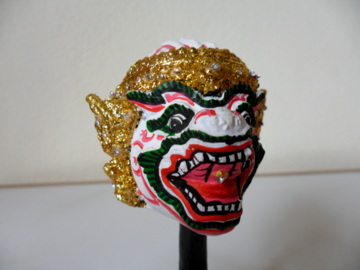 Hanuman – the monkey god
Khon mask making lessons 

Khun Sathaporn also conducts Khon mask making classes as part of his efforts to pass the skills to the younger generation and preserve the art. During my visit he was out in another province conducting classes.

His daughter Khun Patchani has taken after her father. She was born and grew up in Bang Plad in a house behind the shop. After a stage as a Khon and Likay dancer, she acquired the skills in Khon mask making and conducts lessons in front of the shop. 

When she is not conducting classes, she makes deep-fried chicken, fish balls and sausages for sale to the children from the Wat Thephakorn School nearby.

Just imagine the hundreds of students who have taken their lessons over the years on make-shift tables in front of this humble shop.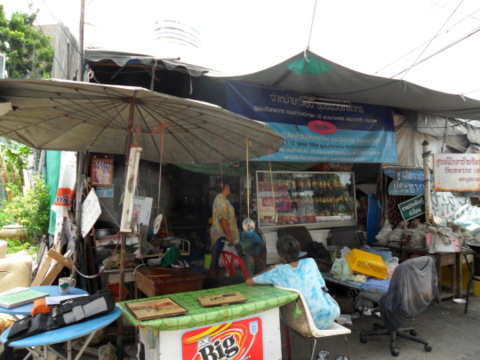 The open classroom
The lessons are free. Students pay for the costs of the material used in the lessons.
The Khon mask maker and his family have dedicated themselves to the art and have strived to pass their skills to subsequent generations.
They deserve all the support from art lovers and those who believe in preserving the cultural heritage of their society.

Men and women are frequently valued for their financial worth; few are valued for their non-monetary contributions to their communities and society, a contribution that may be of far greater worth.

"They love the art more than they love life".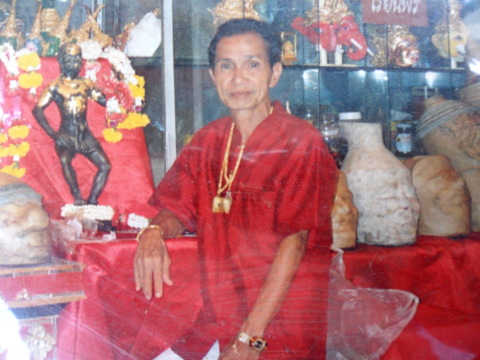 Khun Sathaporn Liangsorn
My thanks 

I would like to thank Khun Patchani Liangsorn for her kind hospitality and helpfulness during my visit. She made available all the photographs, documents and newspaper cuttings, arranged two small tables for me to work from complete with a cold drink.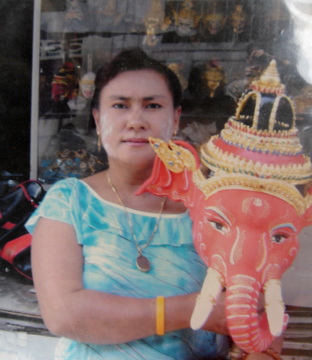 Khun Patchani – following in her father's footsteps
I never expected such treatment and I am truly touched and grateful for the warm and friendly atmosphere. 

All photographs taken at the shop are with the kind permission of Khun Patchani Liangsorn.

Map to the Khon mask maker of Bang Plad 

View
Khon mask maker
in a larger map
How to get there
By bus
Take the air-conditioned bus service no. 18 from the Victory Monument which goes to Charan Sanitwong Road. Get off when you see Soi Charan Sanitwong 68. There is a temple arch at the junction of the soi.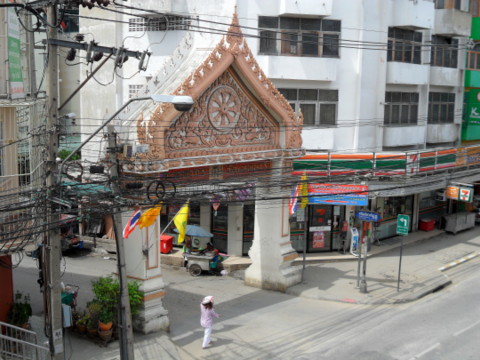 Arch over the entrance to Charan Sanitwong Soi 68
There is another arch at the entrance to Wat Thephakorn.
By MRT Blue Line
Take the MRT Blue Line and depending on which direction you are coming from alight at BL6 Sirindhorn Station or BL7 Bang Phlat. From the station take a taxi to Wat Thephakorn. The Khon mask maker is just behind the temple.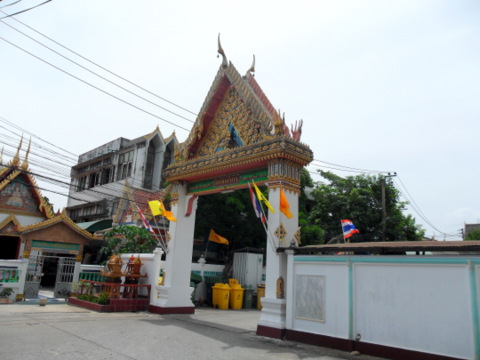 Entrance to Wat Thephakorn
Contact information - the Khon Mask Maker

Khun Patchani Liangsorn
Wat Thephakorn
Soi Charan Sanitwong 68
Charan Sanitwong Road
Bang Plad
Bangkok 10700

Tel +66 86 773 6727

The shop is open every day from 8:00 am – 5:00 pm
To return to Traditional Thai art.

Related page
Khon Mask Makers of Saphan Mai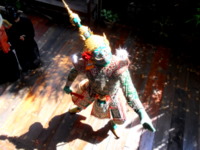 My Journey through Thailand Part I The First Steps
This is my second e-book and the first in the series of travel journals on my trips to explore the various provinces in Thailand. This edition, which covers my travels from late 2009 to mid-2013, will guide you to historical sites, cultural monuments and exquisite Thai handicraft, across a vast spectrum of cultural and ethnic diversity.
You can have a virtual tour with this e-guide book or take the first steps yourself in this journey through Thailand.
My Kindle edition