Bangkok Legacies Bookstore
buy books online

Welcome to the Bangkok Legacies Bookstore, our online bookstore which features the books I have published both on Kindle and Smashwords in the course of my travels in Bangkok and Thailand.
These books are e-guide books for independent travelers to explore Bangkok and Thailand on their own. Or if they choose to, they can do a virtual tour from the comforts of their armchairs at home to share in my travel experiences.
How to use these e-books
Each section in these books provides the historical and cultural background to the subjects, details of the various people and places and most importantly maps and directions to get there, including forms of public transport like boats, buses and trains to use.
With this e-book downloaded to your personal mobile device which almost everyone carries nowadays, you can have a travel guide at your fingertips.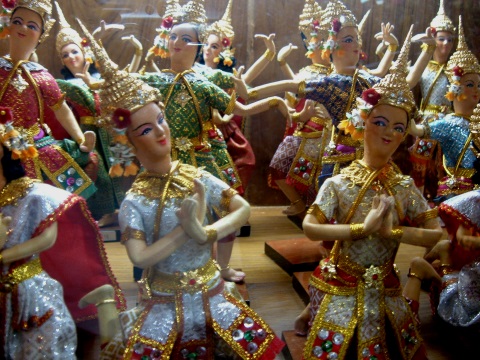 Miniature dolls in the Bangkok Dolls Museum
Advantages of e-books
Storage – If you are an avid reader, books can literally fill up your home unless you have the luxury of a library. E-books solve this problem completely. What's more the e-books can easily be recalled.
Portability – You don't have to lug books around when you are out. It's all in your mobile device or tablet.
Wide selection – You have access to a wide selection of e-books both free and paid. E-books are generally cheaper and easier to buy, delivery is online.
Only in e-book format - Many of the old classics are out of print and only available in e-book format. It will be difficult to find them in bookstores, try looking for Treasure Island or Moby Dick on the shelves.
Convenience – Shop for e-books from the convenience of your home. Gone will be the days of hunting around book stores for your favourite book.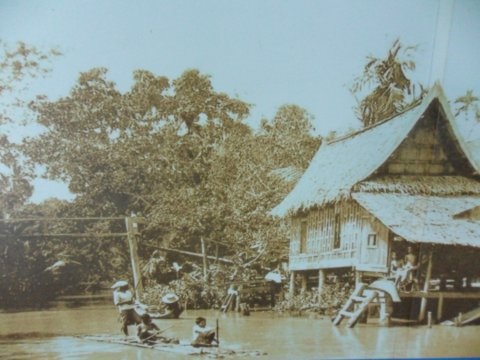 Old house on the Bangkok Noi Canal – Bangkok Noi Musuem
With this in mind, let's take a tour of the Bangkok Legacies Bookstore and browse through the books available.
New! Just out in the Bangkok Legacies Bookstore !
Bangkok Book Series
I've packaged my two e-book editions and one paperback edition on Bangkok into a series entitled "Bangkok". The three books in the series are:
Tour Bangkok Legacies - e-book
Tour Bangkok Legacies - paperback
Bangkok's Hidden Treasures - e-book
This helps readers locate all my books on Bangkok on one web page.
Happy Reading!
My Bangkok Series
Republished Tour Bangkok Legacies paperback at half price!
I've just republished the paperback edition of Tour Bangkok Legacies, a historical travel guide book for the independent traveler. When I first published my paperback edition in March 2019, I used premium color for printing the book. The printing cost and subsequent book price were prohibitive!
Since then, Kindle has come out with a standard color option which reduces the printing cost by half! I can now sell the book at half of the former price!
The second reason for republishing this paperback was the increase in the Mass Rapid Transit lines since I first wrote the original draft in 2014. The MRT lines back then were a fraction of what they are today.
Many of the places mentioned in my book can now be accessed by MRT making it more convenient for the independent traveler.
My Kindle paperback edition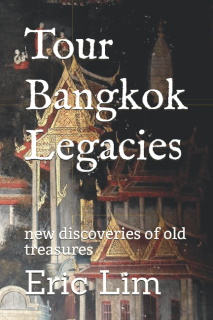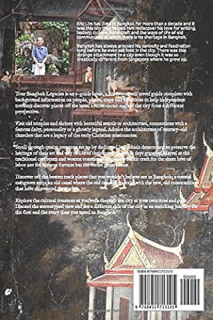 A number of friends and readers have said that they preferred to read printed editions of books rather than e-books. Even though I'm a fan of e-books, I agree with their sentiment. E-books can a strain on the eyes.
As a result, I've published a paperback edition of Tour Bangkok Legacies, my first e-book. This edition comes with colored post-card sized photos of the places visited.
The contents of the paperback are basically no different from the e-book edition. The book provides independent travelers with a guide book to take them on a self-guided tour old Bangkok.
Or read this book in the comfort of your sitting room and travel in your mind's eye to the alleys, museums, homes in old Bangkok, they all have a story to tell.
Bangkok Legacies Bookstore

My third e-book - Bangkok's Hidden Treasures
Bangkok Legacies Bookstore catalog
Our Bangkok Legacies Bookstore catalog provides details of the book summary, the various editions and book reviews if any.
#1 Tour Bangkok Legacies – new discoveries of old treasures
#2 My Journey through Thailand – Part I The First Steps
#3 Bangkok's Hidden Treasures - the other faces of Bangkok
Bangkok Legacies Bookstore

Tour Bangkok Legacies new discoveries of old treasures

Book summary
Tour Bangkok Legacies is an e-guide book, a do-it-yourself travel guide complete with background information on people, places, maps and directions to help independent travelers discover places off the usual tourist circuit and see the city from a different perspective.
Visit old temples and shrines with beautiful murals or architecture, connections with a famous deity, personality or a ghostly legend. Admire the architecture of century-old churches that are a legacy of the early Christian missionaries.
Stroll through quaint museums set up by dedicated individuals determined to preserve the heritage of their art and way of life of their communities in days gone by. Marvel at the traditional craftsmen and women committed to preserve their craft for the sheer labor of love not for fame or fortune but for posterity.
Discover off the beaten track places that you wouldn't believe are in Bangkok; a coastal mangrove strip, an old canal where the old can still co-exist with the new, old communities that have reinvented themselves.
Explore the cultural treasures as you walk through the city at your own time and pace. Discard the stereotyped view and see a different side of the city in an enriching journey for the first and every time you travel to Bangkok.
Kindle paperback edition
Cover - Murals in the ubosot of Wat Mahapruettharam, Bangkok.
My Kindle paperback edition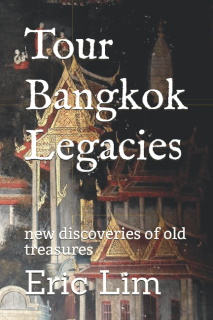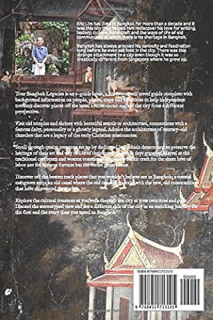 Kindle e-book edition
Cover - Murals depicting the 13 ascetic precepts of Buddhism in the ubosot of Wat Mahapruettharam, Bangkok.
My Kindle e-book edition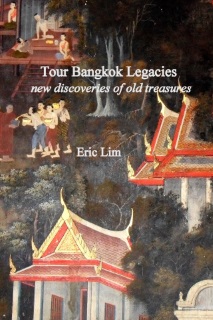 Smashwords e-book edition
Cover - Kwan Riam floating market on the Saen Saab Canal in Ramkhamhaeng, eastern Bangkok.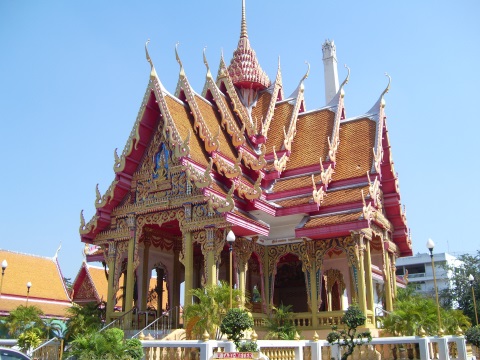 Wat Mahabut home of Mae Nak the female ghost of Phra Khanong
Bangkok Legacies Bookstore

Books reviews for Tour Bangkok Legacies
This is an e-mail I received from a reader who bought my e-book.
"This is a great travel book to have about Bangkok, Thailand whether you have been there, are there, going there, not going there, thinking or simply enjoying a good read. It's very well written, enlightening and highly recommended."
Dan Wee – San Marino, California
Here are some reviews from readers on Kindle and Smashwords.
"I'd lived for years in Bangkok and walked through many of its neighborhoods. I thought I knew the city, until I picked up Eric Lim's Tour Bangkok Legacies. Now I'm reading as fast as I can, realizing how much new territory I have to explore in a city that has so much that I've yet to see."
Janet Brown a travel writer and editor at Things Asian Press which publishes books of all genres on Asia, from Chinese horror novels to cookbooks.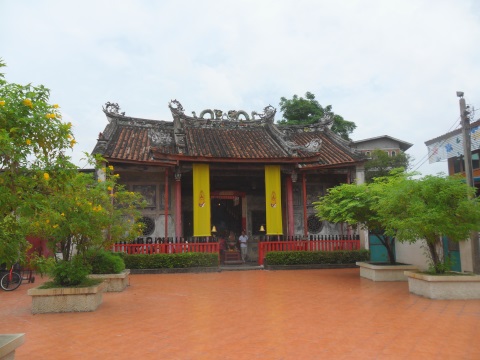 Kuan Im (Goddess of Mercy) Shrine, Bangkok Noi
"Eric Lim displays the knowledge of this great city that can only come from exploring every nook and cranny of its labyrinthine lanes and conveying his discoveries in infectious prose that compels the reader to set off on his own explorations of the city, even if only from his armchair.
He has ferreted out little-known lore and his enthusiasm in relating them is one of the delights of this book. These are sites that will be found on few tour itineraries and, as such, he adds another dimension to a Bangkok visit. A good, and most importantly, useful read."
Steve Van Beek, a river explorer and travel writer, has written several books on Thailand, my favorite being 'Slithering South', an account of his 58-day journey over 720 miles (1,160 km) as he rowed a boat from the headwaters of the Ping River in Northern Thailand down the Chao Phraya River and finally to the Gulf of Thailand.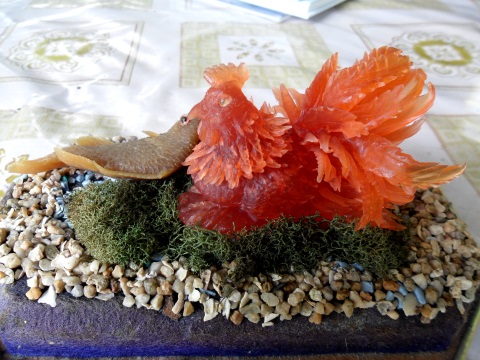 Superb craftsmanship by the Thai soap carver
"This book is the work of an author with a deep interest in the cultural history of one of the most fascinating cities of Asia which is also among the world's top tourist destinations, Bangkok. For centuries, the centre-stage of political, cultural and economic developments in Thailand, Bangkok dates its origins to the 15th Century as a trading post during the period of the Ayutthaya Kingdom.
In publishing this book, Eric uncovers a treasure trove of gems of the Kingdom's legacy. Through this exposition of Bangkok's wats and temples, churches of the various Christian denominations, museums, markets, arts and crafts and the klongs or canals which have served a vital public transportation function in the traffic-congested capital.
Eric has made available a wealth of information about the origins, history and even folklore surrounding fascinating edifices, monuments and customs. This work of passion and labour of love is an invaluable source of information for anyone with more than a fleeting interest in Bangkok's cultural landscape and history."
Nicky Tay
Please see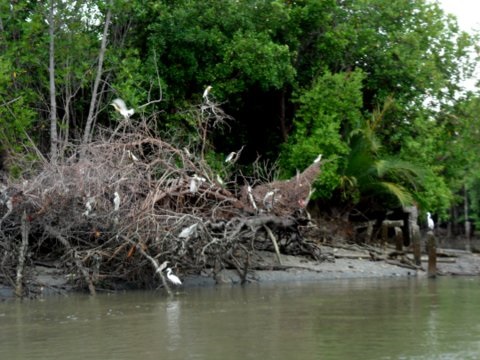 Mangrove in Bang Khun Thian – Bang Khun Thian Museum
Bangkok Legacies Bookstore

My Journey through Thailand Part I The First Steps

Book summary
My Journey through Thailand Part I is the first in the series of travel journals on my trips to explore the various provinces in Thailand from late 2009 to mid-2013.
This journey takes you to places that bore silent witness to momentous battles decades and centuries ago that changed the course of history. View vast cultural monuments that are legacies of individuals who left their mark in society long after they have gone.
Meet artists, craftsmen and craftswomen who produced exquisite pieces of art. They did this not for fame or wealth but for the love of their craft.
Meet farmers who toiled their land to produce the food that we eat. Visit the home province of the father of Thailand's greatest poet, a scenic place which must have inspired the poet to pen his most famous poem.
Marvel at the cultural and ethnic diversity of the places in this journey that was once at the crossroads of major civilizations more than a thousand years ago; China and India, the Khmer Empire based in present day Cambodia and the Lan Chang Kingdom based in present day Laos.
The result is a rich cultural and ethnic mix which is reflected in the architecture, dialects, dress, handicraft, festivals and customs.
Step into the humble home of a man who sought refuge in Thailand, a man who was a fugitive in his own country occupied by a colonial power, a man who struggled his entire life for the freedom and unity of his homeland. Please join me as I take these first steps in my journey through Thailand.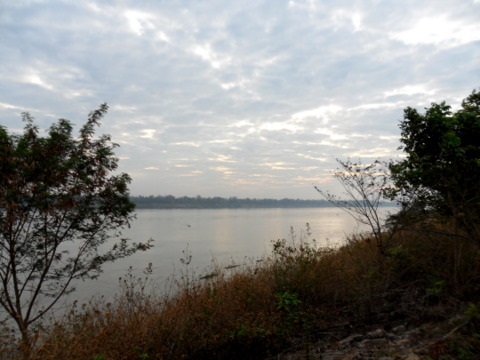 Dawn view of the Mekong River from Khemmarat, Ubon Ratchathani
Kindle edition
Cover - The Battle of Nong Sarai when the Siamese forces under King Naresuan defeated the Burmese in January 1593 re-enacted during the Surin Annual Elephant Roundup November 2012.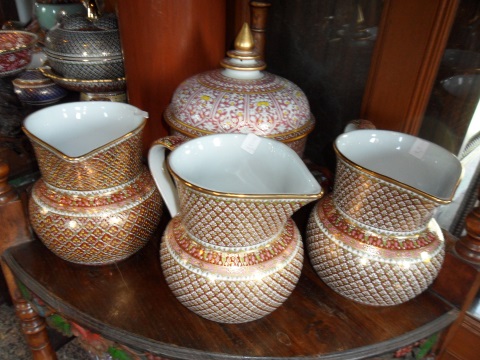 Benjarong ceramics from Ban Don Kai Dee, Samut Sakhon
Smashwords edition
Cover - Wat Nong Waeng, a temple museum on the south-western shores of Bueng Kaen Nakhon, a huge lake south of Khon Kaen City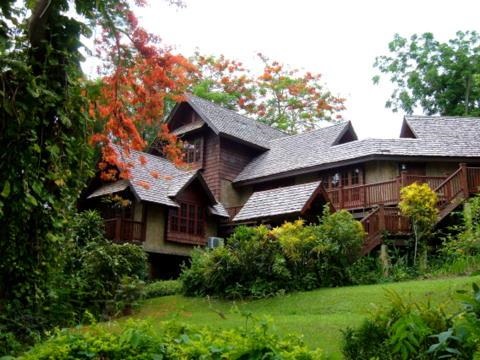 Country homes in Chiang Mai
Bangkok Legacies Bookstore

Book Reviews for My Journey through Thailand Part I
Readers wanting something different to the Lonely Planet Guides, will find it in Eric Lim's e-books. There are no glossy maps (who needs them with GPS on your smart phone or tablet). A good conventional map of Thailand will suffice as a comfort blanket if you really feel the need.
Eric's e-book provides "down to earth" travel information such as points of departure and arrival, bus numbers, routes, distances and local sites of interest. and places of local accommodation along with conversations with the owners. The e-book is illustrated with beautiful color photographs.
I hope that readers of Eric's e-book will email him with their comments, suggestions and their own experiences and acquaintances. After all travel and tourism is best when it becomes a shared experience.
J Barnes - Bangkok, Thailand
Please see
Kindle review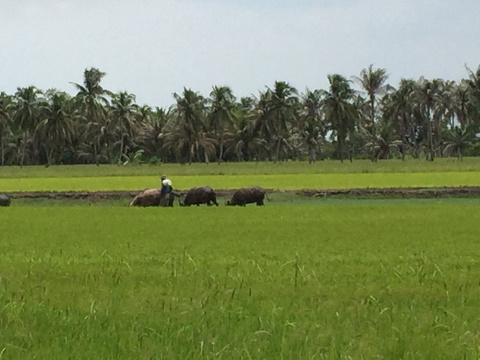 Farmer walking his buffalos through a rice field in Nong Chok, Bangkok
Bangkok Legacies Bookstore

Bangkok's Hidden Treasures - the other faces of Bangkok

Book Summary
This is a journal of my travels in Bangkok from late 2011 to early 2018. It's a journey to the less traveled and lesser-known places in Bangkok, places that are treasure troves of history, art and culture of the diverse communities that make up Bangkok and Thailand.
This journey will take us from the rice fields of Nong Chok near the eastern city limits of Bangkok across the city to the canals in Thawi Wattana in the west.
In the course of this journey, we will encounter old community museums, collectors' museums, house museums all of which preserve the history of communities, and their way of life in bygone eras.
We will visit an old community that dates back to the reign of King Taksin in 1769 and whose members are descendants of the early Portuguese in old Siam.
Dine at a quaint old restaurant tucked away on the banks of a canal in an area that is only accessible on foot.
Visit a very special community that can only be accessed on foot or by boat. It is virtually cut off from all vehicular traffic making it a virtual island in an urban sea!
Let's uncover these gems in Bangkok's hidden treasures together.
Kindle Edition
Cover - View of Krua Ja Daeng (Ja Daeng's Kitchen), a quaint, little restaurant tucked away on the banks of the Bang Phrom Canal, Taling Chan.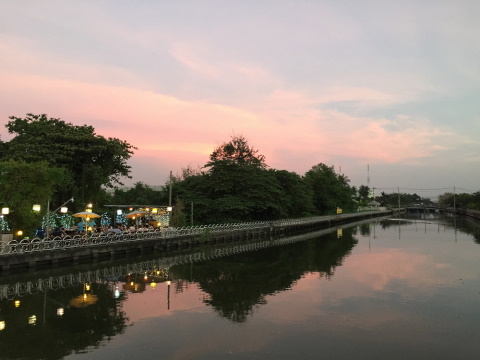 Restaurants lighting up along the Thawi Watthana Canal, Bangkok
Bangkok Legacies Bookstore - download free e-book readers
In order to read books online, you need an e-book reader. These can be downloaded FREE on the internet. There are various versions to suit personal computers (desktops and laptops) and operating systems, Windows, Apple OS and Android.
For Kindle e-books from Amazon, download the Kindle App appropriate for your device. Once you've done that, open your app and sign in. If you don't an account, just open one.
For e-books from Smashwords, PC users need to download the Adobe Digital Reader here.
For iPad, mini iPad and iPhone users downloading Smashwords e-books just need to click the ePUB button and the e-book will be downloaded to your iBooks library.
For Android users download the Aldiko App from Google Play. 
Get a free sample at the Bangkok Legacies Bookstore
Free samples of these e-books are available on Kindle or Smashwords. Get one and if you like it buy the e-books.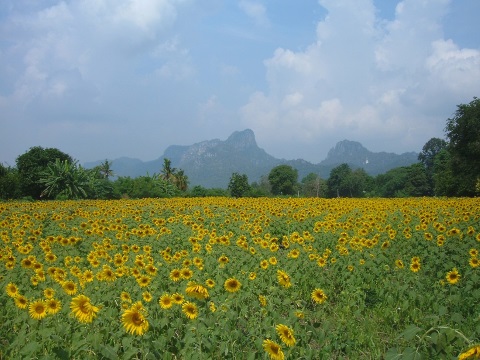 Sunflowers of Lopburi
I have always loved being in comfortable libraries or traditional bookstores with soft carpets, comfortable armchairs, paintings on the walls, fresh flowers in the vases and the shelves stacked with all my favorite books. The Bangkok Legacies Bookstore is the closest I can get to that "library".
With that we end our tour of the Bangkok Legacies Bookstore. We hope you have enjoyed browsing through the books and we will be adding more in the near future.
Thank you for visiting the Bangkok Legacies Bookstore. We look forward to seeing you again.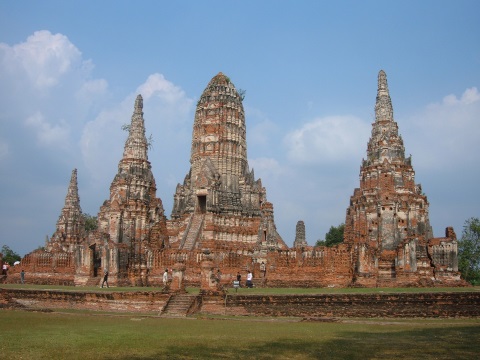 Wat Chai Watthanaram Ayutthaya
Author's note: All the photos in this article are of places featured in the books in the Bangkok Legacies Bookstore.