Tour Bangkok Legacies blog
Tour Bangkok Legacies blog is a web blog of this historical travel website and do-it-yourself guide for independent travelers to Bangkok.

About the Tour Bangkok Legacies blog
This blog keeps readers informed of

the latest content pages added to Tour Bangkok Legacies,
updates and changes to existing web pages,
news and developments affecting historical sites in Bangkok and Thailand,
anniversaries of momentous events in Thai history and
Thai cultural festivals.
New editions to our monthly e-zine Bangkok Travelbug which covers the various provinces in Thailand
The blog serves as a window to the latest content added or changes made to this web site and access these pages quickly. At a quick glance you will be able to focus on the areas you are interested in.
Explore old traditional Thai homes that are now heritage museums
Visit quaint museums that preserve the memories of old communities and their way of life
Visit old communities that are still striving today though some are in danger of disappearing
Admire the intricate workmanship of Thai craftsman who have dedicated their lives to their craft
Marvel at the spectacular palaces and monuments that serve as a legacy of a bygone age
Visit the various old places of worship to appreciate the religious and cultural harmony in a diverse society.
Subscribe to this blog
Subscribe to this feed by using the features in the button at the top left corner of the page, the box at the top of the navigation bar.

Right click on the RSS/XML button, click "Copy to shortcut" (Internet Explorer) or "Copy link location" (Firefox) or "Copy link address" (Google Chrome) and add the blog to your RSS reader.

Alternatively click on the add to MyYahoo! or MyMSN buttons to subscribe.

Please feel free to send us your comments and feedback. We look forward to your feedback. We hope you enjoy reading our blog as much as we enjoyed putting it up.

The items below are presented in order of the latest events and updates on the website. So join us as we take you on this historical journey through Bangkok and other parts of Thailand as well.

If you enjoy reading this blog, please bookmark it and tell a friend about it.

ADD TO YOUR SOCIAL BOOKMARKS:

Blink

Del.icio.us

Digg

Furl

Google

Simpy

Spurl

Y! MyWeb
Tour Bangkok Legacies – Paperback Edition
5 October 2020

A number of friends and readers have said that they preferred to read printed editions of books rather than e-books. Even though I'm a fan of e-books, I agree with them. E-books can be a strain on the eyes.

As a result, I've published a paperback edition of Tour Bangkok Legacies, my first e-book. This edition comes with colored post-card sized photos of the places visited.

The contents of the paperback are basically no different from the e-book edition. The book provides independent travelers with a guide book to take them on a self-guided tour of old Bangkok.

Or read this book in the comfort of your sitting room and travel in your mind's eye to the alleys, museums, homes in old Bangkok, they all have a story to tell.

The book is available on this link, Tour Bangkok legacies – Paperback edition


Read what other readers have said about Tour Bangkok Legacies – Paperback edition
Tour Bangkok Legacies - Paperback edition
For those who prefer reading printed books rather than e-books, here's the paperback edition of Tour Bangkok Legacies, which will help you along as you explore the streets of Bangkok and discover its old treasures. It's complete with historical descriptions and directions on how to get to these places.
Tour Bangkok Legacies - Paperback edition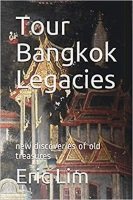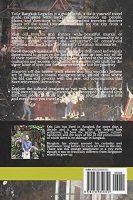 Copyright@2008-2020 Tour Bangkok Legacies
All rights reserved

Continue reading "Tour Bangkok Legacies – Paperback Edition"