The Three Pagoda Pass, Sangkhla Buri, Kanchanaburi
17 March 2020

Hello and welcome back to the March issue of the Bangkok Travelbug. This month we visit the Three Pagoda Pass in Sangkhla Buri, Kanchanaburi to review the strategic importance of this area and the events that passed through here over the last two millenniums.

The pass is named after the three pagodas located here. These pagodas are believed to be constructed during the Ayutthaya era as a symbol of peace, which proved to be elusive for centuries to come.



Three Pagodas – symbol of peace

Join us as we take a tour of this area that has seen so much of history passing through.



Border crossing at the Three Pagoda Pass viewed from Thailand looking towards Myanmar

For more please see, Three Pagoda Pass, Sangkhla Buri, Kanchanaburi.

Read what other subscribers have said about us, and subscribe to the Bangkok Travelbug.

Next month – Koh Si Chang, Chonburi

My Journey through Thailand Part I The First Steps

This is my second e-book and the first in the series of travel journals on my trips to explore the various provinces in Thailand. This edition, which covers my travels from late 2009 to mid-2013, will guide you to historical sites, cultural monuments and exquisite Thai handicraft, across a vast spectrum of cultural and ethnic diversity.

You can have a virtual tour with this e-guide book or take the first steps yourself in this journey through Thailand.

My Kindle e-book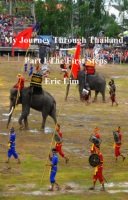 Copyright@2008-2020 Tour Bangkok Legacies
All rights reserved
Continue reading "The Three Pagoda Pass, Sangkhla Buri, Kanchanaburi"