Bangkok Mass Rapid Transit – SRT Red Line
18 Aug 21

The State Railway of Thailand (SRT) Red Line commenced operations in 2 August 2021 with free services until November 2021. This service links the northern and western suburbs of Bangkok to the city centre.

From Bang Sue Grand, commuters can connect to the MRT Blue Line. The SRT Red Line consists of two lines starting from Bang Sue Grand.

North Line Dark Red Line covering 26.4 km with 10 stations from Bang Sue Grand to Rangsit.

West Line Light Red Line covering 14.6 km 3 stations from Bang Sue Grand, to Taling Chan

Service hours

0600 – 2000 hours every day

Ticketing 12 – 42 baht


Bangkok's Hidden Treasures – the other faces of Bangkok
This is a journal of my travels in Bangkok from late 2011 to early 2018. It's a journey to the less traveled and lesser-known places in Bangkok, places that are treasure troves of history, art and culture of the diverse communities that make up Bangkok and Thailand.
This journey will take us from the rice fields of Nong Chok near the eastern city limits of Bangkok across the city to the canals in Thawi Wattana in the west.
In the course of this journey, we will encounter old community museums, collectors' museums, house museums all of which preserve the history of communities, and their way of life in bygone eras.
Let's uncover these gems in Bangkok's hidden treasures together.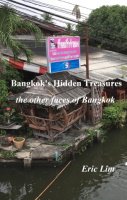 Continue reading "Bangkok Mass Rapid Transit – SRT Red Line"