A drive through rural Bang Len
10 Oct 2017

Hello and welcome back. Sorry for this late issue of the Bangkok Travelbug. I was in the process of moving to my new home in Nakhon Pathom, Thailand. Bang Len, the place we are presenting this month, is one of the districts in Nakhon Pathom.

Nakhon Pathom, just west of Bangkok, is a province with a considerable network of canals. Many of the old canal-side communities still live there doing what their forefathers were doing, trading in shops by the waterways.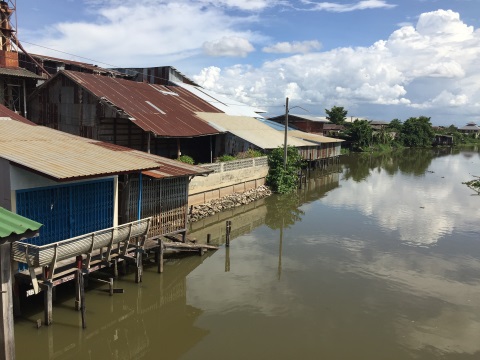 Waterside communities

We decided to visit the Rangkratoom Market in an old community in Bang Len. While I was looking at the map to get to this market, I noticed the Saint Andrew Church in the vicinity. It would be nice to visit two of these places in one trip.

However, our travel plans didn't quite turn out the way we wanted; in a pleasant way. Find out more.



Peaceful canal scene

Follow us on a virtual drive through rural Bang Len

Read what other subscribers have said about us, and subscribe to the Bangkok Travelbug.

Next month – Pridi Banomyong Memorial House, Ayutthaya.

Explore Bangkok on your own.

If you are an independent traveller, here's a handy e-guide book, Tour Bangkok Legacies that will help you along as you explore the streets of Bangkok and discover its old treasures. It's complete with historical descriptions, maps and detailed directions on how to get to these places.

My Kindle e-book