Ratchaburi Combined Arts Festival
15 December 2018

Welcome back to the merry month of December. We were in Ratchaburi for a weekend recently and were lucky to be able to visit the ongoing Combined Arts Festival held over the weekend. The displays were in the city centre along the esplanade by the Mae Klong River*.

*Note

The Mae Khlong is a continuation of the famous River Kwai in Kanchanaburi, the river continues its course through Samut Songkhram to the south and out to the Gulf of Thailand.

Besides art and handicraft from Ratchaburi, the exhibits included art from the neighbouring provinces of Suphanburi and Kanchanaburi. This exhibition is also an effort to boost tourism in these areas.

What better way to send Christmas greetings than through the art medium with a traditional Thai setting?



Dance performers at the festival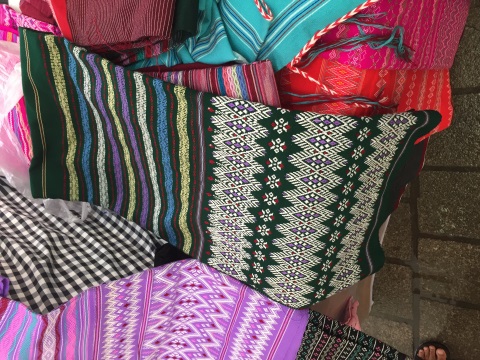 Beautiful Karen fabrics

For more, take a virtual tour of of this art festival Ratchaburi Combined Arts Festival

Read what other subscribers have said about us, and subscribe to the Bangkok Travelbug.

Next month – Ratchaburi National Museum, Ratchaburi

My Journey through Thailand Part I The First Steps

This is my second e-book and the first in the series of travel journals on my trips to explore the various provinces in Thailand. This edition, which covers my travels from late 2009 to mid-2013, will guide you to historical sites, cultural monuments and exquisite Thai handicraft, across a vast spectrum of cultural and ethnic diversity.

You can have a virtual tour with this e-guide book or take the first steps yourself in this journey through Thailand.

My Kindle e-book