Hello






Exploring rural Aranyaprathet, Sa Kaeo

Dear friends and readers, welcome back to the Bangkok Travelbug 2021. I trust all of you are safe and well. This month we take a trip to Aranyaprathet, a district in Sa Kaeo Province that's right on Thailand's eastern border with Cambodia.

Join us as we take you on a virtual tour of rural Aranyaprathet.

Contents (click on the link to go directly to the topic)


Aranyaprathet – background information

Aranyaprathet, one of the nine districts in Sa Kaeo Province, is about 255 km east of Bangkok, driving time is almost 4 hours. It's right on the Thai Cambodian border.

During the Cambodian Civil War from 1970 – 1975 between the Khmer Rouge and the Republican government and the aftermath when the dreaded Khmer Rouge took over Phnom Penh, thousands of Cambodian refugees fled to Aranyaprathet, Sa Kaeo.

Several refugee centres were set up in the province by the United Nations. Today, thankfully that problem has been resolved.

Contents

Recalling my first visit

I first visited Aranyaprathet in 2003 when I had to renew my Thai visa. I stayed in Sa Kaeo town and took a motor cycle taxi to Aranyaprathet. The border crossing then was a huge open clay area and the street vendors in their push carts and motorcycle side cars parked in this area.

Poi Pet with its casinos was just across the border. I remember having my breakfast at one of these stalls before walking across the border and returning almost immediately to get an extension for another 30 days stay. It was a dismal place and I didn't have pleasant memories of it.

During the recent visit to the border crossing, I was surprised by the drastic change. There is a shopping mall, a huge market and a long queue of trucks transporting brand new left-hand drive cars across the border into Cambodia.


The Thai Cambodian border at Aranyaprathet today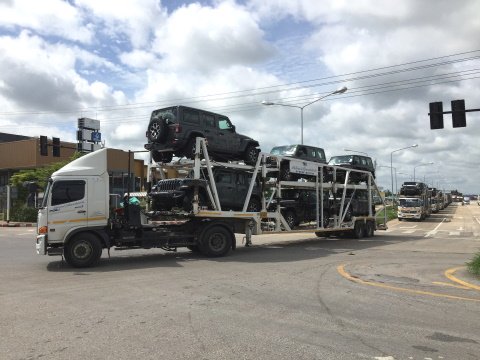 Trucks transporting cars queuing to get into Cambodia

Aranyaprathet town is no longer a sleepy border town. The main street (route 33) is lined with hotels, resorts and restaurants. During normal times before the pandemic there is a steady stream of tourists coming from Cambodia to Thailand and vice versa.

Contents

Day 2

As we spent the better part of the first day getting to Aranyaprathet and checking in to our accommodation, our exploration of the district started on our second day. Luckily, we have a friend Nok who is a native of Aranyaprathet, he was born there and grew up there. As he was familiar with many of the farmers, he took us around visiting the farm areas.

Nok's home is located in Tambon Phan Suk, a sub-district in Aranyaprathet. The house is a single storey concrete bungalow that is raised as a measure against floods. There are no neighbours for miles around.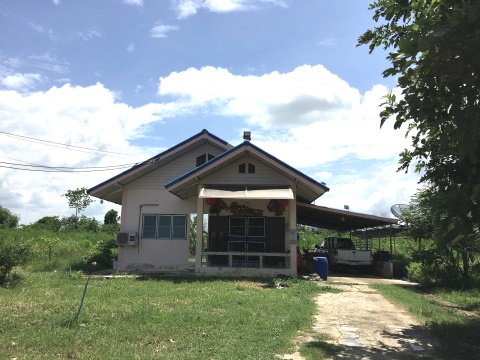 Nok's home in Tambon Phan Suk

Nok let out his front yard rent-free to a food vendor and we had lunch of Thai salads and barbecued pork in his front yard.



Lunch in a rural setting

Aranyaprathet is primarily an agricultural area but unlike some of the provinces in the Central Region, rice is not the main crop. The farmers here plant a mix of crops like sugar cane, tapioca, lam yai (longan) and rice.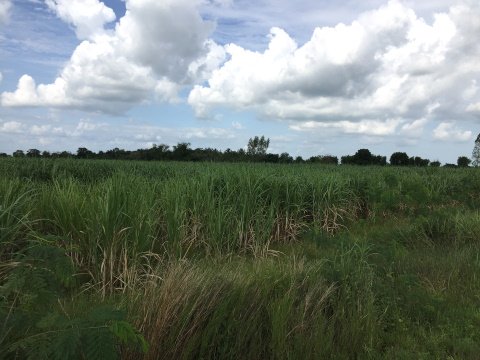 Sugar cane plantation
Tapioca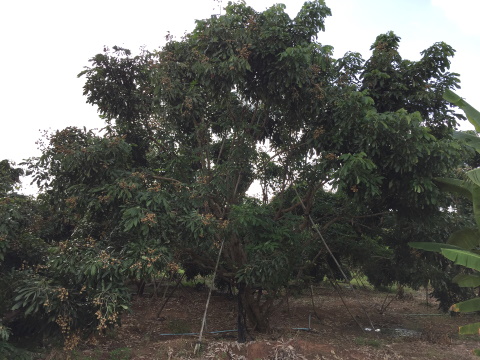 Lam yai tree laden with fruits

Eucalyptus for making paper is also cultivated. With this diversification, farmers here are not over-reliant on one crop like rice.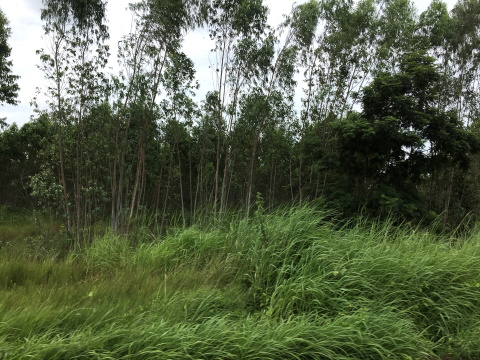 Eucalyptus trees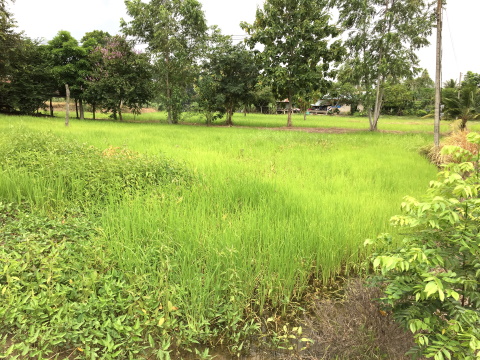 The occasional rice field

On our way into Aranyaprathet, we noticed two sugar processing factories in the district. Later in the afternoon, we took a drive to the Khao Rang Reservoir. This is a reservoir formed by a dam retaining the water flowing down from the mountains. The water is channelled to irrigate the farms.



Khao Rang Reservoir

From the map of the area, there are at least three more reservoirs, another advantage the farmers here have; a constant source of water.

Our last stop for the day was a farmer's home. He has sugar cane planted just next to his home. Not all of them have cultivated plots near their homes though.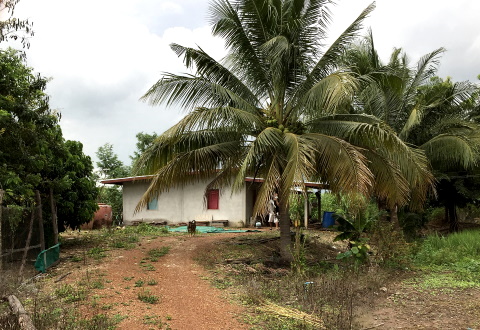 Farmer's house

Sugar cane planted next to the farmer's house

His tapioca plantation is a short drive away.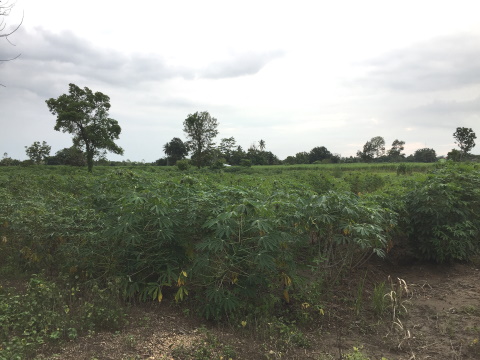 The tapioca plot

In Tambon Phan Suk, there is also a border crossing into Cambodia at Nong Prue. It's a quiet border crossing, just a couple of trucks passing, certainly not as busy as the one at Aranyaprathet town.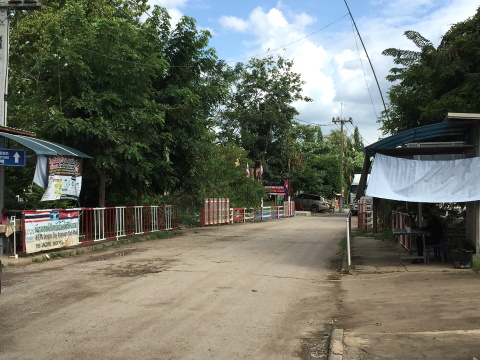 Quiet border crossing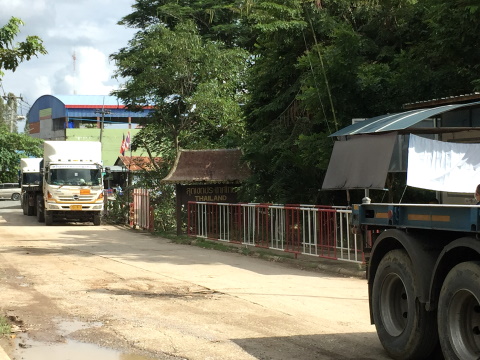 Some trucks returning from Cambodia

An empty pill box next to the immigration check point stands as a grim reminder of less peaceful times more than 45 years ago.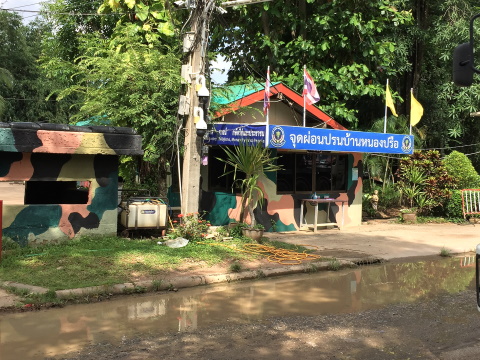 Check point with a pill box

Contents

Day 3

We spent the morning visiting Khmer sanctuaries in the district. Along the way, I just couldn't resist taking a photo of these two water buffaloes submerged up to their necks in a puddle by the road to cool off from the 35 degrees Celsius mid-day heat.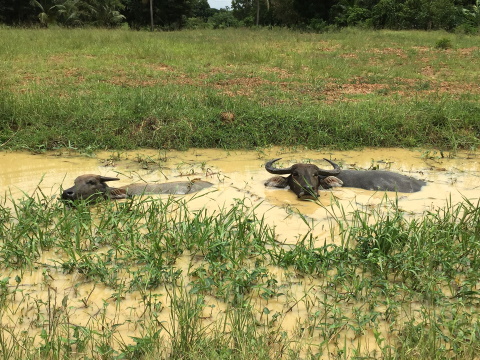 Taking a dip to cool off

We visited two farms in Tambon Phan Suk that afternoon. The first has a lam yai plantation along a quiet country road. The farm house is a single-story wooden building.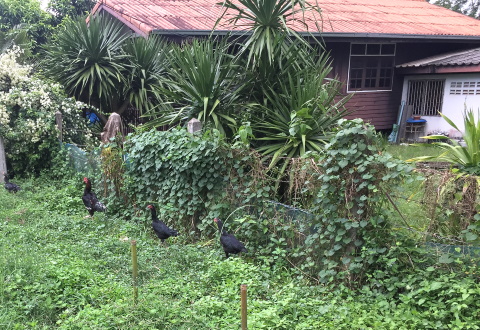 Farmer's house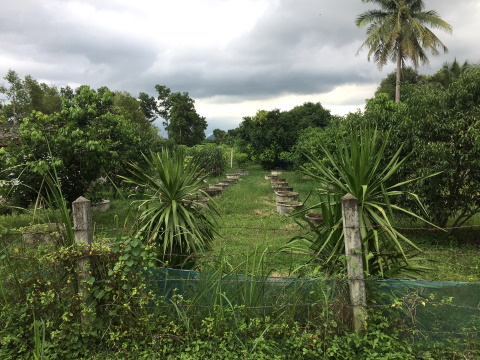 Lam yai trees in the background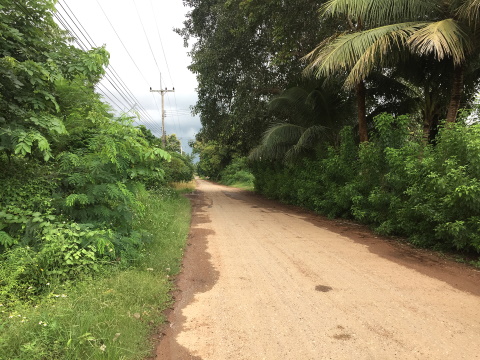 Quiet country road

At the second farm I noticed a dilapidated wooden building near the farmer's house that didn't appear to be inhabited. I learned that this building is called yung. In the old days, farmers would harvest their rice, mill the rice and store the grains in this building to wait for the rice buyer. If the price was not to his liking, he could hold for a better price.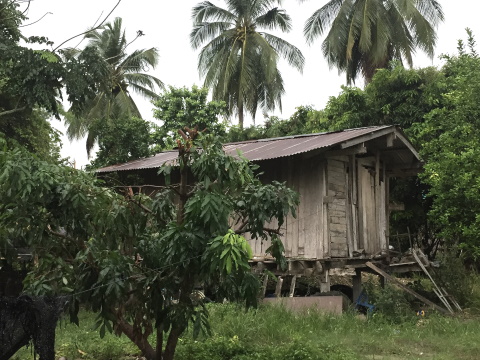 Yung – the storehouse for rice

Today, that practice is out of the question. Many farmers are deep in debt. As soon as the rice is harvested and thrashed, they will need to sell off the stocks to repay their loans. As a result, the building for storing rice is hardly used.

Contents

Day 4

On Day 4 we drove up to Ta Phraya, a district about 50 km north of Aranyaprathet, looking for another Khmer sanctuary, Prasart Khao Lon. A friendly resident on a motorbike kindly showed us the right track. But heavy rain made the muddy road impassable to non-4-wheel drive cars and we didn't want to risk getting stuck.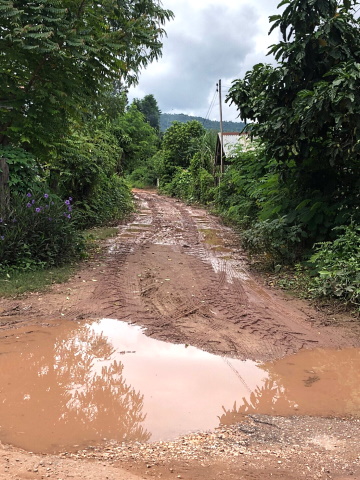 Impassable muddy track

As a result, we ended up on a straight metalled road with vast rice fields on either side.


A straight paved road through the rice fields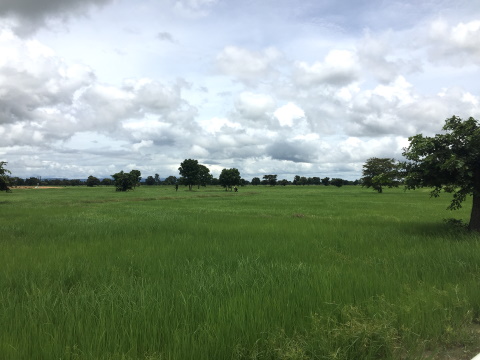 Rice fields on both sides of the road

The dark clouds give the reader an idea of the weather in the area that day.

We met a farmer and his wife along the way. The farmer had just finished spraying his rice field with organic fertilizer. During the pandemic many of their workers who are Cambodians have returned home and couldn't come back to Thailand. Farmers had to undertake many of their farming tasks on their own.

The farmer sportingly posed for this photo in his field holding the fertiliser he uses. We wish him all the best in his harvest.



The friendly farmer with his fertilisers

During the drive to Aranyaprathet, when we were passing the foothills of Khao Yai, we noticed road signs cautioning motorists about elephants crossing the road. Here in Aranyaprathet, we have to be careful of water buffaloes. On our way back, we encountered a whole herd crossing the road, a fitting end to an informative trip.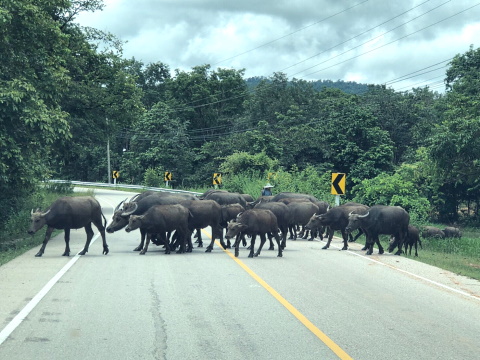 Caution – buffaloes crossing

As a city dweller, I've always found trips to the countryside very refreshing. I'd like to express my gratitude to the farmers we met for their hospitality and for the learning experience. These men and women who toil the land to produce the food on our tables deserve our respect.

Lastly it leaves me to thank Nok for showing us around his neighbourhood and taking us to visit the various farms.

Contents


Map of Aranyaprathet Attractions



If the map doesn't appear, click on this link

How to get there

From Bangkok get onto the Sirat Tollway – highway 7 (Bangkok- Chonburi New Road – route 314 – route 304 – route 33 which takes you all the way to Sa Kaeo, Aranyaprathet and the Thai-Cambodian border.

Contents

Next month

Khmer sanctuaries in Sa Kaeo

See you then.

If you enjoyed reading this e-zine, please forward it to a friend. If you received this from a friend and found it interesting, please subscribe at Bangkok Travelbug.

What do you think of the Bangkok Travelbug?

We love to hear from you

What other subscribers have said

Eric Lim
Tour Bangkok Legacies
Find us on Facebook

Bangkok's Hidden Treasures – the other faces of Bangkok

This is my third e-book which is a journal on my travels in Bangkok from late 2011 to early 2018. It's a journey to the less travelled and lesser-known places in Bangkok, places that are treasure troves of history, art and culture of the diverse communities that make up Bangkok and Thailand.

This journey will take us from the rice fields of Nong Chok near the eastern city limits of Bangkok across the city to the canals in Thawi Wattana in the west.

Let's uncover these gems in Bangkok's hidden treasures together.


Copyright@2008-2021 Tour Bangkok Legacies
All rights reserved