Bangkok hotels
best online hotel deals
Bangkok hotels listed here are a full range of 4 - 5 star hotels, airport hotels, boutique hotels and cheap hotels to give you some of the best discount rates available in Bangkok.
Find the best hotels deals for other parts of Thailand, just type in the Thai city in the search box below and you'll get the required list of hotels. 
Here is a selection of hotels ranging from 5 star hotels in Bangkok airport  hotels, boutique hotels and budget hotels to help you make your hotel reservations. 

5 star hotels in Bangkok 

There are three 5 star hotels in Bangkok of historical significance that deserve special mention. The first is the legendary Mandarin Oriental Bangkok with its tradition of famous writers.
A gripping legend deeply influenced the fate and name of the second hotel which is the Grand Hyatt Erawan Hotel. This is the legend of the Erawan Shrine.
The third 5 star hotel, the Dusit Thani Hotel is in an area rich in history and regal traditions with a name that has an interesting origin.
Most of the other 5 star hotels are in the riverside, Sathorn, Silom and Sukhumvit areas.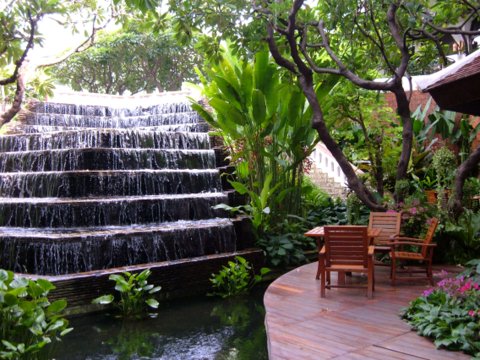 Garden in Dusit Thani Hotel
Hotels in Bangkok by location 

Airport hotels
Riverside hotels 

Hotels in Pratunam 

Hotels in Ratchadaphisek 

Hotels in Sathorn 

Hotels in Siam Square 

Hotels in Silom 

Hotels in Sukhumvit 

Hotels in Thonburi
Suvarnabhumi International Airport and its airport hotels

The new Suvarnabhumi International Airport opened at 0100 hours on 28 September 2006. With that, the curtain finally fell on Asia's oldest commercial airport. The 92 year-old Don Muang will be used as an aircraft maintenance center and terminal for VIP and chartered flights.
However, with the current problems facing Suvarnabhumi, the curtain is rising again for Don Muang in March 2007.
A historical background to the name and development of the new airport is at Suvarnabhumi Airport. The first airport hotel in Suvarnabhumi to come up was the Novotel Suvarnabhumi Airport Hotel a five star 612 room hotel within the airport complex.
Soon after, other hotels started sprouting up in the vicinity of the new international airport. Please see Suvarnabhumi Airport hotels. 

Bangkok budget hotels 

For the budget traveler looking for cheap hotels in Bangkok, please see Bangkok budget hotels. 

Click here to share your review of cheap hotels in Bangkok with others! 

Bangkok boutique hotels 

For those who prefer the exquisite setting of boutique hotels, please see the Siam Heritage Hotel. For a boutique hotel noted for its sheer originality, it's the Siam Society Hotel. 

Siam Heritage Hotel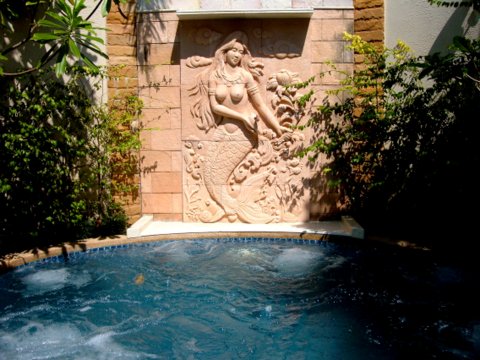 Private swimming pool in a suite in Siam Society Hotel
However, if you have a specific hotel in mind or wish to review the entire list of hotels in Bangkok to make your selection, use the search box below

These Bangkok hotels can be filtered by popularity, price, star rating, area, facilities and guest ratings. Compare these hotel prices with rates you are getting from other offers and get the best Bangkok hotel deals. 

Enjoy your stay in Bangkok.