Famous writers
at the Mandarin Oriental Bangkok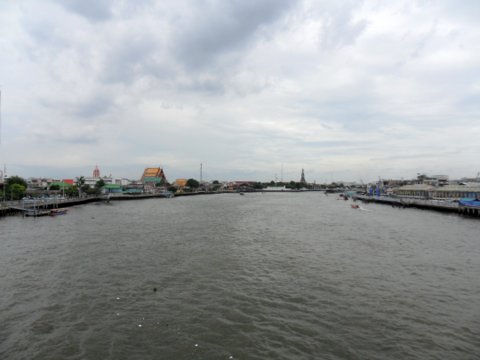 The Chao Phraya – an attraction and inspiration to many
The legion of famous writers who have either visited or stayed at the Oriental Hotel Bangkok must surely be headed by:
Joseph Conrad (1857 – 1924) a Pole originally named Josef Teodor Konrad Walecz Korzeniowski, who first arrived in Bangkok in January 1888 as an officer in the British merchant navy.
He started writing after he retired from the sea in 1894.
In his writing career he produced masterpieces like the famous Lord Jim, Falk, The Shadow Line and The Heart of Darkness. As English wasn't Conrad's mother tongue, his literary achievements must surely be an inspiration to aspiring writers.
Somerset Maugham (1874 – 1965) another of the famous writers, had a colorful career. He started as a doctor, turned to writing, worked with British intelligence, then retired owing to poor health. Maugham, who was influenced by Conrad's writing, came to Bangkok in 1923.
In spite of his bout of malaria during his stay at the Oriental Bangkok, his inspiration was not diminished. Maugham wrote Siamese Fairy Tale, a book for younger children and the travelogue, The Gentleman in the Parlour, about his tour of Thailand and the surrounding region.
Momrajawong (M.R.) Kukrit Pramoj (1911 – 1995) a direct descendant King Rama II, was former Prime Minister of Thailand. A man of many talents, he starred in the film Ugly American with Marlon Brando in the 1960s.
One of Thailand's most famous writers, he wrote the Thai classic Four Reigns, which was published in 1953. The book, which has been translated to English, is an epic tale of a woman and her family during the reigns of four kings of the Chakri dynasty (Rama V – Rama VIII).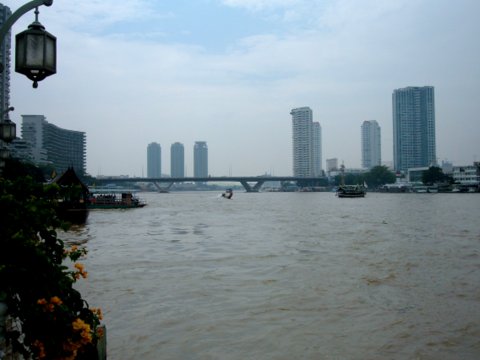 View from the Mandarin Oriental Hotel – a changing scene
John LeCarre (1931 - ) another famous British writer, was a master spy storyteller.
Drawing on his British Foreign Service background, Le Carre portrayed the grim, unglamorous and painstaking side to the real world of espionage, a departure from the razzle-dazzle of Ian Fleming's James Bond.
The Honourable Schoolboy, published in 1977, was completed during his stay at the Mandarin Oriental Bangkok. 

James Michener (1907 – 1997) a famous American writer, is best known for his well-researched epics that have spanned the USA, the Pacific and Asia. His Pulitzer Prize award winning Tales of the Pacific in 1948 was adapted for the Rodgers and Hammerstein musical South Pacific a year later.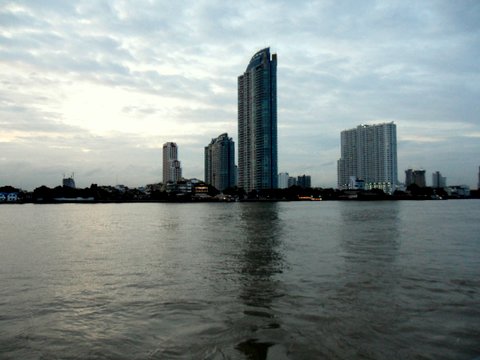 At twilight - a very different Chao Phraya today
Barbara Cartland (1901 – 2000) was one of the most prolific famous writers of them all. From 1925 – 1999, a span of 74 years, Cartland wrote 254 novels, averaging 3.5 novels per year or one novel every 3 –4 months, a phenomenal output!
Ian Fleming (1908 – 1964) another ex-intelligence officer is the man who created James Bond in his series of famous novels. In his writing career, Fleming wrote 14 Bond novels all of which were made into films.
Not all his books were Bond spy novels though. Fleming, believe it or not, wrote a children's book called Chitty Chitty Bang Bang, which was adapted to a movie in 1968.
The famous writers at the Oriental Hotel Bangkok include Graham Greene, Norman Mailer and Paul Theroux....
For the history of the Mandarin Oriental Hotel Bangkok and for other Bangkok hotels. 
Related Page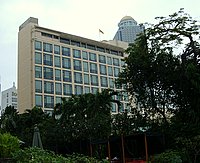 My Journey through Thailand Part I The First Steps
This is my second e-book and the first in the series of travel journals on my trips to explore the various provinces in Thailand. This edition, which covers my travels from late 2009 to mid-2013, will guide you to historical sites, cultural monuments and exquisite Thai handicraft, across a vast spectrum of cultural and ethnic diversity.
You can have a virtual tour with this e-guide book or take the first steps yourself in this journey through Thailand.
My Kindle e-book