Bangkok Mass Rapid Transit 
fast and convenient travel
The Bangkok Mass Rapid Transit is the city's public transport system consisting of high-capacity electric passenger trains serving the city and linking the city to the suburbs in the neighbouring provinces.
This page is a consolidation of the information on the current major lines in service as well as the feeder services, in terms of general information, system maps, stations, service hours and ticketing.
In addition, we will give readers a glimpse into the new lines due to come into operation in the near future.
Sky train on the Dark Green Line approaching Silom Road
Contents - Bangkok Mass Rapid Transit (please click on the link to go directly to the topic)
Currently this mass rapid transit system consists of the three major lines:
There are three complementary transport services that augment this Bangkok Mass Rapid Transit system.
Airport Rail Link which links the city centre in Phaya Thai to Suvarnabhumi Airport.
Airport Rail Link to Suvarnabhumi
Bangkok BRT or Bus Rapid Transit is a bus service that provides a feeder service to the Chong Nonsi and Talat Phlu stations on the BTS Dark Green Line (Silom Line). This bus service runs on a dedicated bus lane which gives it exclusive right of way making travel fast and smooth.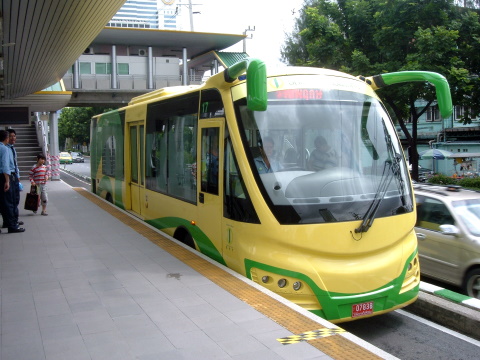 Bus Rapid Transit
Gold Line
The Gold Line is a short feeder line linking S7 Krung Thonburi of the BTS Dark Green Line (Silom Line) to Khlong San. Presently there are only three stations; Krung Thonburi, Charoen Nakhon and Khlong San covering 1.72 km.
The line is financed by the owners of Iconsiam to provide a train link to the mega mall at the Charoen Nakhon Station.
In future the Gold Line will be extended by 1 km to Prajadhipok to link up with the southern extension of the MRT Purple Line.
The special feature of this train is it's driverless! A first in Thailand.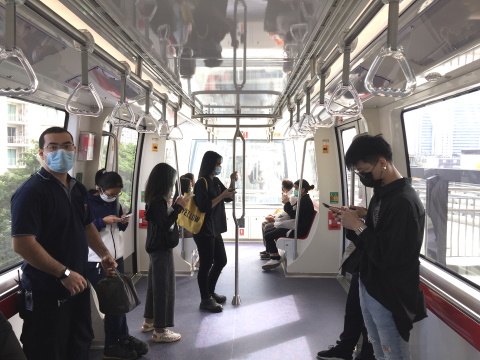 Carriage on the Gold Line
For travel for the disabled, please see Bangkok MRT facilities for the disabled.

Two separate companies run all these services:
The Bangkok Mass Transit System Public Company Limited (BTSC) manages the Green Line or BTS Sky Train, which started on 05 December 1999. This line runs above ground all the way. This company also operates the Bus Rapid Transit and the Gold Line.
The Bangkok Expressway and Metro Public Company Limited (BEM) manages the Blue and Purple Lines or MRT. The Blue Line which was started in June 2003 is underground most of the way, while the Purple Line is elevated all the way.
Bangkok Mass Rapid Transit - Green Line (BTS Sky Train)
The Green Line consists of two lines covering a distance of 58 km with a total of 59 stations.
For the system map of the Green Line 
The Light Green Line or Sukhumvit Line links Khu Khot in Pathum Thani in the north to Khe Ha in Samut Prakarn in the south-east with a total of 46 stations.
The northern link of the Light Green Light consists of 23 stations not including the Siam Interchange.
N24 Khu Khot, N23 Yaek Kor Por Aor, N22 Royal Thai Air Force Museum, N21 Bhumiphol Adulyadej Hospital, N20 Saphan Mai, N19 Sai Yud, N18 Phahon Yothin 59, N17 Wat Phra Sri Mahabut, N16 11th Infantry Regiment, N15 Bang Bua, N14 Royal Forestry Department, N13 Kasetsart University, N12 Sena Nakhon,
N11 Ratchayothin, N10 Phahon Yothin 24, N9 Ha Yaek Lat Phrao (interchange with BL14 Phahon Yothin), N8 Mor Chit (interchange with BL 13 Chatuchak Park), N7 Saphan Khwai, N5 Ari, N4 Sanam Pao, N3 Victory Monument, N2 Phaya Thai (interchange with Airport Rail Link), N1Ratchathewi – Siam Interchange
The eastern link of the Light Green Line consists of another 23 stations, excluding the Siam Interchange.
E1 Chit Lom, E2 Phloen Chit, E3 Nana, E4 Asoke (interchange with BL 22 Sukhumvit), E5 Phrom Phong, E6 Thong Lo, E7 Ekamai, E8 Phra Khanong, E9 On Nut, E10 Bang Chak, E11 Punnawithi, E12 Udom Suk, E13 Bang Na, E14 Bearing,
Sky train at E11 Punnawithi Station
E15 Samrong, E16 Pu Chao, E17 Chang Erawan, E18 Royal Thai Naval Academy, E19 Pak Nam, E20 Srinagarindra, E21 Phraek Sa, E22 Sai Luat, E23 Kheha
The Dark Green Line or Silom Line starts from the National Stadium and ends at Bang Wa in western Bangkok, a total of 13 stations excluding Siam Interchange.
W1 National Stadium, Siam interchange, S1 Ratchadamri, S2 Sala Daeng (interchange with BL26 Silom), S3 Chong Nonsi (interchange with BRT Sathorn), S4 St Louis, S5 Surasak, S6 Saphan Taksin,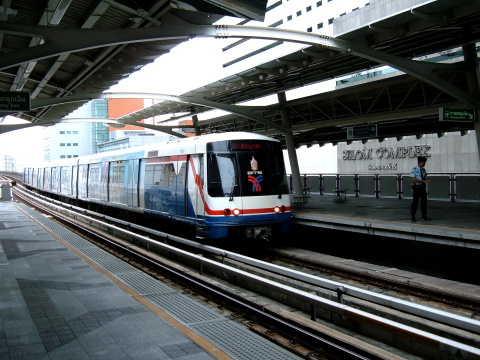 Sky train at S2 Sala Daeng Station
S7 Krung Thonburi (interchange with Gold Line), S8 Wong Wian Yai, S9 Pho Nimit, S10 Talat Phlu (interchange with BRT Ratchaphruek), S11 Wutthakat, S12 Bang Wa
Interchange stations are indicated in bold italics.
Service hours of the Green Line are 0600 – 2359 hours every day.
Tourist information centres at N2 Phaya Thai, S6 Saphan Taksin and Siam Interchange are open daily from 1000 – 1900 hours.
At the Sathon Central Pier, just below S6 Saphan Taksin, visitors can take the Chao Phraya tourist boats or the regular Chao Phraya River boats.
Green Line BTS Sky Train – ticketing
There are various types of tickets available on the Green Line.
Single journey card which are valid for travel on a single journey for the date of purchase. The fare based on destination ranges from 16 – 44 baht per journey. Tickets can be purchased at the service counters or vending machines at the various stations.
One day pass at 140 baht which allows for unlimited rides on the date of issue. It is non-refundable and available at all stations.
Stored value card – if you intend to stay for a prolonged period and use the service often it may be more convenient to by a stored value card. This saves you time from queuing up especially during peak hours.
Bangkok Mass Rapid Transit – MRT Blue Line
The Bangkok MRT Blue Line initially started from Hua Lam Pong near Chinatown and ends at Bang Sue to the north of the city. The route had a total of 18 stations covering a distance of 22 km.
Currently the Blue Line has been expanded to 38 stations covering 48 km and forms a complete loop around Bangkok.
For the system map of the Blue Line
BL1 Tha Phra, BL2 Charan 13, BL3 Fai Chai, BL4 Bang Khun Non, BL5 Bang Yi Khan, BL6 Sirindhorn, BL7 Bang Phlat, BL8 Bang O, BL9 Bang Pho, BL10 Tao Poon (interchange with Purple Line PP16 Tao Poon)

BL11 Bang Sue, BL12 Kamphaeng Phet, BL13 Chatuchak (interchange with Green Line N8 Mor Chit), BL14 Phahon Yothin (interchange with Green Line Ha Yaek Lat Phrao), BL15 Lat Phrao, BL16 Ratchadapisek, BL17 Sutthisan, BL18 Huai Kwang, BL19 Thailand Cultural Centre, BL20 Phra Rama 9,
BL21 Petchaburi (interchange with Airport Rail Link A6 Makkasan), BL22 Sukhumvit (interchange with Green Line E4 Asoke), BL23 Queen Sirikit National Convention Centre, BL24 Khlong Toei, BL25 Lumphini, BL26 Silom (interchange with Green Line S2 Sala Daeng), BL27 Sam Yan, BL28 Hua Lam Phong.
Entrance to BL30 Sam Yot Station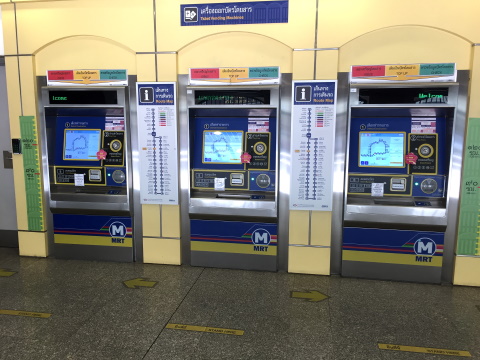 Ticket vending machines in Sam Yot Station
BL29 Wat Mangkon, BL30 Sam Yot, BL31 Sanam Chai, BL32 Itsaraphab, BL33 Bang Phai, BL34 Bang Wa (interchange with Green Line S12 Bang Wa), BL35 Phetkasem 48, BL36 Phasi Charoen, BL37 Bang Khae, BL38 Lak Song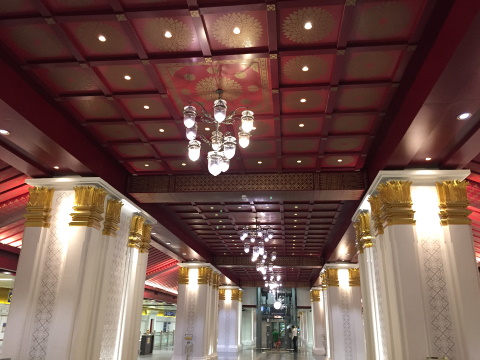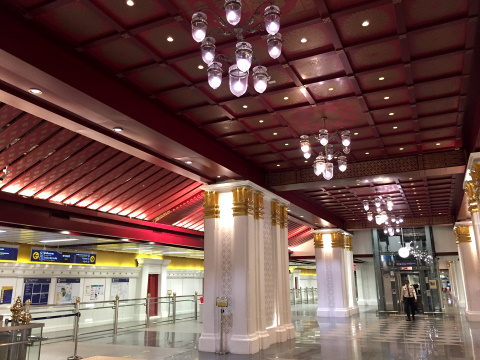 BL31 Sanam Chai Station in all its splendour
Interchange stations between the Green Line and Blue Line are in bold italics.
Service hours of the MRT Blue Line - every day 0600 – 2359 hours
The following stations on the MRT Blue Line have boat piers nearby.
BL9 Bang Pho – Bang Pho Pier (Chao Phraya River)
BL21 Petchaburi – Asoke Pier (Saen Saap Canal)
BL34 Bang Wa – Bang Wa Pier (Phasi Charoen Canal)
BL31 Sanam Chai – Rajinee Pier (Chao Phraya River)
Bangkok Mass Rapid Transit – MRT Purple Line
The MRT Purple Line is an elevated railway consisting of 16 stations covering 23 km from Khlong Bai Phai to Tao Poon where commuters can switch to the MRT Blue Line.
Please see the system map of the MRT Purple Line
PP01 Khlong Bang Phai, PP02 Talad Bang Yai, PP03 Sam Yaek Bang Yai, PP04 Bang Phlu, PP05 Bang Rak Yai, PP06 Bang Rak Noi Tha It, PP07 Sai Ma, PP08 Phra Nang Klao Bridge, PP09 Yaek Nonthaburi,

PP10 Bang Kraso, PP11 Nonthaburi Civic Center, PP12 Ministry of Public Health, PP13 Yaek Tiwanon, PP14 Wong Sawang, PP15 Bang Son, PP16 Tao Poon (interchange with BL10 Tao Poon).
Service hours of MRT Purple Line
Mondays – Fridays 0530 – 2359 hours
Saturdays, Sundays and Public Holidays 0600 – 2359 hours
Ticketing system for the Bangkok Mass Rapid Transit Blue and Purple Lines
Single Journey Token
Stored Value Card
MRT Plus Park and Ride
Business Traveller Card (for companies that wish to make bulk purchases for their staff, top ups are in denominations of 100 baht.)
For a scaled view of the current Bangkok Mass Rapid Transit lines, please the Google map below. Zoom in on the map, click on the station icon and the name of the station will appear.
If the map doesn't appear, click on this link
Bangkok Mass Rapid Transit - Future Plans
Five additional lines are planned for the mass transit system in future. These are:
2021: Dark Red (Bang Sue-Rangsit) and Light Red (Bang Sue-Taling Chan)
2022: Pink (Khae Rai-Min Buri) and Yellow (Lat Phrao-Samrong)
2023: Dark Red (Rangsit-Thammasat University Rangsit Campus) and Light Red (Taling Chan-Siriraj)
MRT Orange Line Taling Chan-Min Buri has a total length of 39.8 km divided into 2 sections, the western section and the eastern section. The western section is called "Taling Chan-Thailand Cultural Centre" and eastern section called "Thailand Cultural Centre – Min Buri". It has 10 underground and 7 elevated stations; the line is 80 % complete.
When the overall rail system is finally completed in the mid-2020s, there will be a network of lines linking the various parts of Bangkok and linking Bangkok to the neighbouring provinces of Nonthaburi, Pathum Thani and Samut Prakarn. The Bangkok Mass Rapid Transit system in future will look like this,
Bangkok Mass Rapid Transit lines in the future
The Dark Green Line in Thonburi going west to Bang Wa
The Bangkok Mass Rapid Transit is a comprehensive network of rail links that provide fast and convenient transportation that's integrated with other forms of land and water transport. Have a safe and happy tour of Bangkok.
Tour Bangkok Legacies – my first e-book
If you are an independent traveller, here's a handy e-guide book, Tour Bangkok Legacies, which will help you along as you explore the streets of Bangkok and discover its old treasures. It's complete with historical descriptions, maps and detailed directions on how to get to these places.
My Kindle e-book