Suksasom Museum
a collection of happiness
Suksasom Museum is an extraordinary collector's museum with more than 300,000 items on display accumulated over 30 years, it's the fulfilment of one man's dream to leave a legacy for posterity.
These 300,000 items are divided into 300 groups or categories and the age of these items range from 19th C to the mid-20th C. It took 30 years to accumulate these items and three years to arrange the displays!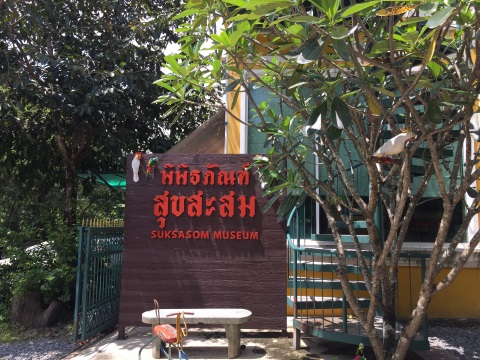 Suksasom Museum
Let's take a look at the family that was responsible for bringing this amazing museum to us.
Historical Background to Suksasom Museum
Chairoj Chalearntawesit (Meng) had this intention of establishing a museum to preserve old tools, equipment, documents and labels dating back several generations to serve as a source of knowledge for the younger generations.
For 30 years he scoured the markets buying up collectibles and items which would one day be unavailable and invaluable. Chairoj often took his son Terawat (Golf) with him and soon the father's enthusiasm for old things rubbed off on the son.
Terawat went to university on a scholarship, he worked part-time as a student to save money. He wanted to graduate and start work as soon as possible to save enough money to fulfil his father's dream of a museum by his father's 60th birthday.
After three years of work, Terawat had enough money for the museum. To save on costs he designed the building himself. The construction of the museum was beset with problems with the building contractor and later design problems arose.
Terawat resigned from his job to concentrate on supervising the construction. When the building was completed that was just the start of the monumental tasks ahead. They still had 300,000 items to put on display.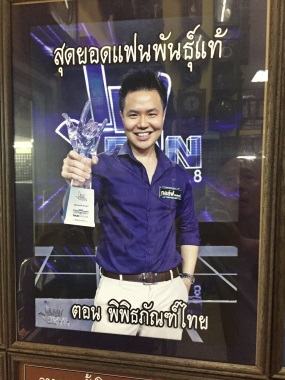 Terawat "Golf" Chalearntawesit
The whole family worked from morning to night for three years to have all the exhibits and information boards organised in the museum. The Suksasom⃰ Museum was finally opened on 18 January 2015, a wonderful achievement of the Chalearntawesit family.
 ⃰suk – happy, happiness, sasom – collect, gather, accumulate
Organisation of the museum
Suksasom Museum is organised into five zones displaying different items:
·       Zone 1 - Toys display with more than 3,000 toys some of which are more than 180 years old
·       Zone 2 - Old home, office and outdoor appliances
·       Zone 3 - Old documents and consumer items from the Third to the Ninth Reigns of the Chakri Dynasty
·       Zone 4 - Working tools of the street vendors of old
·       Zone 5 - Shops and market display in a 100-year-old market
There's a restaurant and café, Charoen Aharn just outside the museum. Besides the delicious food, the furnishing of the restaurant makes it a museum by itself.
To get there, please see the map to Suksasom Museum.
Zone 1 – Old toys
The first section of the Suksasom Museum on old toys traces the history of toys through the ages dating back to 1817. In those early days, toys were cast from a pewter alloy consisting of a mix of tin and lead.
In the second stage from 1827 – 1877, toys were made from paper mache.
From 1857 – 1897, toys were made of wood, a mixture of saw dust and wood shavings bound by flour or glue. Such toys were more durable.
When celluloid, a synthetic thermoplastic, was invented in the 1870s, it was used to make toys because it was tough and malleable.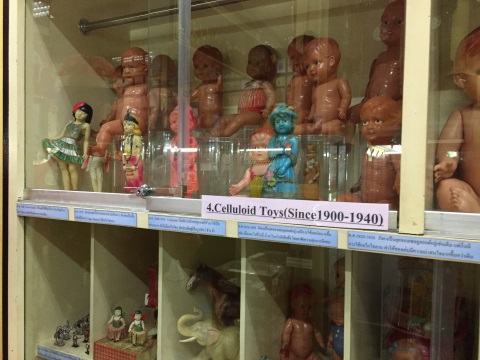 Dolls made from celluloid
By the late 1800s zinc or corrugated iron was used to make toys.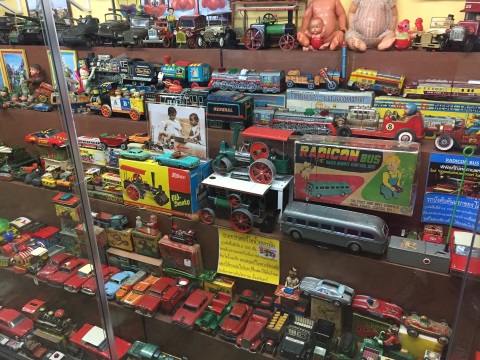 Toy cars and train made from zinc
By the 20th C, toys were made from rubber.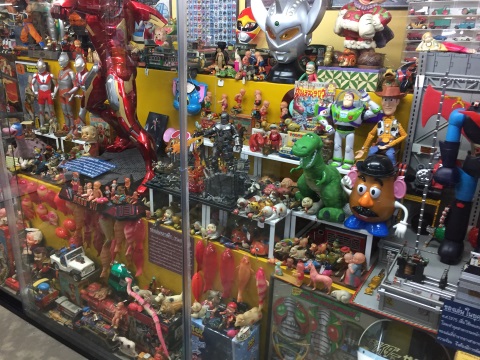 Rubber toys
From 1957 toys were made from plastic, a Batmobile from Japan cost 40 baht, 160 times more than a bowl of noodles which costs 25 satang! Later when these toys were locally made, the costs were brought down to 10 satang. (100 satang = 1 baht)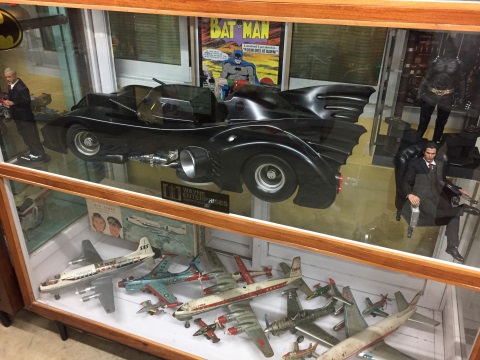 Batmobile
Contents
Zone 2 – Home, Office and Outdoor Appliances
This section features a display of old clocks, irons, typewriters, computers, parking meters and quite a few other surprises.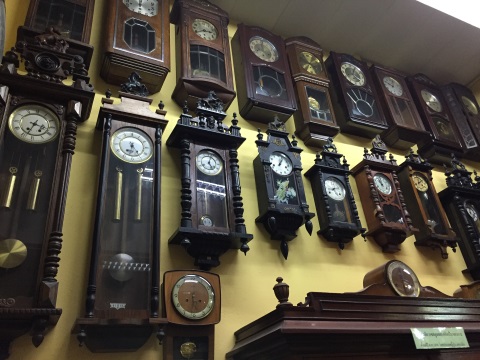 Grandfather's clocks
This one took me by surprise, I didn't know they used parking meters here before. It was 1 baht for 30 minutes, 2 baht for 60 minutes, 3 baht for 90 minutes and 4 baht for 120 minutes!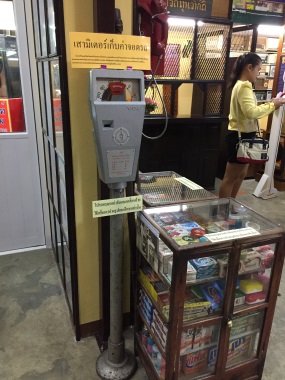 Parking meter
"His Master's Voice" the famous picture of a dog listening to a gramophone and trademark of HMV Retail Ltd, an entertainment and recording company is preserved here.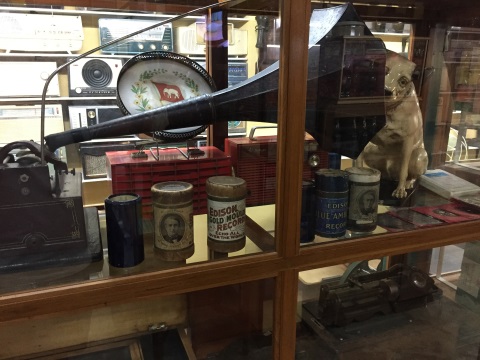 Nipper the terrier listening to an old gramophone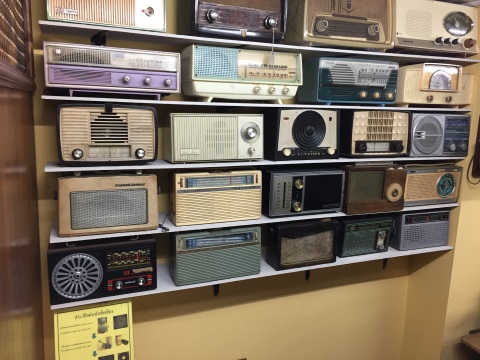 Old radios and transistor radios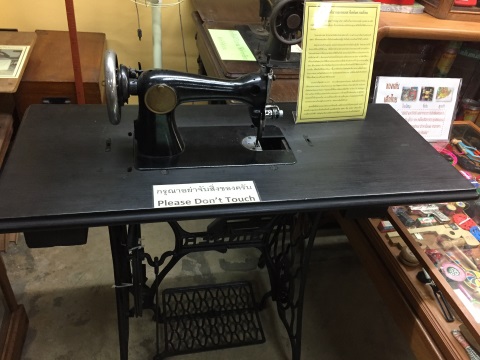 Sewing machine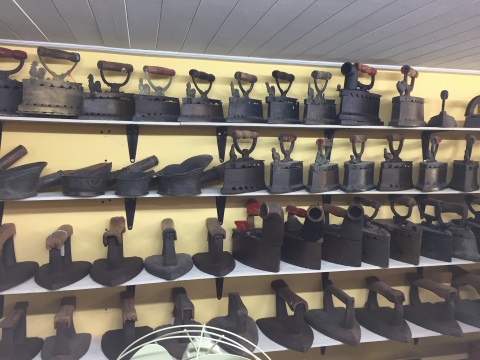 Old irons that were heated by placing burning coal inside
The first typewriter in the Thai language was introduced in 1893, in the reign of King Rama V (1868 – 1910). Seventeen such machines were produced, today this is the only one left.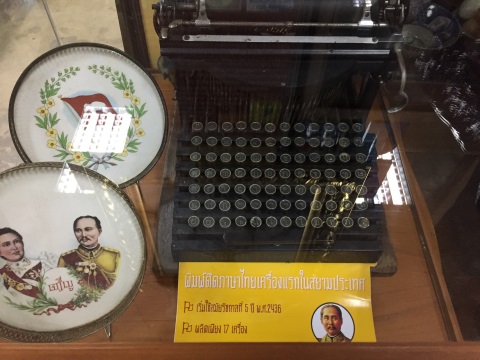 Thailand's first Thai typewriter
This one's a gem; Thailand's first computer introduced in 1963, costing 3 million baht! It's the IBM 5120 with 64 KB RAM, 64 KM ROM, IBM Palm processor.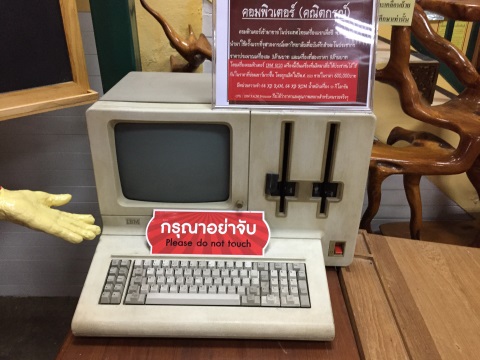 Thailand's first computer
Contents
Zone 3 – Old documents, labels and consumer items
This third section has hundreds and hundreds of different labels, boxes, packages and documents relating to consumer products. I will just highlight a few.
Match boxes were first sold in the middle of the reign of King Rama IV (1851 - 1868). The first matches boxes were from Sweden and later Japan.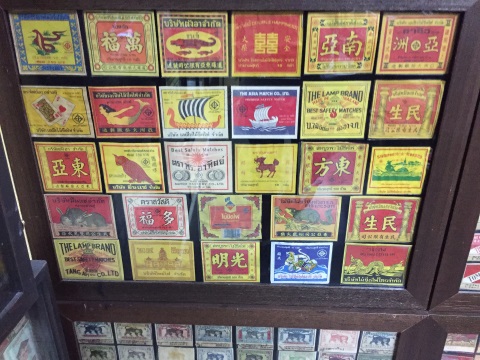 Match boxes
This document is a legacy of an unfortunate period of the kingdom's history when slavery was practiced. This slave's certificate records the slave's value and his parents' name. Slavery was abolished in 1874 during the reign of King Rama V.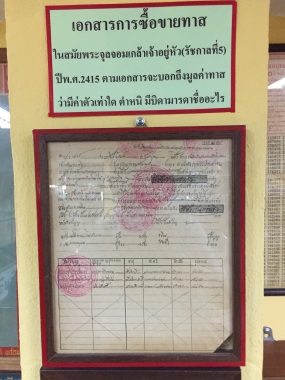 Slave's certificate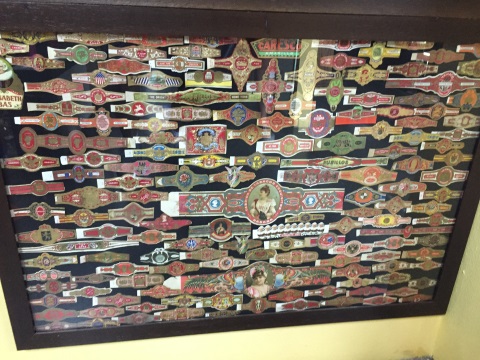 Cigars labels
The first generation of movie tickets issued in 1897.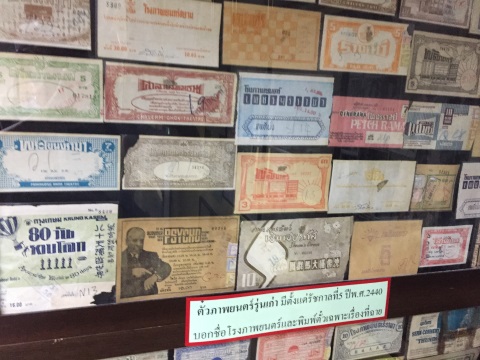 Movie tickets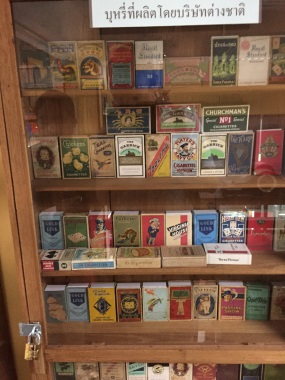 Imported cigarettes during the 5th – 7th Reigns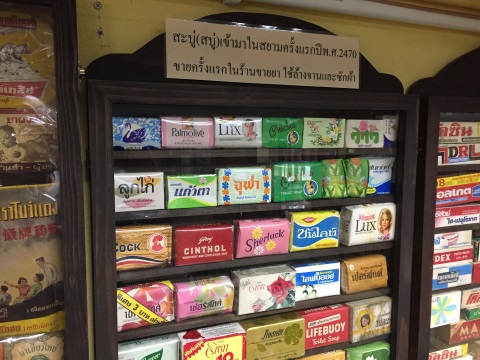 Toilet soap first sold in Siam in 1927
Washing detergent for clothes was first sold in Siam in 1932. Back then FAB was a popular brand.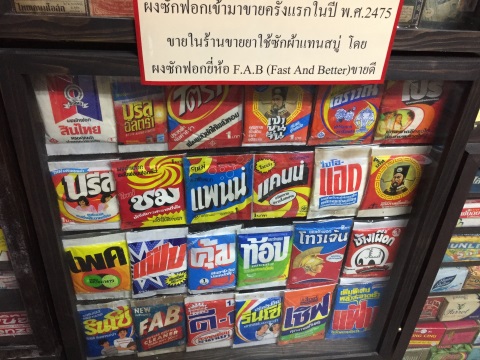 Washing detergent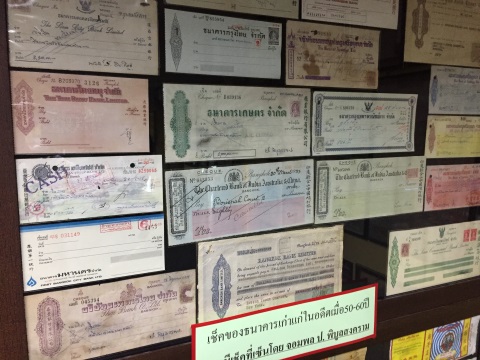 Some of these old cheques were written back in 1933!
Contents
Zone 4 – Street vendors of old
This area displays some of the tools of trade that street vendors used to sell their wares in the old days. Many had to carry their wares in two containers balanced at two ends of a pole. The luckier ones had carts. This was in the days when there weren't many shops and department stores.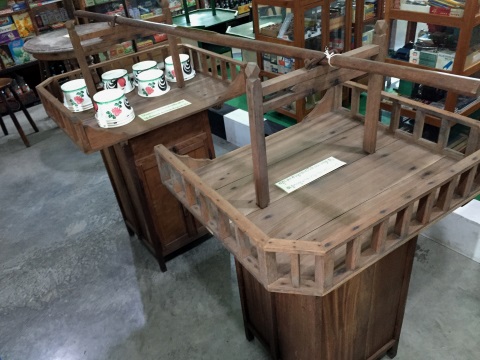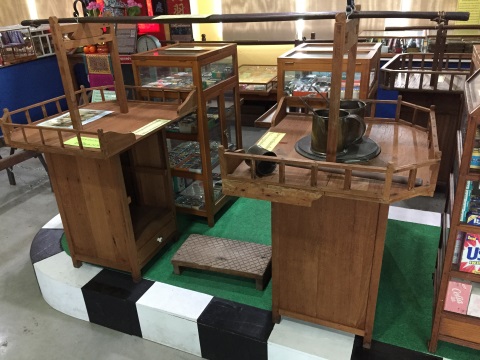 Tools of trade of the street vendor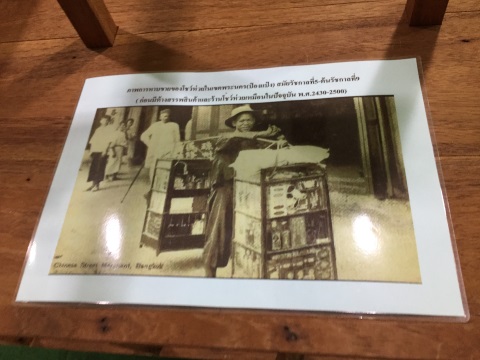 The street vendor of old 1887 - 1957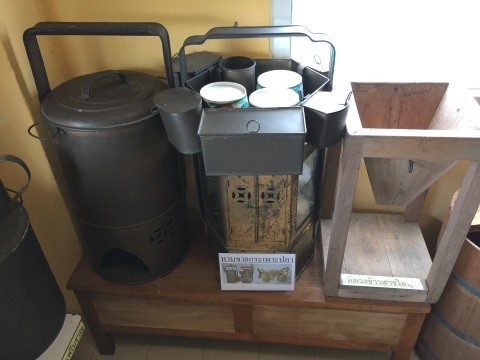 Vendor selling a thick fish maw stew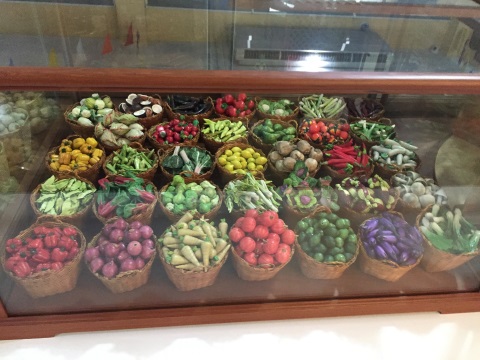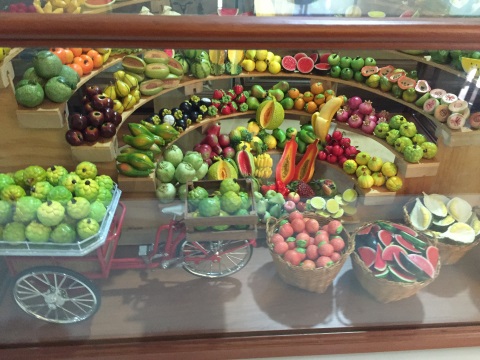 Model display of vegetables in a fresh market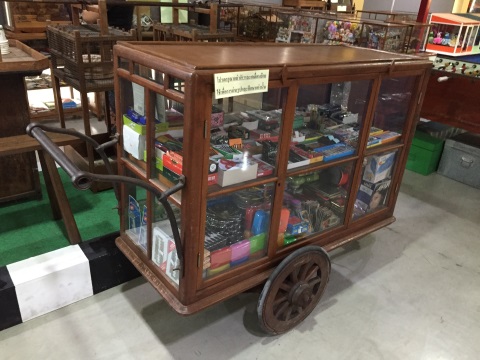 A stationery vendor on a cart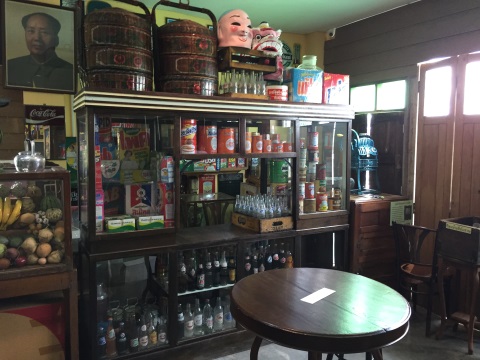 Drinks counter in an old coffee shop
On the way down the stairs there are several framed front pages from old newspapers on the wall. This one from the Thai Rath Daily mentioned the "return of Thanon to Thailand" caught my eye.
Field Marshall Thanon Kittikachorn, was deposed as Prime Minister after the 14 October 1973 uprising. His return in 1976 triggered massive protests in Thammasat University that led to the terrible bloodbath on 6 October 1976.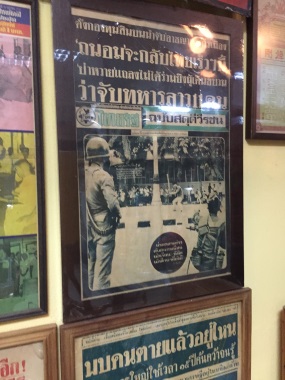 A grim reminder
Contents
Zone 5 – Scene in a 100-year-old market
Up to as recent as the mid-20th C, there were few roads and travel was along the numerous canals, streams and rivers. Houses were built on the banks of waterways; many of these had shops on the ground floor and the family living quarters upstairs.
Visitors to the shops walked along a wooden boardwalk between the shops and the river. Vendors from neighbouring areas brought their goods in boats to this market and berthed their boats along the banks of the river.
This was the start of "talat nam" or waterside markets in Thailand. The Suksasom Museum recreates this atmosphere in the last display section of the museum.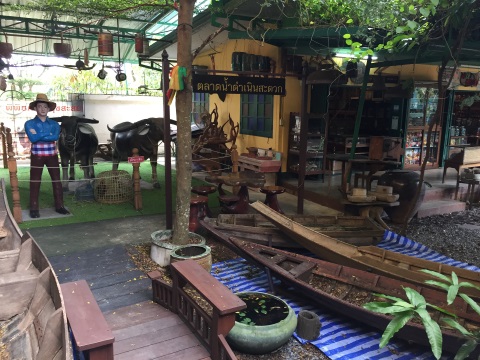 Recreating the Damnoen Saduak Market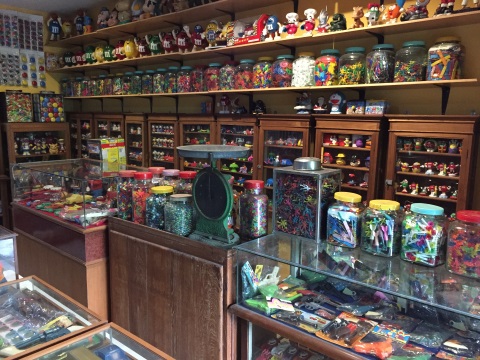 An old sweet shop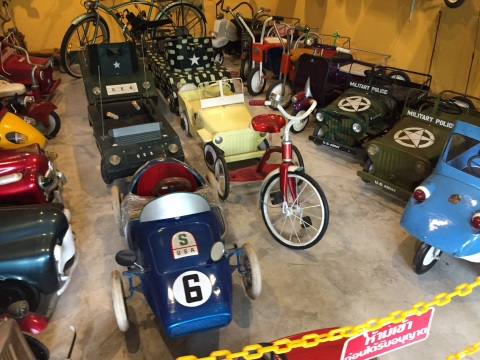 Toys cars and bicycles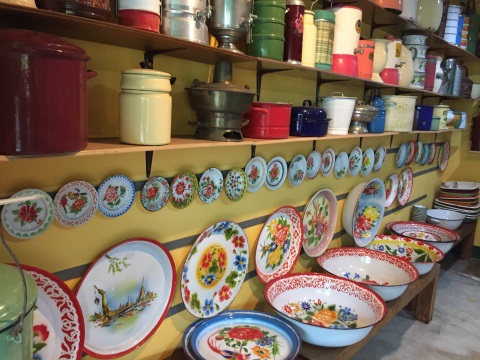 Tiffin carriers, metals plates, trays and basins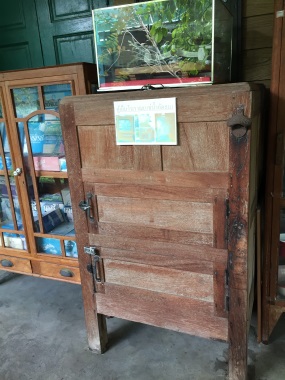 An old icebox to chill drinks – note the bottle opener at the top right corner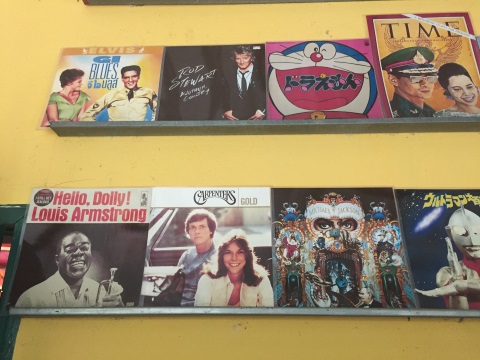 Old records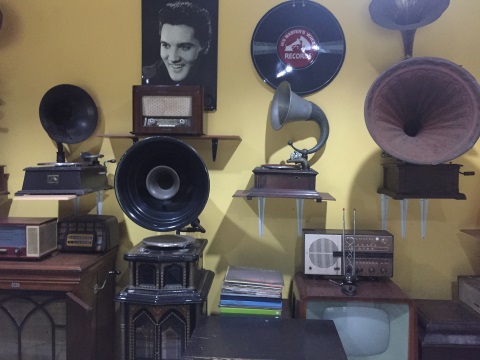 Old gramophones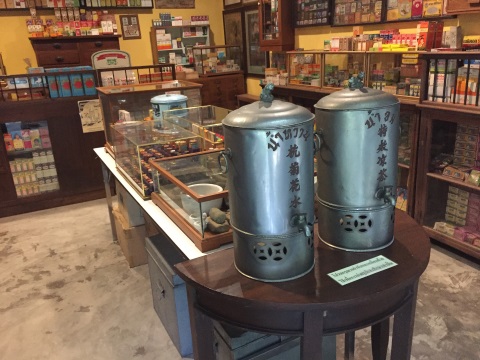 Traditional Chinese medicine shop
Contents
Chareon Aharn Restaurant and Café
Drop in to the restaurant and café for refreshment after your tour of Suksasom Museum. It's definitely worth a visit not just for the food; it's a museum for collectibles as well.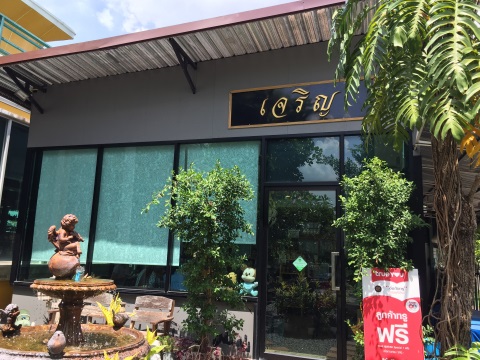 Charoen Aharn Restaurant and Cafe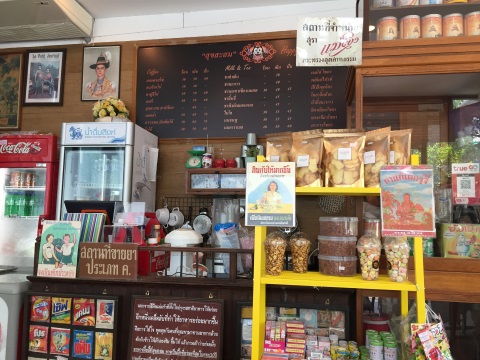 The front counter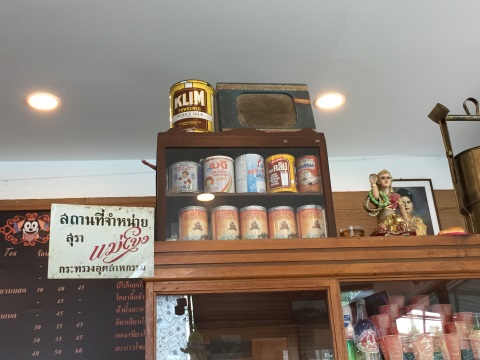 Note the powdered milk cans, KLIM, Bear Brand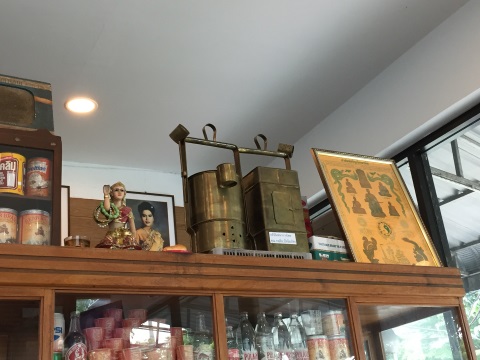 The twin brass containers up there are the traditional way of brewing coffee and tea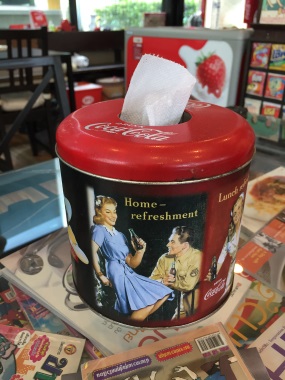 From the dress fashions on this Coca Cola
tissue container you will have an idea
of the vintage of this item
We must commend Khun Chairoj and his family for amassing this incredible collection of vintage items in the Suksasom Museum for posterity to learn how their forefathers lived.
Map to Suksasom Museum
Or click on this link to view the map
How to get there
Address:
Suksasom Museum
59 Phutthamonthom Road 2
Sala Thammasop
Thawi Watthana
Bangkok 10170
Tel: 086 8999 208 (Golf), 084 1457 454 (Plaeng)
Facebook https://www.facebook.com/suksasommuseum/
Web site: www.suksasommuseum.com
By car
From Bangkok – highway 338 (Borommaratchachonni Road) – Phutthamonthon Road 2 – make a U-turn after you pass Phutthamonthon Soi 19 on the right.
Or Phetkasem Road (highway 4) – Phutthamonthon Road 2
By MRT Blue Line
Take the MRT Blue Line to BL38 Lak Song Station. From there take a taxi to the museum in Phutthamonthon Road 2. 
Opening times
Every day except Wednesdays from 1030 – 1800 hours.
If a public holiday falls on a Wednesday, the museum will be open.
Admission:
Adults: 100 baht, children less than 120 cm tall 50 baht.
Group tours of 30 persons or more will get 15 % discount.
Students: 50 baht, teachers accompanying them will have free
admission.
For more Bangkok Museums
If you are an independent traveller, here's a handy e-guide book, Tour Bangkok Legacies, which will help you along as you explore the streets of Bangkok and discover its old treasures. It's complete with historical descriptions, maps and detailed directions on how to get to these places.

My Kindle e-book