Wat Soi Thong
the golden necklace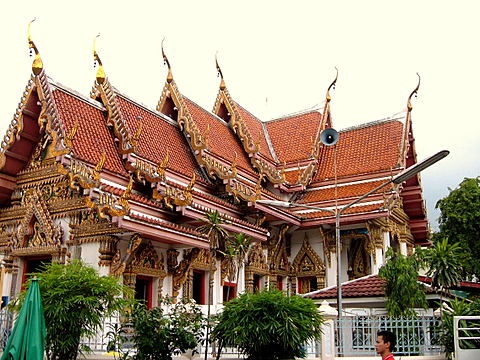 Wat Soi Thong is a Bangkok temple that isn't even on the sightseeing circuit of tourists to the city. But it's a beautiful neighborhood temple with a very non-touristy atmosphere and it's definitely worth a visit.
The temple is on the banks of the Chao Phraya River in Bang Sue district in northern Bangkok along the regular route of the Chao Phraya river boats.  
You'll pass the temple pier if you're taking a river cruise all the way to Nonthaburi province, that's north of Bangkok.
An old temple built in 1851 in the reign of King Rama IV, this temple which means "golden necklace" was built by the descendants of a Thai nobleman, Chao Phraya Sri Phipat.
The temple with its glittering spires and gables houses the Buddha image Luang Phor Luea which contains the remains of five Buddhist saints. Camera buffs will love this temple with its golden spires and eaves on virtually every building.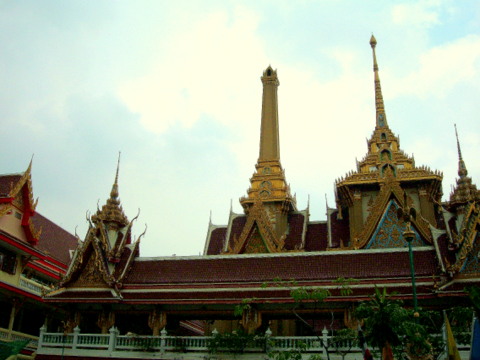 Golden spires and gables
During Loy Krathong festivals, temple fairs are held in the temple grounds with vendors selling food, flowers, krathongs and toys. Temple elders also use this occasion to raise donations for the temple building fund by selling roof tiles. It's in places like these that a visitor gets to see the local flavor and spirit of Thai festivals.

Share your favorite Bangkok photographs with us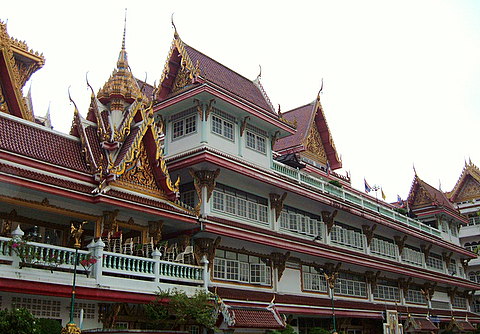 On Sundays, the temple is a hive of activity as families take the opportunity of a day-off to visit the temple, pray and make offerings, another aspect of daily life in the neighborhood.
Map to the temple
View
Map to Wat Soi Thong
in a larger map
How to get there 
The temple is in Pracharat Sai 1 Road, Bang Sue. One way to get there is to take the Green Line (BTS Sky Train) to S6 Saphan Taksin Station. 
Go to the Sathorn Pier that is below the Taksin Bridge and take a Chao Phraya river boat, the ordinary service, with no flags, to N23 Wat Soi Thong Pier. 

The express boats services (with orange and yellow flags) don't stop there. Careful though, the normal boat service doesn't run on Sundays, it used to.
So take the express boat to N22 Bang Pho Pier, the pier before the temple pier. From there take a taxi or tuk tuk to the temple, just five minutes away.
If you don't like travelling by boat, take the MRT Blue Line to BL9 Bang Pho Station, then take a taxi of tuk tuk to the temple.
Enjoy your visit.
To return to Bangkok photographs and for other Bangkok temples.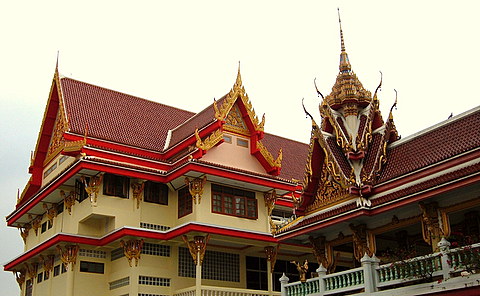 Tour Bangkok Legacies – my first e-book
If you are an independent traveller, here's a handy e-guide book, Tour Bangkok Legacies, which will help you along as you explore the streets of Bangkok and discover its old treasures. It's complete with historical descriptions, maps and detailed directions on how to get to these places.
My Kindle e-book