Favourite Bangkok Photographs
Favorite Bangkok photographs
share your special moments
Favorite Bangkok photographs provide an opportunity for residents and visitors to the city to share their unforgettable images of Bangkok and memorable travel pictures taken during their stay.
Do you have pictures of old Bangkok on disappearing scenes or scenes that are long gone? What were your memorable images of Bangkok?
It's unbelievable where I found some of these old photos. I bought some of these old prints from a street vendor for 20 baht a piece! These old treasures were neatly slotted into plastic folders and sold on the streets. I sincerely hope that they can be preserved in a more permanent place.
Two of these old prints have been included in this web page. Here's one of them.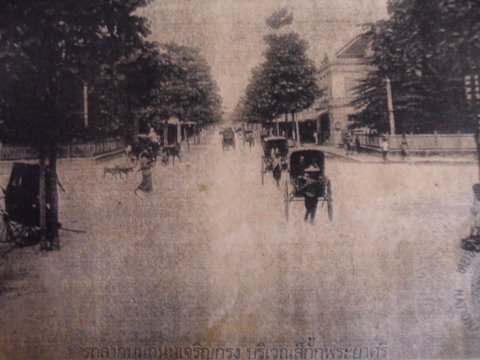 Rickshaw pullers a common form of transport in the 19th century and even up to the early 20th century along Charoen Krung Road near the
Si Kak Phraya Si intersection
Some of the other old prints were found hanging on the walls of a family restaurant tucked away in a narrow soi off Charoen Krung Road.
Where possible, I've tried to the same scene at different times to show what has changed and what hasn't. After viewing some of these scenes of Bangkok then and now, we can notice that most of the places have remained intact physically.
Some conditions may have changed but some haven't.
Did you encounter unusual or cute or humorous experience on the way? Or were there sights that captured your imagination for their sheer beauty?
Share your favorite Bangkok Photographs, your unforgettable moments with us.
Have a great Bangkok travel picture?
Do you have any great Bangkok photographs? These could be pictures of old Bangkok, breath taking views, fleeting moments, magnificent monuments or unusual scenes. Share your memorable images of Bangkok with us.
See photographs taken by other visitors
Here are some of the special moments captured by others….

Horse drawn tram-car along Charoen Krung Road, probably in service in the second half of the 19th century. By 1894, an electric tram-car service was available in Charoen Krung Road.
I'd like to thank those readers who have submitted their favourite Bangkok photographs to this web page. I'm also grateful to the people who have given me the opportunity to take some of these old photos to be re-produced here.
If you have any memorable photos of Bangkok past or present, you are most welcome to share your photos here.
For some very old photos submitted by a visitor to this web site who came to Bangkok in 1959, please see Old Bangkok Photos To view our international photo sharing gallery contributed by our readers, please see Photo Sharing Gallery
To return to Bangkok photographs