Loy Krathong 2014
by Eric Lim
(Bangkok, Thailand)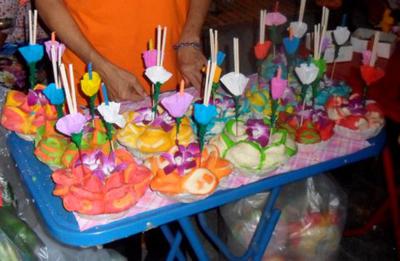 Loy Krathong 2014 fell on 6 November (15th night of the 12th lunar month) and we visited the neighbourhood park in Ngam Dupli Road just to avoid the traffic jams and crowds at other places.

This year the celebrations were more elaborate at the park. A concert was in full swing and there were more people than my last visit two years ago.

More people are using natural and bio-degradable material to make the krathong nowadays. Instead of foam, krathong are made from banana tree stems and bread. The area outside the park was crammed with vendors selling colourful krathong and snacks.

Here are some of the scenes from that night.

Photo 1 – Some of the colourful krathong on sale

Photo 2 – Floating away bad things and hopes for better things to come

Photo 3 – I really don't know how this happened to the photo, only realized it when I viewed the photos later.

For more on the previous festival celebrated at this park, please see Loy Krathong 2012.

Join in and write your own page! It's easy to do. How? Simply click here to return to Your favorite Bangkok photographs - share your special moments.