An old Bangkok home then and now
An old Bangkok home
then and now
by Eric Lim
(Bangkok)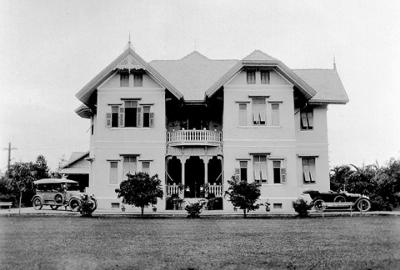 Picture 1 - The old house in Petchaburi Road. Note the two small trees in front of the house.
Sometime at the turn of the 20th century, this house was built in Petchaburi Road Bangkok (Picture 1).

Towards the end of the 20th century, the house was donated to the Buddhist College in Ayutthaya. The wooden parts were stripped, transported to Ayutthaya 80 km to the north and reassembled. The concrete columns however were rebuilt at the new site (Picture 2).

At the original site of the old house, a modern house was constructed (Picture 3).

These photos, both old and new, preserve the memories of this old Bangkok home.

Find out more about the people and events connected to this house at Bangkok Travelbug November 10



My thanks to Dr Sirilaksana Khoman from Bangkok for contributing these old photos.

Join in and write your own page! It's easy to do. How? Simply click here to return to Your favorite Bangkok photographs - share your special moments.