Very special sculptures
by Eric Lim
(Bangkok)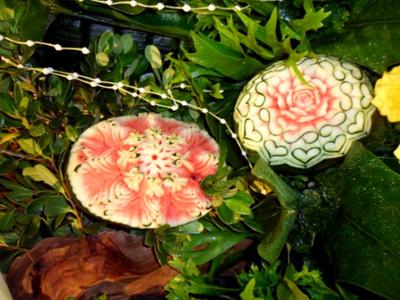 These sculptures are carved from fruits and vegetables during a fruit and vegetable carving competition held at the Grand Mercure Fortune Hotel on 9 August 2012.

I had original posted some of these photos on my blog. However these photos are too beautiful to be left on a blog and to be overtaken by time.

They deserve a permanent place to be displayed and what better place is there than "Favourite Bangkok photographs"?

So here they are, and to think that the participants only took one morning to complete their exhibits.

The participants were not only hotel catering staff but students as well. Such exquisite work is a tribute to Thai craftsmanship.

Join in and write your own page! It's easy to do. How? Simply click here to return to Your favorite Bangkok photographs - share your special moments.