Democracy Monument
then and now
by Eric
(Bangkok)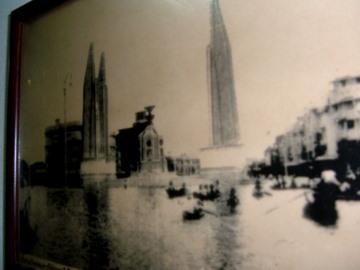 Democracy Monument 1942
Photo 1 - Democracy Monument 1942 when the area around the monument was submerged in water and people were moving around in boats!


This was Bangkok during the great flood in 1942 when many areas in the city were under water.
In 1942, the world was right in the middle of World War II. The Prime Minister of Thailand then was Field Marshall Plaek Phibunsongkhram. Earlier in that year in January, Thailand declared war on the USA and Britain and became an ally of Japan.
In reality Thailand was occupied by Japan. In December 1941, Japan requested for the safe passage of Japanese troops through Thailand. When the Thai government baulked, Japan invaded Thailand and used the country as a springboard for the invasion of the surrounding countries.
Photo 2 - Democracy Monument during the October 1973 uprising when students from Thammasat University and their supporters overthrew the military dictatorship of Field Marshall Thanom Kittikachon at a great cost in lives.
Photo 3 - Democracy Monument in more recent times, a silent witness to several rounds of political turbulence and bloodshed in its shadows.