Photo sharing gallery
share your world with us
Rainbow over Nang Linchi – where I used to live
Our photo sharing gallery provides a web page for visitors to share photos from their part of the world and contribute towards an international mosaic covering various corners of the world. The photo above was taken from the balcony of my apartment. 

Join our photo sharing gallery 

View photos of others who have shared their world 

Please share a photo from your part of the world. It can be your hometown, where you currently live, a favorite place you have visited or even a favorite scene that will always remain in your memory. 

How often have you encountered a scene that simply takes your breath away and you wish you could have captured it for your memories? 

Here's one such scene from a reader Bill Meyer from London UK. In Bill's words, "God's own country". Indeed it is, close to paradise. 
Limeuil, France - Bill Meyer UK
Here's another captivating scene from the other side of the world, in Datong, Shanxi Province, China. These are the famous Yungang Grottoes consisting of 53 caves with 51,000 Buddha statues carved out of the rocky hills.
This photo and the others in the submissions below were contributed by C S Koh, a Singaporean who has lived more than a decade in China.
Yungang Grotto, Datong, Shanxi Province, China - C S Koh Singapore
Help build an online photo gallery that's a mosaic of the world. Let the beauty from your world be part of this mosaic! 
Share your world with us
Do you have a great photo from your part of the world? Share it!

Send your photo to our photo sharing gallery and contribute to an international mosaic of the world.

We'd loved to see your part of the world, even if it's just a picture.

What Other Visitors Have Submitted
Click below for the contributions by other visitors who have send photos to this gallery.


Acknowledgments 
I'd like to thank all our readers who shared photos of their hometown, countries of residence or holidays with us on this international photo sharing gallery. Your contributions made a difference and thank you very much. We look forward to more photos from you.
My sincere thanks to the late Vic Plant of North Carolina, USA who suggested having this international photo gallery for the benefit of all of us. Vic was a keen photographer himself and has contributed significantly to this photo gallery and web site.

For some nostalgic memories of old Bangkok taken by Vic Plant when he visited the city in 1959, please see old Bangkok photos.  To view photos of Bangkok then and now with some photos of the same scene at different times, please see Favourite Bangkok Photographs.
To return to our Bangkok Photographs page. 
My Journey through Thailand Part I The First Steps
This is my second e-book and the first in the series of travel journals on my trips to explore the various provinces in Thailand. This edition, which covers my travels from late 2009 to mid-2013, will guide you to historical sites, cultural monuments and exquisite Thai handicraft, across a vast spectrum of cultural and ethnic diversity.
You can have a virtual tour with this e-guide book or take the first steps yourself in this journey through Thailand.
My Kindle e-book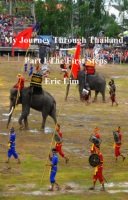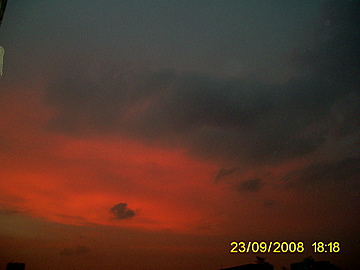 Nang Linchi sunset – thanks for sharing your photos