Poppies in Mook Netherlands
by Irene Hagemans
(Mook, Netherlands)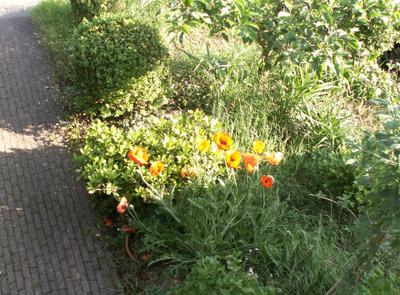 Photo 1 – Taken in the morning
I took these photos from my bedroom window looking down onto the garden in my home in Mook, a village by the Maas River in the Netherlands.

The English call them poppies, the Dutch name is klaproos, papaver is the scientific name. In the Netherlands, there is a difference between poppies growing in gardens at home and those in the field. For those in the field, the plant and flowers are much smaller.

There are many different types of poppies. They are mostly red but there are also yellow ones. There are farmers who grow them in the field to get opium, those are like roses.