The 14 October 1973 Memorial
lest we forget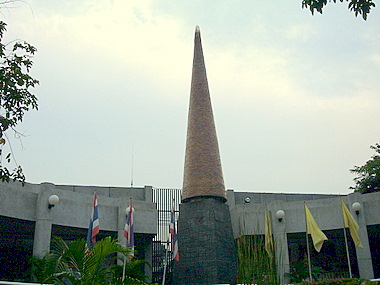 The 14 October 1973 Memorial in Bangkok was erected to preserve the memory of those who were killed on that fateful day when thousands demonstrated against the military dictatorship.
It stands at the junction of Central Ratchadamnoen Avenue and Tanao Road, not far from the Democracy Monument where most of the demonstrators were gathered back in October 1973.
The memorial, a conical structure rising from a rectangular pedestal, is at the center of an elevated arena shaded by trees and plants in the outer perimeter.
A poignant inscription at the pedestal expresses the sorrow of lamenting parents waiting in vain for the return of their missing children whose names are inscribed on the sides.
Please see map to the memorial.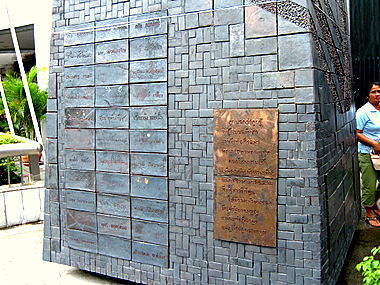 Names and a message at the base
A museum has been constructed as an extension of the 14 October 1973 Memorial and it's divided into three levels. The first level is the elevated arena and garden, with an exhibition area for photos of the October revolution behind the memorial.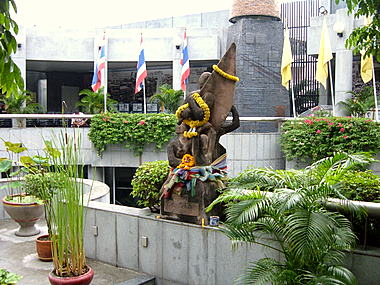 The sculpture in the garden
The photos are a stirring record of the tumultuous days in October 1973; tens of thousands massing at the Democracy Monument, the violent military response, masses of demonstrators running for their lives and jumping into canals, the courage and defiance as some fought back using buses to block tanks and the tragic aftermath.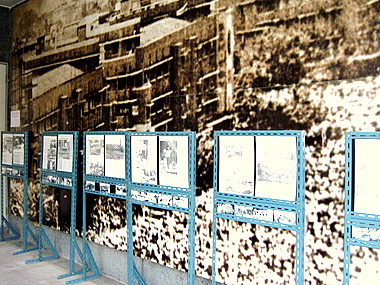 Spirit of the seventies
A spiral staircase leads to the 14 October Foundation in the mezzanine floor below and then to the basement with the office and library.
Every year on 14 October, services will be held at the memorial to commemorate the occasion and the sacrifices of those who lost their lives during the October revolution in 1973.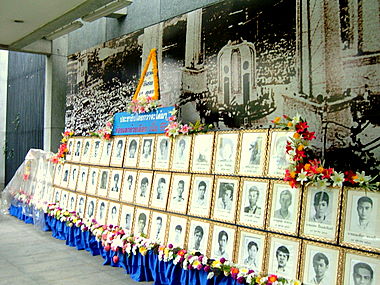 Those who gave their lives
"Democracy achieved at the price of blood, flesh and lives."

The 14 October 1973 Memorial serves as a stark reminder of a grim period in Thai political history and a dedication to the brave young men and women who stood up and died for a cause.
Map to the 14 October 1973 Memorial
View Larger Map
How to get there
The memorial is along Ratchadamnoen Klang (central) Road less that 300 m from the Democracy Monument. As you as walking from the Democracy Monument, it's on your left, just before the Kokwua intersection where Tanao Road cuts across Ratchadamnoen Avenue. 
The air-conditioned bus service number 79 from Pratunam (bus stop in front of the Grand Diamond Pratunam Hotel) will take you to Ratchadamnoen Avenue and the memorial. 
For details of that fateful day on 14 October 1973 and to return to the Democracy Monument.
Custom Search