The Abhisek Dusit Throne Hall
in support of Thai handicraft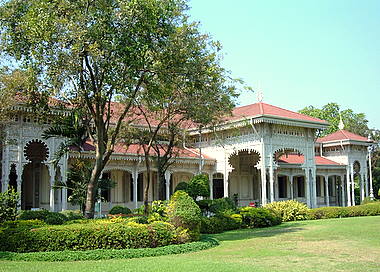 The Abhisek Dusit Throne Hall is a single story ornate building with beautifully carved floral motifs on panels adorning the gables and eaves.
Located near the east entrance of Dusit Garden, the throne hall was completed in 1904 and was used for official receptions of foreign dignitaries during the reign of King Rama V.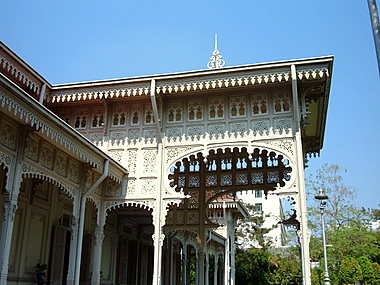 After decades of disuse this throne hall was restored in the late 1980s and officially opened on 20 January 1993 by Their Majesties the King and Queen.
The grandeur within the main throne hall is accentuated by the high ceiling with elaborate designs and plush carpeting. The throne still stands at the far end of the throne hall.
This main hall in the Abhisek Dusit Throne Hall, where foreign dignitaries used to come to pay homage to King Rama V, is now filled with exhibits of Thai handicraft.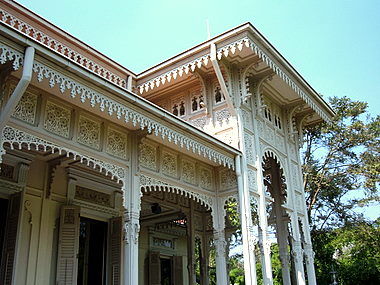 These are the products of work sponsored by the Foundation for the Promotion of Supplementary Occupations and Related Techniques or SUPPORT Foundation. 
The foundation was established in July 1976 under the royal patronage of HM Queen Sirikit to preserve traditional Thai art and handicraft and to assist rural folks in marketing their work to augment their incomes.

Some examples of this collection are:

Silverware – Intricate Thai designs elaborately chiseled on the surfaces of handmade silverware.


Neilloware or Krueng Thom - An exquisite art form, in which thin sheets of silver coated with gold are cut, bent, twisted and molded into various shapes. Designs are engraved on the surface and painstakingly filled with a black a metallic amalgam.


Khram – delicate floral designs with fine pieces of gold and silver beaten and stamped onto the surfaces of boxes or vases.
Another cabinet displays necklaces and brooches made from precious stones presented by northern hill tribes to HM the King and HRH the Crown Princess during the royal visits to these remote areas.
The second room in this throne hall holds a splendid array of fine Thai silk from the different provinces, each with their own distinctive styles and textures. The collection includes traditional northern hill tribe embroidery and baskets woven from indigenous vine.
The remaining two rooms display sculpture, carvings from soap and wood. Of particular interest are framed figures of Talung puppets used in a shadow drama from Southern Thailand in which puppets chiseled from buffalo hides are manipulated from behind a lit screen to a running commentary.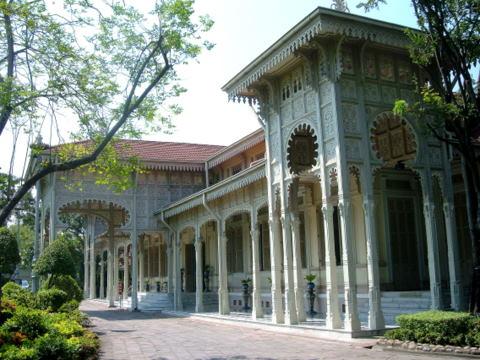 The collection of Thai handicraft within the Abhisek Dusit Throne Hall exemplify the versatility and skill in Thai arts.
The Abhisek Dusit Throne Hall not only preserves the architecture and lifestyle of a bygone era but also a treasure house of handicraft representing the finest in Thai artistry and craftsmanship.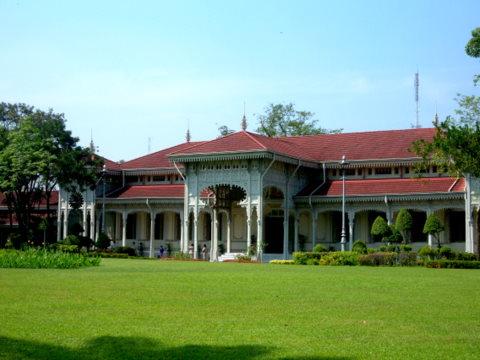 Treasure house of Thai handicraft
We regret to inform readers that with effect from 11 August 2017, the Ananta Samakhom Throne Hall, Dusit Garden and all the royal residences within will no longer be open to the public.
Take a virtual tour through these pages instead.
 To get there, please see the Dusit Garden map. To return to Dusit Garden.

No cameras are allowed in the throne hall.
My Journey through Thailand Part I The First Steps

This is my second e-book and the first in the series of travel journals on my trips to explore the various provinces in Thailand. This edition, which covers my travels from late 2009 to mid-2013, will guide you to historical sites, cultural monuments and exquisite Thai handicraft, across a vast spectrum of cultural and ethnic diversity.

You can have a virtual tour with this e-guide book or take the first steps yourself in this journey through Thailand.
My Kindle e-book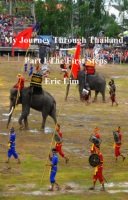 Custom Search