Ganesha Shrine
a prayer for success
The Ganesha Shrine stands at the other corner of Central World Plaza, Bangkok (former World Trade Center) near the Pratunam junction. 
Frequently referred to as the Elephant God, Ganesha is the god of accomplishment, wisdom and wealth, the destroyer of evil and obstacles.
Ganesha is the son of Siva, one of the Trinity of Hindu gods, or Trimurti, the other two being Brahma the creator and Vishnu the sustainer.
Siva however is the destroyer.
Legend has it that Parvati, wife of Siva, created Ganesha from her perspiration and got him to stand guard at her bathing chambers to ward off the amorous Siva. When Siva was prevented from entering the bathing chambers, he cut off the boy's head in a rage.
Even Brahma, who originally had five heads, lost one when he incurred the wrath of Siva.

To console the grieving Parvati, Siva ordered his troops to return with the head of anyone found sleeping with the head pointing north. When they found an elephant and severed its head to replace Ganesha's head, the legend of the Elephant God was born.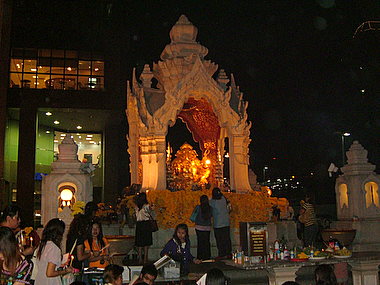 Ganesha the elephant god
The shrine in Bangkok depicts the Hindu deity with:

an elephant head, trunk, the characteristic potbelly and four hands;
the first hand holds a three pointed dagger to destroy evil,
the second a noose to restrain immoral desires,
the third a tusk to overcome hardships
the fourth a jar representing abundance.
a serpent coiled round his chest to depict energy.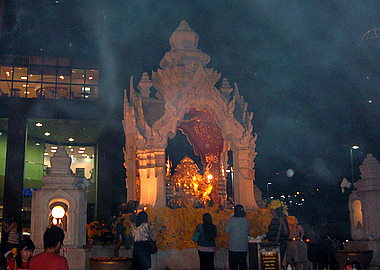 Say a prayer for success
Like the Erawan Shrine and Trimurti Shrine nearby, the worshp of Ganesha is another indication of the fusion of Hindu deities in Thai customs and rituals, inculcated over the centuries.
The faithful following is built up through word of mouth and devotees can be seen praying at the shrine at all times of the day.
As Ganesha is believed to be the god of accomplishment, wisdom and wealth, the Ganesha Shrine is the natural place to go and pray to find that elusive road to success.
Location of the Ganesha Shrine

View
Bangkok Shrines
in a larger map
How to get there
The shrine is co-located with the Trimurti Shrine right in front of the Central World Plaza, about 300 m from the Ratchaprasong junction.
To get there, take skytrain to E1 Chit Lom station and it's a 500 m walk to the shrine.
To return to Bangkok Shrines.
My Journey through Thailand Part I The First Steps
This is my second e-book and the first in the series of travel journals on my trips to explore the various provinces in Thailand. This edition, which covers my travels from late 2009 to mid-2013, will guide you to historical sites, cultural monuments and exquisite Thai handicraft, across a vast spectrum of cultural and ethnic diversity.

You can have a virtual tour with this e-guide book or take the first steps yourself in this journey through Thailand.
My Kindle edition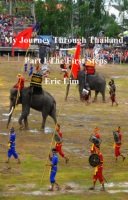 Custom Search