Soi Pracha Rat 24
the carpenters of Bang Sue
Soi Pracha Rat 24 in the Bang Sue district of Bangkok is a street well known for wood furniture, decor and handicraft. The soi is home of the Pracha Narumid community that has produced carpenters, wood carvers and wood craftsmen renowned for their handicraft.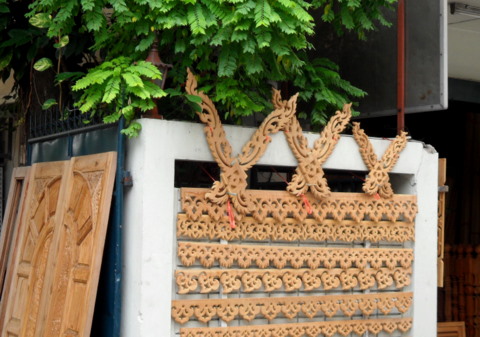 Traditional kalae for northern houses
The area is a living example of a local trade that grew over the generations into a community and has continued as a community.
The shops that line this carpenters' soi sell a comprehensive range of wood products and handicraft:
wood furniture items like beds, dining tables, coffee tables, sideboards, book cases and chairs;


home décor and fittings, doors, door frames and panels, door knobs, window frames, wall panels, flooring, cornices, skirt boards, banisters, flooring;


and decorative pieces, engravings, letter boxes, statues, screens, wood sculptures and walking sticks.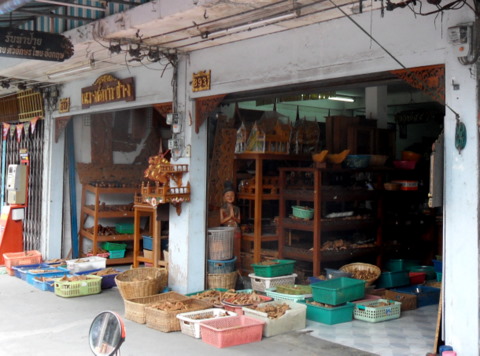 Watch the craftsmen at work as they chip away on elaborate motifs on wood panels or carve ornate wood sculptures, providing a demonstration of exquisite Thai wood handicraft. The soi is a must for lovers of wood furniture, decor and handicraft.

Every year since 1999, a street fair is held in late February or early March in this street. Art lovers and collectors gather to view the woodcarvings, handicraft and furniture produced by these carpenters and wood craftsmen.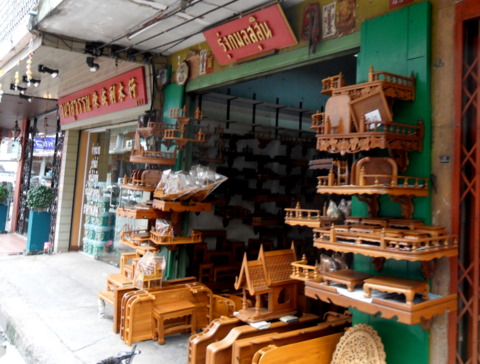 The street is closed to traffic as shopkeepers display their wares along the street. Sculpture demonstrations, song and dance displays create the festive atmosphere while visitors view the wood handicraft on sale at discounts. 
Further in the soi, wholesale merchants deal in timber, wood panels and wood flooring, a useful source of supply for those planning to build a new home.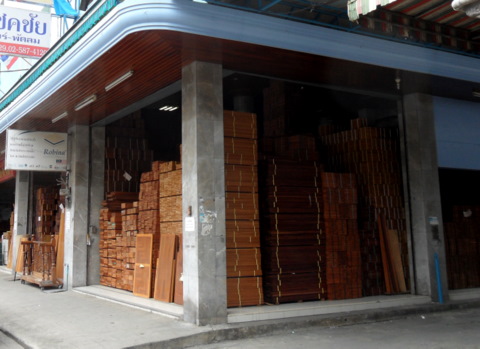 Wholesale timber
This Bangkok community grew up around the wood craftsmen trade and has survived the pressures of the modern economy and urbanization.
Traditional skills have been preserved within the community to strengthen the local economy and keep the community with its distinctive character alive. 

Update on Soi Pracha Rat 24 - 24 September 2011
The first time I visited this place was in 2005/2006. So I thought it would good to take another look and see how things are now.
I got a pleasant surprise!
The construction of the Purple Line is in progress with the support pillars constructed along Krung Thep – Nonthaburi Road. So visitors will be able to take a skytrain here in future.
The nature of some of the shops in the soi has also changed. Modern shops have sprung up along street. These new furniture shops have departed from the traditional all wood furniture with natural stains.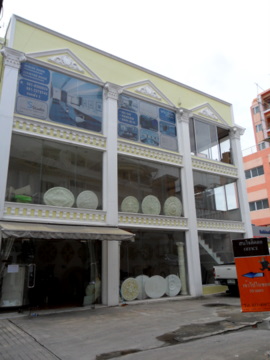 New shops
What's more, the new shops are now housed in spanking new buildings.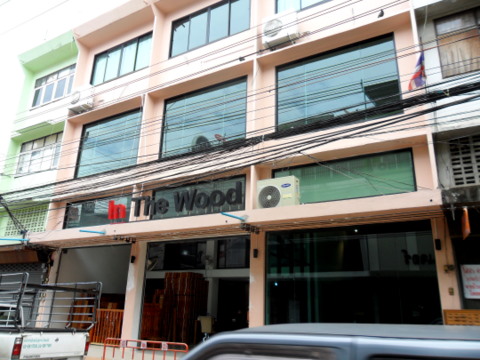 New face of Carpenters' Street
However the traditional wood craftsmen shops are still around.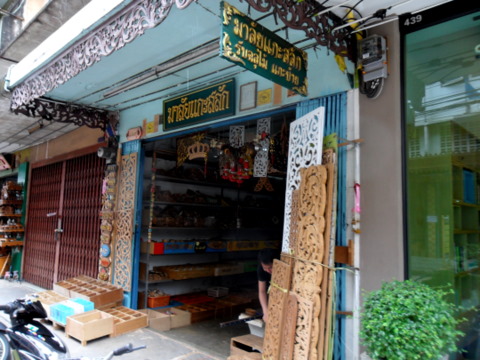 The old shops
So are the timber wholesalers.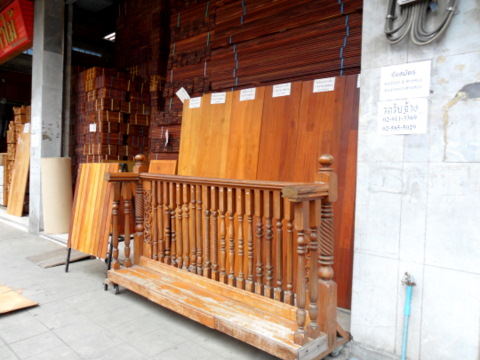 The old timber merchants
Then there are those shops that try to blend new décor with traditional craft.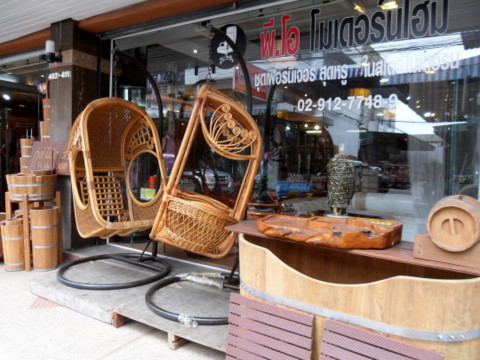 The old and new, note the wooden bath tub to the right
How much longer can the old exist with the new? Or can we expect to see a completely new face to Soi Pracha Rat 24 in years to come?

View Larger Map
How to get there
Soi Pracha Rat 24 is also known as Soi Pracha Narumid, after the name of the community living there.

The landmark in the area is the Bang Pho junction. If you're coming from the city, proceed along Pracha Rat Sai 1 Road till you pass the Bang Pho junction. Soi Pracha Rat 24 is a further 300 m on the right.
By MRT Blue Line
Take the MRT Blue Line to BL9 Bang Pho, from the station it's about 300 m to Soi Pracha Rat 24.
By bus
The following bus services from the city pass Pracha Rat Sai 1 Road.

Non air-conditioned services: 

No. 5 (from Mor Chit), 32, 33 (from Sanam Luang), 49, 49, 64, 117

Air-conditioned services:

No. 32 (from Wat Po and the Grand Palace), 49 (from Hua Lampong Station), 64, 506
Air conditioned service No.16 from Siam Square passes Pracha Rat Sai 2, then turns into Krung Thep-Nonthaburi Road.
Drop off near Soi Krung Thep-Nonthaburi 5. This leads to the same soi as well. Another way to get there is by Chao Phraya river boat to the Bang Po Pier; the soi is about 500 m walk from the pier.
For other Bangkok Communities and other forms of traditional Thai art.
Other communities of craftsmen
Ban Bu - bronzeware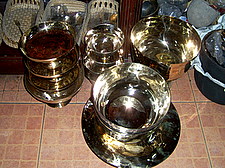 Ban Lao - bamboo flute makers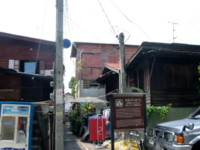 Bangkok's Hidden Treasures – the other faces of Bangkok
This is my third e-book which is a journal on my travels in Bangkok from late 2011 to early 2018. It's a journey to the less traveled and lesser-known places in Bangkok, places that are treasure troves of history, art and culture of the diverse communities that make up Bangkok and Thailand.

This journey will take us from the rice fields of Nong Chok near the eastern city limits of Bangkok across the city to the canals in Thawi Wattana in the west.

Let's uncover these gems in Bangkok's hidden treasures together.