Thai silk weavers of Ban Krua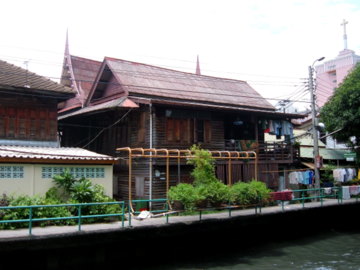 Ban Krua in June 2009
Thai silk weavers in Ban Krua, a Cham Muslim community in Bangkok, supplied silk to Jim Thompson when he started his Thai silk company in 1948. What's Ban Krua like today?

Although I've visited the Jim Thompson House several times before, I've never been to Ban Krua which is just across the Saen Saeb canal from the Jim Thompson House. 
Please see map to the Thai silk weavers of Ban Krua
Though I knew that they were the weavers who first supplied Thompson with his silk, I was under the impression that the community was long gone after Thompson's disappearance.
Well almost but not quite.

On 2 June 2009, I finally got my chance to find out more about Ban Krua.
A Thai friend who lives in the neighbourhood suggested, after a visit to the Jim Thompson House, that we cross the canal to visit Ban Krua.

We walked along the narrow footpath along the canal till we came across a sign overhead which read "Jim Thompson Thai silk". The sign pointed to a narrow soi.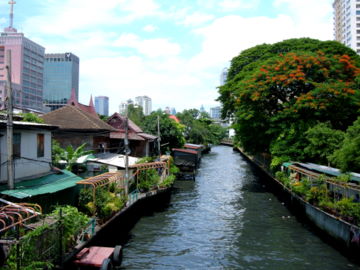 The Saen Saeb canal, Ban Krua is on the left bank, the
Jim Thompson House is behind the trees on the right
As we walked into the narrow soi, we met a man who invited us into his house which had several weaving looms and spools of Thai silk thread. This is the home and silk factory of Khun Niphon Manuthat who runs Phamai Baan Krua (Baan Krua Thai silk).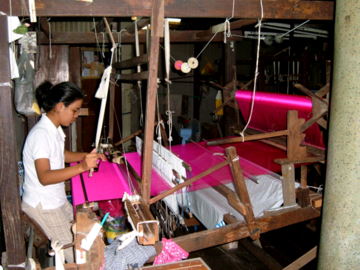 Loom for weaving silk
Here is Khun Niphon's story
The Ban Krua community is made up of Cham Muslims from Kampong Cham province in Cambodia. The Cham originate from the ancient kingdom of Champa in Vietnam. 
The kingdom was conquered by Vietnam in the 15th C and ceased to exist by 17th C. Many Cham dispersed to Laos and Cambodia. Later some of them migrated to Thailand.
The Chams in the Ban Krua community are as old as Bangkok itself, having arrived in Thailand in the reign of King Rama I. They fought on the side of Siam during the Burmese-Siamese wars and for their loyal service they were granted land outside the old city.

The site is in present day Ratchathewi district just north of the National Stadium skytrain station. Silk weaving was a traditional craft of the Cham and they brought these skills with them to Ban Krua.

When Jim Thompson started taking an interest in Thai silk in the late 1940s, he visited Ban Krua often and convinced a group of Thai silk weavers to produce a sample batch of silks which he took to New York. The silks hit Vogue magazine and from then on Jim Thompson silk took off.
Back then Thompson worked with a group of eight Cham families who produced the silk for his Thai silk company. Khun Niphon was a boy when Thompson first came to Ban Krua. Khun Niphon's father was one of the eight Thai silk weavers who worked with Thompson.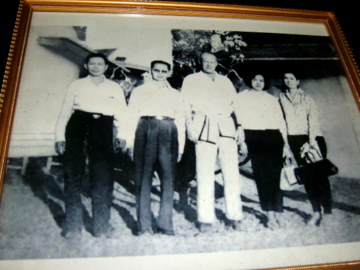 Khun Niphon's father (second from left) and mother
(fourth from left) flanking Jim Thompson
Today Khun Niphon is the only descendant from the original eight families of Thai silk weavers. Most of the members of Ban Krua have left the community for other jobs and only about 40% of the original residents or their descendants remain.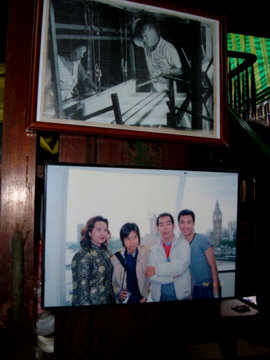 Khun Niphon (in white) with his family,
Thompson with a weaver (photo above)
Phamai Ban Krua deals directly with their customers. They don't supply the Jim Thompson stores as the Jim Thompson Thai Silk Company has its own factory in Korat. 
It's hard to tell if the traditional craft of this old community of Thai silk weavers can survive for another generation. Or will it be another vanishing cottage industry?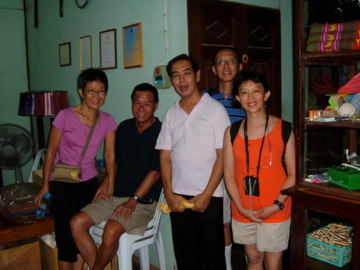 Khun Niphon (white shirt) with me (standing rear)
and my friends
Map to Ban Krua
View
Ban Krua
in a larger map
Back to top of page
How to get there
Take the Green Line (Silom Line BTS Sky Train) to the terminal station at W1 National Stadium. Get out at Exit 1 and go into Soi Kasem San 2 and walk all the way in past the Jim Thompson House. At the San Saeb canal, turn left and cross the bridge to Ban Krua.
Contact
Phamai Ban Krua
837 Soi Phaya Nak
Petchaburi Road
Ratchathewi
Bangkok 10400

Tel:
+6687 101 2999
+6687 915 5077
Acknowledgement

We would like to thank Khun Niphon for his warm hospitality in receiving us to his home and factory, for sharing with us the history of his community and experience with Jim Thompson.

It was a pleasant visit to Ban Krua, a neat and tidy community, with very warm and friendly residents.

All the photos in this web page are with the kind permission of Khun Niphon. Khun Niphon Manuthat runs the company, Phamai Baan Krua (Baan Krua Thai silk).
To return to the Jim Thompson House and for other Bangkok communities.
My Journey through Thailand Part I The First Steps
This is my second e-book and the first in the series of travel journals on my trips to explore the various provinces in Thailand. This edition, which covers my travels from late 2009 to mid-2013, will guide you to historical sites, cultural monuments and exquisite Thai handicraft, across a vast spectrum of cultural and ethnic diversity.
You can have a virtual tour with this e-guide book or take the first steps yourself in this journey through Thailand.
My Kindle e-book