Ban Kao Lao Rueng
the Charoen Chai community

 
Ban Kao Lao Rueng is an old house converted to a community museum to preserve the history, culture and way of life of the Chareon Chai Community in Bangkok's Chinatown.
The former occupants of this house in 32 Chareon Chai Alley were Chinese opera performers which was an important aspect of Chinese culture in the old days.
Some of their costumes, masks and other equipment are on display in Ban Kao Lao Rueng.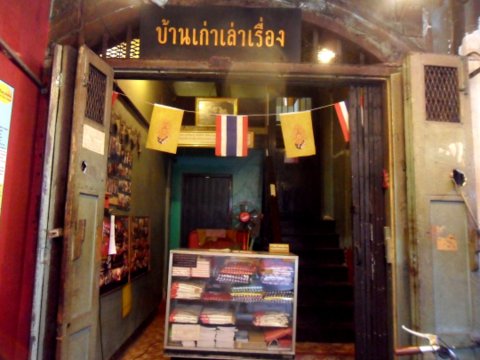 Entrance to the community museum
This old house was converted to a museum and unofficially opened in February 2011 to preserve the history of a community in a part of old Bangkok that is under the pressure of modern development.
Let's trace the history of this community, what's it's like today and what's its future.
History of the Charoen Chai Community

The present
The Charoen Chai Community is located in a narrow alley between Charoen Krung Road and Plubplachai Road. It's one of those old communities that's very much a part of the history and growth of Chinatown and old Bangkok.
Presently it's a popular market for Chinese joss papers used as prayer offerings and ceremonies during auspicious occasions in the Chinese cultural calendar.
During my visit in mid-December, the shops were stocked with colourful lanterns, garlands and other material in preparation for the Winter Solstice*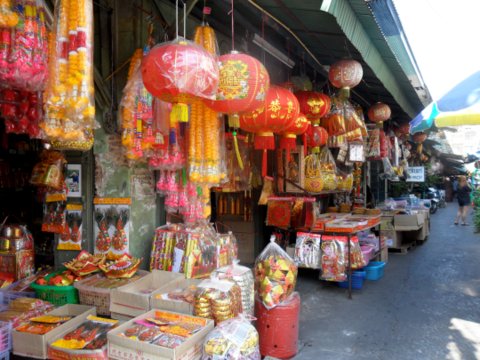 Thriving joss paper market
*Usually around 21,22 or 23 December when the sun is directly over the Tropic of Capricorn in the south, resulting in the shortest day in the year for the Northern Hemisphere and the longest day in the year for the Southern Hemisphere.
This is an important day in Chinese culture called Dong Zhi (the arrival of winter). Families get together to eat tang yuan (bua loi in Thai), a sweet soup with glutinous rice balls. It's a feast to celebrate the harvest. This custom is still observed among people of Chinese descent.
The early days – the Fourth Reign (1851 – 1868)
The old Chinese community in Sampheng has been growing since the early Rattanakosin era when the community was relocated from the site of the present grand Palace.
In 1862, Chareon Krung Road, the first road in Bangkok, was built linking Wat Pho all the way to the Chao Phraya River at Thanon Tok near the Rama III Bridge, a distance of 8.5 km.
A 1.5 km stretch of Charoen Krung Road passed through what we know today as Chinatown and runs parallel to Yaowarat Road, the main street through Bangkok's Chinatown.
A row of single storey houses was built along this stretch of Charoen Krung Road. These houses soon attracted traders and shop keepers and became the start of a thriving commercial area. Initially the Chinese immigrants were Cantonese, later the Teochews were the predominant group.
The Fifth Reign (1868 – 1910)
With the advent of the steamship immigration in the late 1880s Chinese immigration to South-east Asia increased sharply. There were two boat trips per week between Swatow in eastern China and Bangkok, each trip bringing 1,000 – 3,000 persons to the Ratchawong Pier near Sampheng.
Soon the growing Chinese population overflowed from Sampheng to Charoen Krung Road in the late 1800s and early 1900s. The construction of Wat Mangkhon earlier in 1871 also attracted many Chinese to come and live in this area.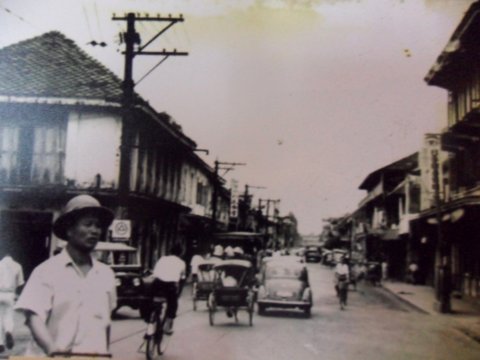 Charoen Krung Road in the early 1900s
During this period two and three storey houses replaced the single storey houses along this stretch of Charoen Krung Road. The re-building started in 1892 and continued to 1922. This provided accommodation for more people.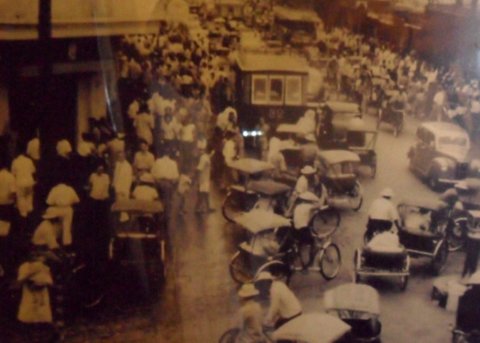 Junction of Plaeng Nam Road and Charoen Krung Road
The Chinese immigrants provided manual labour, worked as rickshaw pullers, street vendors, traded in preserved goods, ran restaurants and acted as middlemen for money remittance.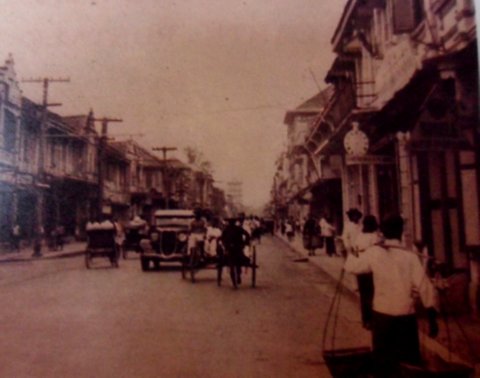 Rickshaw puller and street vendor in the old days
Imported goods from China were also sold here. Those seeking work or looking for labourers came here. The area was a centre for traders in bills of exchange. Many labourers used this service for money orders to remit money home to their families.
One area in particular that was popular with the Chinese was Charoen Chai Alley. This is the area between Charoen Krung Road and Plubpla Chai Road. The name Chareon Chai came from a combination of Chareon Krung and Phubpla Chai.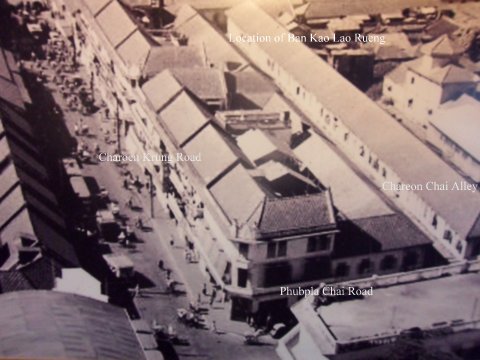 Junction of Charoen Krung Road and Plubpla Chai Road, showing location of Charoen Chai Alley and Ban Kao Lao Rueng
The houses in Chareon Chai Alley were mostly for residential purposes and many Chinese immigrants moved here. The houses along Chareon Krung Road however were mainly shops selling liquor, Chinese medicine, preserved goods, Chinese restaurants and joss paper downstairs with the living quarters upstairs.
Chareon Chai soon grew to become a thriving Chinese community like Sampheng and Yaowarat. The area prospered with the introduction of horse drawn carriages in 1887 and later the electric tram car in 1894.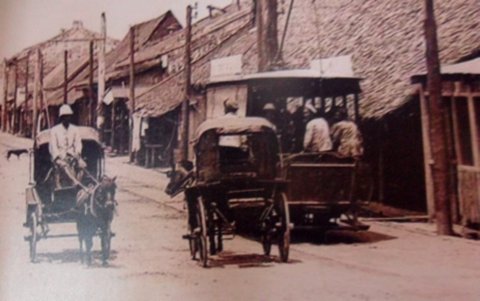 Horse drawn carriages
In 1892 King Rama V bequeathed the land in Charoen Chai to his son Prince Paribatra Sukhumbhand. Prince Paribatra in turn bequeathed the land to his son Prince Chumbhotbong Paribatra.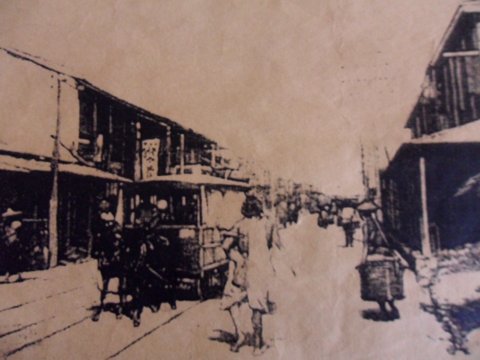 Horse drawn tram car in Charoen Krung Road
When Prince Chumphotbong died in 1959, the land was left to his wife Mom Rajawong Pantip Paribatra who started the Chumbhot-Panthip Foundation in 1968 to manage their properties.
When Mom Rajawong Pantip died in 1987, the presidency of the foundation passed to Mom Ratchawong Sukhumbhand Paribatra who is currently the Governor of Bangkok.
Note: Scenes of old Charoen Krung Road are taken from photos on display in Ban Kao Lao Rueng.
Night life in Chinatown
The history of the Charoen Chai Community traces in some detail the night life in the old days.
As Charoen Chai prospered, so did night life and entertainment to cater to the residents.
Gambling houses, movie houses and brothels soon sprouted up to give labourers a break from their tedious daily chores.
In the Yaowarat and Chareon Krung areas, bars, bath houses, brothels of various classes and dance halls were popular forms of night entertainment.
Some of these places had rather quaint names. For example, the houses for the ladies of the night had green lanterns hanging in front and were called "Green Lantern Houses". The ladies were naturally called "Green Lantern Ladies".
Other forms of recreation took the form of tea houses, which served among other things, tea in the day. The ladies who made an appearance in the evenings were called, "je nam cha or tea sisters".
Back then, a kettle of jasmine tea or a bottle of aerated water, a plate of 5 cigarettes and a plate of melon seeds cost 25 satang or 0.25 baht!
Mae Faeng, a madam of a well-known Green Lantern House made a substantial contribution of her earnings to build a temple in the community. That temple, Wat Kanikapon in Yommarat Sukhum Road near Chareon Chai stands to this day.
In the 1930s ballroom dancing became popular and tea houses had to adapt to the new market demands. The Sino-Japanese War and World War II put a halt to the supply of ladies from China and night life grinded to a halt as a result.
Temples and shrines around the Charoen Chai Community
With the predominantly Chinese population many Chinese temples and shrines were built around the area for immigrants to give thanks for a safe journey and also to provide shelter for those in need. The Chinese community here continue to practice their traditional ceremonies and customs.
The temples and shrines around Charoen Chai Alley and within walking distance of Ban Kao Lao Rueng are:
Wat Mangkon

Wat Kanikapon

Tai Hong Kong Shrine

Lee Ti Biew Shrine

Leng Buai Eia Shrine

Kwang Tung Shrine
The market for joss paper strived and continues till today. During Chinese festivals, marriages and funerals huge crowds will converge here to buy the joss paper for prayers. If you can't find it here, you won't find it anywhere else.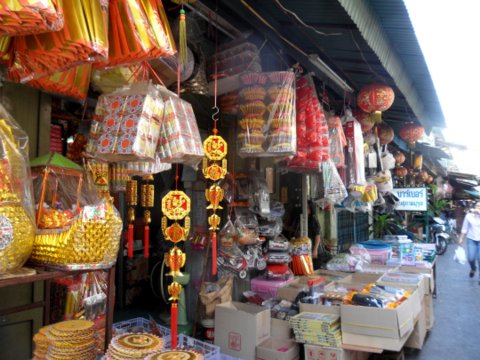 Joss paper for every occasion
Charoen Chai today – an uncertain future
The construction of the Blue MRT (subway) line linking Hua Lamphong station to Bang Kae across the Chao Phraya passes under Charoen Krung Road where the Charoen Chai Community is located.
This has cast a pall of uncertainty over the communities in this part of the old city. The proposed Wat Mangkon Kamalawat MRT station near Charoen Chai would invariably raise land prices.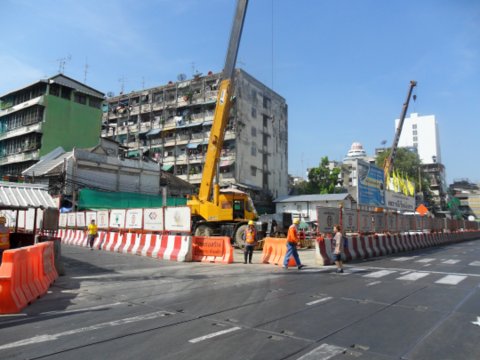 Wat Mangkon Kamalawat station under construction
In 2011 there was a proposal for an underground market through a tunnel linking the Wat Mangkon station to Bo Bae, the Yaowarat-Bo Bae Market. The land above this tunnel will be designated as public land.
Close on the heels of this, the Bangkok city plans issued in 2013 allow an area within 500 km of a subway station for redevelopment which permits the construction of high rise buildings to maximize land use.
As subway stations are about 1 km apart, the land along the entire line will be affected. This will have a drastic impact on the old buildings and communities nearby. The character of old Chinatown will be completely changed!
The temptation for property owners for redevelopment will be great. Charoen Chai together with two other communities along Charoen Krung Road; Pleang Nam Community and Krom Putares Market are facing the pressure of re-development and the possibility of extinction.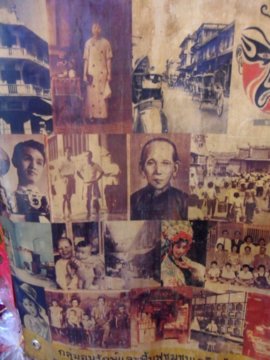 Former residents in Charoen Chai
memories from an old photo in Ban Kao Lao Rueng
In 2008 the landlord Chumphot-Panthip Foundation started shortening the long term leases to a monthly basis.
Werng Nakhon Kasem, another old community further up Yaowarat Road has already been sold off in 2012 and is closer to a complete facelift that would eradicate its traditional character.
Ban Kao Lao Rueng
Under the pressure of redevelopment, the Charoen Chai Conservation and Rehabilitation Group was formed to lobby for the preservation and restoration of these historical buildings and the communities in the old city.
The new development underground can surely co-exist and blend harmoniously with the historical buildings and communities at ground level, thus preserving the historical and cultural heritage of the neighbourhood.
This is possible if the regulation allowing special development of the land by the construction of high-rise buildings around the subway line is scrapped.
To promote an awareness of the heritage of the Charoen Chai Community Ban Kao Lao Rueng was established. This heritage museum was unofficially opened in 2011 and got official approval from the landlord on 19 April 2012 to be a community museum and community hall.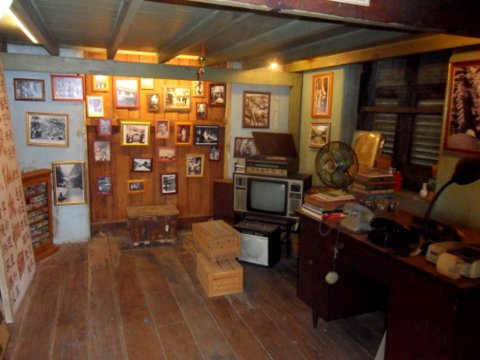 Exhibits in the museum, abacus, old telephones, gramophone and old photos
The exhibits in this old house are nostalgic especially for those of us familiar with life in Chinatowns in other cities in the early days. As the house in 32 Charoen Chai Alley was occupied by Chinese opera (ngiew) performers before, several sets of opera costumes and masks are on display.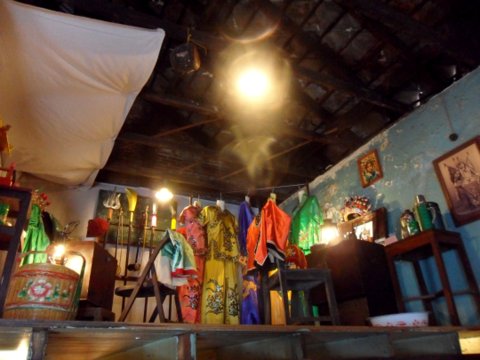 Chinese opera costumes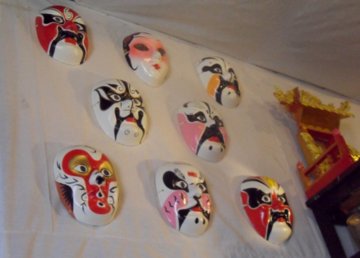 Opera masks
Back then, there were five opera theatres in Chinatown, three with regular performances and two with opera troupes alternating their performances. Tickets cost 3.5 – 7.5 baht per head in 1957.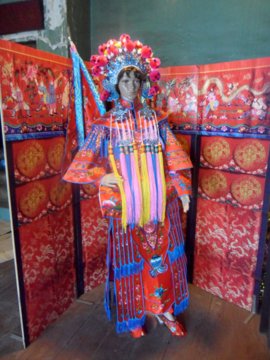 Full opera dress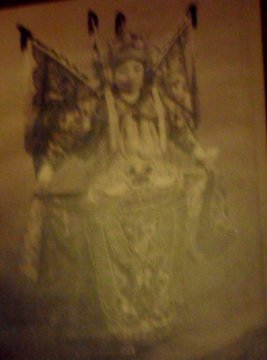 Old photo of opera performer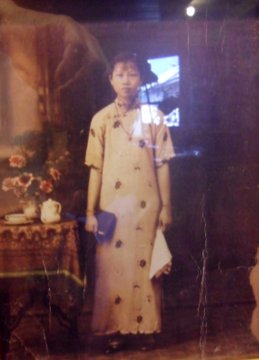 Early ladies' fashion
The Charoen Chai Conservation and Rehabilitation Group have met with academics, architectural historians, social groups, resulting in numerous surveys, evaluations and reports submitted.
The future of these historical buildings and the communities who live in them seem uncertain. Currently tenants are just hanging on to a tenuous month-to-month existence. Is another part of the old city and its community in danger of extinction?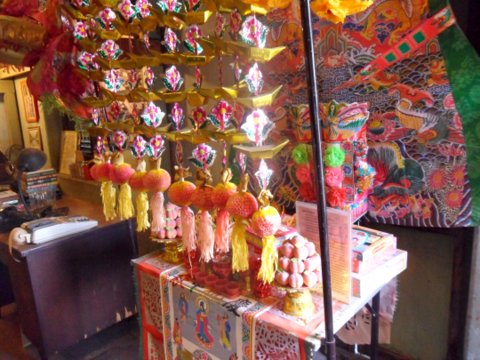 "If old trading communities like the Charoen Chai Community go extinct along with their culture and old customs, how then are we to relate to future generations their roots and cultural heritage?"
My thanks
My thanks to Khun Sirinee Urunarone a resident who runs a photograph shop along Charoen Krung Road near Chareon Chai Alley for her information on the future of this community.
I met her when I called to buy the book on the history of the Charoen Chai Community. Subsequently I found out that she is a member of the Charoen Chai Conservation and Rehabilitation Group.
All photos in this article are with the courtesy of Ban Kao Lao Rueng.
Reference
"Charoen Chai Record – the Chinese in Siam" (in Thai) available at the souvenir shop in Ban Kao Lao Rueng, price 250 baht
This book has been an invaluable source of information in writing this article.
View bigger map of of the area
How to get to Ban Kao Lao Rueng
By MRT (subway)
Take the MRT Blue Line (subway) to the BL29 Wat Mangkon Station. Get out at Charoen Krung Road and enter Soi Charoen Krung 23
This narrow soi is lined with street vendors. Ban Kao Lao Rueng is near the junction of Soi 23 and Trok Charoen Chai (Chareon Chai Alley).
Address

Ban Kao Lao Rueng
32 Charoen Krung Soi 23
Charoen Krung- Plabplachai Road
Pomprubsattuphai
Bangkok 10100

Tel: 081 567 1142  081 685 9229
Opening times
Open every day from 0900 – 1600 hours
Admission to Ban Kao Lao Rueng is free but do leave a donation in the box at the door to support the museum.
Visitors can also buy 'T' shirts and other souvenirs to support the cause.
Just call 081 567 1142.
There's nobody at the entrance, just open the door and proceed upstairs. Close the door after you to prevent dogs and cats from going up as well.
To return to Chinatown Bangkok and for other Bangkok Museums.
Other Chinatown communities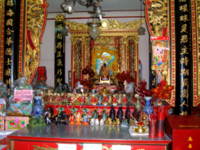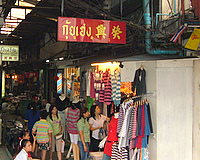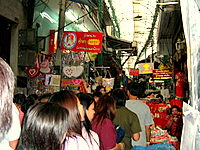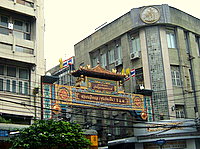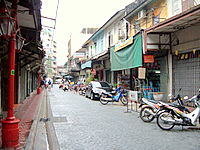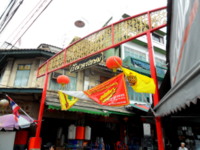 Tour Bangkok Legacies – my first e-book
If you are an independent traveller, here's a handy e-guide book, Tour Bangkok Legacies, which will help you along as you explore the streets of Bangkok and discover its old treasures. It's complete with historical descriptions, maps and detailed directions on how to get to these places.
My Kindle e-book