Werng Nakhon Kasem
the end of an era?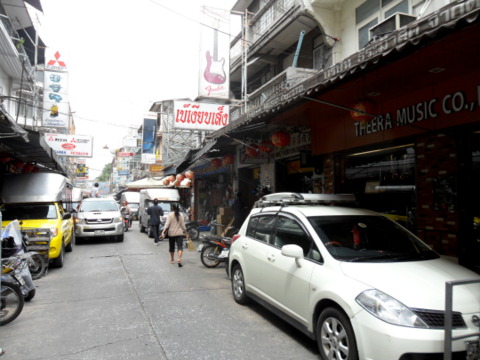 Charoen Krung Soi 10
Werng Nakhon Kasem a century-old Bangkok trading community in Yaowarat, Chinatown Bangkok is in danger of going extinct as new owners have acquired the land and have plans for redevelopment.

The community is located in two-three storey shophouses along Charoen Krung Soi 8 and Soi 10 between Yaowarat Road and Charoen Krung Road at the northern edge of Chinatown Bangkok. 
Please see map to Werng Nakhon Kasem
Long ago the area was an open space ("werng") just east of the Banglampu canal outside the old city. An old theatre called "Nakhon Kasem" was located there. The theatre was burnt down but the name stuck.

The shops here sell an unusual mix of items ranging from machinery, aluminium containers to musical instruments, antiques and books!

Most of the shops deal in the machinery and metal products like blenders, ice crushers, coconut scrapers, water pumps, gas stoves, food containers of all shapes and sizes, brass pots and pans.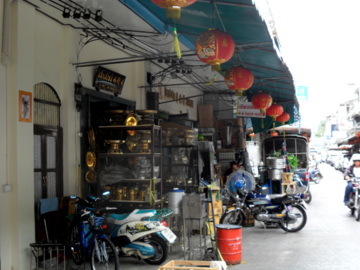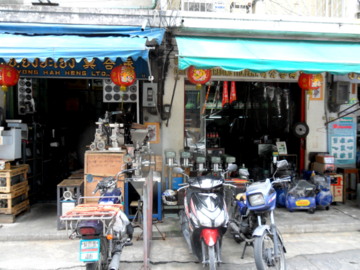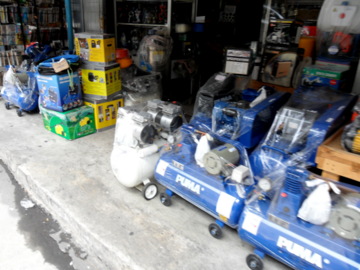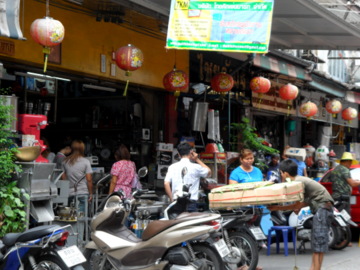 Their clientele are restaurant owners and food vendors. I noticed a customer carrying away an ice crusher used for Thai deserts.

Shops selling musical instruments come second. The instruments include electric guitars, classical guitars, drum sets, brass instruments like trumpets and saxophones. Traditional Thai instruments are also available.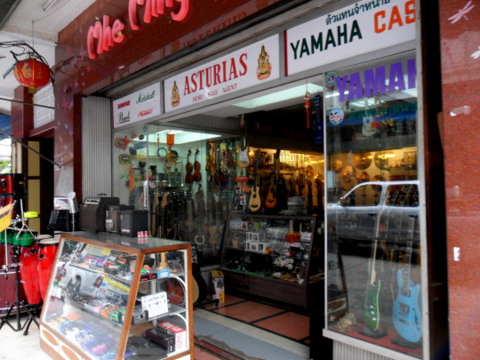 Musical instruments
There are only a few shops selling antiques, wood carvings and statues of Chinese deities.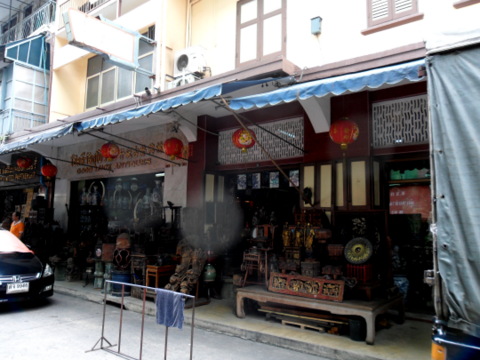 Antique shops
In Charoen Krung Soi 8, there is a shop selling CDs, VCDs and DVDs and Kasembaankij bookstore, the oldest and remaining bookstore in the neighbourhood.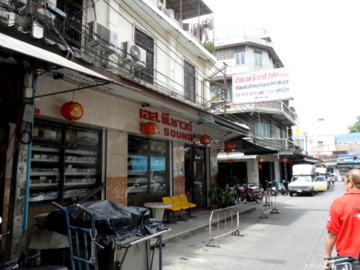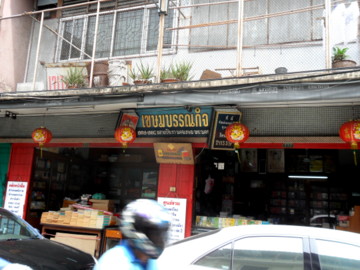 Several web sites have referred to this place (Werng Nakhon Kasem) as the "Thieves Market" in Bangkok. Apparently stolen goods were sold there in the past. I can't vouch for this. But it is definitely not the case today.
Some articles have even called the street markets in neighbouring Worachak Road and Mahachak Road, Nakhon Kasem.

The street market in Mahachak Road is called the Khlong Thom market. There are no street markets in Werng Nakhon Kasem. All the goods are sold in shops.
I checked with a food vendor there. There is no night market either, most of the shops close at 5:00 pm.

The shops in this street aren't popular with the tourists, there were hardly any there during my visit. It's more a place for local shoppers.

However this century-old community may be in danger of disappearing in view of a recent development.

Future of Werng Nakhon Kasem 

In June 2012, TCC Land, a property company owned by the liquor tycoon Charoen Sirivadhanabhakdi, bought the land occupied by Werng Nakhon Kasem from the Paribatra family for 4.5 billion baht. Charoen Sirivadhanabhakdi owns Thai Beverages which brews Chang beer.

There are plans to turn this old prime property into an up-market retail and dining complex like Asiatique the Riverfront by the stretch of the Chao Phraya River between the Taksin Bridge and Krung Thep Bridge.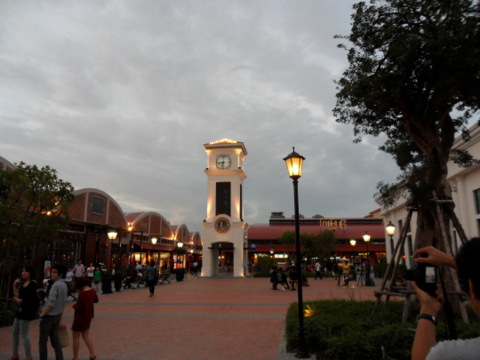 Section of the Asiatique
In mid-July 2012, community leaders met with the new owner, Khun Charoen to convince him to preserve this historic part of old Chinatown. The community was given time to propose a conservation plan that would still give the owner a return on his investment.

But this might just be a reprieve, the outcome appears inevitable. Here are some hard figures.

Interest on 4.5 billion baht to purchase the land runs at 300 million baht per year
Rental income from 440 shops in the community is 90 million baht per year
Which businessman will tolerate this income/expense imbalance indefinitely? Even incremental rent hikes will not solve the problem, only a three-fold increase would. But can the community absorb this?

This is the dilemma of old communities in big cities where rising property prices will pressure owners to redevelop in order to achieve a higher return on investment.

The final outcome may be a full scale redevelopment to commercial complex like the Asiatique which caters to a very different crowd and may be more profitable.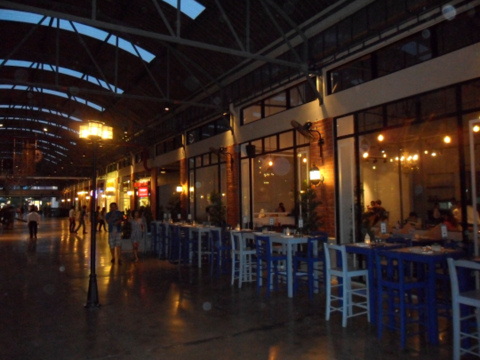 Dining area in the Asiatique
However, there's a vital difference between the Asiatique project and Werng Nakhon Kasem. 
The Asiatique stands on 11.5 hectares or 28.8 acres of old disused warehouses and colonial bungalows formerly owned by the Danish East Asiatic Company. Redevelopment injected fresh commercial life into an otherwise dead stretch of the riverfront.
Werng Nakhon Kasem which is much smaller in comparison (2.2 hectares or 5.6 acres) is an existing community that has lived there for generations and conducting their trade in the area.
Redeveloping the area will destroy an old community and their trade. This community will end up the same way as the Wanglee community near Wat Yannawa.
Old communities, their way of life and trades form part and parcel of the cultural heritage of society. Dispersing them could mean the end of the community. 
Conserving the old buildings while redeveloping the area into spanking new retail and entertainment outlets will only retain the shell, the soul of the old community is gone.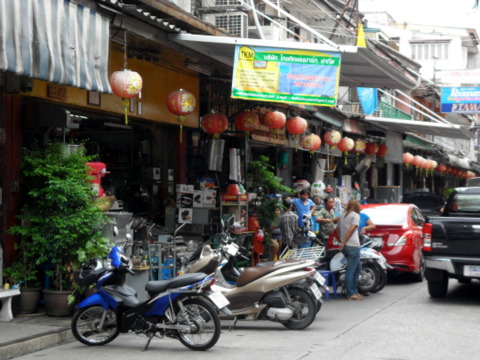 End of an era?
Map to Werng Nakhon Kasem
View
Werng Nakhon Kasem
in a larger map
Back to top
How to get there
Take the MRT Blue Line to BL30 Sam Yot Station and walk along Charoen Krung Road till you get to Charoen Krung Soi 8 and 10.

In the course of walking there, you will have a chance to take a tour of old Chinatown Bangkok as well.
To return to Chinatown Bangkok and for other Bangkok Communities.

Tour Bangkok Legacies – my first e-book
If you are an independent traveller, here's a handy e-guide book, Tour Bangkok Legacies, which will help you along as you explore the streets of Bangkok and discover its old treasures. It's complete with historical descriptions, maps and detailed directions on how to get to these places.
My Kindle edition