Charoen Krung Road
the oldest road in Bangkok
Charoen Krung Road was the first road to be built in Rattanakosin or old Bangkok. It was built in 1861 during the reign of King Mongkut or King Rama IV when foreign consuls petitioned for a road to be built.
The European consuls complained that there were no roads for them to ride their horses and open carriages to enjoy the fresh air like they used to do in Europe and that made them sick often!
Charoen Krung or Prosperous City the oldest road in Bangkok, was built from Wat Pho and the Grand Palace and stretches for 8.5 km pass the outer city wall to Dao Khanong to the south. Paradoxically, the English name for the road is New Road.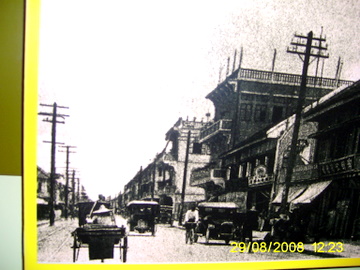 Charoen Krung in the early 20th century
Please see map to Charoen Krung Road
Let's take a trip down the New Road from Saranrom Park and the King Rama VI Museum near Sanam Luang where the road officially starts. The road crosses the first canal ring, Lod Canal or Asadang Canal, named after Prince Asadang, a son of King Chulalongkorn.
Once over the second canal ring, Banglamplu-Ong Ang Canal we enter Bangkok Chinatown or Yaowarat. The old Chinese community was resettled here from land granted by King Rama I in 1782, when Bangkok was established as the new capital.
Old two story Chinese shop houses in line both sides of the street, reminiscent to those in Malaysia and Singapore. We leave Chinatown after passing Wat Traimit and the Odean Gate.
The Portuguese Embassy, the oldest foreign embassy in Thailand is along this road. In 1894, a prominent Dane in Bangkok Svend Aage Westenholz took over management of the Siam Electric Company Ltd which supplied electricity to Bangkok and also provided an electric tramcar service in Bangkok. 
The first tramcar service ran along Charoen Krung.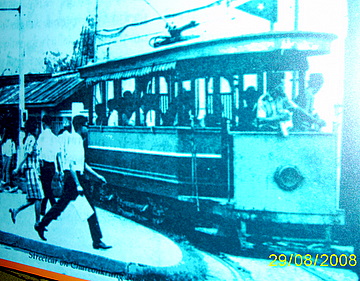 Tramcar in old Bangkok
After crossing the third canal ring, Padung Krung Kasem Canal we reach old Bangrak. This stretch of Charoen Krung near the Oriental Hotel has several antique shops, travel agents and jewel merchants. The Bangkok Folk Museum is in this area.
When Joseph Conrad docked at the Oriental pier in 1888 and stayed at the old Oriental Hotel, he probably strolled along this very stretch of the New Road.
The road continues on pass the Taksin Bridge, runs along the Chao Phraya River banks and ends at the junction with Rama III Road near the Krung Thep Bridge.
Before reaching the end of the road, we will pass the old Protestant Cemetery Bangkok.
Map to the oldest road in Bangkok
View
Charoen Krung Road
in a larger map
Back to top
Charoen Krung Road passes through the oldest parts of Bangkok, Rattanakosin, Chinatown or Yaowarat and Bangrak; in fact it is old Bangkok!
To return to Rattanakosin.
Custom Search