Saranrom Park
the palace garden in the old city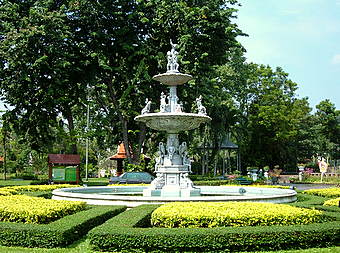 Fountain at the main entrance
Saranrom Park across the road from the Grand Palace is one of the public parks in Bangkok with a long history. It was originally part of the grounds of the Saranarom Palace built in 1866 during the reign of King Mongkut or King Rama IV.
During the reign of King Chulalongkorn or King Rama V the Ministry of Foreign Affairs had its office in the palace. Royalty from Greece, Russia and Sweden have resided here too. King Rama V turned the palace grounds, which form Saranrom Park today, into a zoo.
King Rama VI resided in the palace when he was Crown Prince.
The pavilion where military bands played during his reign is preserved in the park.
After the 1932 coup, the palace was taken over as the headquarters of the Foreign Ministry.
It was also used as a residence for foreign guests.
In 1960, the garden was given to the Bangkok Metropolitan Authorities to turn into a botanic garden and public park. Saranrom, Bangkok's first botanic garden, came into being and the royal garden was opened to the public. The palace buildings are at the other end of the park.
The park has a beautiful garden, a refreshing "green belt" in a hot and bustling city. Cool and well shaded, the park is interspersed with ponds and well-kept flowers.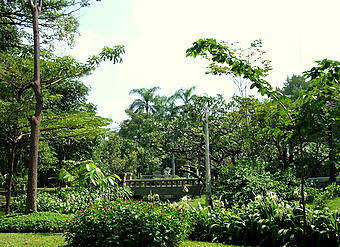 Green belt in the city
It's just the place to take a rest after a hectic tour of the Grand Palace and the old city. 
The hum of the traffic seems so far away in the breezy, serene atmosphere as families picnic in the park.
In the center of the park is a poignant monument to Queen Sunanda Kumariratana and Princess Kannabhorn Benjaratana, consort and daughter respectively of King Rama V.
In 1880, the queen and princess were drowned in the Chao Phraya during a boat trip to Bang Pa In Palace in the north.
Their epitaphs stand in Saranrom, their favorite garden.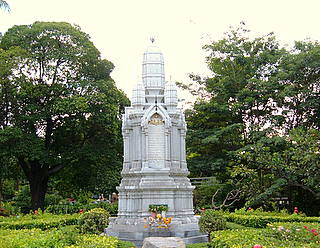 The royal monument
Saranrom designated a cultural park
On 4 January 2007 the Bangkok Metropolitan Authorities announced that Saranrom Park will be designated as a cultural park. This is in line with the city's plans to enhance the distinctive character of each of the city's parks.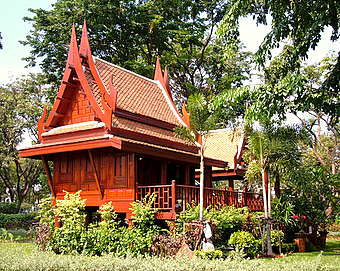 Traditional Thai house
Saranrom, with its wide array of flora and architectural works, including the royal monument, is a fitting choice for an architectural legacy.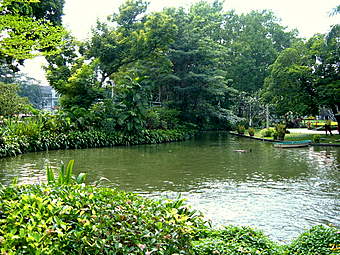 View Larger Map
How to get there
The park is at the south-east corner of the Grand Palace.
Take a Chao Phraya river boat and alight at N8 Tien Pier near Wat Pho.
Then walk along Thai Wang Alley towards the park.
To return to Rattanakosin.

Custom Search