Chinatown Bangkok sights
discover old treasures
Chinatown Bangkok sights takes you on a walking tour of old Chinatown to seldom visited places rich in history with old landmarks and for shopping in crowded narrow alleys packed with street markets.

We start our walking tour of Chinatown Bangkok by taking a Chao Phraya River boat to the Ratchawong Pier.This old pier was the point of entry for the early Chinese immigrants to Bangkok since the reign of King Rama I (1782 – 1809).
Ratchawong Pier also used to be the port of entry for goods coming from the other coastal provinces. The road leading to the pier, Ratchawong Road, was built in the reign of King Rama V (1868 – 1910).
From Ratchawong Road turn right at the first turning into Songwat Road. This road is where many of the early Thai Chinese immigrants had their humble beginnings.
Founder of Bangkok Bank, the biggest commercial bank in Thailand, Chin Sophonpanich started life as a clerk. During World War II when the Japanese occupied Thailand, British and American banks were closed. Chin and a few others seized the opportunity.
On 1 December 1944, Bangkok Bank started business in two adjacent shop houses near the junction of Ratchawong Road and Songwat Road.
The bank received deposits of 9 million baht that day.

According to a tourist brochure by the Bangkok Metropolitan Authority, these two shop houses are in 235 – 237 Ratchawong Road.
I've tried to locate these houses but could only find numbers up to 231 and 239 and above. There seems to be nothing in between 231 - 239.

Please see for the map of Chinatown Bangkok sights

Songwat Road today consists of trading companies and storehouses. Trucks are constantly coming in and out as labourers load and unload cargo. Some of the old houses have very pretty designs, like this one.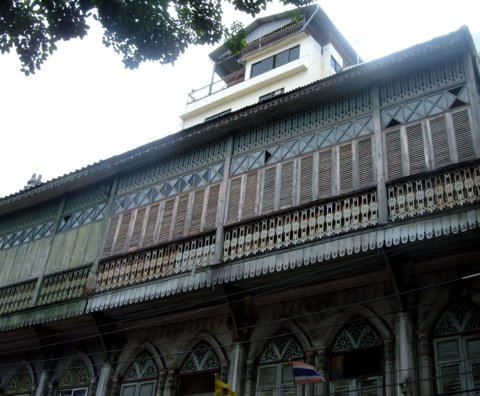 Old houses in Songwat Road
Peiing School in Songwat Road is where two well-known Thai Chinese had their early education.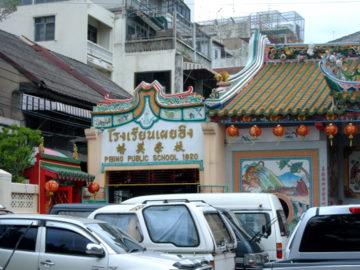 Peiing School
Charoen Sirivadhanabhakdi, founder of Thai Beverage the largest brewery in Thailand and the second richest man in Thailand, studied here. Thai Beverage, which is listed on the Singapore Stock Exchange, brews Chang Beer. Charoen also owns the Royal Merdian Plaza Athenee Hotel in Wireless Road.

Doctor Somkid Jatusripitak, a former Deputy Prime Minister and Minister of Finance of Thailand, is another old boy of Peiing.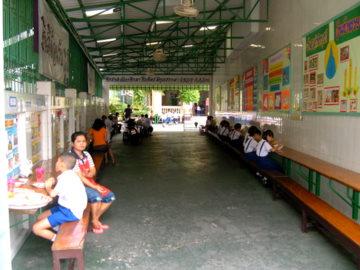 Children at Peiing having their mid-day break
This little alley off Songwat Road that's barely noticeable except for signboards. Can you imagine what's inside?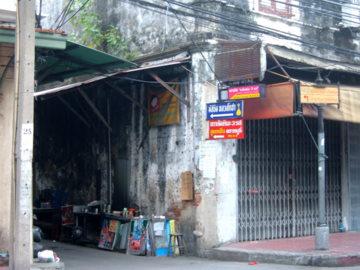 Alley off Songwat Road
At the end of the alley stands the only mosque in Chinatown.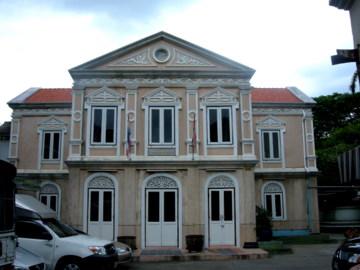 Luang Kochaid Sahark Mosque
This mosque is named after Luang Kochaid Sahark who built it in the reign of King Rama II (1809 – 1824).
Luang Kochaid, a native of Saiburi a district in Pattani southern Thailand, worked as a Malay language interpreter in Bangkok.

He built the mosque for Muslim traders from the neighbouring region visiting Bangkok. His descendants are still looking after the mosque.

Our tour of Chinatown Bangkok sights takes us into Yaowa Phanit Road, a quiet shopping alley compared to what we will encounter later.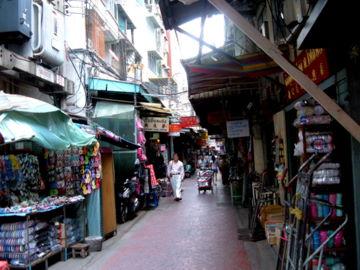 Yaowa Phanit Road
Further up the road turn right into Phat Sai Road where we find the old Hakka Association of Thailand. (The Hakkas are a Chinese dialect group from Shandong, northern China. They later migrated south to Fujian and Guangdong provinces).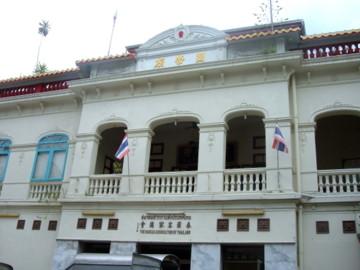 Hakka Association of Thailand
This old coffee shop in Phat Sai Road is a rarity in Bangkok these days. It's even listed in the road signs as "olden coffee", which is coffee brewed the traditional way.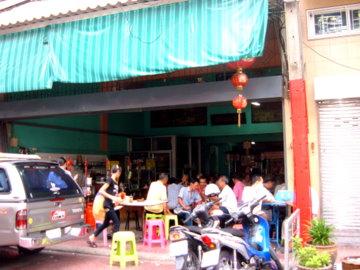 Old coffee shop
Next on our tour of Chinatown Bangkok sights, we cross Yaowarat Road and go into Plaeng Nam Road.

This street is lined with shops selling birds' nest and Chinese deserts. Near the end of the road, you will find this porridge shop near the junction with Charoen Krung Road.

It's time for a break. All this walking is hard work.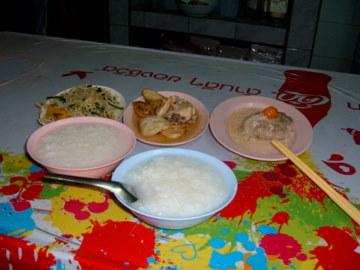 Porridge with bean sprouts, tofu and minced pork
with a salted egg yoke, all for 80 baht
The shop is more than 80 years old. The current owner's grandfather started the business.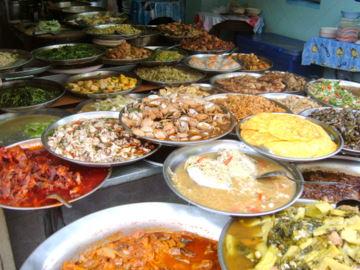 This was the spread available!
We now start on the return leg of Chinatown Bangkok sights. Get out into Charoen Krung Road and turn left into Charoen Krung Soi 16 to the New Market.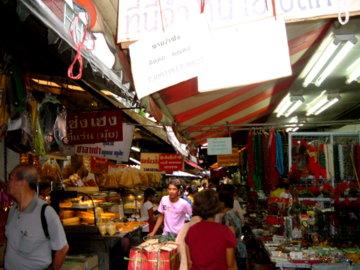 New Market
"New" is relative, it's more than 80 years old.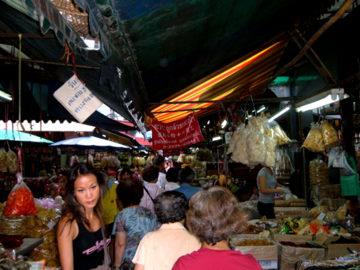 This is another of those numerous shopping alleys in Chinatown Bangkok that's packed with stalls.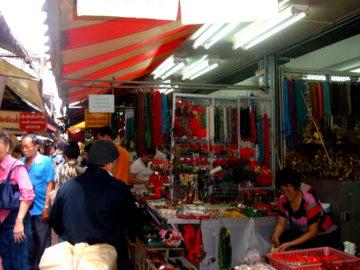 Cross back into Yaowarat Road and keep right on going into Yaowarat Soi 23. Here we'll find another shopping alley, the Old Market, which is more than 100 years old.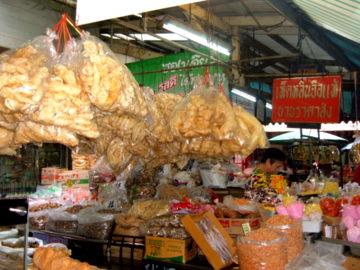 If you like shopping or just browsing this stretch will surely be the highlight of Chinatown Bangkok sights.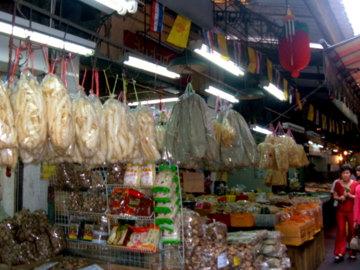 I can't begin to list the things that are being sold here.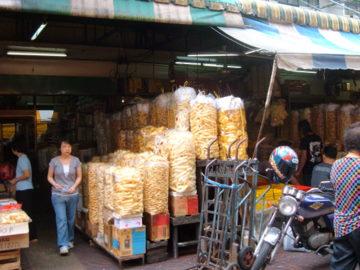 Wholesale shopping at the Old Market
From Charoen Krung Road down to Songwat Road there are more than 500 m of shopping alleys with stalls selling fresh food, dried food, cakes, deserts and other Chinese delicacies.
The route will take you back to Songwat Road within walking distance to the Ratchawong Pier.

Chinatown Bangkok sights make another page in the history of old Chinatown Bangkok.
Though this route is less travelled than the main street Yaowarat Road or even Walking Street in Chinatown, it's just as rich in history.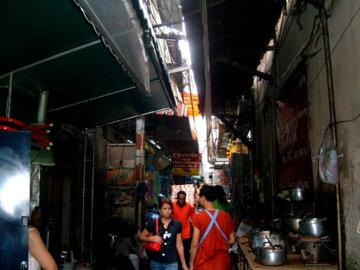 Passing the kitchen on the way out
Route map of Chinatown Bangkok sights

View
Chinatown Bangkok sights
in a larger map.
Back to top of page
To return to Chinatown Bangkok.
Other Chinatown Streets
Walking Street Chinatown Bangkok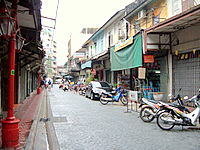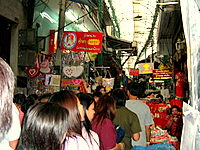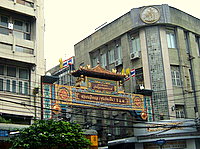 Tour Bangkok Legacies - Kindle paperback edition
If you are an independent traveller, here's a handy paperback, Tour Bangkok Legacies, which will help you along as you explore the streets of Bangkok and discover its old treasures. It's complete with historical descriptions and directions on how to get to these places.
My Kindle paperback edition