Erawan Bangkok
luxury shopping by the shrine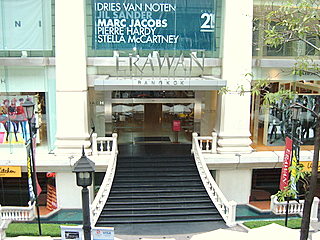 Entrance to Erawan in Ploenchit Road
No, Erawan Bangkok isn't the famous Erawan Shrine nor is it the five star Grand Hyatt Erawan Hotel. It's an upmarket boutique shopping mall lodged between its two famous neighbors. Being in this prime location has given it license to the famous Erawan name.
Opened in November 2004, the Erawan Bangkok provides shopping in luxurious comfort. The white façade was designed to blend in with the Grand Hyatt Erawan Hotel next door.
The interior is expansive and tastefully decorated with décor that's a soft pastel white giving a refreshing and soothing ambience.
Central escalators link to the various levels, making the mall easily navigable.
The sounds of rushing water from the fountain in the basement fill the air with a very natural effect.
The basement leads to the Urban Kitchen where there are several food outlets, with the retail outlets located on the four upper levels.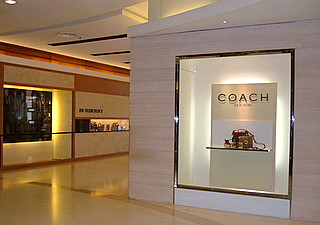 Four upper floors linked by escalators lead up to some very well known brands. The collection of fashion brand names at the Erawan Bangkok include:
Blackjack, Boudoir, Burberry, Chris Tofle, Club 21, Coach, Della Spiga, Espirt, Moreschi, Mulberry, Rampage, Rado, Roger Dubuis, Rouge, Sinequanone and S Oliver.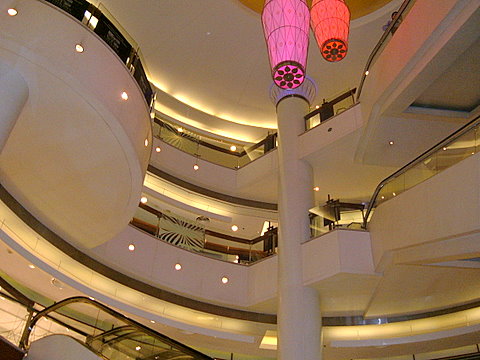 View from below
The Urban Kitchen in the basement has several up-market outlets for Chinese, Indonesian, Japanese, Thai and other cuisine including Bakerzin, Baskins Robins, Crystal Jade, and O'Brien's Irish Sandwich Bar.

Then there's the posh Erawan Tea Room on the third level.

A health and beauty center on the upper level provides services ranging from beauty care to colon hydrotherapy, though I can't imagine what the latter involves.
This luxury shopping mall is connected to the Chidlom skytrain station by a walkway on the second floor for the convenience of shoppers.
This elevated walkway or skywalk, connects Siam Square, Siam Paragon, Central World Plaza and Central Chidlom, forming a huge complex of shopping malls.
However this mall stands out from the rest, spacious yet cozy, a comfortable shopping experience and a pleasant respite away from the bustle of the city outside.
Erawan Bangkok – three years on

Since the opening of Erawan in November 2004, other mega shopping malls have emerged in Ratchaprasong and Siam Square. Siam Paragon opened with a bang in December 2005. Central World Plaza had a complete revamp and emerged last year with a spanking new look. 

These new malls were an instant draw to shoppers, particularly the young and trendy. Events like live concerts, exhibitions, promotions keep the place alive.

By 2007, visitors to the smaller Erawan Bangkok have dwindled and half of the tenants are gone. Tenants who given up their lease include; 

Bakerzin, Baskin Robbins, Burberry, Esprit Collection, Nature Touch, Paul Mitchell, Rado, S. Oliver, Siam Commercial Bank, Sinequanone. 

Depending on location, a famous name and big spenders just aren't enough. It might take more than the aura of the Erawan Shrine to pull through this downturn.
To return to Bangkok Shrines.
My Journey through Thailand Part I The First Steps
This is my second e-book and the first in the series of travel journals on my trips to explore the various provinces in Thailand. This edition, which covers my travels from late 2009 to mid-2013, will guide you to historical sites, cultural monuments and exquisite Thai handicraft, across a vast spectrum of cultural and ethnic diversity.
You can have a virtual tour with this e-guide book or take the first steps yourself in this journey through Thailand.
My Kindle e-book