Loy Krathong 2008
the local flavor of the festival
Loy Krathong 2008 provided the occasion to capture the atmosphere and mood of the colourful Loy Krathong Festival at four different places in Bangkok on the night of 12 November 2008.

The cool temperatures at this time of year made it a pleasant experience to stroll around and watch the festivities.
Here is the Loy Krathong Festival this year in pictures.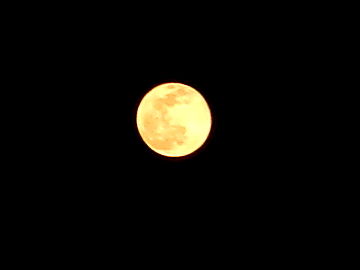 Full moon on Loy Krathong
Sathon pier

The scene at the Sathon pier just below the Taksin Bridge was hectic. Getting there by skytrain was tough enough. The train, usually empty by the time it reaches the terminal station*, was packed to the doors.

Getting down from the platform was equally bad with huge crowds surging up to take the train back. I stayed at the Sathon pier long enough to get in, take some shots and get out.
Note
*Back in 2008, the Silom line of the skytrain terminated at S6 Taksin Bridge station. Since then the line has extended to six more stations, terminating at S12 Bang Wa.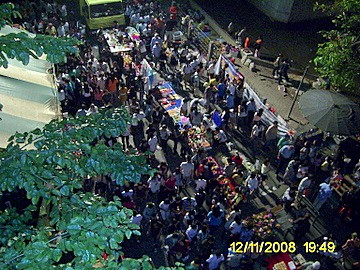 Inching along through the crowd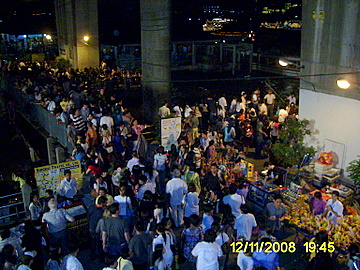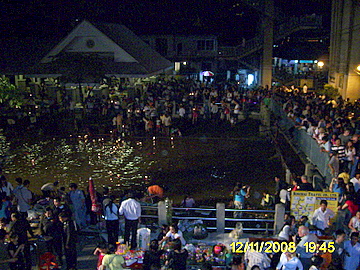 Everyone's out tonight
River City

The River City river cruise centre near the Si Phraya pier was more spacious and provided a little more breathing space. Street vendors selling krathong were doing a roaring trade selling the colourful floating bouquets to the people coming to celebrate the occasion.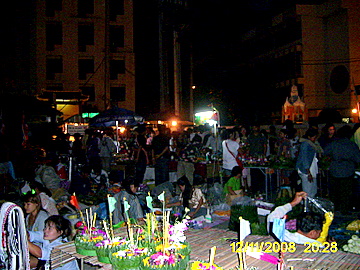 Scene at River City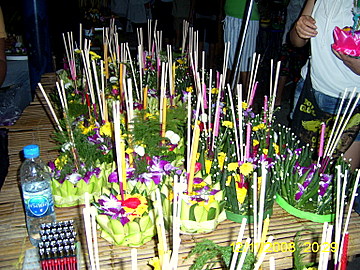 At these piers, people usually hire a boat to take them out midstream to float off their krathong.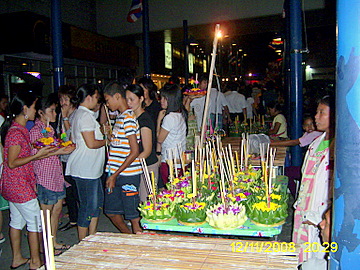 Krathong vendors doing a brisk trade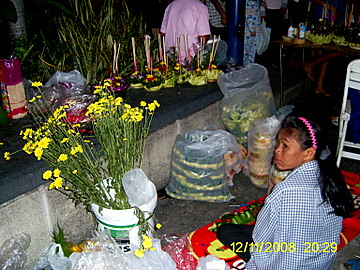 Production on overtime
Lumphini Park

Next I hopped back on the skytrain to go down to Lumphini Park where I could stroll around leisurely to get these shots.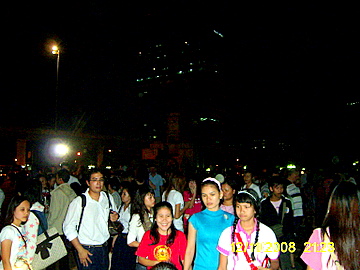 Crowd outside Lumphini Park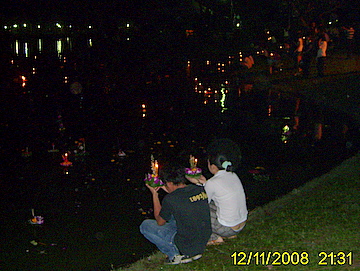 Deep in prayer before launching the krathong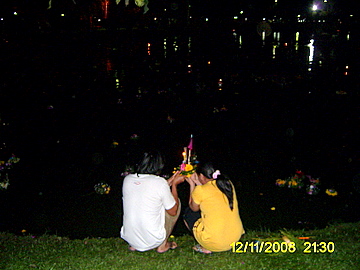 Kids recover coins and flowers for "recycling"
Chulalongkorn University

My last stop was at the Chulalongkorn University where the Loy Krathong fair by the varsity pond was in full swing.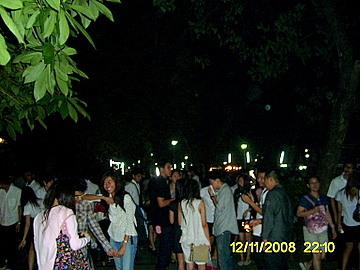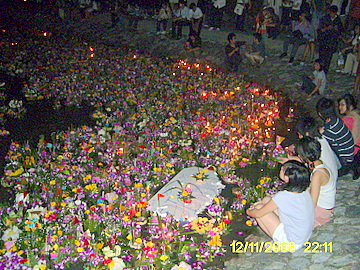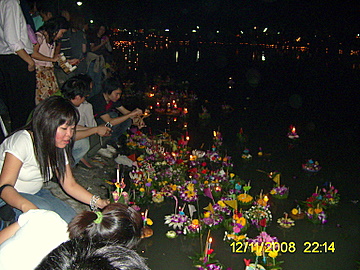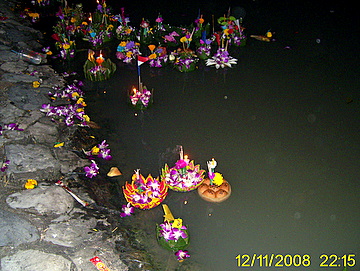 Krathong made of bread (right)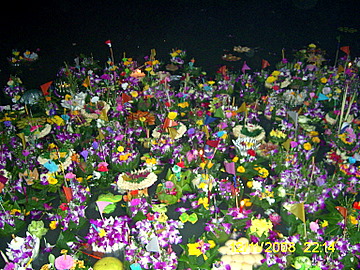 Before the night was out
Well it's close to the end of another year, which fortunately hasn't been a good one. In the spirit of Loy Krathong 2008, we hope that the krathong will carry away the ill fortunes for 2008 and bring in a better 2009.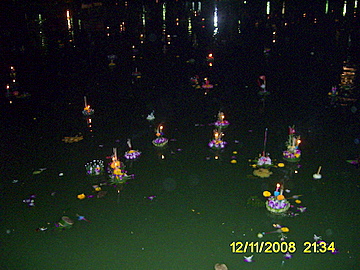 Loy Krathong 2008 - hopes for a better year?
For last year's Loy Krathong, please see Loy Krathong 2007.
To return to Bangkok river cruise.
If you are an independent traveller, here's a handy e-guide book, Tour Bangkok Legacies, which will help you along as you explore the streets of Bangkok and discover its old treasures. It's complete with historical descriptions, maps and detailed directions on how to get to these places.
My Kindle e-book