Hua Takhae Market
the art market in Lat Krabang
The Hua Takhae Market is in an old community along the Prawet Burirom canal in eastern Bangkok. It has recently been revived with an arts and craft market on the first weekend of every month.
To get there, I passed through a transition from a busy urban scene to the quiet life along a canal in old Bangkok.
Lat Krabang Road is like any busy main street in Bangkok. As I turned off into Soi 17, I entered a narrow and relatively quiet lane lined with market stalls on both sides.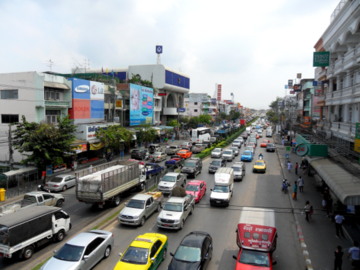 Lat Krabang Road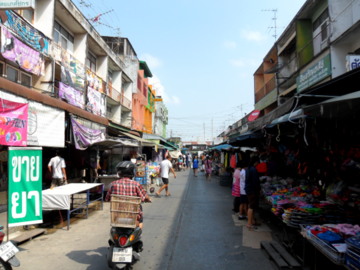 Lat Krabang Soi 17
At the end of the soi, there's a bridge that spans a canal. Cross over and enter a place where time has almost stood still.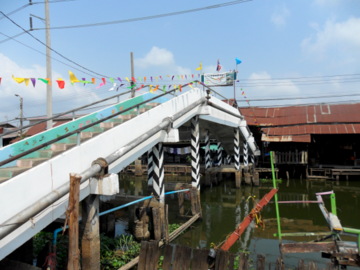 Bridge over the canal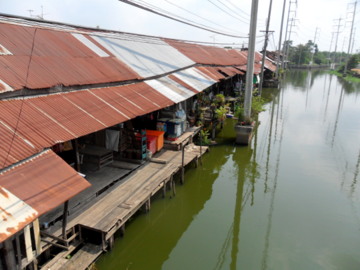 The market
The community consists of old two-story wooden houses that has a century-old market with shops selling provisions, dresses, cakes, various types of food, a TV repair shop and a beauty salon.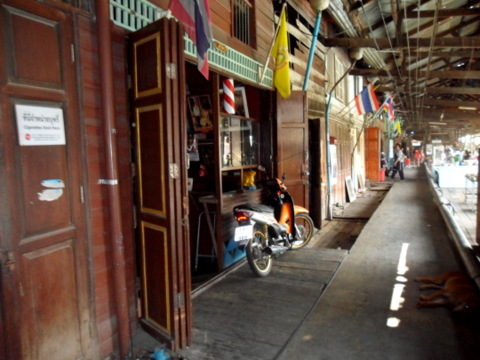 Old shops on the canal banks
Plans to develop the new Hua Takhae Market across the Lat Krabang Road almost spelt the demise of this old market. Over time, many residents have moved out as there were several homes that were locked up. The place gradually became run-down.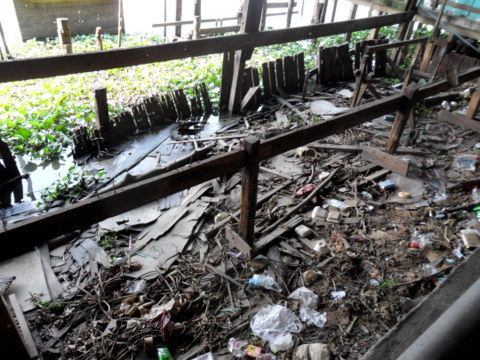 An abandoned part of the market
However, some of the residents thought of a novel way of reviving life in this old community market.  In conjunction with the art fraternity from the Bangkok College of Fine Arts and the King Mongkut Institute of Technology, they started an art market on the first weekend every month.
Art and craft are on display for sale, art workshops are conducted, and art students come here to paint in this peaceful atmosphere, all of which has brought back life to this old market and community.
To get there, please see map to Hua Takhae art market
I can imagine what life was like here 50 years ago when the community was much bigger, canal boats were the main mode of transport, daily life and commerce were conducted along these waterways.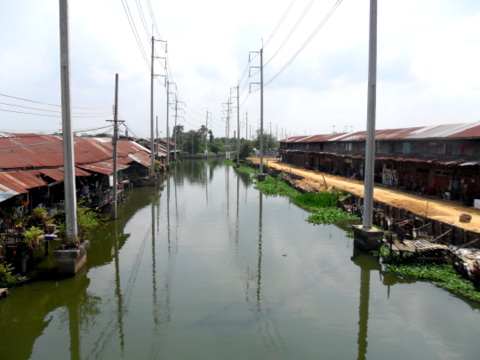 Khlong Prawet Burirom
That was the time when boats were the main mode of transport. Boats are still being used here.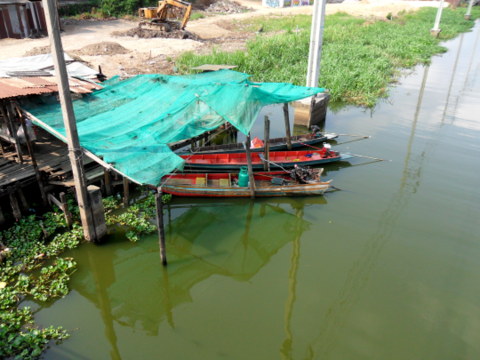 Still plying the canal
On the day of my visit, there was a traditional Thai dance troupe made up of students from a school nearby. They put up a brilliant performance. There's a donations box for the cost of their costumes, do give them your support.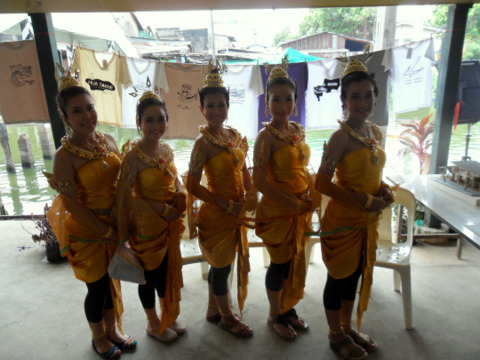 Traditional Thai dancers
If you can't see the video, click on this link.
There is a kite-maker selling kites and T-shirts. I am told he gives free kite making lessons to preserve the art of kite making.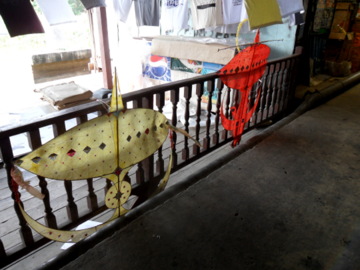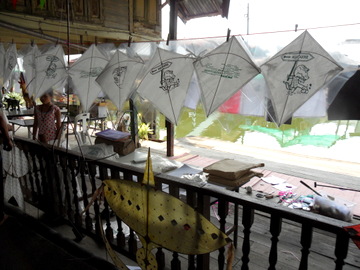 Hua Takhae – the crocodile's head
The third stall is an art gallery of paintings and sold ceramics. I was expecting more.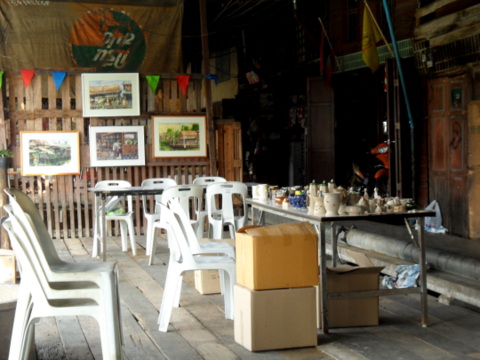 Paintings and ceramics
When I had a bowl of noodles from a friendly lady vendor, I found out why. The art organizers had commitments somewhere else that morning otherwise there would be more activities.
Then she told me more about the Hua Takhae community. Shopkeepers live here all their lives and some have their food stalls just by the banks of the canal outside their homes. The shops here are open every day. It's just the art market that's held on the first weekend of every month.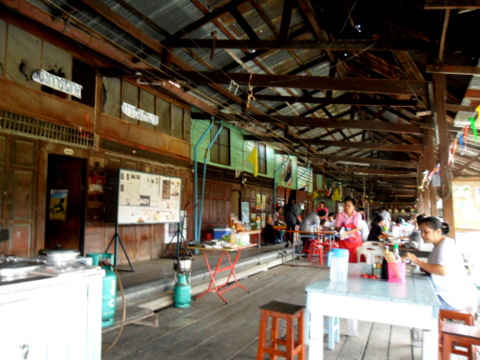 The noodle shop
There were a number of other food vendors along this boardwalk by the canal.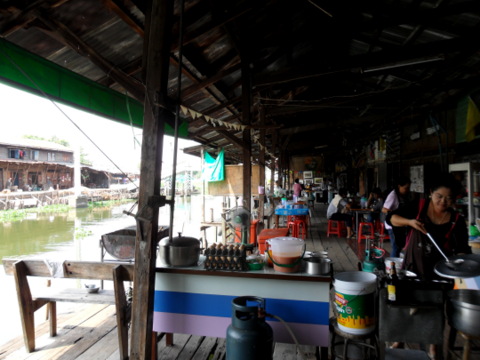 Lots of food by the canal
According to her the development across the canal is for a boardwalk along the banks, space for more stalls perhaps?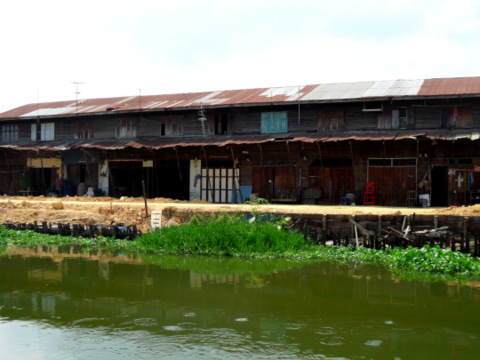 New development across the canal
I'll need to pay another visit to this art market in the following month to see the art and craft market in full swing. The atmosphere is peaceful and breezy notwithstanding the hot weather in March and a very pleasant way to spend a Saturday morning.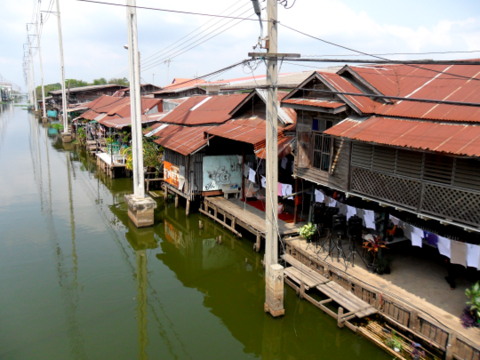 The perfect weekend getaway
Nonetheless it was still an enjoyable trip to see an old community and their way of life, their efforts in reviving their market in one of the last frontiers of old Bangkok.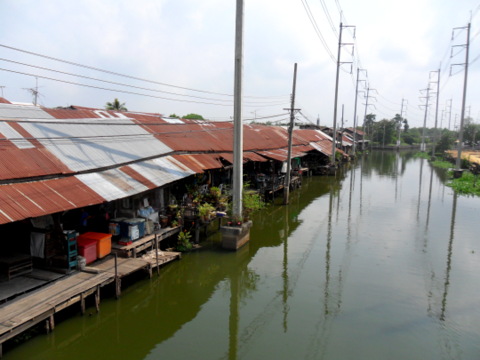 Preserving a legacy
I sincerely hope that the community here can successfully revive the Hua Takhae Market and restore it to its former charm.
Map to Hua Takhae art market
View
Hua Takhae Market
in a larger map
Back to top
How to get there
Take the Suvarnabhumi Airport Link to the Lat Krabang Station which is just one station before the airport. There are plenty of taxis at the Lat Krabang Station. 
There are also a "song taeow" service (pick-ups running on fixed routes and at a fixed prices) plying between the Lat Krabang Station and Hua Takhae Market. These pick-ups are white but wordings are in Thai. I noticed only one vehicle with the words "Airport Link" printed in English.
It's more comfortable and faster to take a taxi to the Hua Takhae Market. The fare is around 55 baht depending on traffic conditions.
Opening times
The old Hua Takhae Market is open every day.
The art market is only open on the first weekend of the month.
For other Bangkok communities.
Attractions nearby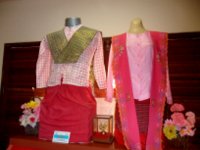 My Journey through Thailand Part I The First Steps
This is my second e-book and the first in the series of travel journals on my trips to explore the various provinces in Thailand. This edition, which covers my travels from late 2009 to mid-2013, will guide you to historical sites, cultural monuments and exquisite Thai handicraft, across a vast spectrum of cultural and ethnic diversity.
You can have a virtual tour with this e-guide book or take the first steps yourself in this journey through Thailand.
My Kindle edition