Royal Elephant Museum
legacy of the White Elephant
The Royal Elephant Museum is located in two modest single story buildings near the east entrance to Dusit Garden, Bangkok. This was formerly the Royal Elephant Stables during the reign of King Rama V where the royal white elephants were kept.
In 1988, the royal stables were converted into a museum and opened on 12 August 1992 to commemorate the 60th birthday of HM Queen Sirikit.
The first building of the Royal Elephant Museum traces the origins of these auspicious animals which are classified into four classes, after the Hindu Gods who created them viz, Brahma, Siva, Vishnu and Agni.
Being extremely rare, white elephants are considered holy animals in Buddhist Sri Lanka, Burma and Thailand.
The discovery of a white elephant is considered a good omen. Buddhists believe that a holy white elephant with six tusks appeared in a dream to Buddha's mother as she conceived her child.
White elephants are characterized by seven unique features in their skin, eyes, palate, ears, toenails, genitals and tail. The white elephant has a light gray, pinkish or pale skin hue unlike the dark gray of his normal cousin. There are variations as to the actual color but whatever it is, it definitely isn't white.
The other features are pink eyes, white toenails, pink upper palate, distribution of hairs behind the ears and head, pink genitals and a different size of tail brush.
The second building in the Royal Elephant Museum displays the altar room and shrine for the ceremony in presenting the royal award of the Most Exalted Order of the White Elephant, a very great honour.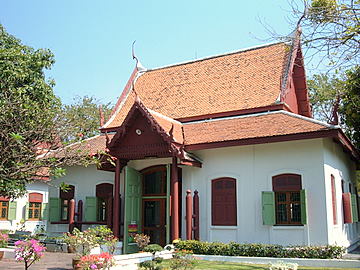 A model of a white elephant stands in the center of the second building. Other displays around the room include equipment used in handling these royal animals and the musical instruments used during the award ceremonies.
In Thailand, all white elephants are considered manifestations of Gods. They are therefore sacred, symbols of royal power and the property of the King. The beast is not allowed to work and is treated with the greatest reverence.
This deep reverence is reflected in the old Siamese flag which depicted a white elephant against a red background.
This was Thailand's national flag till the early 20th C when King Rama VI changed the flag to the present tri-color.
The Most Exalted Order of the White Elephant is the highest award bestowed by the King on individuals for service to the nation.
The idea of a white elephant in the English language, however, took a diametrically different twist.
The Royal Elephant Museum, though the most modest of buildings in Dusit Garden, embodies the reverence and honour the white elephants hold in Thai culture and history.
No photo taking is allowed inside the museum.
To get there, please see the Dusit Garden map. For the other royal residences in Dusit Garden.
Custom Search