Phra Khanong Museum
on legends and memories
Phra Khanong Museum preserves the history of Phra Khanong district which used to be rice fields, orchards and bird sanctuaries. The place also gave us the famous female ghost Mae Nak Phra Khanong.
The museum is one of the 26 community museums in Bangkok setup by the Bangkok Metropolitan Authority to preserve the history of old communities and their way of life in the past.
Phra Khanong district or Khet Phra Khanong is at the eastern end of Bangkok and it's a district that has existed since the early Rattanakosin era in the reign of King Rama I (1782 – 1809).
Think of Phra Khanong and the tragic love story of the legendary female ghost Mae Nak Phra Khanong of Wat Mahabut immediately comes to mind.
Regular commuters travelling to the east along the Sukhumvit line will be familiar with the Phra Khanong skytrain station.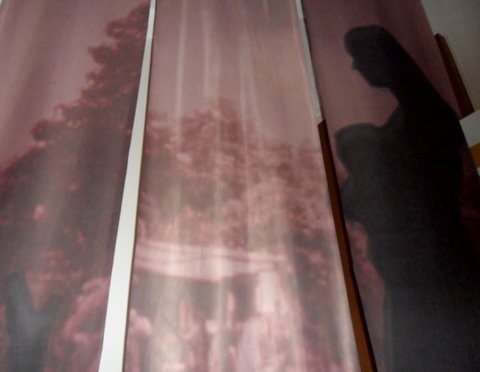 The haunting shadow of Mae Nak Phra Khanong
The museum is located in Soi Punawithi 20 in Wat Thammongkol. To get there, please see map to the Phra Khanong Museum.
History of Phra Khanong
Phra Khanong is a very old district and has gone through several changes in administrations. It used to be Amphur Phra Khanong under Nakhon Khuean Khan City, a name bestowed by King Rama I.  
In the reign of King Rama IV, Nakhon Khuean Khan was renamed Phra Pradaeng.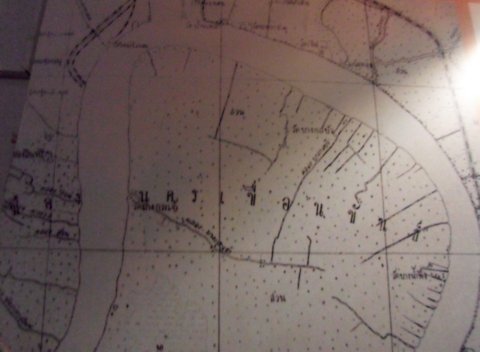 Nakhon Khuean Khan, what is Phra Pradaeng, Samut Prakhan today
Phra Khanong district was a much bigger area in those days and used to be an agricultural area with rice fields and orchards. The way of life back then was distinctly rural and old photos and display items donated by residents attest to this.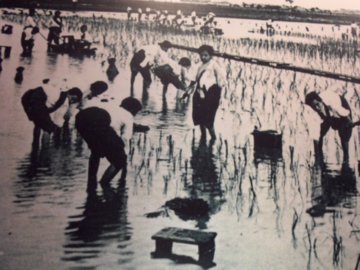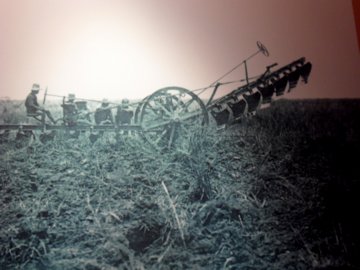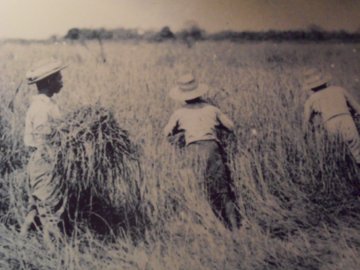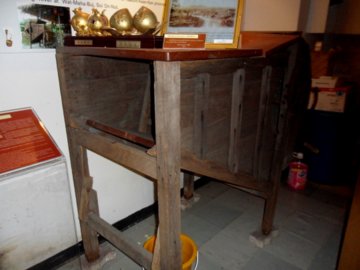 Old winnower to separate rice grains from husk
As the rivers and canals were the main thoroughfares, boats were a popular mode of transport. These wooden models of a traditional Thai house and boat reflect the homes and way of life in the distant past.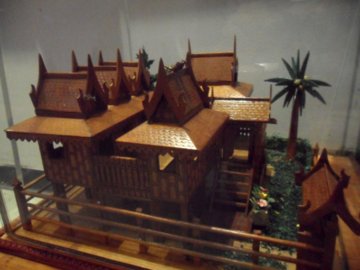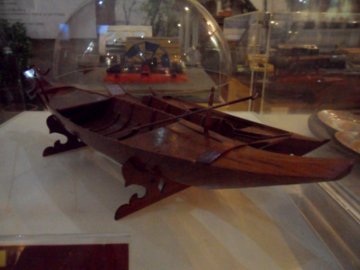 In 1972 when Bangkok merged with Thonburi province to form Metropolitan Bangkok, Phra Khanong acquired the status of "khet" or district in Bangkok.
Note:
Districts in Bangkok are called "khet" whereas provincial districts are called "amphur".
Phra Khanong in World War II
During World War II, Thailand declared war on the Allies and became allies with Japan who used Thailand as a base for supporting their campaign in Burma.
Phra Khanong had a Japanese cantonment between Soi Punnawitthi (Soi Sukhumvit 101) and Soi Udom Suk (Soi Sukhumvit 103). The Japanese hired locals for construction and other work.
Allied intelligence got wind of this cantonment and Phra Khanong had the unfortunate experience of being heavily bombed. These old photos show the extent of the destruction in the area.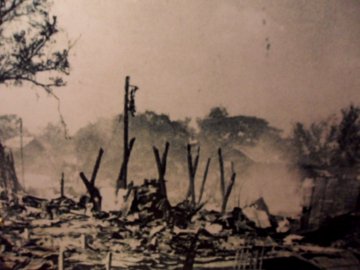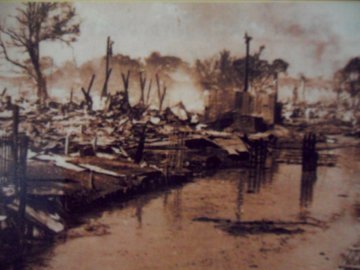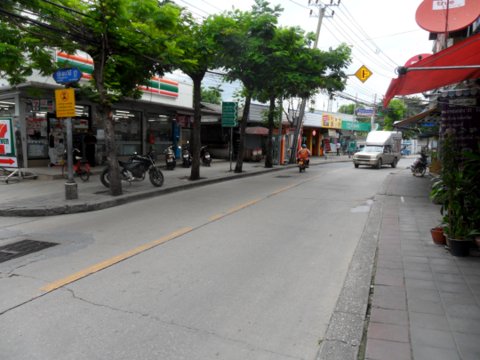 Soi Punnawitthi (Soi Sukhumvit 101) today
Post World War II in Phra Khanong
After the war, there was that long and costly process of rebuilding. In 1957, during the premiership of Field Marshall Sarit Thanarat, a pharmaceutical factory was established in Phra Khanong.
The district was chosen because the waterways provided the means for water transportation and the Phra Khanong canal led out to the Chao Phraya River. 
This also meant that trade was brisk in the area.
In the last four decades of the 20th C, as Bangkok developed rapidly, so did Phra Khanong. 
The old way of life rapidly gave way to the new and Phra Khanong district became more and more urbanized.
Displays in the Phra Khanong Museum
Many of the display items in the Phra Khanong Museum were donated by residents as mementos of the past. Some of these are a Japanese officer's sword and an old earthen jar believed to be from Japan.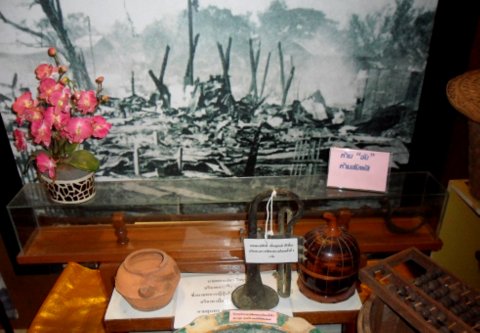 Japanese officer's sword, old jar and bugle from WW II
Here's an attractive display, a cupboard with elaborately carved gilded designs.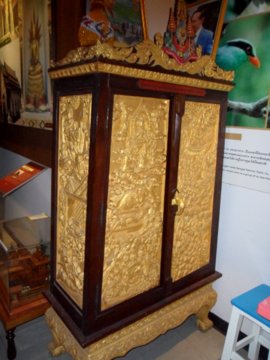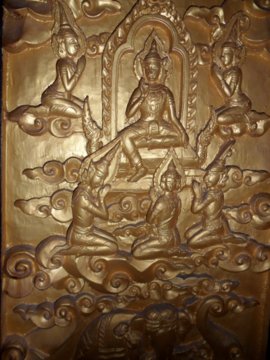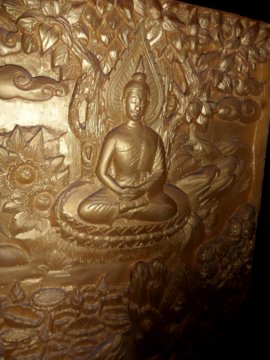 There were several sets of porcelain ware on display. It's hard to find porcelain like this nowadays.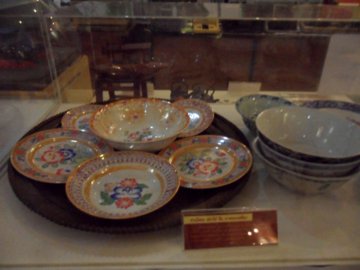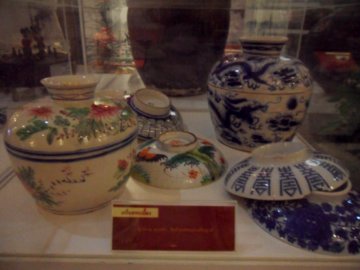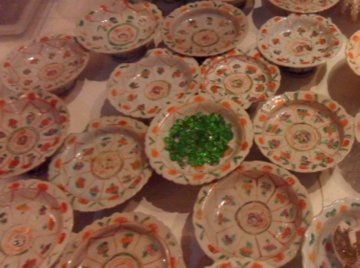 Places of worship in Phra Khanong district
There are three important temples in Phra Khanong district;
Wat Thammongkol,

Wat Wachirathamsathit (Wat Toong) and

Wat Rajsattatham (Wat Coke)
Of the three, Wat Thammongkol is the most prominent. The chedi here is the highest in Thailand, 94.74 m with 14 storeys. The Phra Khanong Museum is on the third level. The 4th – 10th storeys are a school for monks and above that the temple museum.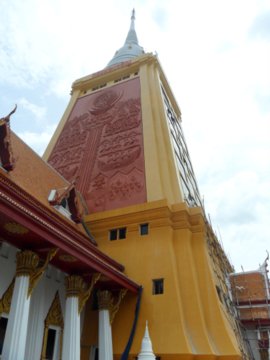 Wat Thammongkol
Wat Wachirathamsathit was originally built by Lao immigrants in 1856. Unfortunately over the centuries it was deserted and dilapidated. It was only restored in 1963 and in 1965 acquired the status of a royal temple, the only one in Phra Khanong.
Besides these temples, there is a Catholic church in Soi Punnawitthi 27, the Queen of Peace Catholic Church (Wat Rachani Haeng Sathitsuk).
Bird sanctuary
As Phra Khanong had many trees in the past, migratory birds would use the foliage as their sanctuaries. One of these bird sanctuaries is still around in the grounds of the Bang Chak Refinery.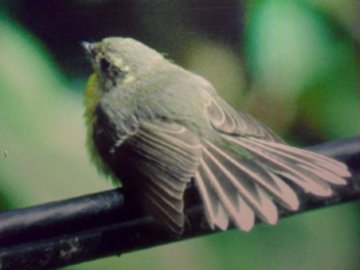 Bird sanctuary in Phra Khanong
This bird sanctuary has at least 56 different species of birds and the refinery allows tours by groups of at least five persons. The Bang Chak Refinery is in the Soi Sukhumvit 64.
Postscript
Over the years there have been changes to the district boundaries in Phra Khanong district. The sub-districts of Bang Na, Klong Toei, Prawet and Suan Luang in old Phra Khanong district are now separate districts under the Bangkok Metropolitan Authority.
Phra Khanong is now left with sub-district Bang Chak.
As a result, Mae Nak Phra Khanong of Wat Mahabut is now in Suan Luang district. But to the people who know her, she will always be Mae Nak Phra Khanong.
Even the famous Phra Khanong canal where Mae Nak was reputedly thrown into passes through Klong Toei, Suan Luang and onto Prawet. It doesn't even pass through Phra Khanong anymore.
The Phra Khanong skytrain station in Sukhumvit Road is on the boundary between Khlong Toei and Wattana districts.
However, the allure of the name Phra Khanong lingers on and the Phra Khanong Museum preserves these old legends and memories.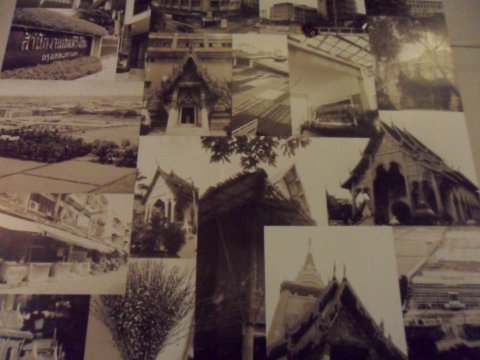 Preserving old memories
Map to the Phra Khanong Museum
View
Phra Khanong Museum
in a larger map
How to get there
The Phra Khanong Museum is located on the 3nd floor of the chedi in Wat Thammongkol, Soi Punnawithi 20, Soi Sukhumvit 101, Sukhumvit Road.
Take the Green Line (BTS Sky Train Sukhumvit Line) Sky Train to E11 Punnawithi Station. Get out at Exit 1 which is nearest to Soi Sukhmvit 101.
You can either take a motor-cycle taxi to Soi Punnawithi 20 or take a leisurely stroll. It's a little over a kilometre.
Opening hours
The museum is open from Wednesdays to Sundays
from 1000 - 1600 hours.
It's closed on Mondays and Tuesdays.
Admission is free.
My thanks
My thanks to Khun Lawan and Khun Khemmanat administrators in the Phra Khanong Museum who were very helpful in providing useful information in writing this article.
I am also very grateful to Khun Lawan for presenting me with the book "Bangkok Local Museums" which covers the 27 community museums in Bangkok.
A big thank you to the both of you.
To return to Bangkok Museums.
If you are an independent traveller, here's a handy e-guide book, Tour Bangkok Legacies, which will help you along as you explore the streets of Bangkok and discover its old treasures. It's complete with historical descriptions, maps and detailed directions on how to get to these places.

My Kindle e-book