Baan Bang Khen
a nostalgic cluster of museums

Baan Bang Khen consists of a number of museums in specially constructed old houses with each house exhibiting displays that preserve an aspect of everyday life more than half a century ago.
Opened in January 2017, this project is the brainchild of restaurant owner Sompong Pisankitvanich who decided to convert this 5 rai (0.8 hectare or 2 acres) plot of land into an indoor and outdoor vintage display area.
With his passion for collecting old items and souvenirs, Sompong has amassed some astonishing items in his collection as the visitor shall see. 
Signboard in front
This unique presentation of vintage items gives the younger generation an idea of what life was like before the advent of convenience stores, supermarkets, mini-markets, pharmacies and shopping malls in the 1950's/1960's and before.
For the older generation, it's a nostalgic stroll down memory lane to relive some of their childhood experiences.
The entrance to the museum area
Contents
Baan Bang Khen is organised into the following areas:

·       Baan Por Luang dedicated to the late King Rama IX
·       Baan Coke - the Coca Cola Museum
·       Tree houses and outdoor exhibits
·       Traditional Chinese Medicine Shop
·       Food centre and souvenir shop
To get there, please see the map to Baan Bang Khen.
Baan Por Luang
This house just after the entrance to the museum area is dedicated to the late King Bhumibol Adulyadej, King Rama IX (1927 – 2016). On display are old photographs, commemorative coins and stamps and other royal items related to the Ninth Reign (1946 – 2016).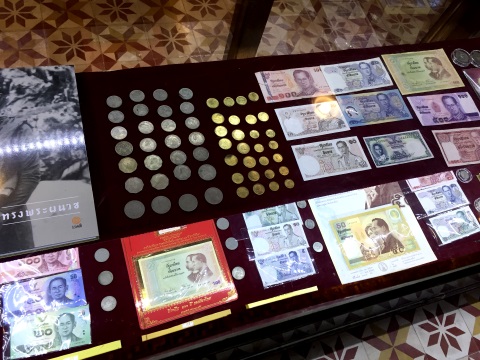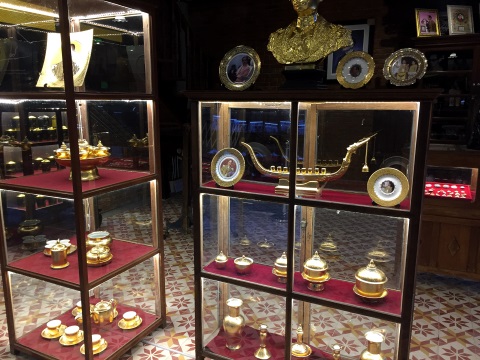 Rare collection of royal paraphernalia
Baan Por Luang is one of the few places where members of the public can view royal mementos relating to the Ninth Reign which spanned 70 years.
Baan Coke
Baan Coke is a fascinating place especially for Coke lovers. It's a like a Coca Cola Museum displaying almost everything related to the soft drink. It has Coke bottles from all over the world, Coke jugs, glasses, mugs, model delivery trucks, clocks, dolls, signs, benches and even Coke vending machines.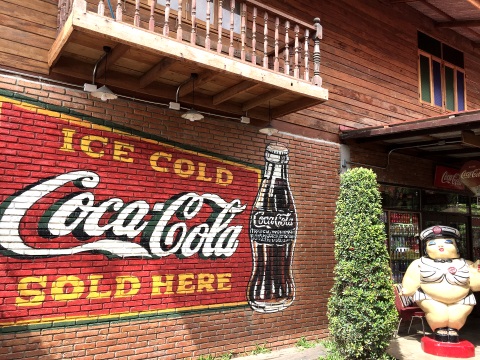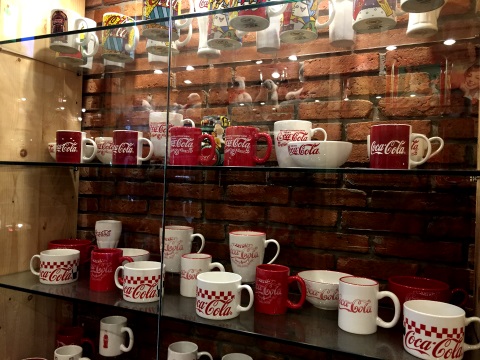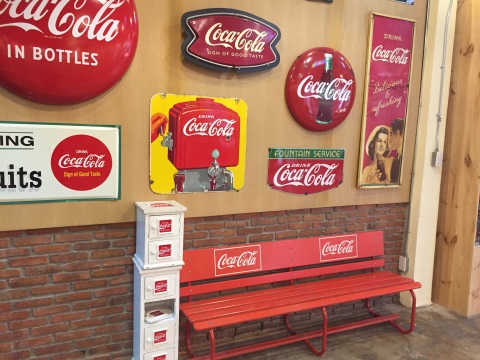 Everything to do with Coke!
Tree Houses and Outdoor Displays
The outdoor exhibits are just as interesting. There are three tree houses constructed around the trunks of trees in the garden with stairs to let visitors go up for a closer look. It's a proper flight of wooden stairs that most of us will be able to walk up comfortably.
A tree house view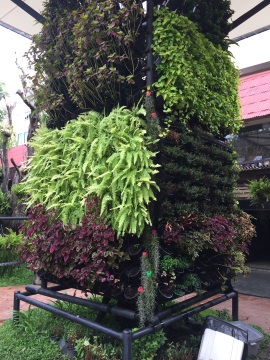 Floral display in the garden
Also on display in the outdoors are two vintage cars which many of us may not have seen in our lifetimes.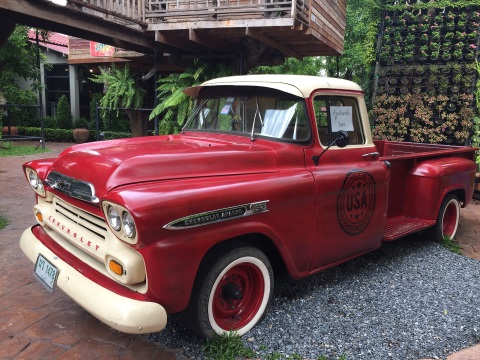 Chevrolet Apache – production 1955 - 1960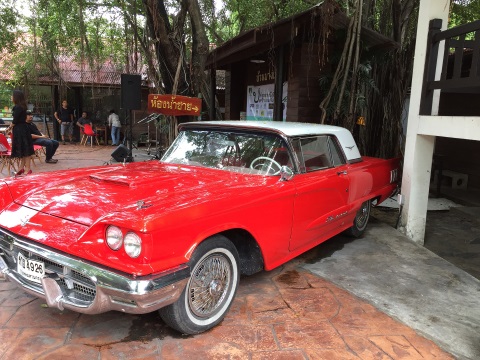 Ford Thunderbird– production 1955 - 2005
The open area though tiled, has several trees to provide shade while visitors admire the murals on the walls of some of the buildings.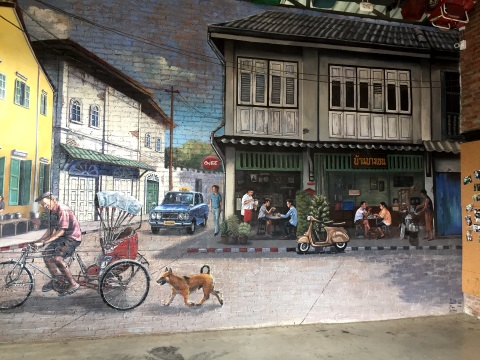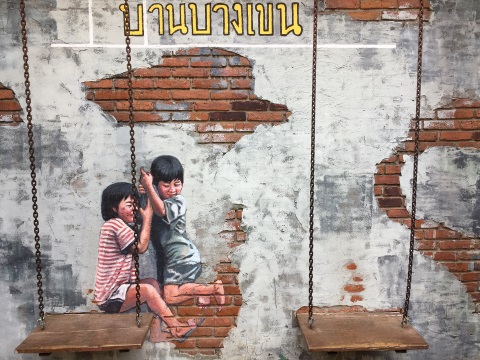 Good backdrop for a memorable photo of your visit
Old Clock Shop
Our next stop is at a row of five shops displaying vintage items. The first shop has a collection of old grandfather's clocks and brass bowls.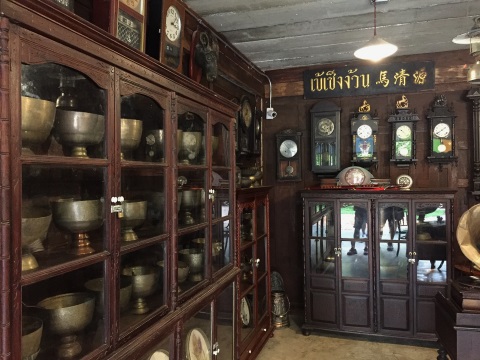 Grandfather's clocks
By definition, these are longcase weight-driven pendulum clocks. In fact, their early name was "longcase clock". The change in name was brought about in 1875 by a popular song "My Grandfather's Clock" by American songwriter Henry Clay Work.
Old Radio Shop
Next, we have a shop display of old radios, transistors radios, the first generation of portable music players, record players and telephones. Just compare these items with their modern equivalents today.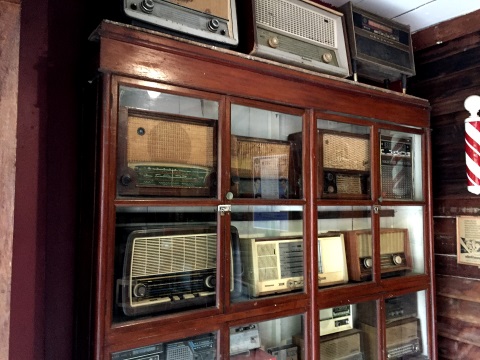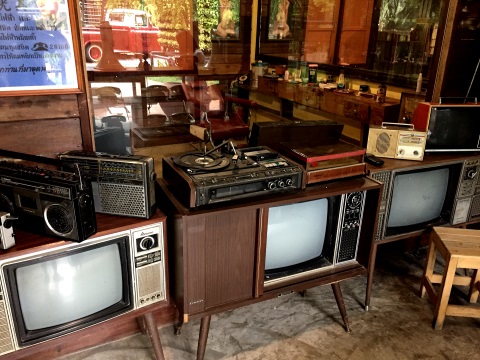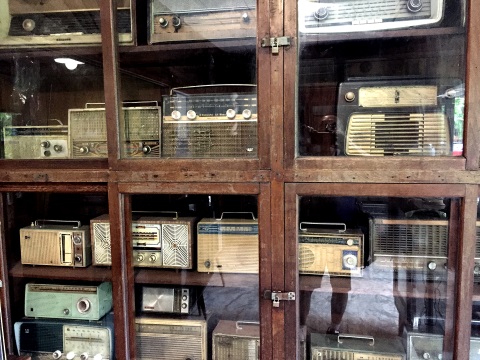 The music makers of the 1950s and 1960s
Old Barber Shop
This is a very basic barber shop where our grandfathers and fathers got their haircuts and shaves with no frills or fancy cuts. As a matter of fact, so did I.
The old barber's chair
Traditional Chinese Medicine Shop
Before modern pharmacies, those feeling unwell bought their medicine at shops like these. Some of these shops are still around in Chinatown.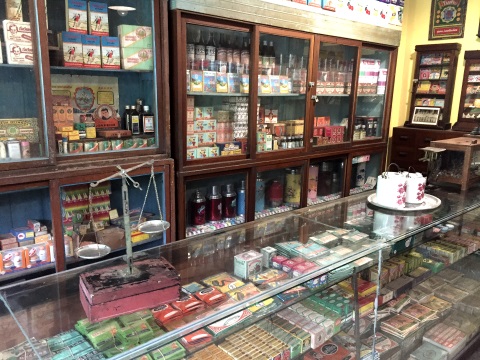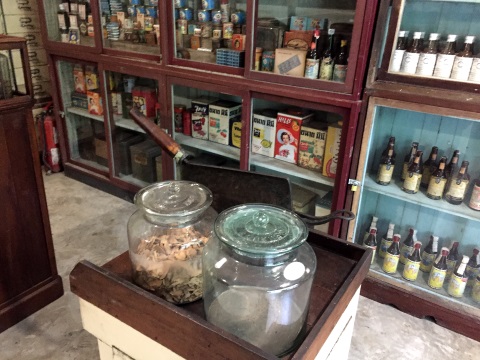 The traditional Chinese medicine shop – note the weighing scales
Classroom of Old
Remember the old classroom when you first went to school? If yours had a white board and a projector screen, you are generations too late.
The old school classroom
Old Grocery Shop
Back in the 1950s/1960s this is where people went to buy their groceries, cigarettes, beer, soft drinks, sweets, snacks etc. This was long before we had supermarkets, mini-markets and convenience stores.
These are mostly family operated shops, so so-called "Mom and Pop Stores".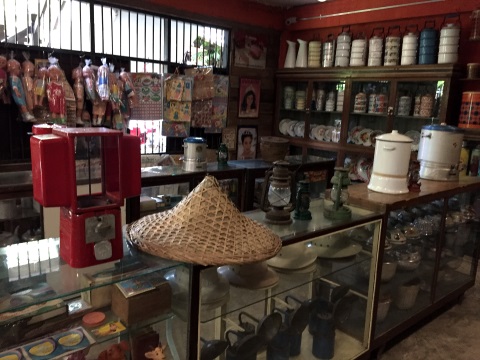 Not many of these shops left today
Baan Bang Khen is more than a museum preserving what life was like in the past. It strives to serve as a learning centre by encouraging the reading habit among the young.
The weekend of our visit was the start of the Buddhist Lent and a campaign was launched to encourage the reading habit among the young by the distribution of free books. Each person is entitled to five books. Visitors are welcome to donate books as well.
To the rear of the museum area is an air-conditioned reading room for visitors who need a quiet place to read or study.
Café and Restaurant
After you have explored the outdoor displays and the old shop exhibits in Baan Bang Khen, drop in at the cafe and restaurant for a break.
Don't be surprised, you will be visiting another museum. See if you can figure out some of the old items on display here.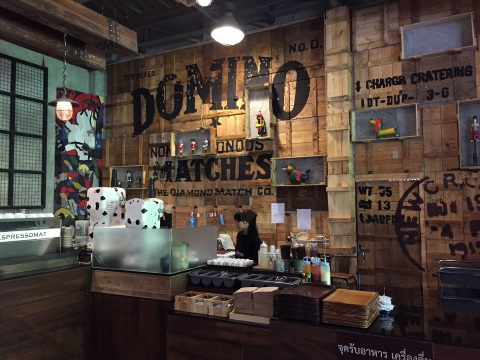 The service counter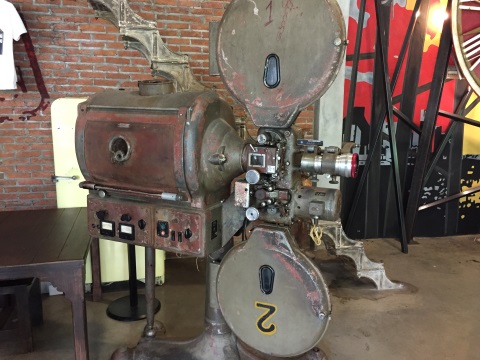 Recognise this? An old movie projector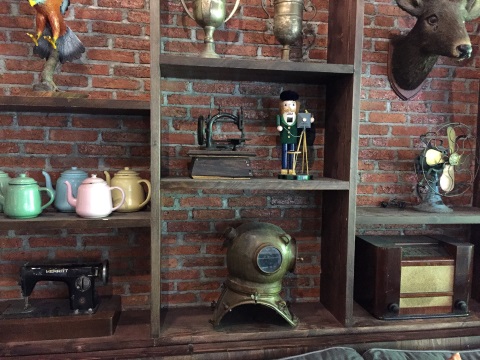 Diver's helmet, sewing machine, old iron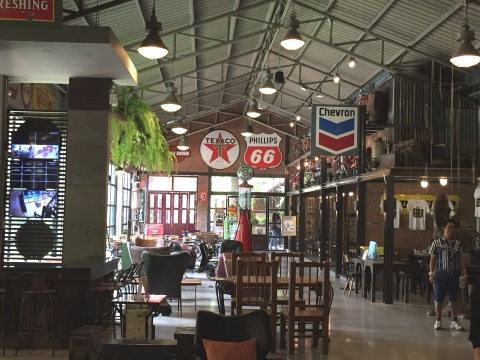 The sitting area
Food Centre and Souvenir Shop
There is a food centre and souvenir shop just outside the main entrance to Baan Bang Khen. You can have a bite before going in or on your way out. Some of the stalls and the dining area are furnished to look like places in the 1950's and 1960's.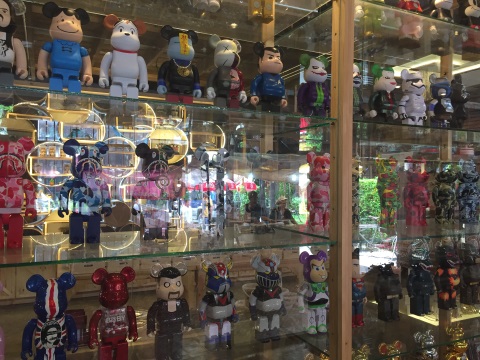 Some of the dolls in the souvenir shop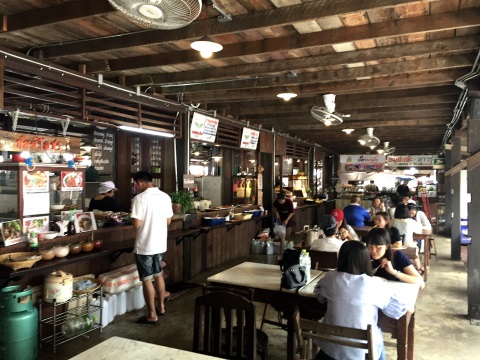 The food stalls and covered dining area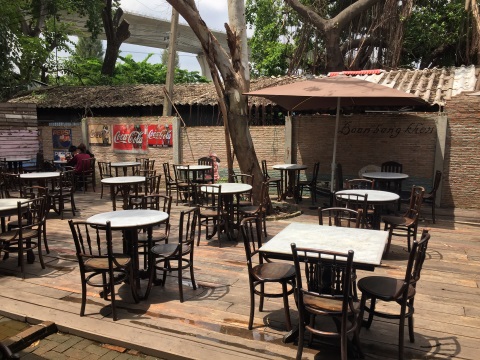 The open dining area – note the marble top tables and wooden chairs
The coffee and drinks counter
There are two anachronisms in this vintage environment which are not altogether bad. The first is free Wi-Fi in the area, mobile phone addicts will love this.

The second is an electronic disc which a customer will receive after he has made his order, paid for his food and taken his place at the table.
When the food is ready, the buzzer will sound on the disc with a number displayed. Bring this disc to the collection counter to get your food and drinks. This way there no chance of a mix-up in the orders.
Baan Bang Khen is a wonderful way to spent half a day wandering around the place, feeling nostalgic reliving some of our early memories. It appeals even to the younger crowd who love the chance for photographs in a unique environment.
Map to Baan Bang Khen
Or click on this link to view the map
How to get there
The location of Baan Bang Khen can be clearly seen if you switch to the satellite version of the map.
Address
Baan Bang Khen
Phaholyothin Road
Bang Khen
Bangkok 10220
By car
Baan Bang Khen is along Phahonlyothin Road, directly north of Mor Chit, the current terminal station of the Sukhumvit line. With the construction of the skytrain extension, traffic will be slow moving. But when this extension is ready, getting there will be easier, there is station at Bang Khen.
Or you can take the Vibhavadi-Rangsit highway, make a U-turn and turn into Ngam Wong Wan Road to join up with Phaholyothin Road.
Free parking is available for visitors to Baan Bang Khen
By Bangkok MRT
Take the Green Line (northern link of the Sukhumvit Line) and alight at N16 11th Infantry Regiment Station. The museum is about 600 m to the south. You can walk or take a taxi or tuk tuk there.
Opening times
Everyday 24 hours
Best time to visit after 10:00 am when all the food stalls are open
Admission 20 baht which can be exchanged for a bottle of drinking water or redeemed with the purchase of drinks at the cafe.
For more Bangkok Museums
Other collectors' museums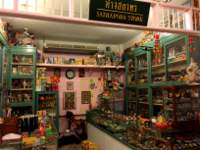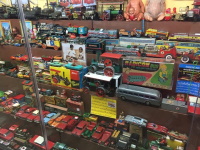 My Journey through Thailand Part I The First Steps
This is my second e-book and the first in the series of travel journals on my trips to explore the various provinces in Thailand. This edition, which covers my travels from late 2009 to mid-2013, will guide you to historical sites, cultural monuments and exquisite Thai handicraft, across a vast spectrum of cultural and ethnic diversity.

You can have a virtual tour with this e-guide book or take the first steps yourself in this journey through Thailand.
My Kindle edition