Khlong Lat Mayom Floating Market
taste of the local flavour
Khlong Lat Mayom Floating Market in Taling Chan District, Bangkok is popular with local residents for its good food, snacks, fresh fruits and vegetables and a canal boat tour of an agricultural area.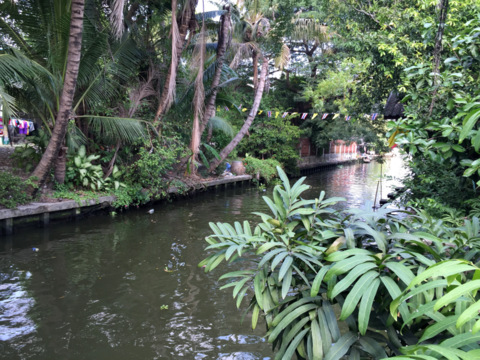 Along the Lat Mayom Canal
This was actually an old market that has been revived for residents in the communities around to bring their fresh produce or cooked food to sell. The market has a local atmosphere and is very popular with Bangkok residents during the weekends.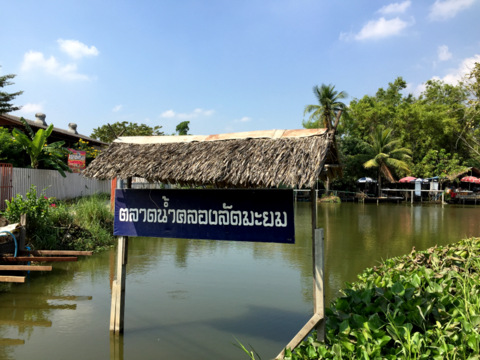 Khlong Lat Mayom Floating Market
"Talad nam" or floating markets in Thai broadly means a market by the river or canal where water-borne trade is conducted. In the past most communities lived along or near rivers or canals.
Residents who had homes by the river or canal opened shops and sold from their shops to the waterside residents, those living nearby brought their goods to set up stalls by the walkways.
Boats vendors selling all kinds of goods plied the waterways selling their goods along the way. Frequently these boats will gather at a popular location and start a market there. Boat vendors were more numerous then because the waterways were the main thoroughfare.
Even the Government Savings Bank has a boat service that serves the waterside residents till today!
However road development, cheaper and more convenient land transport spelt the end of the boat vendors. Furthermore sluice gates across some canals have blocked the movement of boats to some of these markets further reducing the number of boats.
When we think of floating markets in the English context, we imagine the presence of boat vendors. In Thai such waterside markets even if they are without boats today are still called "talad nam". The Khlong Lat Mayom floating market however has a considerable number of boat vendors.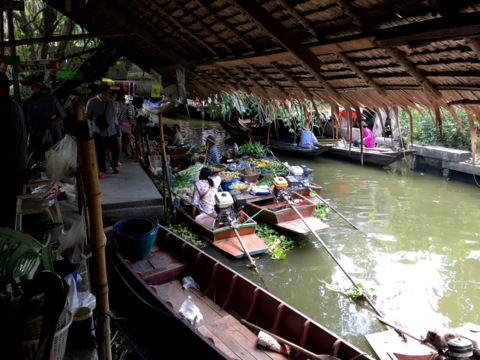 Boat vendors on the Lat Mayom Canal
Let's find out more about this market which is one of three floating markets in Bangkok.
To get there, please see map to the Khlong Lat Mayom Floating Market
Khlong Lat Mayom
The Khlong (canal) Lat Mayom was dug to link Khlong Bang Ramat (Bang Sai) in the north to Khlong Bang Phrom in the south, a distance of 2.3 km. The two longer canals, Khlong Bang Ramat and Khlong Bang Phrom join the Bangkok Noi Canal to the east and lead eventually to the Chao Phraya River.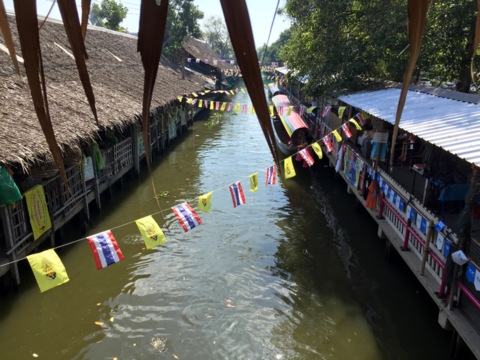 Lat Mayom Canal looking south
These canals are located in Taling Chan District, an area in western Bangkok that still has several canals and two floating markets; Khlong Lat Mayom and Taling Chan.
Layout of the Khlong Lat Mayom Floating Market
Most of the stalls in this market are located along the east bank of the Lat Mayom Canal that runs in a north-south direction. Bang Ramat Road cuts across the market dividing it in half.
There are a few stalls on the west bank linked by a road bridge and a narrow foot bridge. There isn't much activity on this side of the canal probably because of the narrow footbridge that only allows a one-way flow of traffic.
The market is located among houses and orchards of the local community giving the place a very natural atmosphere.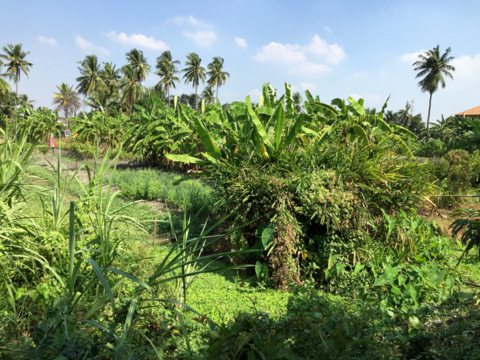 Fruit orchards near the market
Ample parking areas are available on both banks of the canal and in the northern and southern sectors of the market.
Map of the market
Layout of Khlong Lat Mayom Floating Market
Tour of the Lat Mayom Floating Market
We started our tour in the northern sector and proceeded for something to eat first. Suan Jiam Ton is a section of the market in the northern sector which includes a quaint noodle shop consisting of wooden stalls, tables and chairs.
Almost everything is made from wood down to the bowls chopsticks and condiment containers except for the tin spoons. This is the popular "Kwai Teow Ka La" or Ka La Noodles.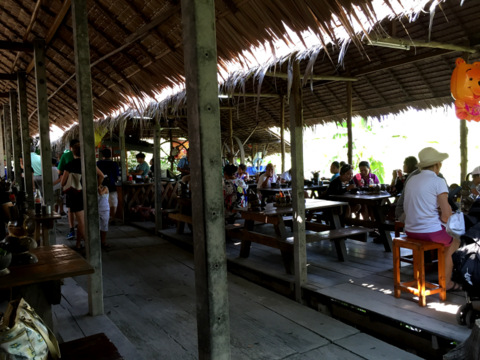 Ka La Noodle shop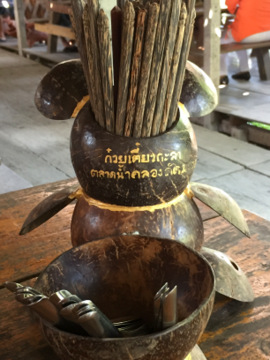 Wood decor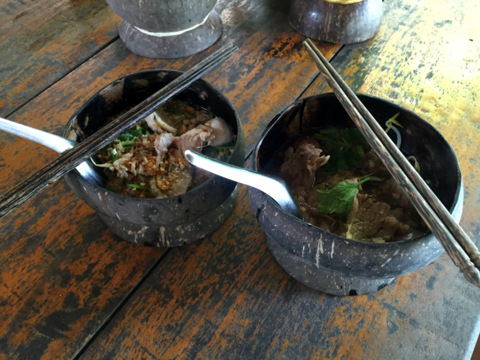 Noodles served in coconut shells
Boat vendors ply the narrow canal that's about 15 m broad selling cooked food, fresh fruits and vegetables. Let's take a look at the fare provided by the boats vendors on the Khlong Lat Mayom floating market.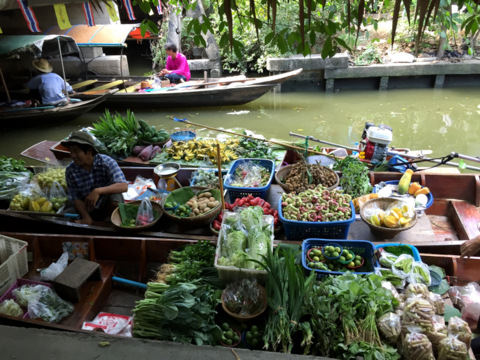 Fresh vegetables and fruits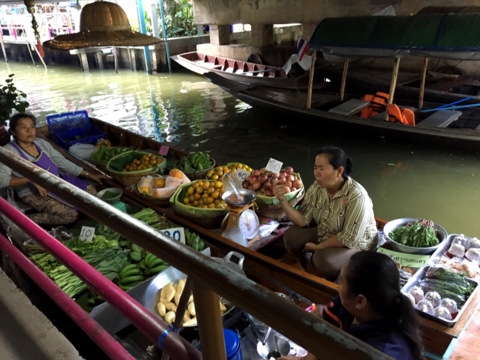 Wide variety available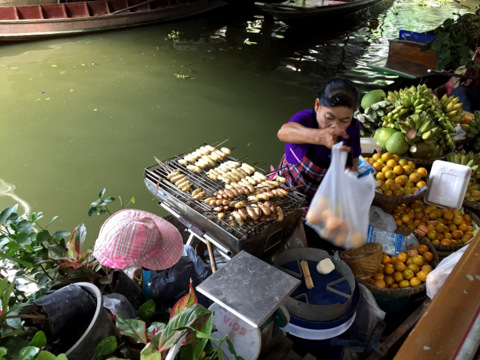 Barbecued bananas, a local favourite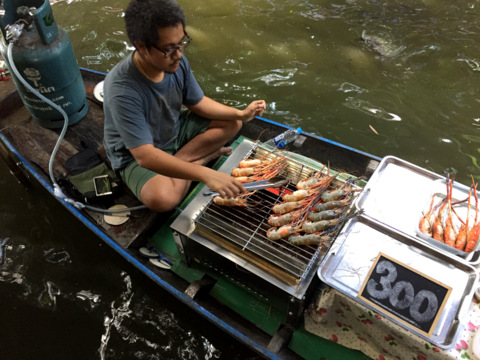 Barbecued prawns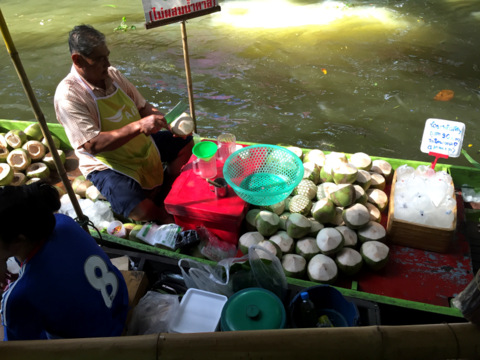 Fresh coconuts
The food stalls on land are equally attractive. There is a wide range of barbecued meats, seafood, Thai salads and piping hot noodles in various flavours.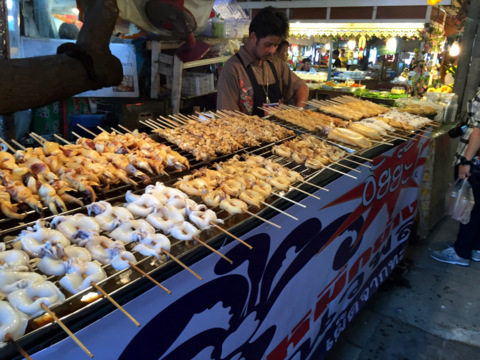 Barbecued squid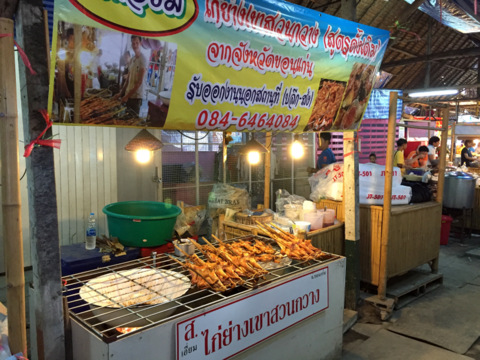 Boat noodles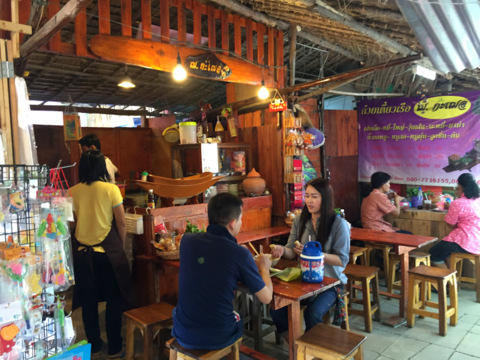 Barbecued chicken
The deserts section is a joyful sight to behold. There are numerous types of colourful Thai deserts and even if you can't taste them all they are simply beautiful to look at. Let's feast our eyes.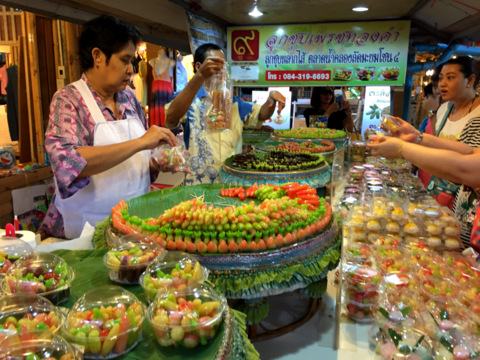 Luk chup – dyed flour balls filled with peanut paste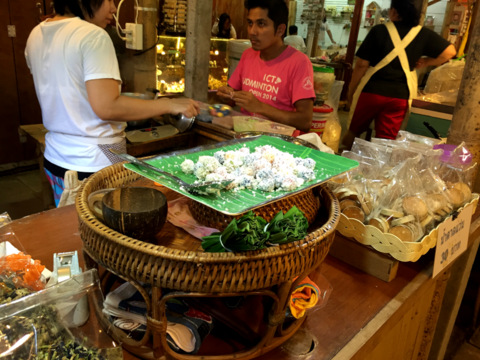 Kanom thom –flour balls filled with thick coconut syrup and garnished with coconut shavings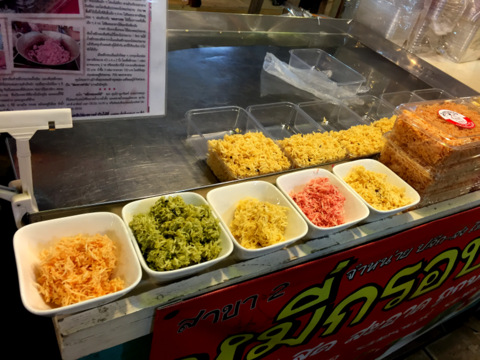 Deep fried noodles seasoned in sugary stock then made into crispy balls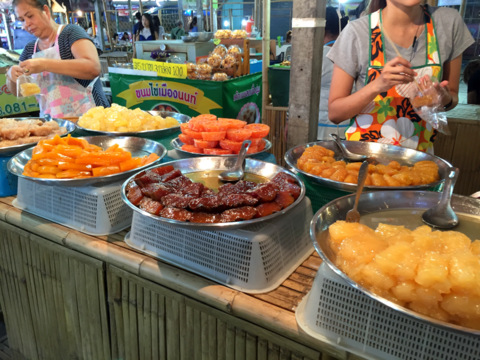 An assorted of sweet cakes in sugary syrup – from top left clockwise; palm fruit, bael fruit, bananas, tapioca, pumpkin, sweet potato, taro
This is our favourite; kanom bueng or Thai crepe. A sweeten flour paste is poured on to a hot plate to make the crust. Making the filling is far more elaborate.
The yolk of ducks' eggs is place in a funnel and slowly released in a zig-zag manner on a pot of boiling sugar water. The yolk solidifies into noodle-like slivers which are fished out with a chopstick. Other flavours are made from crushed prawns and sesame seeds.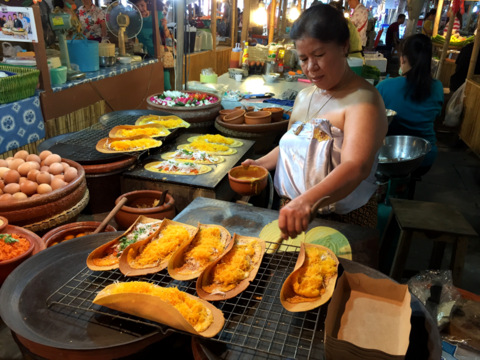 Kanom bueng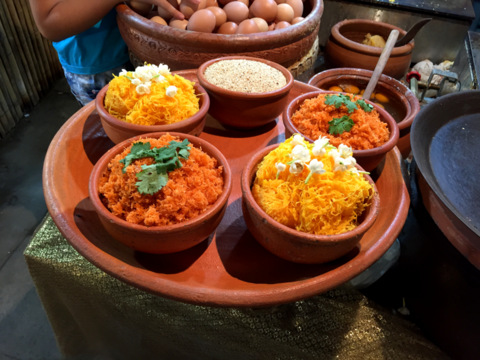 Various flavours for the fillings – duck egg yolk (yellow), crushed prawns (orange) sesame seeds (white)
Most of the food stalls in the parts of the market are near the canal banks where visitors can choose to eat by the canal on low tables or on higher tables of normal height. There are plenty of tables and chairs and visitors are free to sit anywhere they like.
It's a local custom to clean up your table after you've finished. Litter bins are available.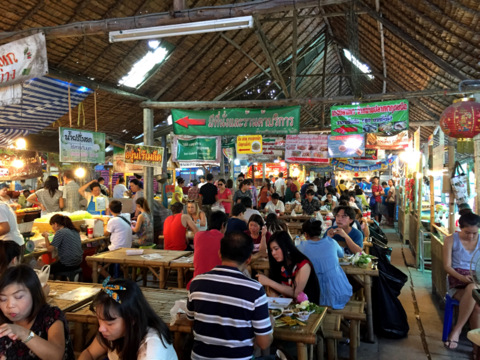 Dining area
If you are tired, take a coffee break in one of the cafes or have a massage to ease your tired feet. We opted for the traditional Thai coffee brewed in clay pots in a stall on the west bank where it was quieter.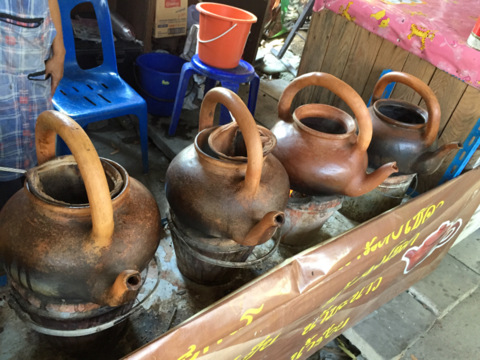 Traditional brew
For desert we chose this coconut desert consisting of coconut shavings, ice cream and a choice of two ingredients from the containers lined above.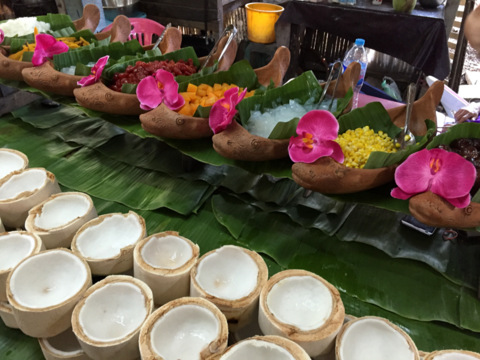 Coconut desert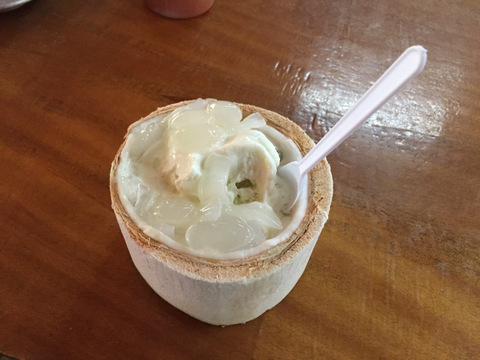 Here's what it looks like
There's an artists' corner for budding artists to paint their T shirts. You buy your T shirt that's already printed with a character. Paints and brushes are provided to fill in your favourite colours.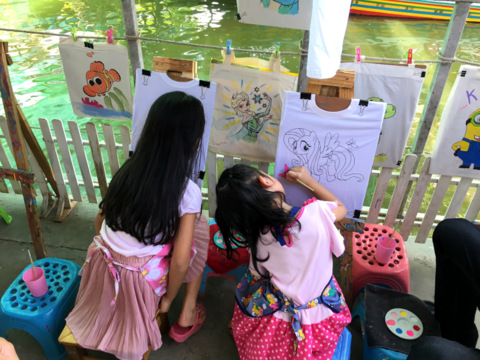 Paint your own T shirt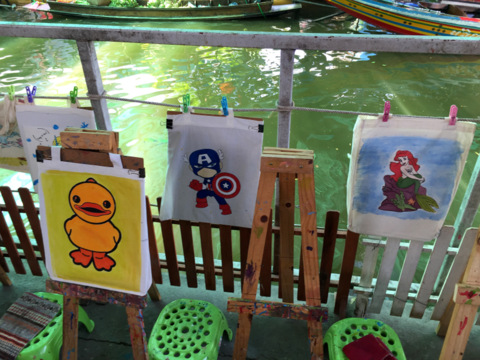 Some of the finished work
Another activity at this floating market is to take a canal tour on a motor boat or if you prefer a slower pace, a row boat to see the way of life in the area in Bangkok that's still very agricultural.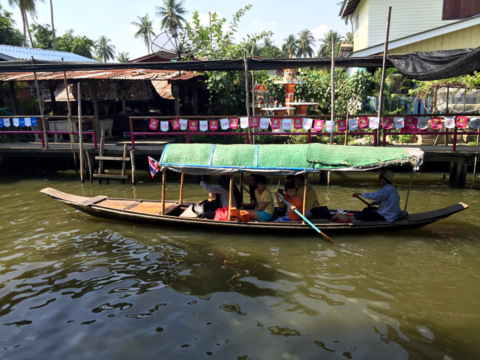 Row boat
The Khlong Lat Mayom Floating Market is a pleasant way to spend a day away from the congested city centre and see a part of Bangkok where life is still very rustic and peaceful.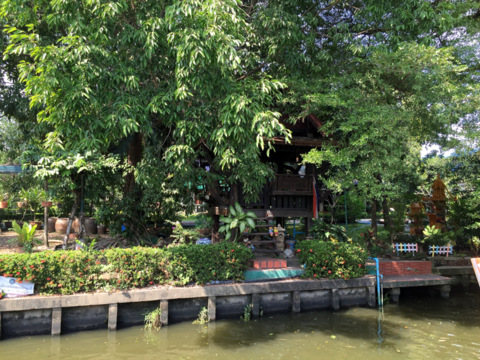 House by the Lat Mayom Canal
Map to the Khlong Lat Mayom Floating Market
Map to Khlong Lat Mayom Floating Market
How to get to the Khlong Lat Mayom Floating Market
By car
Cross the Chao Phraya at either the Taksin Bridge or Rama III Bridge – Ratchaphruek Road – Inthrawat Road – Bang Ramat Road
At the Bang Ramat – Phutthamonton 1 junction you will need to turn left and make a U-turn to get to Bang Ramat Road. Continue along Bang Ramat Road till you get to the market.
By MRT Blue Line/Green Line
Take the MRT Blue Line to BL38 Lak Song then take a taxi to the market.
Or take the Green Line BTS Sky Train to S12 Bang Wa, then take a taxi to the market.
Admission to the Khlong Lat Mayom Floating Market is free
Opening hours
The Khlong Lat Mayom Floating Market is on Saturdays and Sundays from 0900 – 1600 hours
Other floating markets in Bangkok
To return to Bangkok Communities
Tour Bangkok Legacies – my first e-book
If you are an independent traveller, here's a handy e-guide book, Tour Bangkok Legacies, which will help you along as you explore the streets of Bangkok and discover its old treasures. It's complete with historical descriptions, maps and detailed directions on how to get to these places.
My Kindle e-book