The Bangkok subway
a subterranean tour of Bangkok
The Bangkok subway or MRT consists of a single underground line from Hua Lamphong (HUA) near Chinatown in the city center and ends at Bang Sue (BAN) to the north of the city.
The line goes under some of the busiest roads in Bangkok, Rama IV, Ratchadapisek, Asoke, Lat Phrao, Phahon Yothin Roads, with a total of 18 stations over a distance of 22 km.
The Bangkok Metro Private Company Limited manages the Bangkok subway or the MRT, which started services in June 2003.
The subway operates daily from 0600 hours – midnight.
Here's a guide to the Bangkok subway services including Bangkok hotels near the subway, shopping malls, tourist attractions and Bangkok legacies along the line. 
Subway tickets

Commuters can buy single trip tickets or one-day passes for unlimited trips for the day at 120 baht and three-day passes at 300 baht.
Frequent visitors can buy stored value cards at 200 baht with a minimum renewal of 100 baht and validity of 5 years.
Please note that subway tickets can't be used for the skytrain. 

Tourist information
Free Bangkok subway maps and other tourist information are available at the ticket counters at the various subway stations.
Unlike the skytrain stations with their alpha-numeric codes, subway stations are identified by a 3 letter code e.g. Hua Lam Pong (HUA) 

New Bangkok subway lines

On 4 August 2006, the Thai government announced plans for the building of three new subway lines starting next year. The new lines totaling 82 km are scheduled to be finished in 2011. 

The new lines are:
Extension of the present 22 km subway between Hua Lam Pong and Bang Sue by a further 27 km. From Hua Lam Pong to Bang Khae on the Thonburi bank (14 km) and from Bang Sue to Tha Phra (13 km) also on the Thonburi bank. This Blue Line will convert the present linear subway line to a loop covering both banks of the Chao Phraya River


The new 23 km Purple Line from Bang Sue northwards across the Phra Nang Klao Bridge to Bang Yai in the province of Nonthaburi


The 32 km Red Line from Phaya Thai northwards to Rangsit north of the Don Muang International Airport. This line will connect to the Airport Link at Makkasan and from thereon to the new Suvarnabhumi International Airport.
These developments when completed will effectively provide mass rapid transport services from the congested city center right out to the suburbs of Bangkok, where many residential areas are located.

Residents are currently commuting by buses or cars to and from work. Hopefully the new services will reduce traffic congestion and make it easier for residents in the suburbs to commute to and from work.
It'll also be more convenient for visitors traveling from the new international airport to the city center as well as to visit attractions outside Bangkok. 
Bangkok subway stations 
Please see these links for the subway/MRT system map and facilities for the disabled at subway/MRT stations.
Hua Lamphong (HUA) Terminal station

Railway Station: Hua Lamphong Railway Station 

Hotels near Hua Lamphong station 

Bangkok legacies: 
Samphanthawong Museum (history of Chinese immigrants) 
Wat Traimit (Temple of the Golden Buddha) 
Yaowarat Chinatown Yaowarat Heritage Centre

Sam Yan (SAM)
Attractions: Snake Farm, Wat Hua Lam Pong 

Silom (SIL) Interchange between the Bangkok subway and skytrain atSala Daeng skytrain station 

Hotels near Silom station 

Shopping malls: Central Silom, Thaniya Plaza 
Bangkok legacy: King Rama VI Monument at Lumphini Park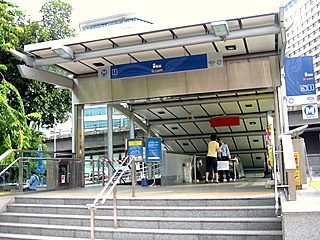 Silom Station (SIL) outside Lumphini Park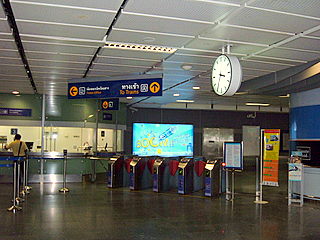 Down below
Lumphini (LUM) 

Hotels near Lumphini station 

Attractions: Lumphini Park, Lumphini Boxing Stadium (Muay Thai) 

Khlong Toei (KHO) 

Queen Sirikit National Convention Centre (SIR)
Attractions: Queen Sirikit National Convention Centre 

Sukhumvit (SUK) Interchange between the Bangkok subway and Bangkok skytrain at Asoke skytrain station 

Hotels near Sukhumvit station 

Bangkok legacy: Kamthieng House 

Shopping malls: Robinsons Asoke, Times Square 

Phetchaburi (PET) 

Interchange with Suvarnabhumi Airport Link at the Makkasan airport link station. 

Hotels near Petchaburi station 

Phra Ram 9 (RAM) 

Hotels near Phra Rama 9 station 

Shopping malls: Fortune Town IT Centre, Tesco Lotus 

Thailand Cultural Centre (CUL) 

Hotels near Thailand Cultural Centre station 

Bangkok legacy: Traditional Thai houses 

Attractions: Siam Niramit, Thailand Cultural Centre
Shopping malls: Carrefour, Esplanade, Jusco, Robinsons 

Huai Kwang (HUI) 

Hotels near Huai Kwang station

Sutthisan (SUT) 
Hotels near Sutthisan station 

Ratchadapisek (RAT) 

Hotels near Ratchadaphisek station 

Lat Phrao (LAT) 

Phahon Yothin (PHA)
Shopping malls: Central Lat Phrao, Tesco Lotus 

Chatuchak Park (CHA) Interchange between the subway and skytrain at Mor Chit skytrain station
Attractions: Chatuchak Park, Chatuchak weekend market 

Kamphaeng Phet (KAM) 

Bang Sue (BAN) Terminal station
Railway Station: Bang Sue Railway Station
Bangkok legacy: Pracha Rat Sai 1 Soi 24 (Carpenters' Street). This interesting street is 10 – 15 min by taxi from the station. Get a member of the hotel staff to write out the name of the soi and the station in Thai. 
Have a happy subterranean tour on the Bangkok subway.
For an overview of the Bangkok skytrain and subway. 
My Journey through Thailand Part I The First Steps

This is my second e-book and the first in the series of travel journals on my trips to explore the various provinces in Thailand. This edition, which covers my travels from late 2009 to mid-2013, will guide you to historical sites, cultural monuments and exquisite Thai handicraft, across a vast spectrum of cultural and ethnic diversity.

You can have a virtual tour with this e-guide book or take the first steps yourself in this journey through Thailand.
My Kindle edition