Khon Dance
legacy of the Ramayana epic
Khon dance the traditional Thai masked dance drama, based on the classic Hindu Ramayana epics, is a traditional Thai dance drama with elaborately made costumes and masks.
It is one of the six traditional Thai dance forms.
The dance consists of four sets of characters, male, female, monkeys and demons.
This traditional Thai dance is based on the Thai Ramakien drama which was adapted from the Hindu Ramayana epics which had a profound impact on the cultural development of Thailand and several South East Asian countries.
The Ramayana epic by the Sanskrit poet Valmiki, consists of six books:
The Book of Youth,
The Book of Ayodha,
The Book of Forest,
The Empire of Holy Monkeys,
The Book of Beauty,
and The Book of War
Ramayana or the march of Rama depicts the story of Prince Rama from Ayodha, city of God. He is banished to the forest, where the evil giant Ravana, the demon ruler of the island kingdom of Langka, city of the Demons, abducts his beautiful wife Sita.
Prince Rama goes in search of his wife and seeks the help of the monkey god Hanuman and his army of monkeys. The search ends at the island of Langa, where a final assault is launched on the city and Prince Rama is reunited with Sita.
The tale as told in Khon drama is about the eternal struggle between the forces of good and evil.
Originally Khon dance was performed mainly in the royal court. Owing to the huge cast involved and the elaborate masks and costumes, the dance never really caught on with the general public.
Khon mask - courtesy of the Artist's House
For more on Khon masks, please see the Khon mask makers in Saphan Mai and the Khon mask maker in Bang Plad.
Khon dance display - courtesy of the Artist's House
M R Kukrit Pramoj who was active in Khon in his younger days, saw the diminishing interest in this traditional Thai dance over the years.
To stimulate greater interest, he formed the Khon Thammasat Troupe with a group of students from Thammasat University.
The troupe strived to promote the dance to give the general public a better understanding and appreciation of this ancient dance form to keep the tradition alive.
The public functions hall at the Home of M R Kukrit held many Khon performances and the masks are still on display by the stage at the public functions hall to this day.
The Khon dance is a cultural legacy that owes its sustenance to the considerable efforts of M R Kukrit Pramoj.
To return to the Home of M R Kukrit Pramoj.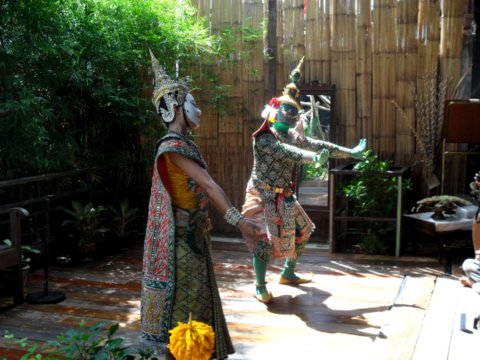 Photo courtesy of the Artist's House
Custom Search