Ban Chang Thai
preserving traditional Thai art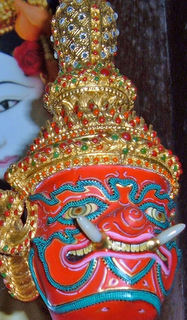 Ban Chang Thai is in a house located deep in Ekamai Soi 10, Sukhumvit Bangkok. 
Meaning the House of Thai Artisans, this center preserves ornate pieces of traditional Thai art, classical puppets, miniature Khon masks and pottery.
Out in the garden in an open shed that serves as a gym, two bare back young men in Muay Thai shorts perform the rigorous Muay Thai (Thai kickboxing) movements and techniques.
I approached the bespectacled middle-aged man sitting in the front porch reading a book.
He turns out to be the owner, Acharn (teacher) Kridakorn Sodprasert who has converted his home into a center for traditional Thai art and Muay Thai training.
He warmly welcomes me into the reception room.
A second generation Thai of Filipino descent, Acharn Kridakorn comes from a family with a long tradition of artists, craftsmen, painters and sculptors.
Ban Chang Thai was opened on 4 November 1996 by HRH Crown Princess Maha Chakri Srindhorn.
It was a proud moment for Acharn Kridakorn who had a photo taken with her. This memorable photograph is proudly displayed on the wall.
Please see map to Ban Chang Thai.
The showcases in the reception room display classical puppets with intricate headgear and beautifully embroidered dresses; about a foot and half tall, each puppet takes a month and a half to complete. Bigger models, about two feet high, take three months of painstaking work.
Ban Chang Thai also makes miniature Khon masks, scaled models of the masks worn in the Khon Dance. If the effort to produce a real mask to fit a person's head is difficult enough, imagine making one that's six inches high.
For more on the craftsmen who make the life sized masks, please see the Khon mask makers community in Saphan Mai and the Khon mask maker in Bang Plad.
Other displays include cute little pots with carvings on the surface. I lifted the lid, to find the pot filled candle wax with a wick; lovely for a candle light dinner or an evening function.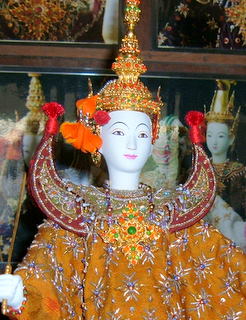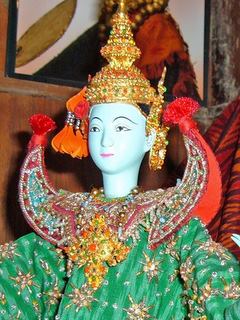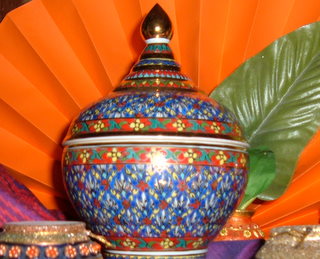 Benjarong pottery
Within the inner room are larger puppets together with photographs of the grand opening ceremony of Ban Chang Thai in 1996.
In the corner stands the bust of Corrado Feroci, the man who started the Silpakorn School of Fine Arts, the forerunner to the Silpakorn University of Fine Arts in Bangkok.
Muay Thai gear and photos of Muay Thai postures and techniques are on display in the third room.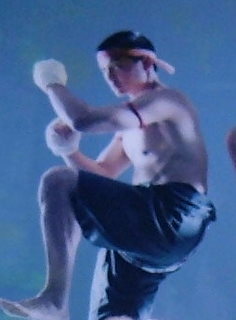 I couldn't hold back my curiosity any longer and asked Achran Kridakorn about this incongruous mix of fine art and rigorous Thai kickboxing.
That's when he made a startling revelation. Another line of his ancestors were executioners at the time when condemned prisoners were beheaded with a sword!!
Thankfully, he didn't pursue this line any further but chose instead to promote the Thai martial art of self defense.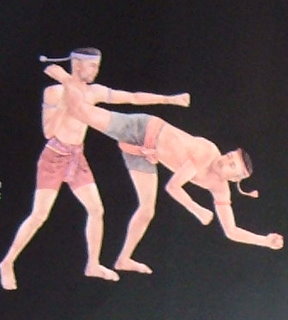 On my way out, I noticed a souvenir from National Geographic in appreciation of Acharn Kridakorn's consultation services in the making of the National Geographic documentary, "Muay Thai – Krabi Krabong" in January 2002.
To preserve and promote traditional Thai art, classes are conducted here during the weekends for water color, Thai painting and puppet making for children and adults.
During the week, Muay Thai training is conducted.
This version is called Muay Chaiya or the ancient Thai boxing practiced before the introduction of boxing gloves, boxing rings and commercialization of the art.
These traditional Muay Thai techniques are suitable for both competitive fighting and self defense.
The works of art in this House of Thai Artisans can also be made to order, for visitors who wish to take distinctly Thai souvenirs home with them.
Ban Chang Thai is truly a Bangkok legacy steadfastly preserving the traditional Thai art and skills endangered by the relentless pace of modern development.
I wish to thank Acharn Kridakorn Sodprasert, the owner of Ban Chang Thai, for taking the time for the interview and for kindly allowing me to have a close look at his exhibits and to photograph them.
View Larger Map
How to get there
By the Green Line
Take the Green Line (BTS Sky Train) to E7 Ekamai Station. From the station take a taxi to Ban Chang Thai.
The traditional Thai art and Muay Thai training center is in Soi Ekamai 10, off Sukhumvit 63 near the Ekamai Station. 
If you're coming from the city, the Ekamai eastern bus terminal is on the right.
Soi Ekamai 10 is about 1 km from the junction. Turn right into Soi Ekamai 10. After another 300m, turn right at the second sub soi.
There's a signboard for Ban Chang Thai at the junction of this sub soi. Approximately 50m after turning into sub soi 2, you'll see the center on the left, marked by another signboard.
It's quite a long walk in, about 1.3 km. You may want to take a taxi from the station. Otherwise it can be quite a rigorous walk.
The center is open to visitors every day. Opening hours are from 0800 – 1700 hours. 

Contact information

Acharn Kridakorn Sodprasert

Tel no: + (66) 2 391 3807

To return to Traditional Thai art.
My Journey through Thailand Part I The First Steps
This is my second e-book and the first in the series of travel journals on my trips to explore the various provinces in Thailand. This edition, which covers my travels from late 2009 to mid-2013, will guide you to historical sites, cultural monuments and exquisite Thai handicraft, across a vast spectrum of cultural and ethnic diversity.
You can have a virtual tour with this e-guide book or take the first steps yourself in this journey through Thailand.
My Kindle e-book