Hello






Ratchaburi Combined Arts Festival

Welcome back to the merry month of December. We were in Ratchaburi for a weekend recently and were lucky to be able to visit the ongoing Combined Arts Festival held over the weekend. The displays were in the city centre along the esplanade by the Mae Klong River*.

*Note

The Mae Khlong is a continuation of the famous River Kwai in Kanchanaburi, the river continues its course through Samut Songkhram to the south and out to the Gulf of Thailand.

Besides art and handicraft from Ratchaburi, the exhibits included art from the neighbouring provinces of Suphanburi and Kanchanaburi. This exhibition is also an effort to boost tourism in these areas.

What better way to send Christmas greetings than through the art medium with a traditional Thai setting?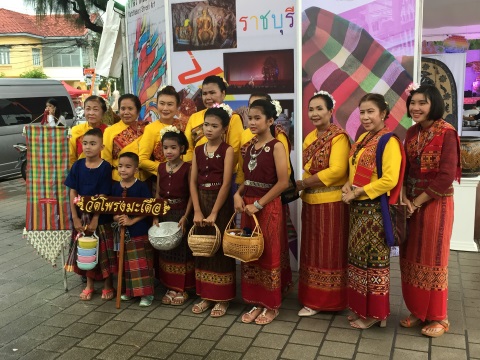 Dance performers at the festival

Wickerwork from Suphanburi

Near the entrance, we were greeted with these wickerwork exhibits from Suphanburi, the province just north of Ratchaburi.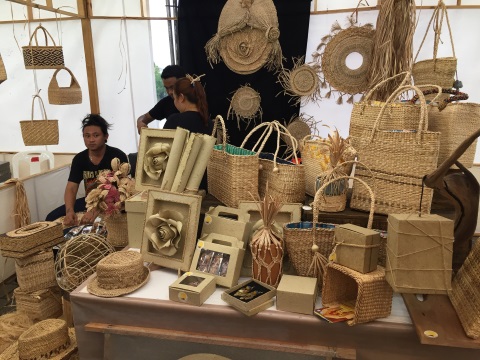 Exhibits from Suphanburi


Karen art and handicraft from Kanchaburi

This Karen (pronounced ka-riang) community is from Ban Krai Kiang, Tambon Khao Jod, Amphur Si Sawat, Kanchanaburi. Their contribution was not only in their beautiful fabrics but also in their food and desserts.

Nam prik is a spicy dip that goes with Thai food, different communities have their own recipes, so do the Karen.



Nam prik

And after a spicy meal, something sweet to soothe the taste buds.



A dessert – thong yok

Of course, the colourful Karen fabrics were the main attraction.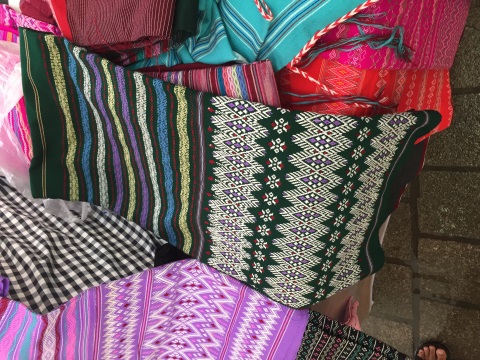 Karen fabrics


Buffalo School, Suan Phueng, Ratchaburi

The Buffalo School at Ban Nong Ta Tang, Tambon Tanaosi, Amphur Suan Phueng, Ratchaburi welcomes visitors on weekends and public holidays. For enquires on the attractions at the school, please call 098-838-3096.

The school's contribution came in the form of buffalo cart models.



Buffalo cart models from the Buffalo School in Suan Phueng

For more on the attractions in Suan Phueng, please see Suan Phueng, Ratchaburi.


Dragon jars, Ratchaburi

The dragon water jar is Ratchaburi's signature handicraft product. These earthen jars with majestic dragon designs are used to store water, ferment food and are used throughout the country. Here's a sample of a small dragon jar.



Dragon water jar

Besides the dragon jars, other ceramics with beautiful designs are also produced here.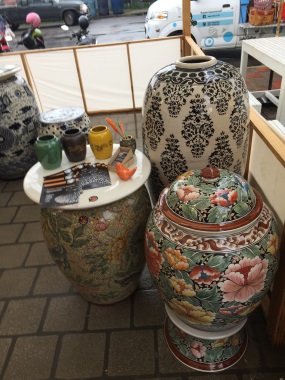 Ceramics with exquisite designs


Nang Yai, giant puppet drama, Ratchaburi

Nang Yai or giant puppets are another specialty of Ratchaburi. These huge figures are carved out on leather and used to perform the Ramakien or the Thai version of the Hindu Ramayana epic.

First, the elaborate design is sketched out on a piece of paper.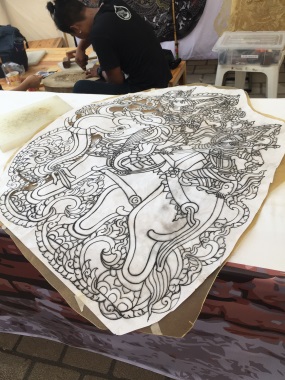 The sketch

Next, the design is placed on top of the piece of leather and the design is painstakingly chipped onto the leather.



Cutting out the design



The finished product



Nang Yai figures used in a performance at the Nang Yai Museum, Wat Khanon, Ratchaburi

For more details on this form of art, please see Nang Yai Museum, Wat Khanon, Ratchaburi.

It leaves me to wish all my friends and readers a Merry Christmas and a Happy New Year. Have a wonderful Christmas with your family and friends and may the New Year bring success to all your endeavours.


Map to Ratchaburi



If the map doesn't appear, click on this link

The major cultural attractions are on the Mae Klong River bank, so we have included some hotels in the vicinity for the convenience of visitors.

How to get there

By car

From Bangkok,

Phet Kasem Road (Highway 4) past Nakhon Pathom and all the way to Ratchaburi.

Contents


Next month

Ratchaburi National Museum, Ratchaburi

If you enjoyed reading this e-zine, please forward it to a friend. If you received this from a friend and found it interesting, please subscribe at Bangkok Travelbug.


What do you think of the Bangkok Travelbug?

We love to hear from you

What other subscribers have said

Till next month then.

Eric Lim
Tour Bangkok Legacies
Find us on Facebook

My Journey through Thailand Part I The First Steps

This is my second e-book and the first in the series of travel journals on my trips to explore the various provinces in Thailand. This edition, which covers my travels from late 2009 to mid-2013, will guide you to historical sites, cultural monuments and exquisite Thai handicraft, across a vast spectrum of cultural and ethnic diversity.

You can have a virtual tour with this e-guide book or take the first steps yourself in this journey through Thailand.

My Kindle e-book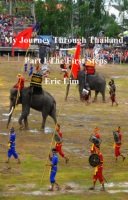 Copyright@2008-2018 Tour Bangkok Legacies
All rights reserved