Hello






Wang Matcha Restaurant – a unique dining experience

Hello, welcome back. On the last night before we left, Korat we had a sumptuous dinner with wonderful company at a place with a setting that is truly unusual. Seeing is believing, so let us share this dining experience with you.


Contents (click on the link to go directly to the topic)




Wang Matcha Restaurant

Wang Matcha* Restaurant is in Korat city about four km from the city centre. I don't usually write about wining and dining but this is one place you will want to write home about and share with your friends. I haven't come across a restaurant like this in Thailand.

*Note
wang - palace, matcha – fish
Matchachat – Pisces, the 12th sign of the zodiac
Matchanu – the son of Hanuman the monkey god and a female mermaid, Suvannamatcha in Ramakien, the Thai version of the Ramayana epic

Let's see what's so special about this place. Be my guest and join us on this virtual tour.

Table of contents


The layout of the restaurant

Wang Matcha Restaurant consists of a huge lake about 150 m x 100 m with pavilions all round the lake that serve as dining rooms. The main restaurant building, where the kitchen is located, has both indoor and outdoor dining facilities.

Here's a satellite map to give you a birds' eye view of the restaurant.


View Layout of Wang Matcha Restaurant in a larger map


The small pavilions around the lake are suitable for small groups of friends who would like some privacy and to be away from the crowd.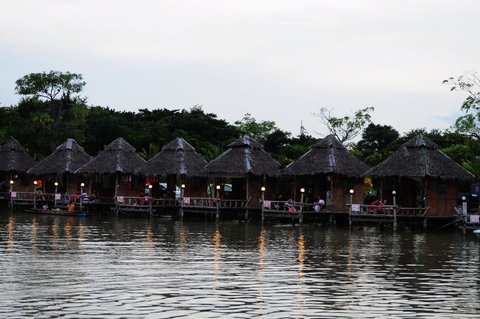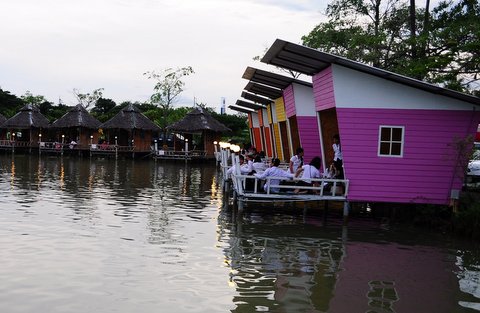 Outdoor dining area - courtesy of KC Wong

The whole place has a natural ambience with lots of trees, plants and garden lighting. There's a windmill in the middle of the lake that's lighted up at night.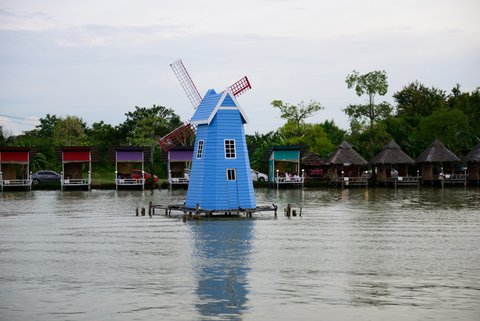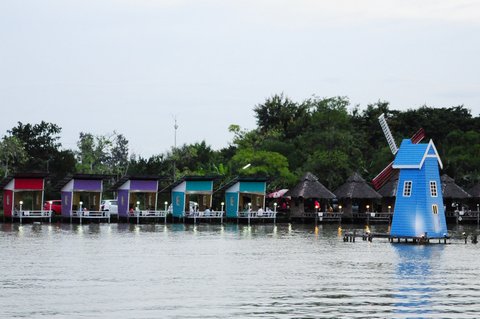 Windmill in Wang Matcha - courtesy of KC Wong

The distance of the pavilion at the southern corner of the lake to the kitchen in the main building is about 150 m. How then are diners going to get their food in time?

Simple, food is delivered by speed boats racing across the lake. I've seen a boat with a steamboat pot full of hot soup going at full speed without spilling a drop.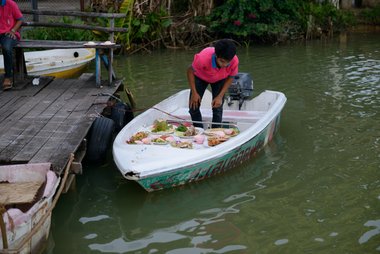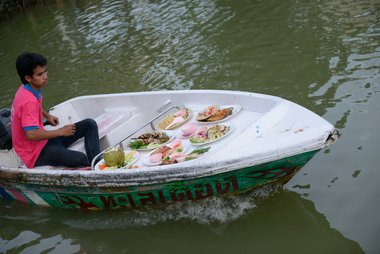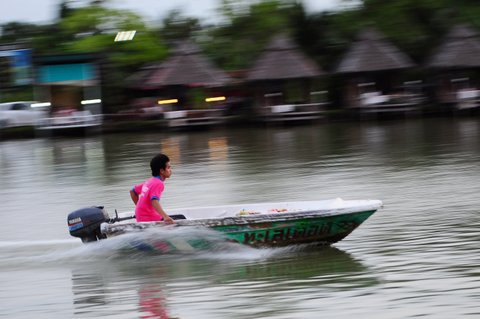 Fast food delivery - courtesy of KC Wong

With that introduction, shall we have dinner?

Table of contents


The dining experience

As we were quite a big group, we chose to eat at the open air platform just by the lake near main building.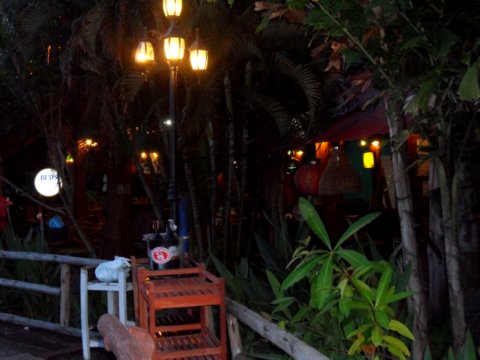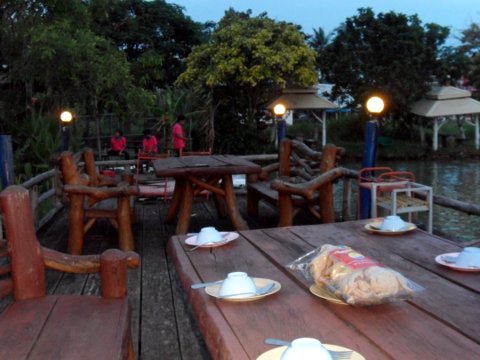 Our dining area

It was a generous and delicious spread of seafood and other delights, curry crabs, barbecued prawns, squid and waxed duck washed down with lots of fluids.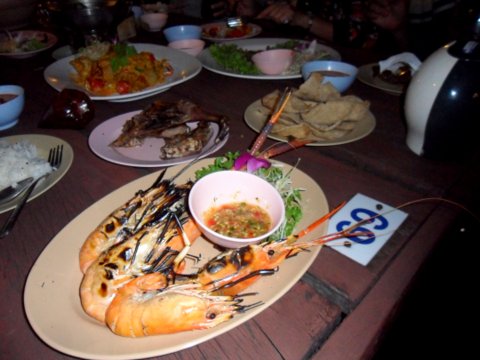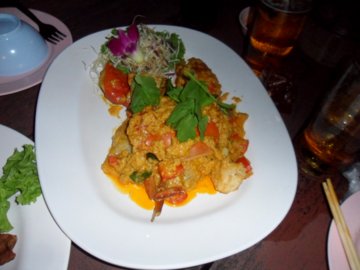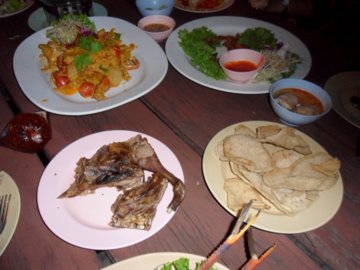 Our dinner

We had a big group of 16 friends from Thailand, Malaysia and Singapore and we all had a wonderful evening.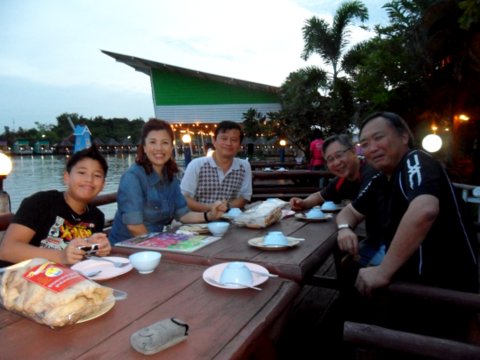 My travelling companions, from anti-clock-wise, Mark, Siew Huei, Keng Cheong, wife Sally and son Issac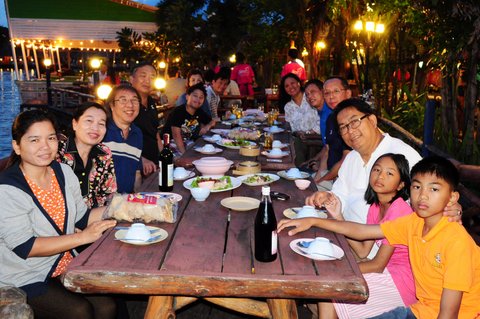 With our Thai friends

As for the cost, we'll have to ask my cousin Mark. It was his welcome dinner to Thailand.

Thank you for joining us in this last issue of Bangkok Travelbug for the year 2013. As we close the year 2013 and look forward to a better 2014, may I leave you with a memorable image of Wang Matcha as the evening drew to a close.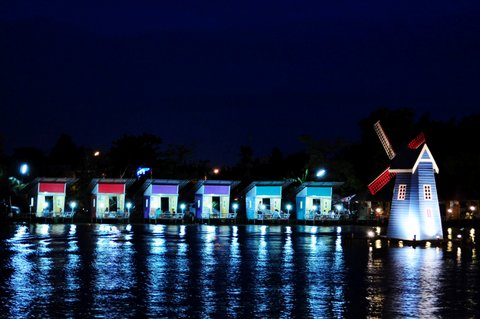 An enduring image of Wang Matcha - courtesy of KC Wong

Table of contents


Map to Wang Matcha Restaurant


View Map to Wang Matcha Restaurant in a larger map


How to get to there

By car

Take Highway 2 or the Mittraphap Highway to Korat city which is about 260 km from Bangkok. It's about a three hour drive to Korat city.

When you get to the city continue of Mittraphap Highway past the Korat 2nd Bus Terminal and Makro Store, turn left into Chang Phueak Road and left again into Siphat Road. The Wang Matcha Restaurant is on the right.

By tour bus

If you are using public transport, there are express tour buses from the Northern Bus Terminal at Mor Chit in Bangkok to the Korat bus terminal 2 (new terminal). This takes about three and a half hours and doesn't cost more than 200 baht.

If possible don't take the air-conditioned non-express bus (class 2). It takes almost four and half hours (fare 171 baht).

By mini-bus

The mini-buses from the Victory Monument take three hours but terminate at Pak Chong (fare 180 baht). You will have to take another mini-bus to Korat city (fare 60 baht).

Mini-buses from Mor Chit go directly to the bus terminal 2 in Korat city.

Getting around Korat

The most convenient form of public transport is the tuk tuk. These are available at the bus terminal and also at major junctions. If you are going to an out-of- the-way place like the Petrified Wood Museum, you'll need to charter the tuk tuk for a return trip. Agree on the price before boarding.

Table of contents


Other attractions in Korat

Petrified Wood Museum

Prasart Hin Phanom Wan

Tao Suranaree – the herorine of Korat

The Jim Thompson Farm – Pak Thong Chai

Prasart Hin Phimai - the Khmer sanctuary in Korat

The beauty of Khao Yai National Park

Table of contents


My thanks

I am grateful to Wong Keng Cheong for contributing the beautiful photographs of the restaurant for this article.

My thanks to cousin Mark for the wonderful dinner and the enjoyable dinner companions from Malaysia, Thailand and Singapore.

Merry Christmas and Happy New year to all readers and friends of Bangkok Travelbug, have a warm and pleasant holiday with your family and friends. May the year ahead be filled with peace and goodwill.

Table of contents


Next month

We visit the Sri Satchanalai Historical Park, a UNESCO World Heritage site in Sukhothai.







If you enjoyed reading this e-zine, please forward it to a friend. If you received this from a friend and found it interesting, please subscribe at Bangkok Travelbug.


What you think of the Bangkok Travelbug?

We love to hear from you

What other subscribers have said

Till next month then.

Eric Lim

Find us on Facebook

Stay updated with what's new at Tour Bangkok Legacies. Copy the link below and paste it into your Google Reader, NetNewsWire or your favourite feed reader.

https://www.tour-bangkok-legacies.com/tour-Bangkok-legacies.xml

If you use My Yahoo! or My MSN, head over to my home page and click on the button for your favourite Web-based feed reader.

Visit our home page at Tour Bangkok Legacies.


Copyright@2008-2013 Tour Bangkok Legacies
All rights reserved