Hello






Suntree Land of Dolls, Ratchaburi

Hello, this December we visit Suntree Land Dolls in Ratchaburi. It's a huge toy land that's filled with life-sized bears. Let the child in you out for a day of fun and find out more about these lovable creatures and the person who created this toy land.


Contents (click on the link to go directly to the topic)



Background to Suntree Land of Dolls

Ratchaburi province is well-known for her dolls and stuffed toys. In fact toy making is an industry here. Suntree Aiamnu is one such entrepreneur. Her factory for dolls and stuffed toys started in 1984 manufacturing her brand of dolls, Tiger Toys for the local and export markets


In 1997 she started a dolls and stuffed toys shop in Petchakasem Road, Potharam district, Ratchaburi near the factory.

Children loved her stuffed toys, they loved to hug and cuddle the toys particularly the bears. Not everybody bought a bear though.

Almost everybody loves bears, not everyone can take a bear home but they can take some happy memories home.

So she started a toys corner in the shop for children to hug the bears to their hearts' content.

Here is a business person who is not merely interested in making a sale to a customer but who would go all out to make her customers happy all the same.

Thus the idea of Suntree Land of Dolls was born. It translated into a toy land covering 12 rai of land (1.92 hectares or 4.74 acres) with life-sized dolls to make every child's dream come true at a cost of 30 m baht (about US$ 1 million).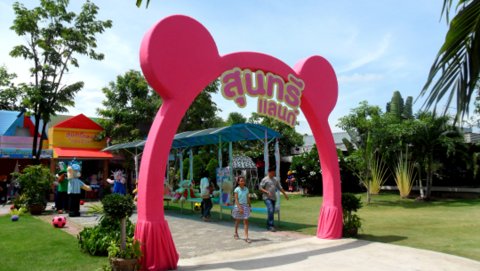 Suntree Land of Dolls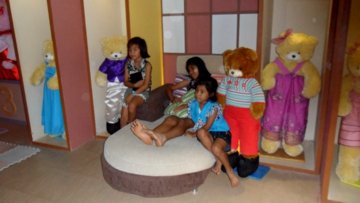 Her efforts in this respect are admirable; her project has gone beyond the profit motive by making so many children happy and quite a few adults as well.

Though called Suntree Land of Dolls, it's actually the Land of Bears as almost all the stuffed toys there are bears. So let's find out why bears are so popular as cute, cuddly stuffed toys.

Table of contents


More about Bears

There are eight species of bears in the world, namely;

Asiatic Black Bear found in Afghanistan, Bangladesh, China, Iran, Japan, Laos Pakistan, Tibet


Black Bear or North American Black Bear found in Alaska, Canada and other parts of the USA


Brown Bear also known as the Grizzly Bear in Canada and the USA or the European Brown Bear in Europe and Russia


Giant Panda, the rarest of bears and native to China


Polar Bear or sea bears found in the Arctic Circle, North Pole, Alaska, Canada, Greenland, Siberia


Sloth Bear found in SE Asia, Bangladesh, Myanmar, Nepal


Spectacled Bear or Andean Bear found in the Andes in South America, Bolivia, Colombia, Ecuador, Peru


Sun Bear also called honey bear and the smallest among all the bears, found in Bangladesh, Cambodia, Myanmar, Laos, Thailand, Vietnam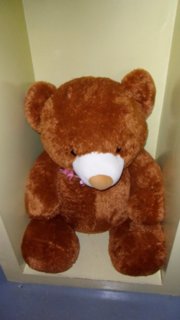 Some of these bears like the Grizzly are huge, fearsome looking creatures, yet how did they become a model for the lovable and cuddly stuffed bear?

The story can be traced to 1902 and we owe this to the 26th President of the USA (1901 – 1909), President Theodore "Teddy" Roosevelt.

One day in November 1902, President Roosevelt and his party were in Mississippi on a hunting trip. For three days they found nothing.

Finally they managed to track down and corner an old black bear and invited the president to take a shot to win a trophy.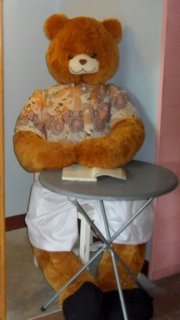 Roosevelt refused on grounds that it wasn't sporting.

That act of mercy endeared him to the public and a cartoonist drew a cartoon of the president refusing to shoot the bear. Of course the bear in the cartoon appeared smaller and cuter.

Morrice and Rose Michtom who ran a candy store made a stuffed toy bear for sale and asked the president's permission to call the bear, "Teddy's Bear". Permission was granted and so the teddy bear was born.

The Michtoms went on to start a company to manufacture teddy bears and became very rich. In 1963, one of the first teddy bears they made was donated to the National Museum of American History, Washington DC.

Table of contents


Organisation of Suntree Land of Dolls

With that in mind, let's take a look at how this Land of Bears is organised. There are 15 zones within Suntree Land of Dolls, each zone has its special theme with bears suitably dressed up and the environment decorated to fit theme.

Outside the toy land, there's a souvenir shop, a doll making workshop to make your own dolls and the R - Rom - Di Café for refreshments. The doll factory is behind the toy land complex and a huge car park in front provides ample parking facilities.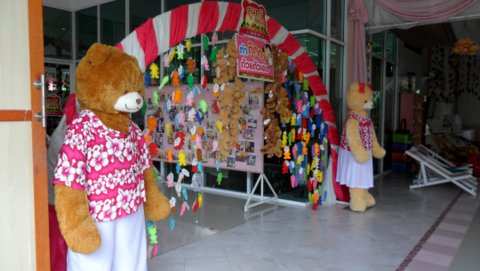 Make your own doll


Table of contents


Tour of Suntree Land of Dolls

The entrance to Suntree Land of Dolls gives the visitor a taste of what's to come. A huge Sumo Bear is there to welcome you after you have bought your tickets.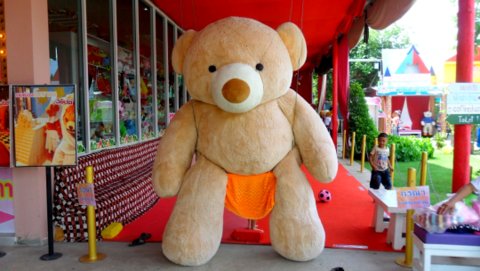 Sumo Bear welcomes you to Bearland

As World Cup 2014 was on then, your favourite World Cup Bears' teams were also there.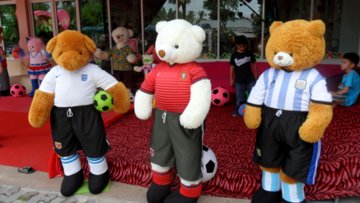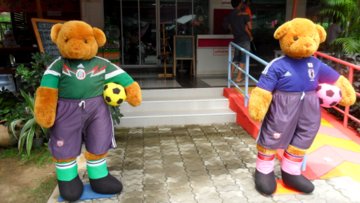 The first scene a visitor encounters on entering this huge toy land is that of a quiet English village with a neighbourhood book store, telephone booth and a friendly Bobby.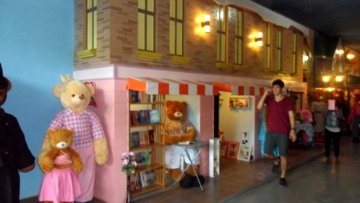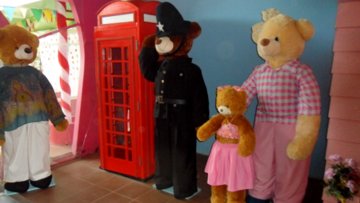 Bobby Bear welcomes you too


The next theme room is on weddings and here we have Wedding Bears attended by a host of angels as brides' maids.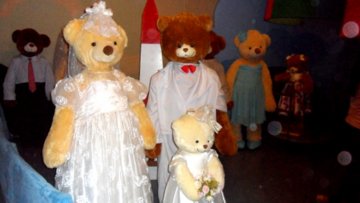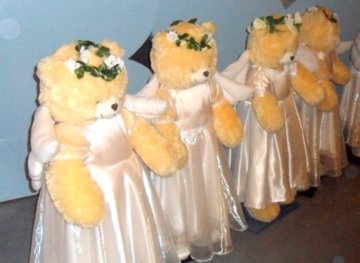 Wedding Bears


With the formation of the ASEAN Economic Community (AEC), promoting ASEAN* is a popular theme. So a corner has been dedicated to the ASEAN Bears in their national dress.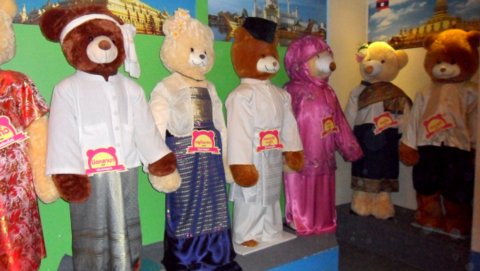 ASEAN Bears
*ASEAN – Association of South East Asian Nations was formed in August 1967 in Bangkok by the founding nations of Indonesia, Malaysia, Philippines, Singapore and Thailand. Since then membership has expanded to Brunei, Cambodia, Laos, Myanmar and Vietnam.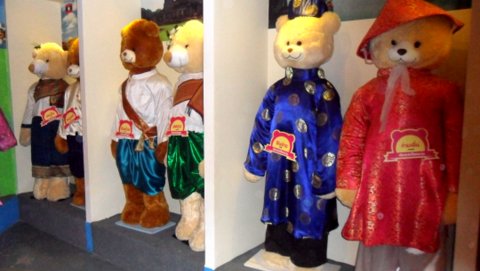 ASEAN Bears

We don't need to get into the controversy of whether the panda is a bear or a raccoon. Over here, the panda is a bear. Just ask the kids.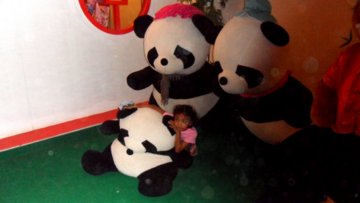 The favourite Pandas

Next we have the Chinese Bears standing peacefully next to their neighbours the Japanese Bears.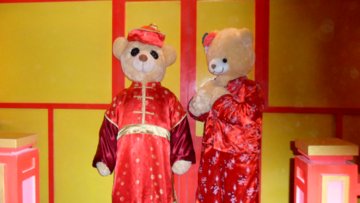 Chinese Bears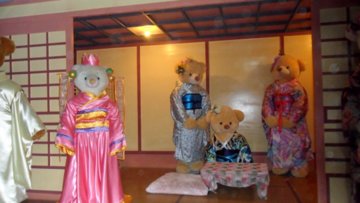 Japanese Bears


From East Asia we jump over to North Africa and visit the mummies, pyramids and sphinxes* in Egypt.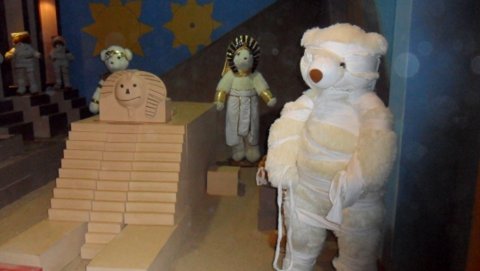 Egyptian Bears

*A mythical Greek creature with a lion's body with wings and a woman's head. The Egyptian sphinx has a lion's body in the lying position with no wings and a man's head.

We move on to a colder climate to visit the Eskimo Bears.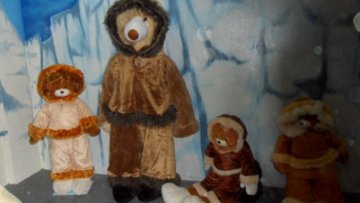 Eskimo Bears

Of course we mustn't miss out on the Thai Bears lined along a canal in their traditional dress of the different regions in Thailand.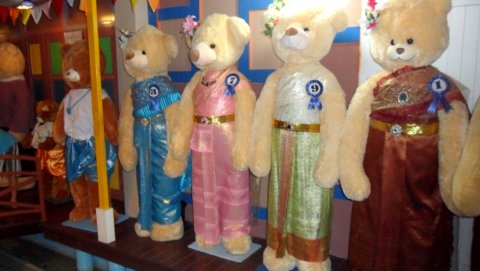 Thai Bears

It's not so easy to get out of this toy land; you'll have to pass through a checkered maze first. It took us a few attempts. Don't worry, if you get lost, all you meet is another bear.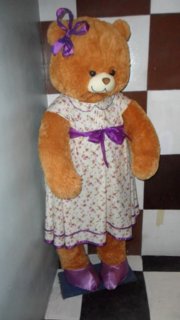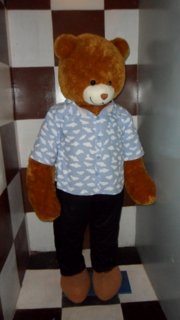 Lost in the bear maze


When you finally get out, you can meet your favourite fairy tale characters.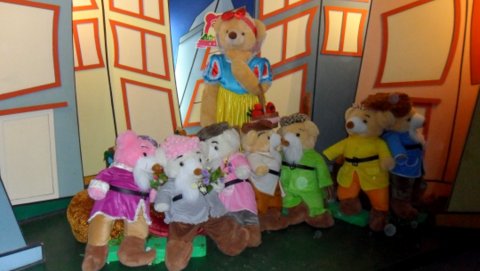 Snow White and the Seven Bears

The last stop before you leave Suntree Land of Dolls is the souvenir shop where they are lots of cute bears of all shapes and sizes to take home.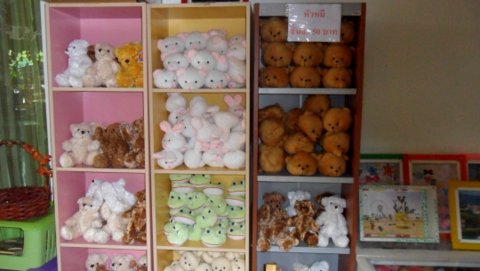 Furry souvenirs to take home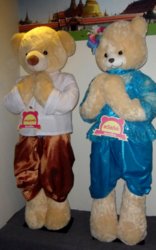 This Christmas take your loved ones to Suntree Land of Dolls, even if you don't take home a bear, take home some happy memories.

Have a Beary Merry Christmas and a Happy New Year!

Bye, see you next year.

Table of contents


Map to Suntree Land of Dolls


View Suntree Land of Dolls in a larger map

Address

Suntree Land of Dolls
1/2 Mu 1
Tambon Ban Singh
Amphoe Photharam
Ratchaburi 70120

Tel no. 082 024 2888, 082 021 7888, 032 744 559
Fax 032 744 560

Opening hours

Every day from 0900 – 1700 hours

Note Suntree Land of Dolls is closed for the New Year from 31 December 2014 – 4 January 2015. Even the bears need a break!

Admission: adult 80 baht, children 40 baht

Group tours every day except Wednesday for 30 persons and above, box lunches catered for 30 persons and above

How to get to there

By car

From Bangkok cross the Chao Phraya and get on to Phetkasem Road (highway 4), follow this road all the way past Nakhon Pathom city and continue on to Ratchaburi.

When you get to Photharam district turn left into highway 3335 and continue on till you get to Suntree Land of Dolls.

Table of contents


My thanks

My sincere thanks to Pattaraporn Charoensuk for introducing me her furry friends in her home province.

Table of contents

For hotels in Ratchaburi




Next month

The Caves of Ratchaburi




If you enjoyed reading this e-zine, please forward it to a friend. If you received this from a friend and found it interesting, please subscribe at Bangkok Travelbug.


What do you think of the Bangkok Travelbug?

We love to hear from you

What other subscribers have said

Till next month then.

Eric Lim
Tour Bangkok Legacies
Find us on Facebook


Copyright@2008-2014 Tour Bangkok Legacies
All rights reserved