Hello






Khon Kaen National Museum – the Issarn heritage

This month we start our exploration of the north-eastern region of Thailand or Issarn as it is locally called. There is no better place to have an overview of Issarn history and culture than the Khon Kaen National Museum in Khon Kaen city.

This museum doesn't just cover the history of Khon Kaen but the entire north-eastern region dating back several thousand years. For this reason, I chose Khon Kaen National Museum as my first stop in my visit to the province that is in the heart of Issarn.


Contents (click on the link to go directly to the topic)



Khon Kaen National Museum

Khon Kaen National Museum was officially opened by HM the King on 20 December 1972 as part of an effort to preserve the cultural heritage of the north-eastern region of Thailand.

This is part of the policy of the Department of Fine Arts to establish national museums in provinces where there are a high number of historical sites and ancient relics.

These relics are then displayed in museums within the provinces so that the local people can identify with the history and culture of their region.

The Khon Kaen National Museum consists of a two-storey building with an annex to the rear and a huge ground all round for larger items on display.



Khon Kaen National Museum, Khon Kaen city

Start from the ground level and follow the arrows on the floor. Then move to the annex at the rear and later to the exhibits outside.

Join me as we stroll through the historical corridors of Issarn, the north-eastern region of Thailand and examine the influences that had an impact on the history and culture of this region.

Table of contents


Early life in pre-historic Issarn

Issarn is a huge expanse of land on the Korat plateau (170,000 sq km) that occupies nearly one-third of the land area of Thailand. The population of Issarn at about 20 million is also about a third of the national population.

This makes the region the largest in Thailand both in terms of land area and population.


View Map of Issarn the north-eastern region of Thailand in a larger map

There are 20 provinces in Issarn, Bueng Kan (formerly part of Nong Khai) being the latest addition in August 2010.

Issarn is a treasure trove of ancient ruins and relics. More than 200 million years ago, dinosaurs roamed the Korat plateau, yes dinosaurs! In 1976, dinosaur tracks and fossils have been found in Amphur Phu Wiang (Phu Wiang district), Khon Kaen.

Since then fossils and/or tracks of dinosaurs have also been discovered in the north-eastern provinces of Chaiyaphum, Kalasin* and Loei.

*Dinosaur fossils can be viewed at the Dinosaur Site Museum in Kalasin the neighbouring province just north-east of Khon Kaen

An archaeological excavation in 1966 uncovered evidence of human civilisation, dating back more than 5,000 years, along the Chi River which flows through Khon Kaen. Bronze tools have also been found in other parts of Issarn.



Bronze tools found in Kosum Phisai district, Maha Sarakham and
Ban Chiang district, Udon Thani

These settlements had moats around them and engaged in farming and hunting.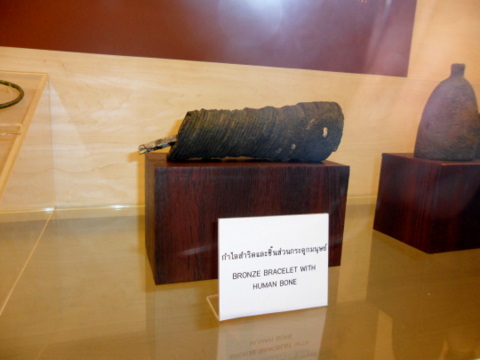 Bronze bracelet with human bone

Table of contents


Exhibits in the main building


Dvaravati period 6th – 9th C

In the 6th C AD Dvaravati, a Buddhist civilisation associated with the Mon** people started to have a strong influence in central Thailand and later spread to Issarn.

**The Mon are an ethnic group who were one of the earliest settlers in Thailand. They originated from southern China and later moved to Myanmar. Repression by Myanmar forced many to settle in Thailand over the centuries.

This influence, which came with trade routes passing through Thailand, had a strong impact on religion, art and customs. Several old ruins and relics have been discovered with inscriptions in the Mon language.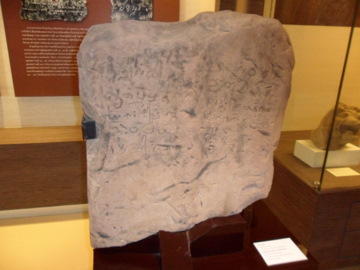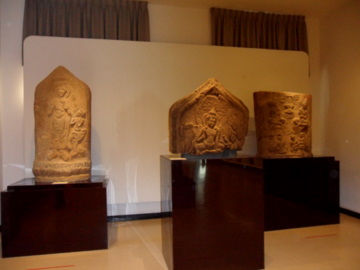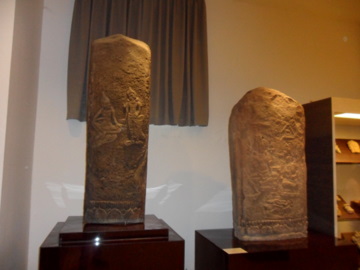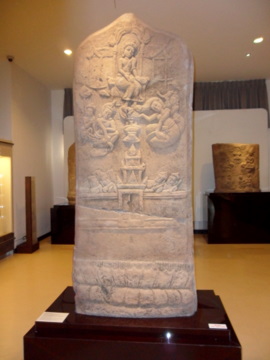 Many of these relics were Buddha images and sandstone boundary markers for sacred places and places of worship. Major Dvaravati sites have been found in Kalasin, Lopburi and Nakhon Ratchasima.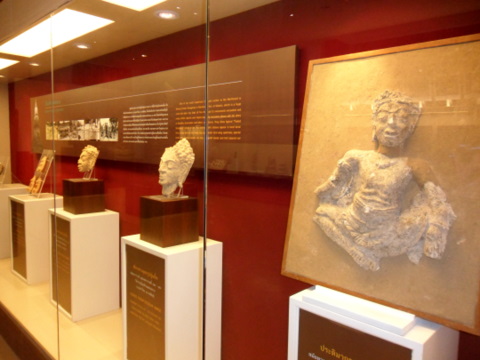 Buddha relics excavated in Mueang Fadad Songyong, Kalasin

There are about 117 of these pre-historic sites in Issarn.


Lopburi/Angkor period 9th – 13th C

The Angkor Kingdom rose to power in the 9th C and was based on the Khmer provinces in present-day Cambodia. It soon extended its influence to north-eastern and central region of Thailand in provinces like Nakhon Phanom, Sakon Nakhon, Lopburi, Nakhon Ratchasima, Suphanburi, Nakhon Chaisi and Ratchaburi.

During this period, roads, bridges, monuments and religious sites were constructed all over north-east Thailand. There are 109 Khmer archaeological sites such as the Khmer sanctuaries in Surin, Buriram, Khon Kaen and Nakhon Ratchasima.

Lopburi as a major centre of Dvaravati civilization before also became an important province. The Khmer relics of this period are often referred to as art of the Lopburi period or style.


Buddha sheltered by Naga hood found in
Maha Sarakham, Lopburi style 12th /13th C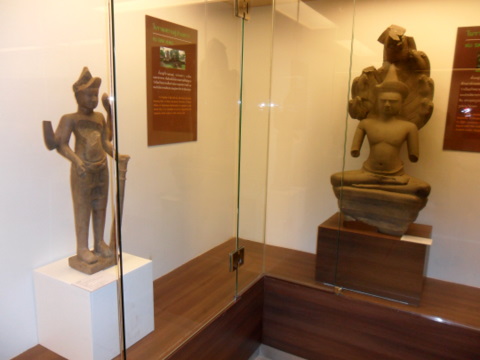 Relics found in Maha Sarakham, Lopburi style 13th C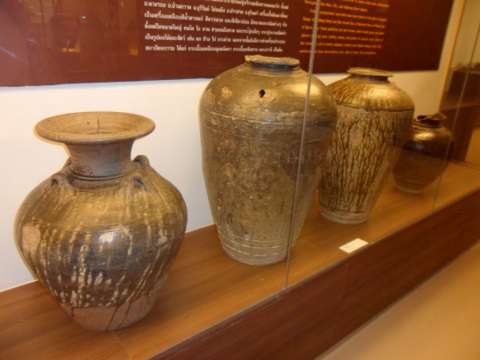 Old pottery found in Buriram and Surin
11th C statue of Siva found in Maha Sarakham, Lopburi period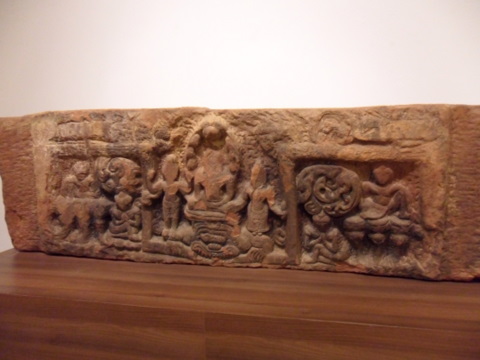 Lintel depicting the three periods of Mahayana Buddhists found in
Maha Sarakham


Lan Chang period

In 1353 the Lan Chang (Million Elephants) Kingdom emerged as a centre of power when Prince Fa Ngum based his capital in Luang Prabang in present-day Laos.

Over the next two centuries, the Lan Chang influence spread southwards along the Mekong River valley including provinces like Nakhon Phanom and Ubon Ratchathani.

There are 12 Lan Chang archaeological sites in Issarn.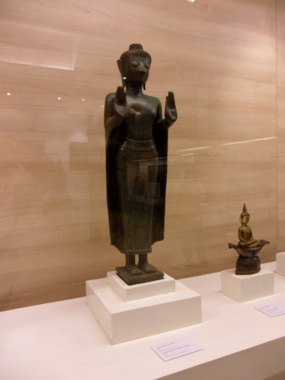 Standing Buddha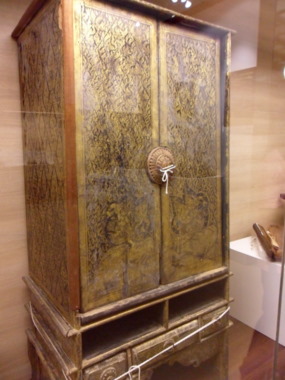 Cabinet for Buddhist scriptures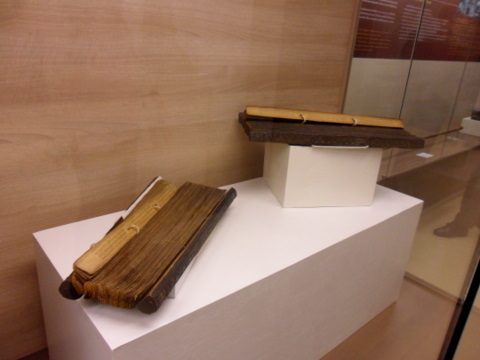 Buddhist scriptures written on wood panels and bound with string


Rattanakosin (Bangkok) period

In 1789 during the reign of King Rama I (1782 – 1809) a township called Bueng Bon was established near the lake Bueng Khan Nakhon. This was part of the policy to strengthen control over the communities in the outer territories. Later the name of the township was changed to Khon Kaen.

Constant wars with the Lao kingdom in the reign of King Rama III (1824 – 1851) resulted in a massive resettlement of Lao across the Mekong River to the Korat plateau.

Table of contents


Display at the annex to the main museum

There are more sandstone lintels and boundary markers along the corridors of the annex building. However the exhibits in the inner rooms of the annex are even more interesting.

These exhibits show the traditional way of life in Issarn; traditional houses, fishing and farming tools, household items and musical instruments.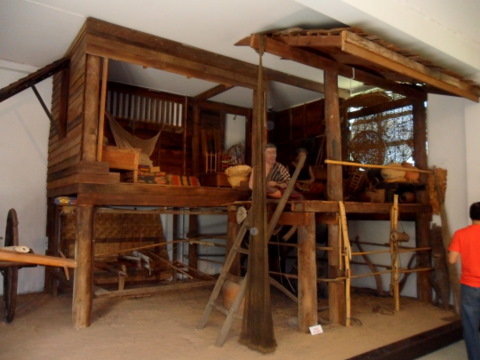 Traditional Issarn house
Traditional Issarn attire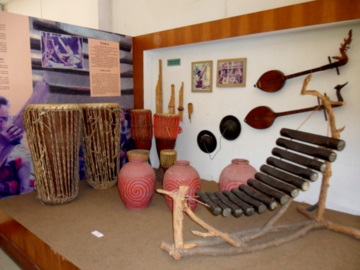 Traditional musical instruments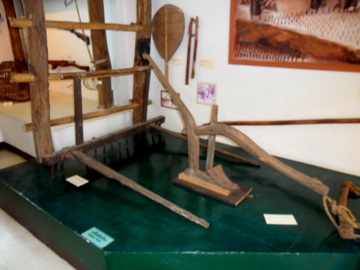 Farming tools
Fishing baskets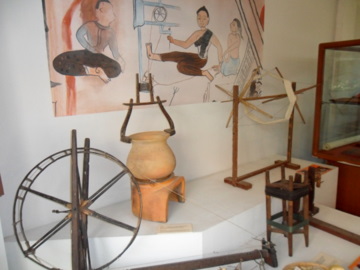 Weaving looms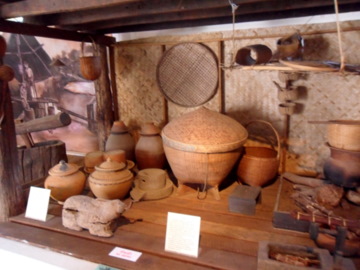 Traditional kitchen

Let's focus on this piece of kitchen appliance. What do you think it's for?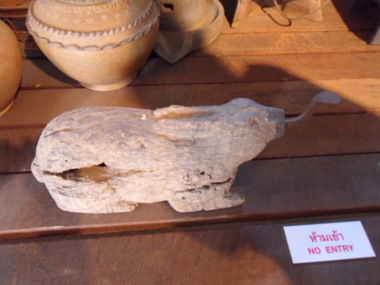 It's a scraper to make coconut shavings for producing coconut milk in Thai dishes. The person sits on the saddle and then scrapes the coconut on the metal piece. These shavings are then mixed with water and strained to get the coconut milk.

Table of contents


Outdoor display

The outdoor displays consist of stone boundary markers and there are lots of them all over lawn and also a building housing them.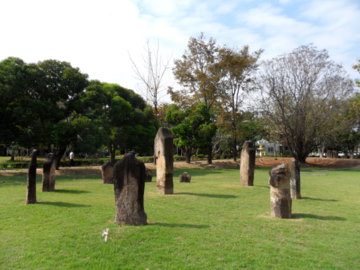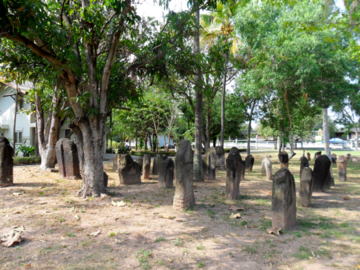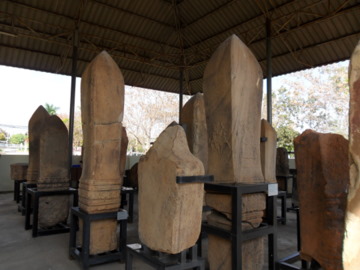 Boundary markers outdoors

We hope that you have enjoyed this visual tour of the Khon Kaen National Museum which holds a wealth of Issarn's historical relics. Do take a look at the museum yourself. It's a fascinating place.

A tour of this museum gives visitors an idea of the influences over the centuries of different civilisations and kingdoms on the history, culture and language of the region which has endowed Issarn with her unique identity.

Table of contents


Map of Khon Kaen


View Map of Khon Kaen city in a larger map

Getting to Khon Kaen

Go to the Northern Bus Terminal at Mor Chit, Bangkok and take a tour bus to Khon Kaen about 460 km away. Take note that the last bus out from Bangkok is at 2300 hours. The VIP buses (express) leave at around 2100 hours.

I took a 1st air-conditioned tour bus which left at 2300 hours as I didn't want to arrive too early in the Khon Kaen. The fare was 329 baht but the bus made three or four stops along way and the travelling time was six and a half hours.

On the way back I took a VIP tour bus at 450 baht. It only made one stop before getting to Bangkok. Travelling time was six hours.

Getting around Khon Kaen

There are metered taxis in the city as well as "tuk tuk" which you have to negotiate a price before the journey. "Song taew" (pick-ups running routes) also ply the main streets but it will be difficult for a newcomer to be familiar with the routes.

Surprisingly there are no motor cycle taxis in Khon Kaen.

Back to Khon Kaen city attractions

Opening times of the Khon Kaen National Museum

The museum is open every day except Mondays and Tuesdays from 0900 – 1600 hours.

Admission fees are 20 baht for Thais and 100 baht for foreigners.

As it was National Children's Day (2nd Saturday of January) on the day of my visit, admission was free, so was the ice-cream. So we became kids for the day.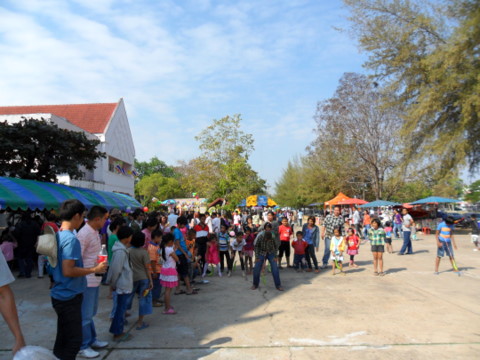 Children's Day in Khon Kaen – 14 January 2012


Where to stay – hotels in Khon Kaen

Please see hotels in Khon Kaen for the hotels in the city area.

Here are some of the reasonably priced hotels with walking distance of the Khon Kaen Bus Terminal.

Bussarakam Hotel

Kaen Inn Hotel

Kaen Nakhon Hotel

Piman Garden Hotel

Table of contents


My thanks

I wish to say a big thank you to Khun Sukamas Pajjamontri for kindly showing me around her home province of Khon Kaen.

The places visited in this article and the following three are due largely to her help. I don't think I could have covered the widely dispersed places in Khon Kaen in the time available without her help.

Table of contents


Next month

Khon Kaen City attractions

If you enjoyed reading this e-zine, please forward it to a friend. If you received this from a friend and found it interesting, please subscribe at Bangkok Travelbug.


What you think of the Bangkok Travelbug?

We love to hear from you

What other subscribers have said

Till next month then.

Eric Lim

Find us on Facebook

Stay updated with what's new at Tour Bangkok Legacies. Copy the link below and paste it into your Google Reader, NetNewsWire or your favorite feed reader.

https://www.tour-bangkok-legacies.com/tour-Bangkok-legacies.xml

If you use My Yahoo! or My MSN, head over to my home page and click on the button for your favourite Web-based feed reader.

Visit our home page at Tour Bangkok Legacies.


Copyright@2008-2009 Tour Bangkok Legacies All rights reserved