Hello






Farm life in Surin

In November 2012, when I was in Surin visiting the Annual Elephant Roundup, I stayed at the home of Asa and Teem in a farming community outside Surin city. During this visit, I got to meet Asa's friends Peter and Uai Stack who lived in a neighbouring district.

The result was a good learning experience for me on farm life and how farmers in Surin make their living.

Here's my account of that experience.


Contents (click on the link to go directly to the topic)




Chom Phra & Khwao Sinarin, Surin

Chom Phra

Chom Phra is one of the 17 districts in Surin province. It's about 30 km north of Surin city. The district is further sub-divided into nine sub-districts (tambon) with each sub-district having a number of villages (muban).

Chom Phra town the district administrative centre with one bank, hardware stores, provision stores, a Tesco Lotus supermarket and a 7/11 convenience store.

Ban Ta Kuan Noi where my friend Asa lives, is one of the 105 villages (muban) in Chom Phra district about 3.5 km from Chom Phra town. It's a small closely knit community, some of the members are related and extended family units live within walking distance of one another.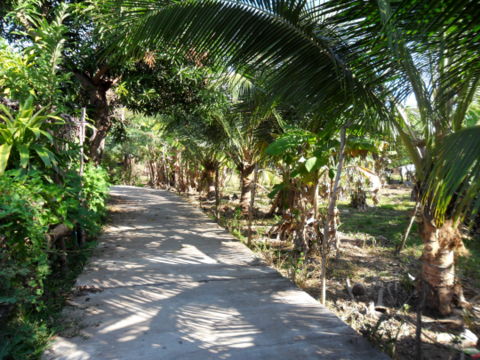 Country lane in Ban Ta Kuan Noi

Today all the households have piped water, electricity supply and satellite television. The old water pump which was used to draw ground water before stands like a monument to the old days.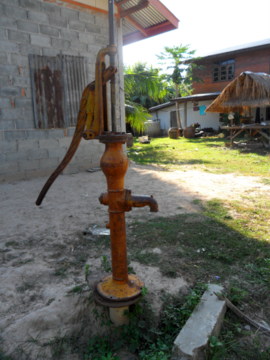 Old water pump

Khwao Sinarin

Khwao Sinarin is merely 15 km north of Surin city. You'll have to pass Khwao Sinarin to get to Chom Phra.

The district is famous for her handicraft communities that make exquisite silverware and beautiful silks. We will be visiting these places in next month's issue.

This February there's a silk festival that features the silk products from all the villages in the area. It promises to be a merry event with beautiful silk fabrics on display, lots of Issarn food and music.

By and large the area is a farming community like Chom Phra to the north. Peter and Uai live in a community called Ban Na Dang in Khwao Sinarin.

Table of contents


Rice farming in Surin

Rice is the principal crop in Surin like many parts of North-eastern Thailand. Unlike the Central region the North-east region doesn't have the benefit of irrigation. Farmers can only plant one crop a year with water during the rainy season after July.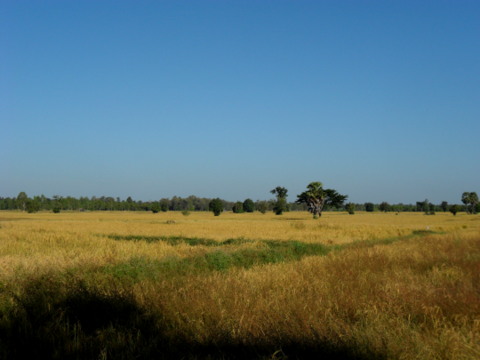 Rice fields in Surin

However, some farmers with fields close to water can have two crops a year. What they need are pipes to lead the water to their fields, electric pumps and electricity. If the irrigation system in the rural areas can be improved, the lives of the farmers would be so much better.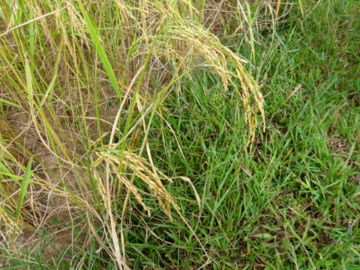 Stalks of rice

Harvesting is done in November in the cool season after the rains have stopped.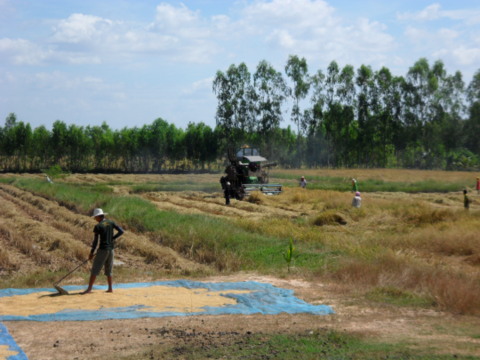 Harvesting the rice fields

Mechanical harvesters which combine cutting and sorting are used for the larger fields. These are usually rented; one harvester can harvest one rai (1,600 sq m or 0.4 acres) in a day and a half. It costs 500 baht per rai for the harvester plus two operators who cost 250 baht per man.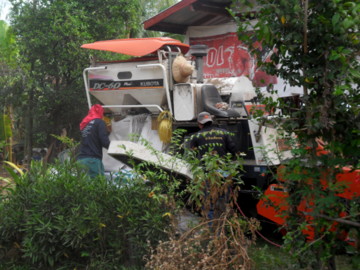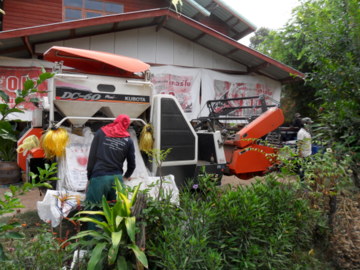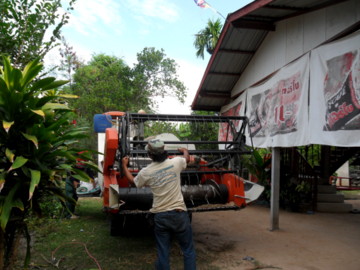 At a cost of 1,000 baht per rai, smaller farms prefer to harvest manually and sort the rice grains (separate the rice grains from the chaff) mechanically.

I didn't get to see planting season but I understand mechanical ploughs are widely used as well. The farmers with smaller fields still prefer to rely on the good old water buffalo.

That's why it's lucrative to rear them; a pair like these could cost 37,000 baht!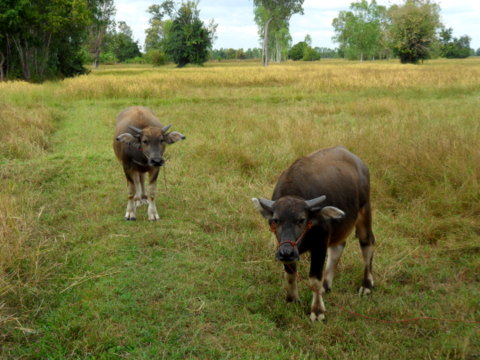 Ben & Mary – don't ask me which is which, I didn't get close enough to
find out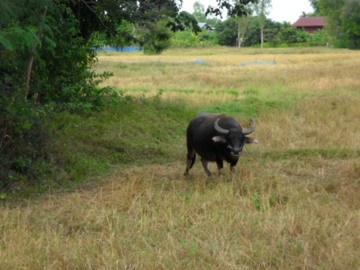 Mother Sally was not friendly at all and kept glaring
at me

After harvesting the rice is laid on the ground to dry for a couple of days. Rain is the farmers' nightmare at harvesting time. It rained a couple of times in November and the drying process had to be prolonged.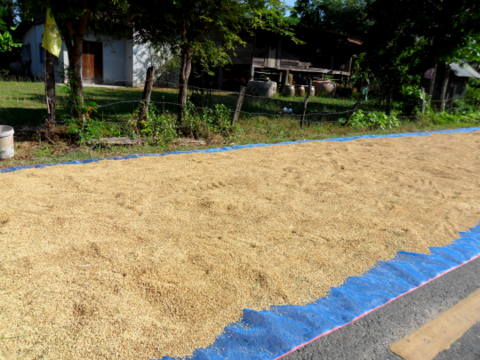 Rice laid out to dry along the roads or any open space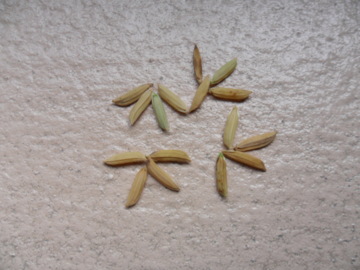 Close-up of some rice grains before the husk is removed

After a rain, rice in the fields can't be harvested, the whole harvest is delayed, the rice can't be sold and the income from the crop is delayed.

Conversely drought during the planting season will delay the planting as the fields have to be flooded before the seedlings can be planted. A bad drought while the rice is growing can dry up the entire rice field driving farmers to tears.

A number of factors determine the selling price of the rice. The price goes down as the degree of moisture increases. That's why the farmers dry their rice thoroughly.

Secondly a high percentage of whole grain rice fetches a higher price than broken grain rice. There are instruments to measure these factors at the rice mills in the area where the farmers bring their rice to sell.

Table of contents


Vegetables and other cash crops

As there is only one rice crop per year and it only takes up four to five months, other crops like vegetables and fruits are planted to augment the farmers' income.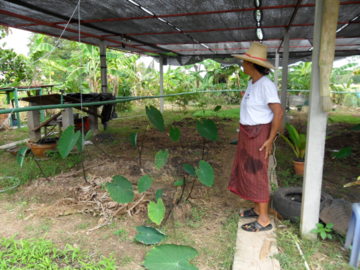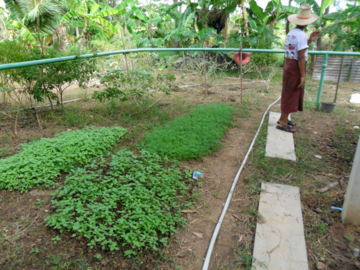 Uai in her vegetable plot

The pipes around the plot are for watering the vegetables with water drawn from a pond nearby.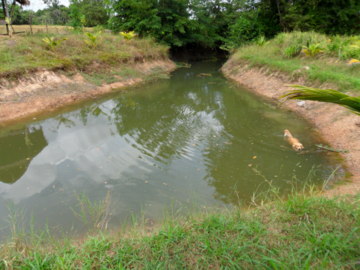 Pond dug to collect water for the vegetables

The vegetables are collected every day at about 4 or 5 pm, washed and bundled to be sold the following morning at 2 or 3 am to market vendors who then sell them to consumers at fresh markets early in the morning.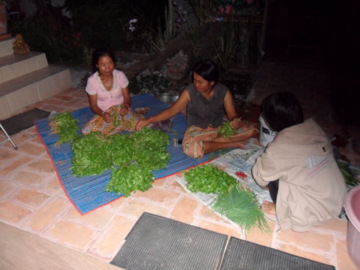 Teem preparing the vegetables for sale the next day

Table of contents


Silk worm rearing

The other activity on the farm besides planting is rearing silkworms. Silkworm larvae are the eggs of the female silk moth. These larvae feed on mulberry leaves and moult their skins four times.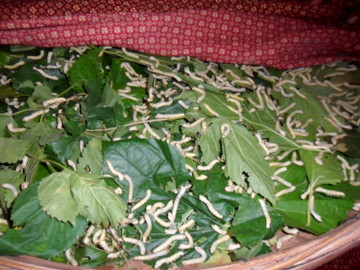 Rearing silkworms

When they reach the size of the ring finger, the worms secrete a dense fluid to spin their cocoons. When these cocoons hatch, the adult moths will emerge. However if this stage is reached, the silk in the cocoons is useless.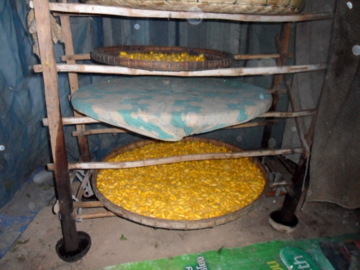 The larvae

Before the cocoons can hatch, they are boiled in hot water to extract the raw silk strands, several strands are stuck together to form a thread of raw silk. Raw silk is sold by the kilograms to the silk weavers at about 2,400 per kg.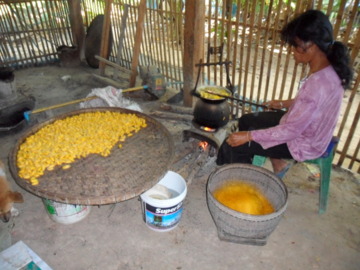 Boiling the cocoons to extract the silk

The pupae left behind after this extraction process is a delicacy in North-eastern Thailand.

Table of contents


Map of Chom Phra, Surin


View Chom Phra & Khwao Sinarin, Surin in a larger map


Getting to Surin

By train

The Express Line costs 389 baht and takes about 7 hours.
The Fast Line costs 279 baht and takes about 9 hours 30 minutes

The train ride was rather long and tedious but worth the effort because you see a different side of the country.

By tour bus

A faster way would be by tour bus from Northern Bus Terminal at Mor Chit in Bangkok to the Surin bus station. This takes just 6 hours and cost a little more and shouldn't be more than 450 baht.

Please see map of Surin for the location of the bus and train stations.

Getting around Surin

You will need a car or motor cycle to get around these places, not to mention a good guide for which I am grateful to Asa.

Rice harvesting times

The rice harvesting season is usually around November each year when the rains have stopped and the cool season starts.

Where to stay – hotels in Surin

In Love Resort Kasem Garden Hotel Le Bien Resort

Maneerote Hotel Martina Hotel

Oasis Hotel Surintara Resort

Table of contents


My thanks

My thanks to Asa and Teem for being such gracious hosts and for showing me around their home province. I am grateful for the hospitality given to me in their home.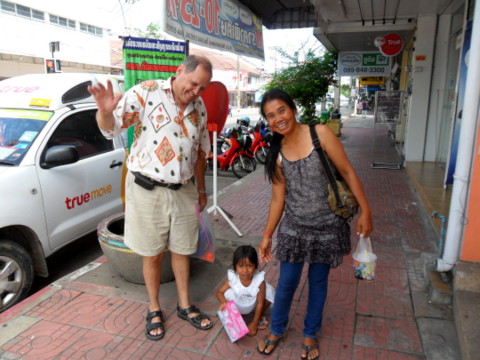 Asa & Teem with grand- daughter

Thank you to Peter and Uai for showing me around their farm and for giving me an insight into their farming activities.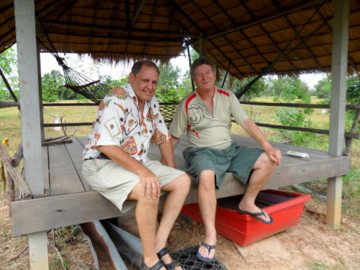 Asa & Peter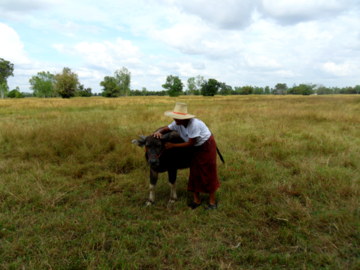 Uai with her pet buffalo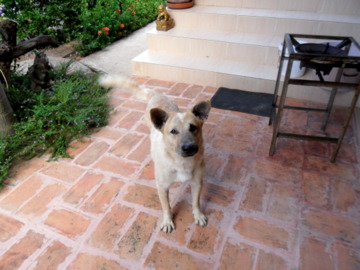 Asa's dog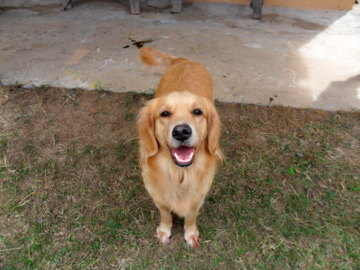 Peter's dog

Table of contents


Next month

Window to Isarn – a virtual tour of NE Thailand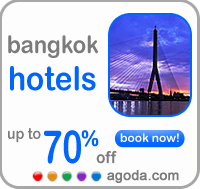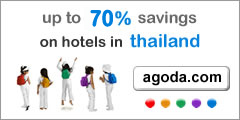 If you enjoyed reading this e-zine, please forward it to a friend. If you received this from a friend and found it interesting, please subscribe at Bangkok Travelbug.


What you think of the Bangkok Travelbug?

We love to hear from you

What other subscribers have said

Till next month then.

Eric Lim

Find us on Facebook

Stay updated with what's new at Tour Bangkok Legacies. Copy the link below and paste it into your Google Reader, NetNewsWire or your favourite feed reader.

https://www.tour-bangkok-legacies.com/tour-Bangkok-legacies.xml

If you use My Yahoo! or My MSN, head over to my home page and click on the button for your favourite Web-based feed reader.

Visit our home page at Tour Bangkok Legacies.


Copyright@2008-2009 Tour Bangkok Legacies All rights reserved