Hello






Don Kai Dee Benjarong Village

Welcome back to the Bangkok Travelbug. We hope 2012 has got off to a great start for you. I am sorry for the late delivery of the January issue.

This month we return to Samut Sakhon to visit a very special place that produces the exquisite Benjarong porcelain.


Contents (click on the link to go directly to the topic)



Benjarong porcelain

Benjarong is the colourful Thai porcelain with the five primary colours of black, green, yellow, red and white. Primary colours are colours that can be mixed to produce different shades or secondary colours.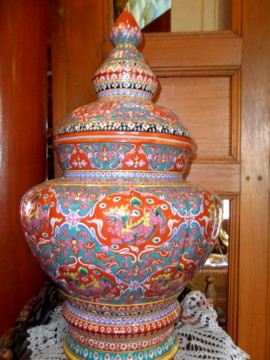 The term "benja" (five) is used to prefix several other Thai words involving the number five, for example "benjatham", the five Buddhist precepts of morality; abstinence from stealing, killing, fornicating, lying and intoxication.

Benjarong porcelain is made from bone china. Its attractiveness is not only in the high quality porcelain and fine shapes but also in the delicate colour patterns that are hand-painted on the surfaces.

The porcelain is then glazed to give it that special glow that doesn't fade over time. The wares are heated in electric kilns for 10 hours at 800 degrees Celsius.




The origin of painted designs on white porcelain is from China during the Ming dynasty (1368 – 1664). In the early days, Benjarong porcelain was made only for the royal court and the aristocracy.

In recent years however Benjarong porcelain has become widely used in homes and hotels as decoration pieces.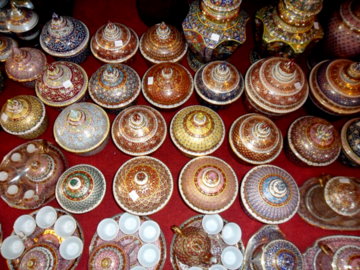 Table of contents


Don Kai Dee Benjarong Village

Samut Sakhon has three administrative districts; city district, Ban Phaeo and Krathum Baen. Don Kai Dee is a sub-district in Krathum Baen and the Benjarong Village is in Tambon (sub-district) Don Kai Dee.

In 1982, a small community in Tambon Don Kai Dee that specialises in making Benjarong porcelain, got together to establish the Don Kai Dee Benjarong Village.

The village consists of a group of five Benjarong shops in the area participating in the One Tambon One Product (OTOP) project which was started in 2001. The OTOP project is aimed at promoting the indigenous products in the various sub-districts in Thailand to boost the local economies and incomes of the communities.

The OTOP project was based on the One Village One Product (OVOP) Movement in Japan which started in 1979, the brainchild of Dr Morihiko Hiramatsu, Governor of Oita Prefecture.

Since 2001, Don Kai Dee Benjarong Village has won several national awards; best handicraft village, best community product, 1st prize for OTOP in Samut Sakhon province, best community award by the Tourism Authority of Thailand and OTOP Village Champion.

I visited Urai Benjarong the shop started by Khun Urai who is also the chairperson of the Don Kai Dee Benjarong Village.

Urai Benjarong is in a small lane just off the main road and consists of a cluster of traditional Thai buildings. The place has a very friendly and homely air. Visitors are really made to feel welcome.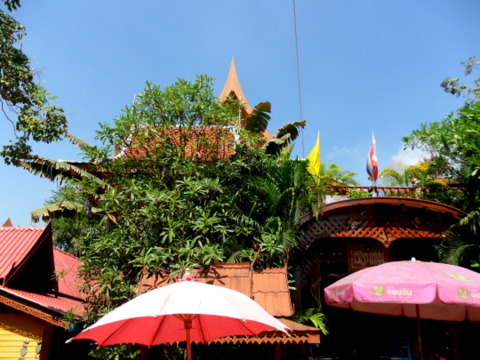 There are two buildings with Benjarong porcelain for sale; a single storey building and double storey building. The third building is for homestays.




The trees and greenery all around gives the place a peaceful country charm.




Let's take a good look at some of the Benjarong porcelain available there.

Table of contents


Benjarong display

These are some of the beautiful Benjarong porcelain on display in Urai Benjarong. The wares include vases, tea pots, tea cups and saucers, candle holders and other decorative containers.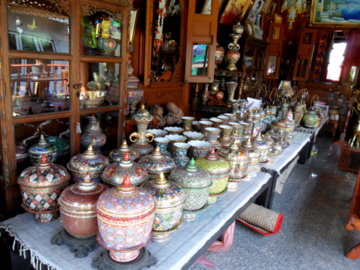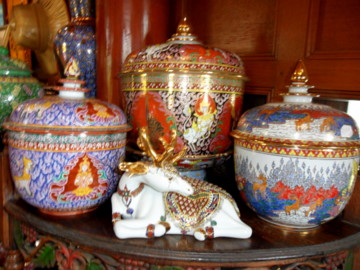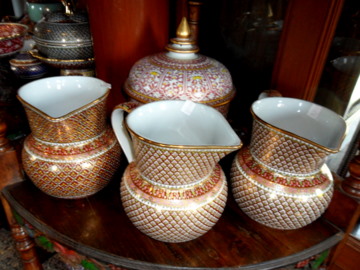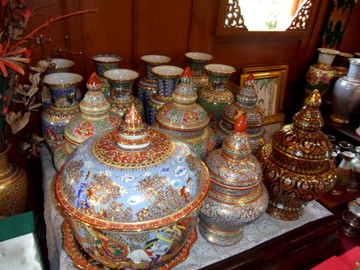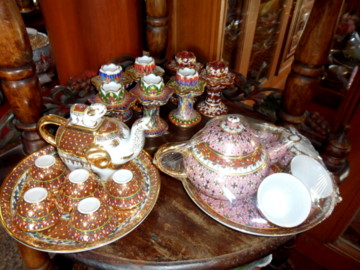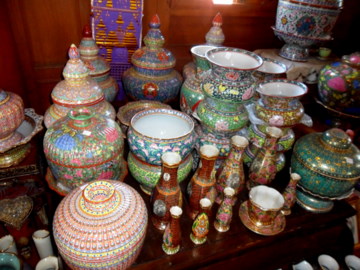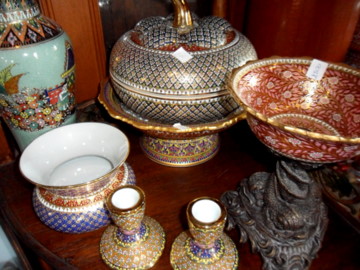 The porcelain is so attractive; I just couldn't leave without buying something back. So here are the souvenirs I bought from the trip.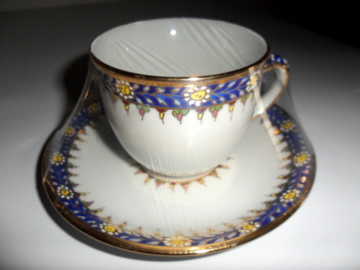 Table of contents


Homestay at Don Kai Dee Benjarong Village

Don Kai Dee Benjarong Village doesn't just sell Benjarong porcelain. Visitors are welcome to tour the facilities and to try making and painting the Benjarong porcelain.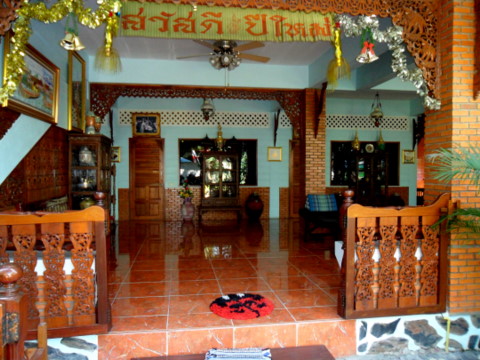 Entrance to the homestay lodging

There are comfortable lodgings for homestay with a beautiful garden all-round providing a green and pleasant atmosphere.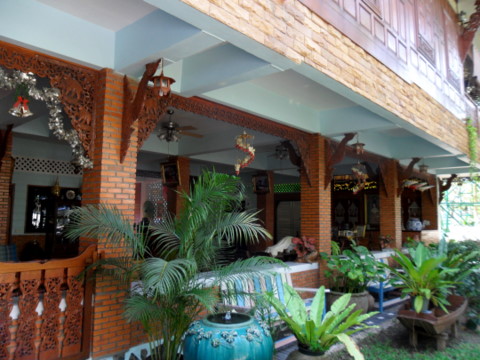 The rates for homestay are:

Private room (including breakfast) – 1,000 baht


Shared room for 10 (excluding breakfast) – 250 baht per head


Special activity in making Benjarong – 250 Baht
For reservations, please call + 66 8 1995 9196 or +66 8 1861 4626.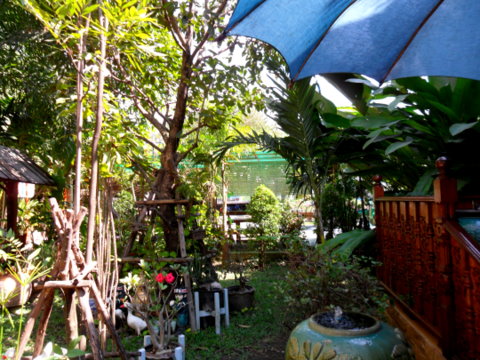 Garden outside the lodging

Table of contents


Map of Don Kai Dee Benjarong Village


View Don Kai Dee Benjarong Village in a larger map

Getting to Don Kai Dee Benjarong Village

By public transport

Take a train from Wong Wian Yai in Bangkok to Mahachai in Samut Sakhon. Please see taking the Maeklong Line to Mahachai From Mahachai take a tuk tuk or taxi to the Don Kai Dee Benjarong Village.

There are metered taxis in Samut Sakhon city. You may need to walk from Mahachai train station and market to the main road to get one. Tell the tuk tuk or taxi driver you wish to go to "Mu Ban Benjarong Don Kai Dee".

The fare for the tuk tuk was 150 baht for a single trip. It is advisable to charter the tuk tuk or taxi as there is hardly any public transport at Don Kai Dee. For the round trip and for the waiting time while I toured the area, I paid 400 baht.

By car

Go south along Phetkasem Road and turn left at the Om Noi junction into Highway 3091. Turn right at Settakit 1 Road (Highway 3190), then turn left into Sukhonthawit Road.

Turn left again into Thesaban 4 Road. Continue on till you see the sign for the Don Kai Dee Benjarong Village on the right.

Table of contents


My thanks

Thank you to Khun Pong, the younger sister of Khun Urai, for her hospitality in showing me around her shops and homestay facilities. I am grateful for her kind permission to photograph her Benjarong porcelain and for the information she has provided.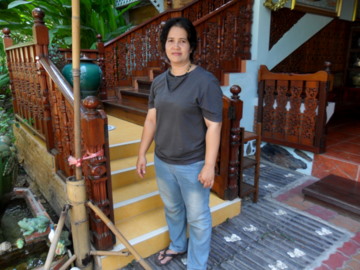 Thank you Khun Pong

Table of contents


In the next few months we will be exploring the history and handicraft of the north-eastern or Issarn region of Thailand.

Next month

Khon Kaen – the Issarn heritage


Book hotels in Bangkok






If you enjoyed reading this e-zine, please forward it to a friend. If you received this from a friend and found it interesting, please subscribe at Bangkok Travelbug.


What you think of the Bangkok Travelbug?

We love to hear from you

What other subscribers have said

Till next month then.

Eric Lim

Find us on Facebook

Stay updated with what's new at Tour Bangkok Legacies. Copy the link below and paste it into your Google Reader, NetNewsWire or your favorite feed reader.

https://www.tour-bangkok-legacies.com/tour-Bangkok-legacies.xml

If you use My Yahoo! or My MSN, head over to my home page and click on the button for your favourite Web-based feed reader.

Visit our home page at Tour Bangkok Legacies.


Copyright@2008-2012 Tour Bangkok Legacies
All rights reserved