Hello






Hup Pa Tat – the cave of wonders in Uthai Thani

Welcome back to the July issue of the Bangkok Travelbug! In this issue we take you on a tour of a unique physical feature of sheer beauty.

It's a cave but not just any cave. Most caves we've been to consist of a labyrinth of dark passages that lead to nowhere. This cave has a surprise in store for you!



Welcome to Hup Pa Tat

Contents (click on the link to go directly to the topic)


Background information on Uthai Thani

Hup Pa Tat or sometimes called Tham Hup Pa Tat, is a cave (tham) that opens out into a valley (hup) that is filled with a forest (pa) of feather palms* (tat) . That's how the place got its name.

*Note:

Arenga Pinrata, feather palm or black sugar palm found in South-East Asia.

The cave was originally in a much bigger mountain. Sometime in the distant past, part of the mountain collapsed creating a valley or a huge depression. The damp and moist climate nurtured to a luxuriant forest of various trees and undergrowth covering an area of 2 rai or 3,200 sq. m (0.8 acres) according to the information board at the site.

In 1979, Luang Pho Yhod, a monk was walking up the mountain. When he reached the top, he looked down upon this beautiful valley of palm and other trees.

On further examination, he found the mouth of the collapsed cave. In 1984, he undertook the excavation of this cave to its present condition. The Forestry Department administers Hup Pa Tat today.


Opening at the other end leading to a forest of palm trees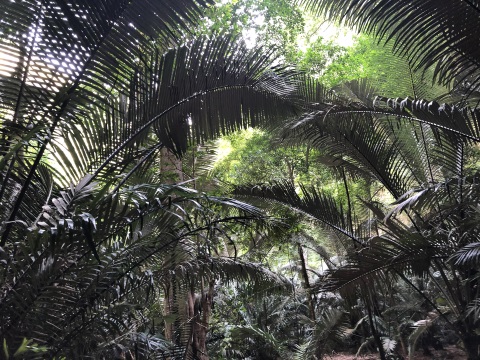 The luxuriant forest in the valley below

Before we explore this cave, a word of caution, please note that the forest below is home to the Desmoxytes Purpurosea or shocking pink dragon millipede**. It can grow up to 7 cm (3 inches). To protect itself against predators, it exudes hydrogen cyanide, a poisonous gas.

Please do not touch or go near these creatures.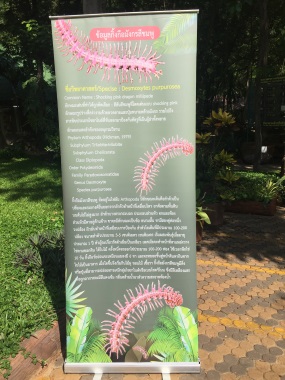 Shocking pink dragon millipede

**Note:
The millipede is an arthropod; an animal with no spine, a hard-outer skin, legs with bones joined together and a body divided into segments. Examples are spiders, crabs and ants.

This millipede was first discovered at Hup Pa Tat by Dr Somsak Panna in May 2007 and Thailand is the only place in the world where this species is found.

Contents


Exploring the cave and beyond

Let's start our exploration of Hup Pa Tat. Make sure you take a torch along; they are available near the ticketing booth. Present your ticket to the Forestry official at the base and take a leisurely walk up.

You'll be walking along a gradual stairway made from neatly cut stone. There are wooden railings to assist those who need it. Make sure you wear a pair of rubber walking shoes.



The way up

It's a pleasant walk of about 20 – 30 minutes up a path with thick forest on both sides.

This will take you to the mouth of the cave. Don't worry about feeling claustrophobic; it's an open-ended cave and it only takes a short walk to get through it.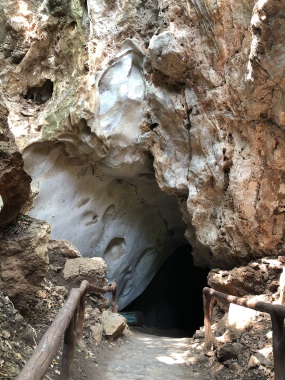 Entrance of the cave

Inside the cave

It's quite dark inside and that's where you need the torch. As the cave is open at both ends, it's quite airy. When you reach the opening at the other end, there's an exhilarating breeze to cool you down after your vigorous walk.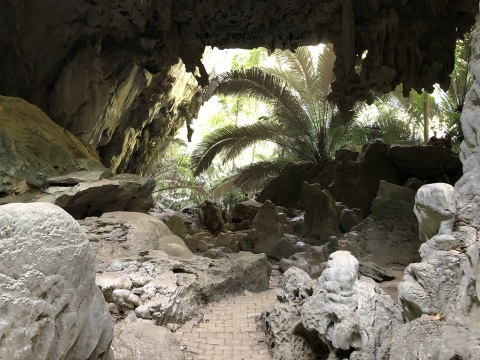 Opening at the other side of the cave

Proceed down along a similar path to the forest below.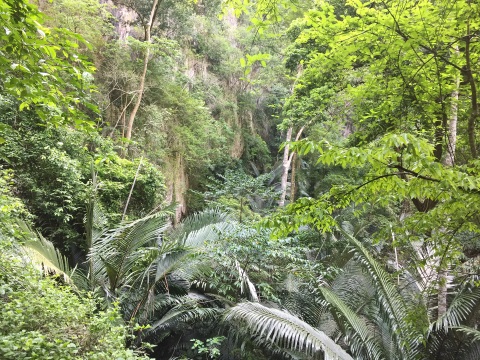 The verdant forest in the valley below

For the convenience of visitors, there's a stone path around the forest.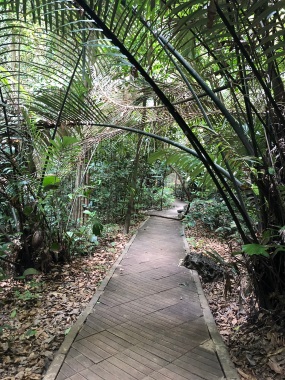 A pleasant walk around the forest

The vegetation below is filled with the thick and green feather palm trees.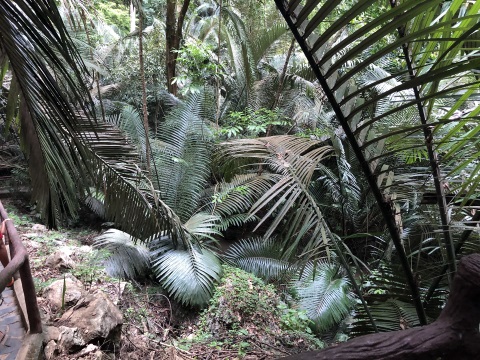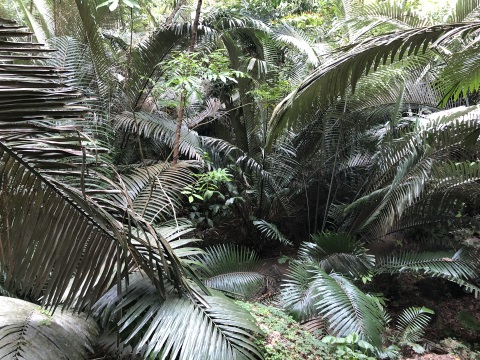 Arenga Pinrata, feather palm or black sugar palm

Besides the feather palm, there are also other trees in the valley. Signboards planted next to the tree help visitors identify these trees.


Ivory tree (pu porn) – a hardwood tree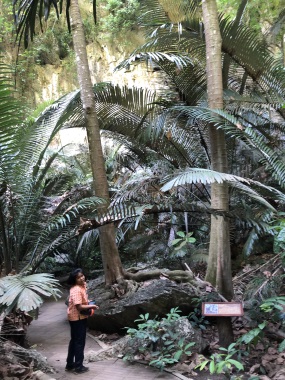 Firmiana colorata – a tall tree that can grow to 25 m,
found in areas with limestone cliffs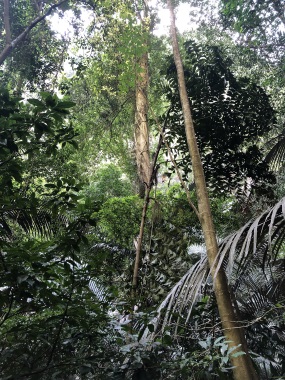 Ficus Benjamina – the Weeping Fig

In some stretches of the route around the forest, the cliff walls come right up to the path. This is probably the section that collapsed to form this valley.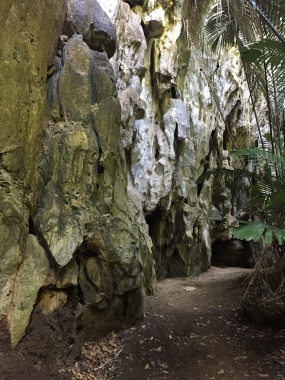 Cliff walls around the forest

Watch your step

When you are through with enjoying the forest, retrace your steps to return to the base of the mount. It's not a difficult walk.



The way down

On our way down, guess what we encountered. Not sure if this is the shocking pink species.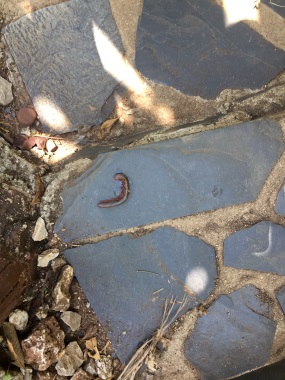 Chance encounter on the way down

The whole trip up to the cave, the walk around the forest and the walk down took about 45 minutes. There are food and drinks vendors at the base of Hup Pa Tat to refresh you after your walk. Try the fruits too.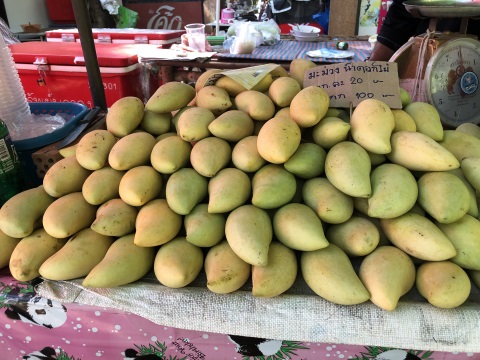 Refreshments at the base

Hope you enjoyed this virtual tour of Hup Pa Tat. Try it yourself one day. It's certainly worth the trip.

Contents


Our thanks

Visitors can explore the cave by themselves or request for one of the school children acting as guides during the weekends or school holidays. This scheme is meant to give the children confidence in public speaking and presentations and also to reinforce their knowledge of their home province.

Our thanks to the school children who worked as guides at Hup Pa Tat. Their performance is a credit to their community. In particular to our guide Nong, who is eleven years old and attending Primary 6. She is knowledgeable, confident and pleasant. We wish her success in her studies and a bright future.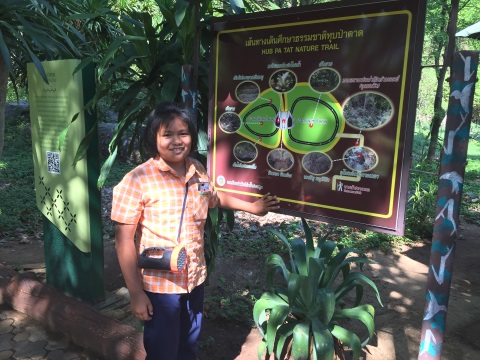 Nong our guide

Contents


Ban Chai Khao – Thai Switzerland

After you have finished with Hup Pa Tat, it's strongly recommended that you visit Baan Chai Khao, it's popularly known as the Thai Switzerland.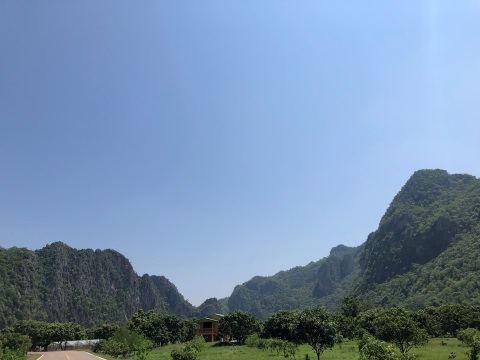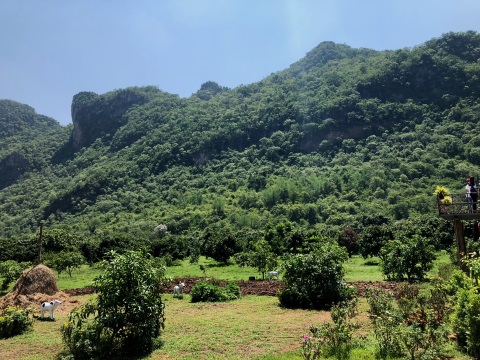 The green hills of Ban Chai Khao – the Thai Switzerland

It's just a short detour getting there, a little over two km. It's a valley between two mountains, with a som tam restaurant in the centre and a cluster of thatched huts that serve as the dining area.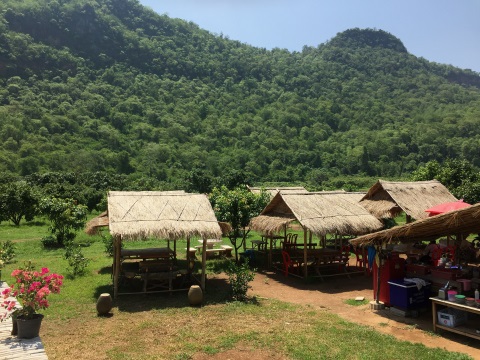 Som tam anyone?

There is a raised wooden platform for visitors to take snapshots of the area.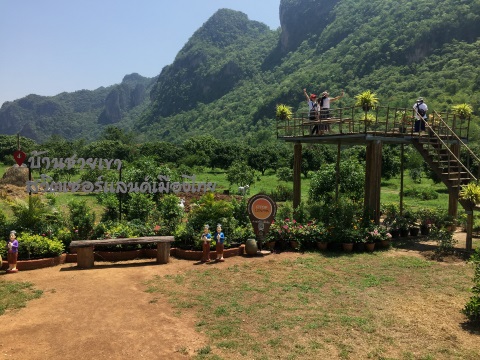 Viewing platform

It's also got some of the prettiest toilets I've ever seen.



Pretty down to the last detail

You won't regret coming here, the place is sheer scenic beauty with a green and fresh atmosphere. These are the memories of Uthai Thani to take home with you.



Fond memories of Uthai Thani

Contents


Map to Hup Pa Tat and Ban Chai Khao



If the map doesn't appear, click on this link

Hup Pa Tat

Address

Mu 1
Tambon Thung Na Ngam
Amphur Lan Sak
Uthai Thani

Opening hours

08:00 am – 04:00 pm

Admission

Foreigners 100 baht per person

Thai adults 20 baht, children 10 baht

There is no charge for the school children who are guides. However, do give them something as a gesture of your appreciation for their services.

How to get there

From Uthai Thani City take route 333 to Nong Chang to the west, just outside Nong Chang turn right into route 3438. Continue along this road lined with teak trees till you see the turning to Hup Pa Tat on the left. Follow this road till you get there.

Ample parking is available at the base of Hup Pa Tat.



The cool and shady carpark

Ban Chai Khao – Thai Switzerland

Address

Tambon Thung Na Ngam
Amphur Lan Sak
Uthai Thani

Opening hours

All day

Free admission

How to get there

From the carpark in Hup Pa Tat turn right and head south, follow the road till you get there. It's just a little over two km from Hup Pa Tat. The place is a valley between two mountains with thatched huts right in the centre.

Have a safe and enjoyable trip! See you next month.

Contents


Next month

Huai Kha Khaeng Wildlife Sanctuary, Uthai Thani

If you enjoyed reading this e-zine, please forward it to a friend. If you received this from a friend and found it interesting, please subscribe at Bangkok Travelbug.


What do you think of the Bangkok Travelbug?

We love to hear from you

What other subscribers have said

Till next month then.

Eric Lim
Tour Bangkok Legacies
Find us on Facebook

Tour Bangkok Legacies - Kindle paperback edition

For those who prefer reading printed books rather than e-books, here's the paperback edition of Tour Bangkok Legacies, which will help you along as you explore the streets of Bangkok and discover its old treasures. It's complete with historical descriptions and directions on how to get to these places.

My Kindle paperback edition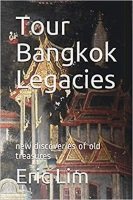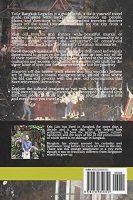 Copyright@2008-2019 Tour Bangkok Legacies
All rights reserved